River Rock Casino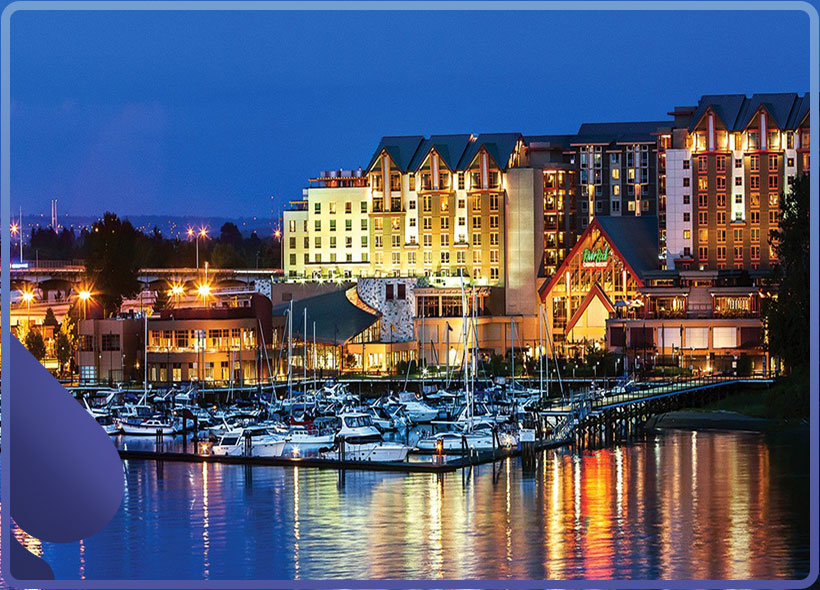 Strategically located in British Columbia, River Rock Casino is a favourite casino for both British Columbians and Americans that make the visit to this place from the other side of the border. In this region of Canada there are loads of casino options ranging from locally owned business to world famous casino brands. River Rock Casino is what we would call an average casino in this province, but it's still worth a visit.
River Rock Casino Resort is a classy hotel resort with a big casino floor included as part of the hotel's entertainment. It opened its doors in 2004 and has been welcoming casual gamers to this day. The casino hotel offers a wide range of table games and slot machines, outstanding dining options, but it also offers enough space for weddings and a live theatre.
River Rock Casino practical information
★★★★☆
Lodging
Yes, River Rock Casino Resort
Entry fee
None
Dress code
Casual
Parking
Yes, self-parking & valet
Casino theme
None
Age restriction
19 years and older
Games
Slots, & table games
Opening hours
24/7
Food
Yes, 4 restaurants
Map
Location/address: 8811 River Rd, Richmond, British Columbia (BC) V6X 3P8, Canada
About River Rock Casino
The River Rock Hotel Casino accommodates approximately 10 thousand visitors per day; including gamblers, diners, and people looking for a full entertainment package. The scenery around the casino is also amazing which a lot of people consider another valid reason to visit the place. With over 70 thousand square feet of gambling space, it's pretty safe to say that there's probably even too much space to explore during a single visit. River Rock Casino Resort features about 1200 slot machines and 110 table and poker games with frequent tournaments as well as off track betting which you'll find in the dedicated poker room.
What to expect?
High rollers that enjoy slot machines can head straight to the Jade Room, a private room which is specifically dedicated to high limit players. There are some great restaurants to be found at this casino that serve a wide variety of both national and international cuisines. River Rock Casino also hosts other sorts of entertainment acts at the River Rock Show Theatre including live music events in Ruby's Lounge from Wednesday to Saturday nights.
Food & Drinks
Some of the most important reasons to go to the River Rock Casino Resort are the four restaurants that all have their own specialties. There are great dining options at The Buffer, convenient menu options at the River Rock Food Court, quick snacks at the Curve Lounge, while the Tramonto Restaurant gives you all the ingredients for a pleasant dining experience.
Dress Code
The Richmond Casino Hotel Resort welcomes virtually everyone that is at least 19 years of age and is allowed to gamble. In terms of clothing; you are free to dress smart or casually, but will need to stick to certain regulations. As such, visitors are not allowed to wear gang-related items with aggressive prints, and clothes or accessories with disturbing texts.
Other casinos in the area
Casinos in British Columbia are known to be among the best in Canada with many first class casinos. It has been a challenge to come up with a short list of other casinos in the areas, but let's say we've randomly picked some other venues you might find interesting.
Treasure Cove Casino
This casino is actually located in Prince George and that might just explain why the place is so well known. A lot of people visit this casino when they're travelling to other parts of the country and with its own Prestige Treasure Cove Hotel you will find yourself an excellent spot for both fun and relaxation. If you're only after the casino games, there are about 500 of them.
Treasure Cove Casino & Bingo Prince George offers gaming, live shows, and eateries.
Treasure Cove Casino
Elements Casino Surrey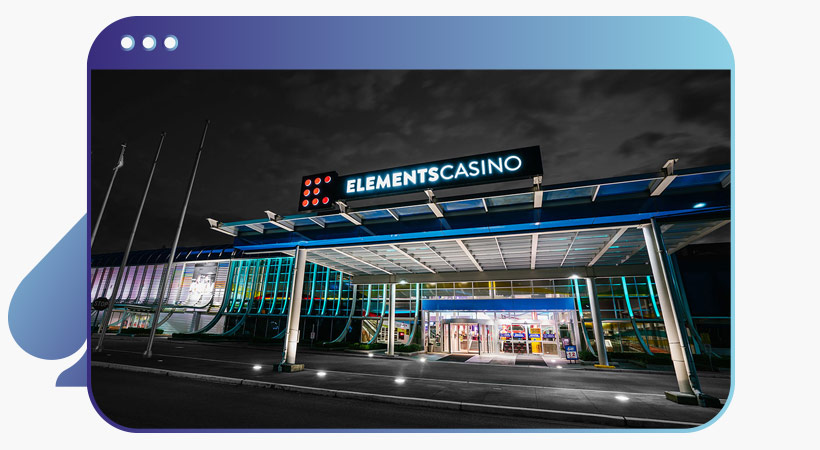 There are many Elements casinos across Canada and if you've visited a few of them you will know what to expect from the branch in Surrey. If you're a regular visitor of Elements casinos you will be delighted to visit this Surrey casino as it can give you some cool benefits. One of the other main benefits of this casino establishment is that there are also a lot of live events going on, including music and comedy. Dining options are very well reviewed as well and the other good thing about this casino is definitely its location. Elements Casino Surrey is located not far from Vancouver which means you'll find a lot of people doing day trips here. In the casino's surroundings you'll have multiple hotels to choose from and facilitate your visit.
Elements Casino Surrey
Best Casino websites in Canada
Relevant news