Starlight Casino New Westminster
New Westminster is far from a well-known city in Canada but it's actually very centrally located and close to a few popular landmarks in British Columbia such as Queen's Park and New Westminster Quay. Another good reason to visit this city is to check out everything Starlight Casino New Westminster has to offer to gambling fans.
Starlight Casino Westminster is one of the main gambling venues in the region with a large casino area covering more than 100,000 square feet of pure class entertainment. No wonder why there are thousands of visitors at this world-class gambling venue every day.
Starlight Casino New Westminster practical information
★★★★☆
Lodging
None
Entry fee
None
Dress code
Casual
Parking
Yes, self-parking & Valet
Casino theme
None
Age restriction
19 years and older
Games
Slots, & table games
Opening hours
24/7
Food
Yes, 4 restaurants
Map
Location/address: 350 Gifford St, New Westminster, British Columbia (BC) V3M 7A3, Canada
About Starlight Casino New Westminster
Starlight Casino New Westminster is one of the main casinos in the region offering a huge area full of slot machines and table games that you could only hope for. The casino features 850 slot machines and about 50 table games making sure you'll have all the options you're looking for. The gambling venue has been around since 2007 and has managed to become one of the biggest branches under the Gateway Casinos and Entertainment group. The gambling establishment is open 24/7 and has a wide selection of restaurants, bars, and casino games to choose from, assuring that people looking for other sorts of entertainment will also have a reason to join you. There are thousands that visit this premium casino every day and that's why you'll find separate VIP areas to accommodate all needs. The most popular games at this casino are slots, Poker, Blackjack, Roulette, Pai Gow, and Baccarat.
Food & Drinks
Most people go to this casino for the gaming thrills, although there are many dining options available as well which bring in visitors whose most important interests aren't necessarily gambling, but just to have a fun night out. Luckily, there's no shortage of food and drink options at Starlight Casino New Westminster. One of the best options is Match Eatery pub which combines a weekend buffet with sports and other live events. The modern Red Bar Lounge, the Shang Noodle House with tasty Ramen, and the Kirin Restaurant that serves the finest Asian Cuisine in the region, are other great options. You won't be disappointed.
Dress Code
Starlight Casino New Westminster is open to pretty much everyone that is 19 years or older, allowed to gamble, and shows up in smart or casual attire. There are of course some restrictions meaning that you can't show up in disturbing or provocative clothes. In other words: don't wear something you wouldn't wear at other public places.
Other casinos in the area
Land based casinos in the province of British Columbia are known to be among the best in Canada with a lot of first class casinos to be found in the area. It's quite easy to suggest a few other options in this region, but the major challenge is to only pick two. We've tried our best and therefore recommend you:
Treasure Cove Casino
This might not be a pick you would've expected as this casino establishment is situated in Prince George. We did however want to give you some other originals options and Treasure Cove Casino certainly meets that criteria. This venue is actually very popular among people who travel to other parts of the province/country and want to find themselves a spot for both entertainment and gambling. There are about 500 slot machines and the hotel makes sure that both gamblers and travellers will have a relaxing place to rest and refuel for the next day.
Treasure Cove Casino
Elements Casino Surrey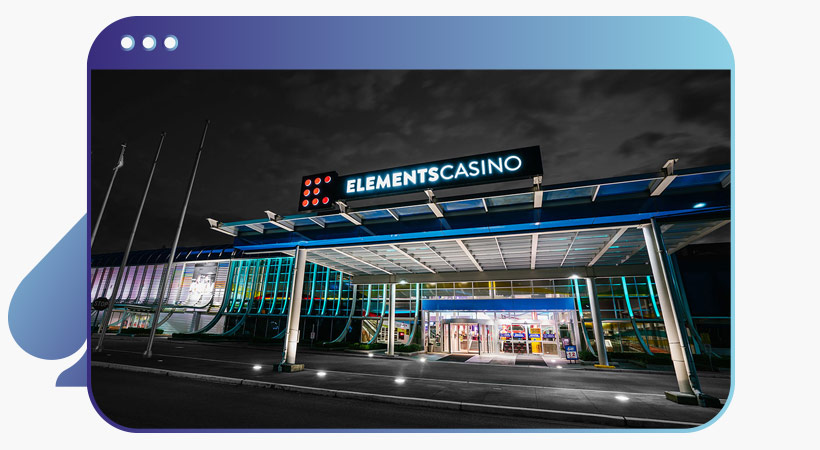 With many Elements Casinos in Canada we can't miss out on suggesting you the one in Surrey. One of the biggest advantages of this establishment is that they offer a lot of live entertainment options including music events and comedy nights. Apart from the 500 slot machines and 24 table games you'll find at this casino in Surrey you'll have different great eateries at your disposal as well. They don't have a hotel, but there are many accomodations in the region and the good thing is that it's not too far from the city of Vancouver.
Elements Casino Surrey
Best Casino websites in Canada
Relevant news