Dress code: what to wear to a casino?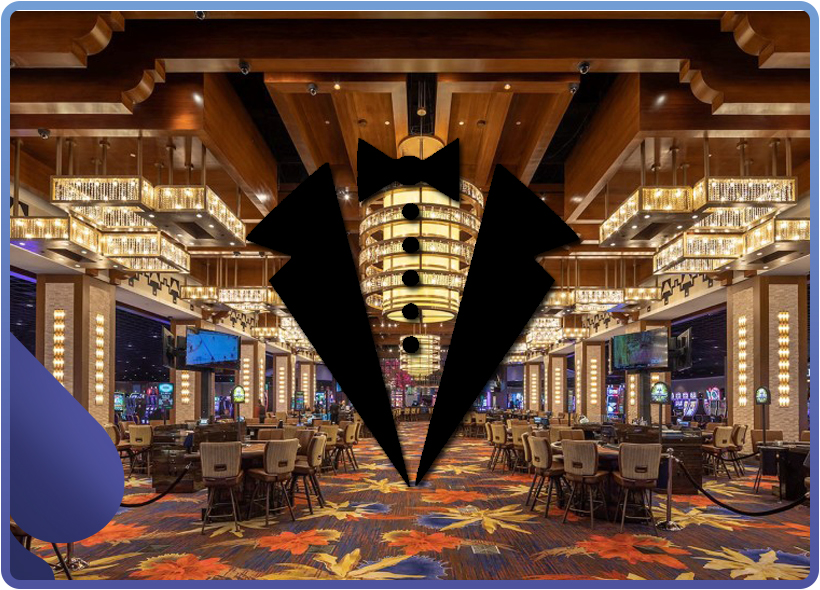 For most people, visiting a casino is all about having fun. As most casinos offer a full entertainment package you're entering a casino, restaurant and bar all-in-one, meaning that there are certain dress codes you will need to follow. Back in the days casinos were only meant for the elite, but luckily things have loosened up a bit. Although the casino attire can change a bit from casino to casino and from country to country, we are happy to present you our complete guide of what to wear to a casino.
As most casinos say: a night out at the casino is a unique experience in a rather exceptional ambiance. To emphasise the casino experience, most venues have established their own dress codes, but the basic rules of these dress codes are quite uniform: dress stylish and neat. Let's take a closer look at what casinos consider stylish and neat by coming up with the dress code for both men and women… and very important: what not to wear to a casino!
What to wear to a casino: men
Shirt, possibly with a jacket or blazer.
Chinos, neat jeans or trousers.
Neat, closed shoes.
The perfect casino outfit
Men shouldn't be overdressed either, unless you're going to a Scandinavian casino or planning to visit the Monte Carlo Casino — where people tend to dress more formally in comparison with other countries in Western Europe. Casinos in countries like the United Kingdom, United States and Australia are also known to have less strict casino attires.
A general rule of thumb is to make sure that your clothing does not contain eye-catching advertising, images of artists and offensive texts. Casinos used to be for the elite only, and men were required to show up in suits. Today this is no longer the case. It's appreciated when you look classy, but as long as you look groomed it's fine. Do you prefer to dress semi-formally? Then it might be an idea to wear chinos in combination with a neat shirt. Complete the outfit by wearing neat lace-up shoes. Neat jeans are always a good option for casino visits and well. This good thing is that you can easily combine this with a neat sweater (without a hoodie). Finally, a nice suit always works as well: a pair of trousers, shirt and jacket are not only chic, you also leave a good impression on other casino visitors.
What to wear to a casino: women
A dress is allowed, but is not mandatory.
Don't dress too casual.
Neat pumps or nice boots work well.
Stylish accessories and make-up are highly appreciated.
The perfect casino outfit
How to dress for a casino? As a woman you can also choose to dress either formally or informally and still meet the casino dress code. If you are going for an informal look, jeans are a good choice. Choose one without tears would be our first recommendation. Jeans are always easy to combine with other garments: a nice blouse is an option, and easy to style with, for example, a jacket and heels. Women should be especially careful not to dress too defiantly. Clothes that are too tight or that shine through aren't suitable for a casino visit. Not afraid to show a bit more skin, but still keep it stylish? Then we would advise you to go for a cocktail dress, that is: a cocktail dress that hits the knee and doesn't show too much cleavage. Silk always works well if you ask us.
What not to wear at a casino
We already pointed out that the casino attire in most casinos is described as either "stylish or neat" or a combination of both. We are aware, however, that this is a fairly broad term and can be interpreted differently by everyone. That also means that a lot of combinations are in fact possible when it comes to clothing for a casino visit — there is no tailor-made casino outfit. On the other hand, there are some clothes we can rule out, just to make sure there are no misunderstandings here. What not to wear to a casino night definitely includes:
Swimwear: swimming trunks, bikini, flip flops, shirt, etc.
Work clothing: work shoes, overalls, etc.
Disguises: rabbit suits, firefighter outfit, etc.
Sportswear: football shirts, basketball shorts.
Urban wear: low-fitting jeans, hoodie, etc.
Clothing with inappropriate, offensive, discriminatory prints
In addition, employees may ask you to cover up too much nakedness.
Best Casinos
Relevant news