Elements Casino Victoria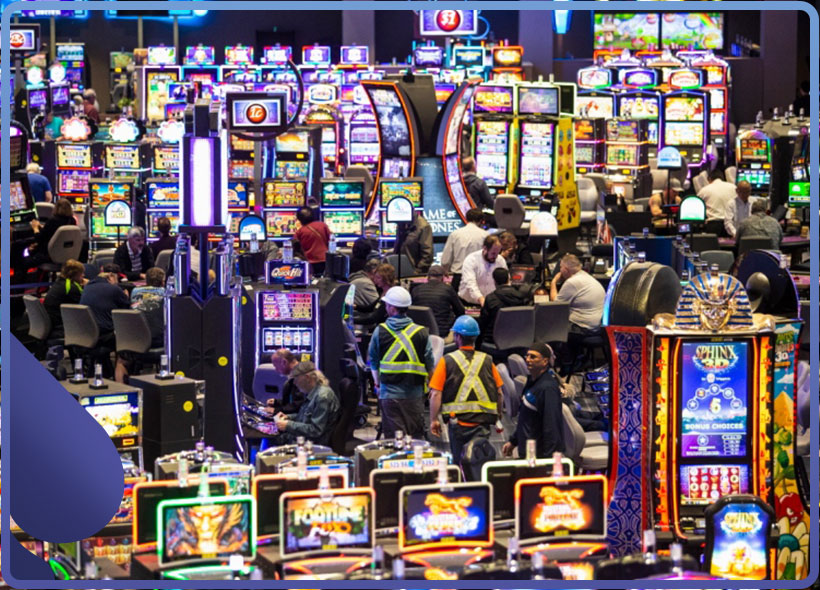 Perfectly situated for both gamblers from Canada and from the US, Victoria has a lot to offer in terms of entertainment, nightlife, and casinos. British Columbia is one of the most popular provinces in Canada for casino fanatics and you'll find a well balanced offer of both big casino resorts and smaller venues for local players.
Elements Casino Victoria is definitely not a big casino, but it sure is a huge name. There are many Elements Casinos across the country of which a few very popular options can be found in British Columbia. Today we'll take you to the venue in Victoria and we'll tell you everything about the casino's games and why you should consider this casino for your next gambling trip. Are you ready? Then prepare for an unforgettable casino trip to BC's capital city.
Elements Casino Victoria practical information
★★★☆☆
Lodging
Yes, Prestige Treasure Cove Hotel
Entry fee
None
Dress code
Casual
Parking
Yes, sef-parking & valet
Casino theme
None
Age restriction
19 years and older
Games
Slots, & table games
Opening hours
24/7
Food
Yes, 4 restaurants
Map
Location/address: 1708 Island Hwy, Victoria, British Columbia (BC) BC V9B 1H8, Canada
About Elements Casino Victoria
Let's start with clearing something up here: Elements Casino Victoria was formerly known as View Royal Casino, so in case this casino might have looked a bit familiar to you, now you know why. Elements Casino Victoria nowadays gives people a true Las Vegas-atmosphere on Vancouver islands sitting on a casino floor of 70,000 square feet. This is enough to offer 770 slot machines and 26 table games, including the usual likes such as Roulette, Blackjack, Baccarat, Texas Hold'em and some interesting variants you don't want to miss out on.
What to expect?
There are other casinos in the province of British Columbia that have a bigger game offer, but there won't be a lot of casinos that enjoy the same brand awareness as this Elements Casino. This is why a lot of people actually head to this casino as they've already visited one of the other venues offered by the same brand. In British Columbia you will also find Elements casinos in Chilliwack and Surrey, of which we particularly like the latter. Whether you're at the casino thanks to its brand reputation or are simply looking for a bit of fun, Elements Casino Victoria definitely gives you a nice range of games you can play.
Games for everyone
There are about 770 slot machines at this casino, ranging from the popular $0.01 to the $5 machines, making sure this casino caters for a wide target group. That's why you'll also find a lot of table games here, including roulette, blackjack, and poker. This land based casino in BC hosts regular slot tournaments with top 3 players winning free bets. One of the most popular games at this casino is Power Bucks progressive jackpot by IGT as it offers a progressive jackpot of over 1 million dollar. Now that's how to find yourself in your element.
Food & Drinks
Even if you want to take a break there are plenty of options you can enjoy in terms of food, drinks, and lounging. Four of these can be found in restaurants and bars as Elements Casino Victoria offers some very nice eateries.
The Well Public House: has a menu with casual dining options and well-crafted drinks paired with lots of live entertainment options.
Chi Express specialises in Asian dishes.
1708 Quick Bites: for all your hotdogs, burgers, and other snacks.
Diamond Buffet: serves verified lunch and dinner buffets.
Dress Code
They're pretty easy-going at Elements Casino Victoria when it comes to clothing, but you are of course expected to respect the house rules. This means you'll need to behave properly, dress casually, and be at least 19 years of age. In terms of the dress code this means that gang-related clothing is not permitted, nor are other violent or provocative prints.
Other casinos in the area
British Columbia is one of the country's most populated provinces and that's why you will find plenty of gambling options in either Vancouver, Victoria, or other parts of BC. It's therefore not an easy job to come up with just a few other casinos in the area, as there are a lot of options. We do want to point out one other Elements Casino you'll find in the province and also have a second suggestion for gambling fans that live in British Columbia or plan to go there soon:
Elements Casino Surrey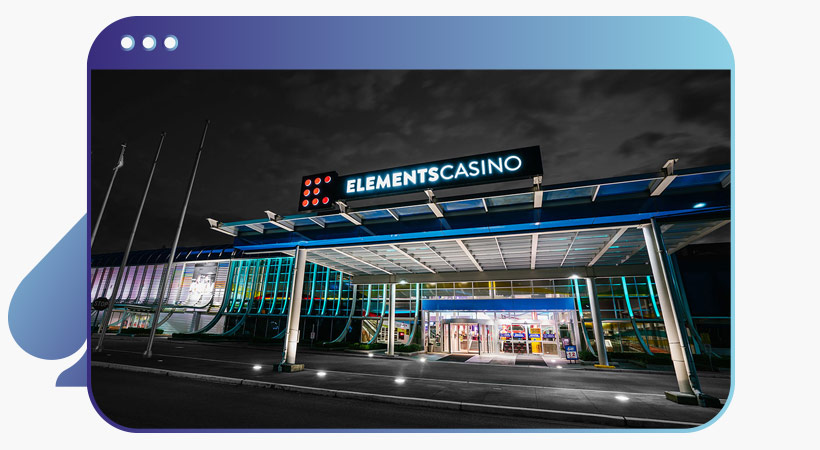 With many Elements Casinos across Canada, we're sure that a lot of players will have a basic idea of what to expect of this casino in Surrey. Some of the casino's design and promos overlap with other branches of the same casino brand. This includes the popular live entertainment that is offered in every Elements Casino. The dining options are also one of the strong points of this brand and the casino in Surrey offers a few accommodation options in the area as well. Like other Elements Casino branches, you need to take into consideration that the number of slot machines isn't very high — in this case there are around 500 slots waiting for you. If you're really into big game portfolios you might want to consider another casino, but if you're alright with a total entertainment package including dining and music, then this would be one of the best options for you in the province of British Columbia.
Elements Casino Surrey
River Rock Casino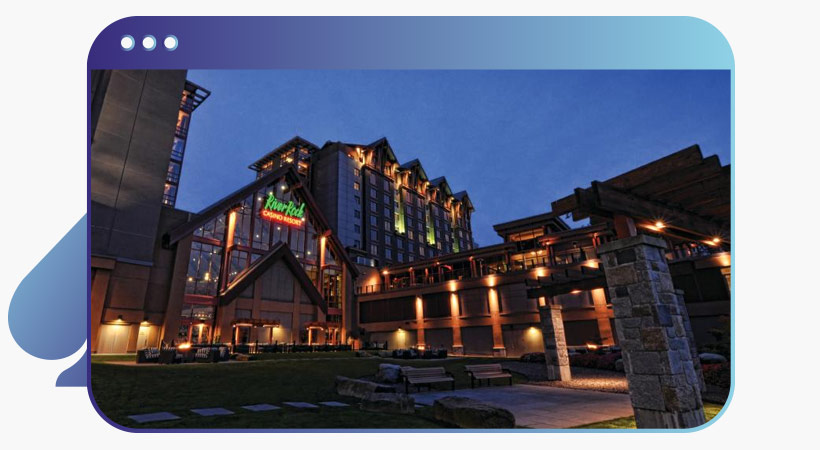 Some would prefer River Rock Casino as this casino offers about 1100 slot machines and other games. River Rock Casino can be found in Richmond and attracts more than 10,000 visitors everyday, explaining why this casino is so popular in this area. The VIP rooms for high rollers are definitely worth visiting if you've got enough budget. The same holds for people that are looking for a casino that offers great views, River Rock Casino is definitely worth visiting if you want to relax, have a drink, maybe some dinner, and enjoy the view of the mountains. Let's not forget the spa where you'll be able to find your zen. River Rock Casino is therefore the perfect place in BC to combine fun and relaxation under one roof.
River Rock Casino
Best Casino websites in Canada
Relevant news