Best casinos in Vancouver, Canada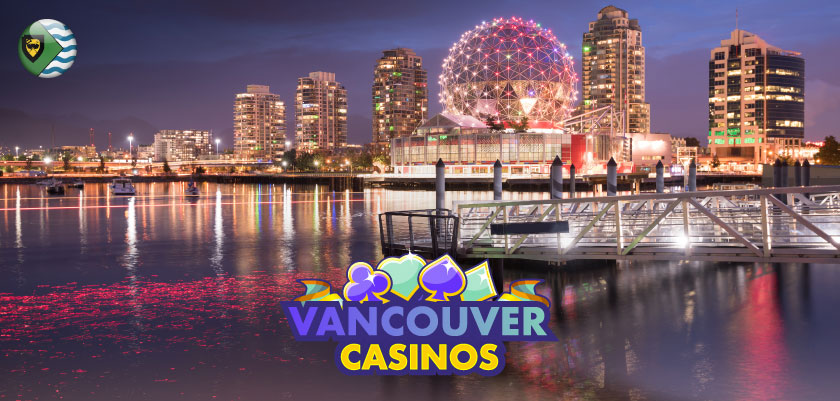 The city of Vancouver is full of gorgeous views and it's quite a spot for drink-and-dine lovers. It thanks its reputation of Canada's dine-out capital to its multicultural options of Asian food including the very best of the Chinese, Indian, and Vietnamese cuisine. Never having to search for too long, you'll always find a nice mix of cultural events, festivals, live music, and half a dozen land based casinos that are worth the visit.
Although they might not be as well known as other North American casinos in Vegas or Atlantic City, Vancouver casinos are also packed with high rollers spending their money like nobody's watching. If you're planning a trip to Canada and want to be lucky, there are a few very interesting casinos in and near Vancouver waiting for you. Let us tell you more about gambling in Vancouver.
---
Best Online Casinos in Vancouver
Play casino games online at a legit, trusted and recommended online casino who accept players from Vancouver
Best casino websites in Canada
---
Casinos in Vancouver
If the province of British Columbia hosts some of the best casinos of North America, the city of Vancouver only confirms that reputation. One of the best examples is Hard Rock which has a presence in the city with a Hard Rock casino franchise. Parq Vancouver is another option located in the posh area of British Columbia's biggest city and is known for its serious gaming action. Vancouver, as with other places in BC, works with a legal gambling age of 19. Therefore, you'll also see a lot of youngsters from neighbouring Seattle, where the gambling age is set at 21. In fact, a lot of Americans head to the northern side of the border to play.
5 of the best Vancouver BC casinos
To help you get the most out of your casino visit in Vancouver, here's a list of 5 of the best land based casinos that you must visit on your next stay and try whether your luck is with you. This can be done at either the slots or table games. Dress code in Vancouver? We would say that business formal and business casual attire would be your best bet. Also note that shorts, sleeveless shirts, or flip-flops are generally not allowed at casinos in Vancouver.
1. Hard Rock Casino Vancouver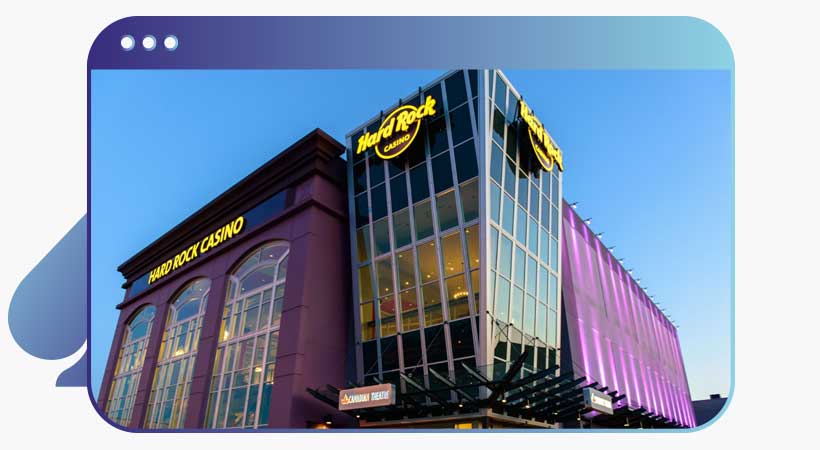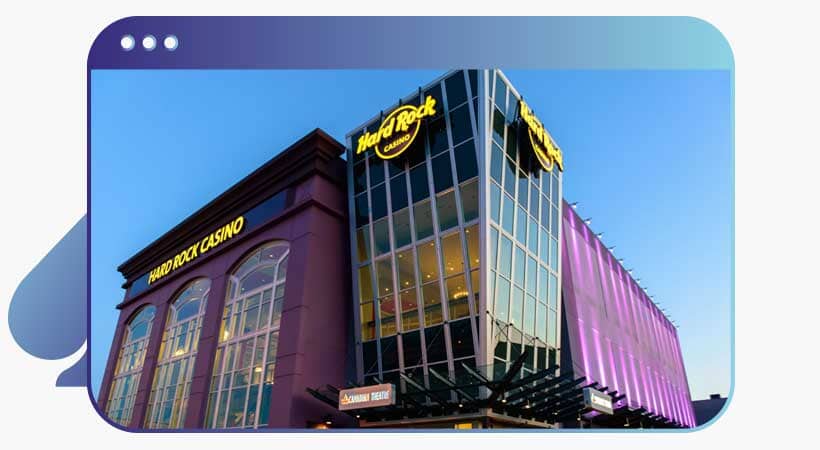 There are several Hard Rock casinos in North America, but there's actually only one casino establishment by the brand in Canada. Hard Rock Casino Vancouver is formerly known as Boulevard Casino and it is actually located in Coquitlam, in the outskirts of Vancouver. Because Coquitlam is only located at a 40 minute drive of Vancouver we have included it in our top list and it made it to the very first spot on our list. This won't come as a surprise as Hard Rock Casino Vancouver is the largest casino in the province of British Columbia in terms of gambling space. This international casino is open 24/7 and includes a 80,000 square feet casino, about 1000 slots, 70 table games such as blackjack, roulette, and baccarat, a five table poker room, and a high-limit room with ten baccarat tables and even two private tables. There is also a parking place with a capacity of up to 1,600 vehicles.
Hard Rock Casino Vancouver
2. Parq Vancouver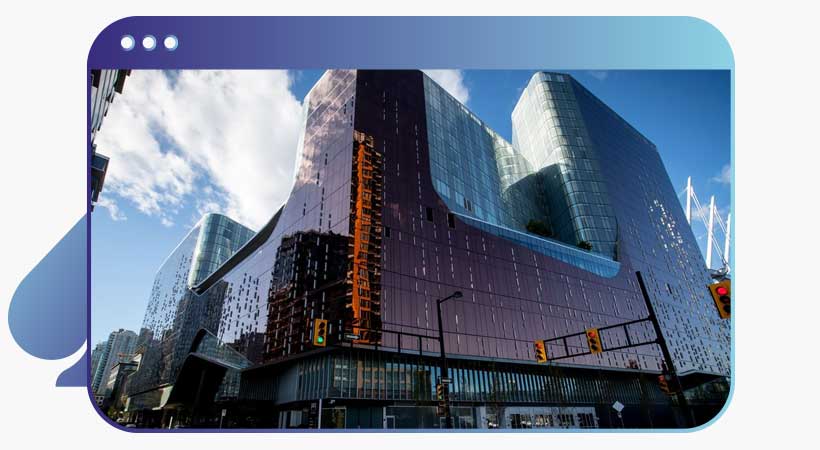 If you're looking for options to enter the world of luxury, Parq Vancouver might be the casino you're looking for. Parq Vancouver is located in an area where people can enjoy first-class drinking and dining services. The Parq Vancouver casino is spread over two floors where the rich and the famous hang out to relax and spend their cash at table games like roulette.
This casino also offers other services such as a spa, open garden, hair and make-up salon. Parq Vancouver is therefore the perfect place to spoil yourself and get spoiled. It also offers accommodation as the three towers houses world famous hotels JW Marriott, The Douglas, 8 restaurants and spacious lounges which seat 846, a 30,000-square-feet open space and an events hall of 62,000-square-feet. The casino houses 600 slots and 75 gaming tables, making sure you'll be able to find yourself a nice balance between excitement and relaxation.
Parq Vancouver
3. Grand Villa Casino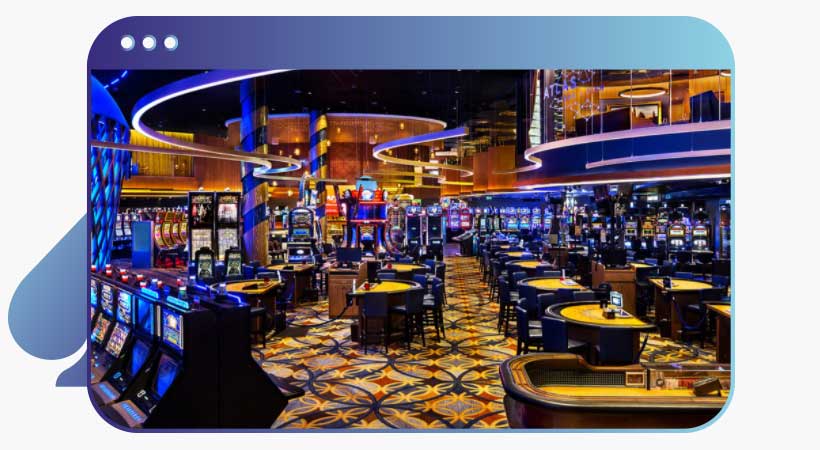 This casino makes sure that every visitor will enjoy the place as the dining options are worth the visit as well. Be prepared when you visit Grand Villa Casino, because you're about to get spoiled as the casino offers a large menu for people looking for food and drinks. While enjoying the colourful aperitifs you'll probably end up placing a wager or two at Grand Villa Casino. This place really knows how to impress its visitors with a memorable customer service. The only thing you'll need for your visit to be perfect is of course a bit of luck.
Grand Villa Casino
4. Hastings Park Casino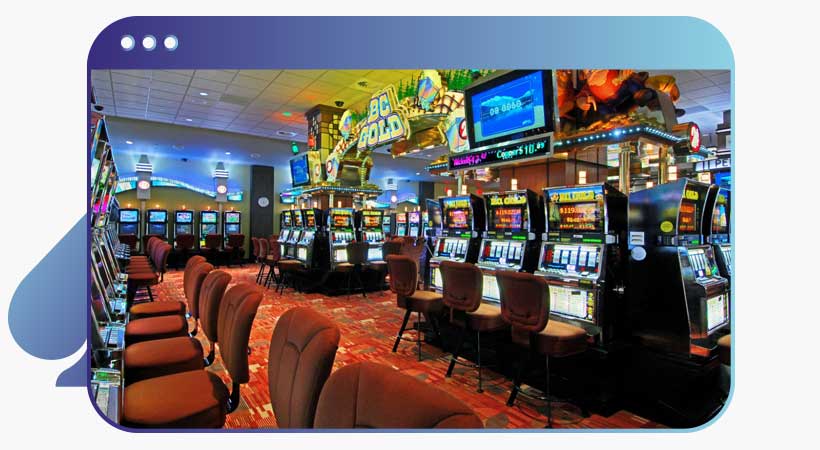 Hastings Park Casino is a rather traditional place, making sure that elderly players can relive their best days as well. This casino is kinda nostalgic and never fails to entertain visitors. If you've already made it to Vegas, you might've visited the older casinos the city has to offer as opposed to all the premium casino resorts. Well, Hastings Park Casino makes us feel just as nostalgic. There is certainly a target market for a good old classic like Hastings Park.
Hastings Park Casino
5. Starlight Casino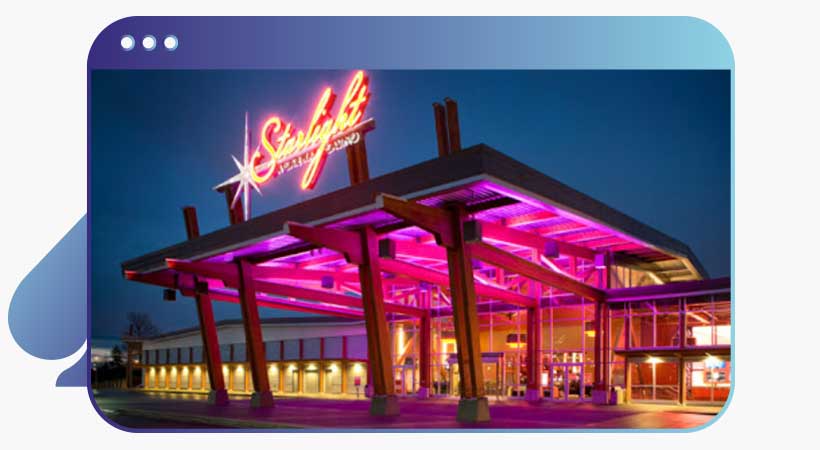 With more than 850 slots and 45 tables, Starlight Casino is a big gambling establishment, and one of the oldest spots in the city of Vancouver. The poker room includes electronic tables, making sure the poker fanatics have some cool options as well. If you're looking for a more exclusive experience, we're happy to inform you there is a private bar and patio available at Starlight. You'll need to ask for access, so make sure you ask the right person.
Starlight Casino New Westminster
Vancouver: the complete entertainment package
There are quite a lot of big cities in North America that have less than 5 casinos to offer, so Vancouver is actually worth the visit for players that want to discover a new gambling destination. Vancouver casinos in BC offer their guests an unforgettable experience and this is also thanks to premium accomodation and dining facilities that come with them. Vancouver is actually one of the best places in Canada to enjoy the complete package of food, drinks, and entertainment. So go ahead and plan your stay in British Columbia. Make sure you head to these Vancouver casinos to put your hands on some of the table games.
Online gambling in Vancouver
Online gambling is legal in British Columbia, but local laws do state you'll need to play at an online casino site that is operated by the British Columbia Lottery Corporation (BCLC). At present this is possible on the provincially-regulated PlayNow website, but that doesn't mean you cannot access other gambling oriented websites from abroad. In fact, BC laws are somewhat limited, meaning there's a lot of space for mal interpretation. BC laws actually only seem to deal with the side of regulated activities, and which organisation conducts them.
International online casinos are accessible
In this case it's the BCLC, making sure all the attention goes out to this organization and not necessarily to other websites that offer online gambling services. Although the PlayNow.com website is not doing a bad job, it doesn't really get close to the professionality of casino websites available from jurisdictions based overseas. The good thing is that websites from abroad are not blocked and are therefore widely available for Canadian users. Please be aware that Vancouver based gamblers should always stick to top security and fair online casino games.