Cascades Casino Kamloops
Right on the border between the US and Canada, British Columbia (BC) gives both visitors and residents a nice range of casinos. Some would say the Canadian province even offers one of the best mixture of gambling venues in North America.
One of the best examples in the province might just be the Cascades casino, which is a popular Canadian casino chain that owns different casino hotels and resorts in Kamloops, Langley, and Penticton — all worth checking out if you ask us. Today's recommendation is Cascades Casino Kamloops and if you're around you might as well visit the Riverside Park, Monte Creek Ranch, and Kamloops Wildlife Park as well. Ready to go to Kamloops?
Cascades Casino Kamloops practical information
★★★★☆
Lodging
Hotels nearby
Entry fee
Free
Dress code
Casual
Parking
Yes, self-parking
Casino theme
None
Age restriction
19 years and older
Games
Slots, & table games
Opening hours
Sun: 10am – 12am
Fri-Sat 10am – 2am
Food
Yes, three restaurants
Map
Location/address: 1555 Versatile Dr, Kamloops, British Columbia (BC), V1S 1W7, Canada
About Cascades Casino Kamloops
Situated conveniently in Kamloops, Cascades Casino Kamloops, is a whole lot more than your regular casino. Known as a complete entertainment destination in British Columbia, it provides the complete entertainment package for all sorts of visitors. You can get the most out of gambling with the 500 slots, 18 tables, and the poker room, but the atmosphere is very pleasant for visitors that are looking for other forms of entertainment as well. Both the gambling venue itself and its staff will make sure you'll feel at home as soon as you walk in.
What to expect?
The Cascades Casinos are part of a very popular casino chain in Canada, offering high class establishments in Kamloops, Langley, and Penticton, including both casinos and lodging options. With a complete entertainment package we refer to a nice range of slot machines, table games, and poker games, as well as outstanding food & drink options, hotels, and of course, the advantages of the Players Club, which is enjoyed by frequent visitors. Both recreational players and experienced high rollers will feel comfortable as there are loads of options available. The poker tables tend to be very high in demand, so make sure you reserve your spot.
Game offer
Old school gambling enthusiasts can play classic table games on the casino floor, but the custom gaming options are very popular among visitors as well, of which Fast Action Hold'em poker, Double Deck Blackjack, and EZ Baccarat are the best examples. Each game you bet on will count for your Encore Rewards level which gives you exclusive rewards. For players that have smaller budgets we are happy to announce that there are hundreds of varied slots ranging from bet ranges between 1¢ and $5. Get in the mood for:
500 slots machines.
18 table games.
Food & Drinks
Offering outstanding food and drink at affordable prices, there are two restaurants available at this casino. Gourmets will have plenty of options to choose from at this casino in Calgary:
MATCH Eatery & Public House: the go-to for both quick breakfast and complete dinners.
Atlas Steak + Fish: the name says it, but it is also a perfect place to indulge in proper, homemade food.
The Buffet: to enjoy a wide range of different culinary influences.
Dress Code
This venue doesn't have any strict rules about the dress code; this, however, doesn't mean that you can enter the venue under the influence of alcohol or drugs. This is a rather reputable casino in British Columbia, which means that all general rules of behaviour apply. In terms of clothing this means that offensive clothes (particularly disturbing texts or prints) are not allowed. Please dress appropriately when visiting Cascades Casino Kamloops.
Other casinos in the area
Kamloops is an amazing place for gamblers from all over Canada, as there is a big selection of casino venues, hotels, and casino resorts to be enjoyed in this part of the country. Cascades Casino Kamloops is definitely one of the most popular ones around, but if you're in the area looking for other places to coin in some more cash, we recommend going to:
River Rock Casino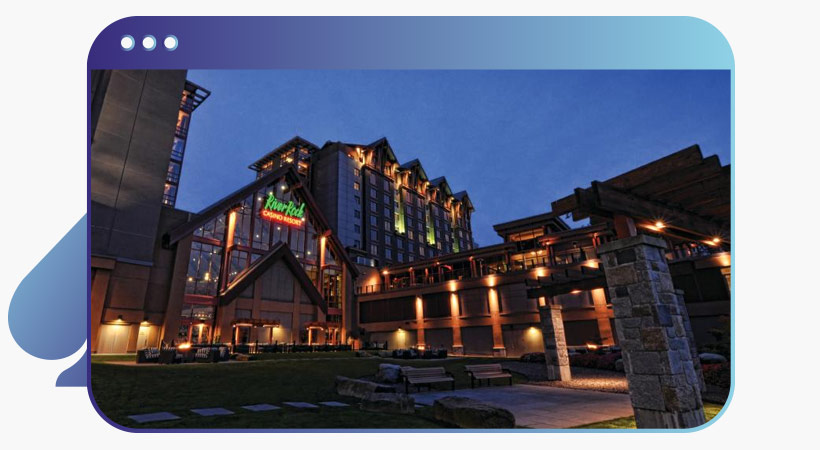 One of the most popular casinos in the province and it also made it to our list of best casinos in British Columbia. In fact, it even tops the number first sport and it's easy to see why. This casino offers over 1100 slot machines and table games, but the VIP rooms are meant for an exclusive group of high rollers, meaning that this casino offers something for everyone. Not to be forgotten is the amazing view of this casino resort and if you're lucky you might just enjoy a beautiful sunset at this popular casino that can be found in the city of Richmond.
River Rock Casino
Cascades Casino Resort Langley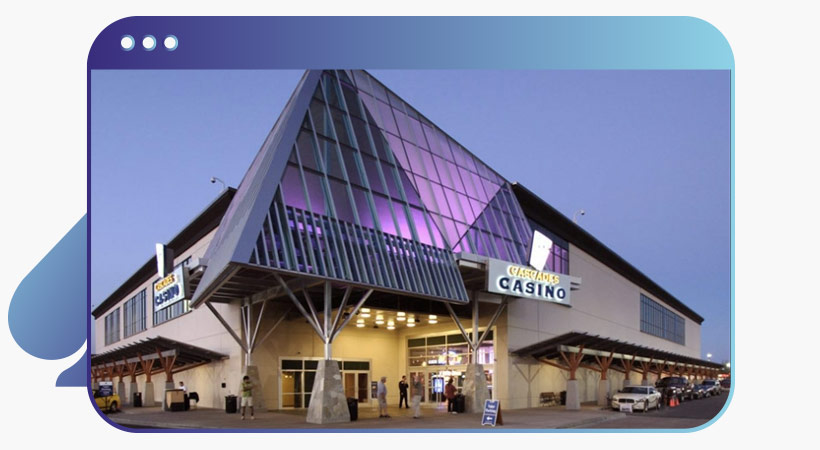 This casino is situated in Langley and offers a 70,000 square feet gambling venue which excludes a wide variety of slot machines and table games. There is also a bingo floor for players who are into this social game and the 77 hotel rooms make sure you can rest and recover for your next night at the casino floor. And once you're here you might as well enjoy the very best of what Cascades Casino Resort Langley has to offer in terms of dining, live music, theater shows, night life, and business events. All of this can be found on 6 floors of entertainment. It's fair to say that Cascades Casino Resort Langley has it all.
Best Casino websites in Canada
Relevant news