Cascades Casino Chatham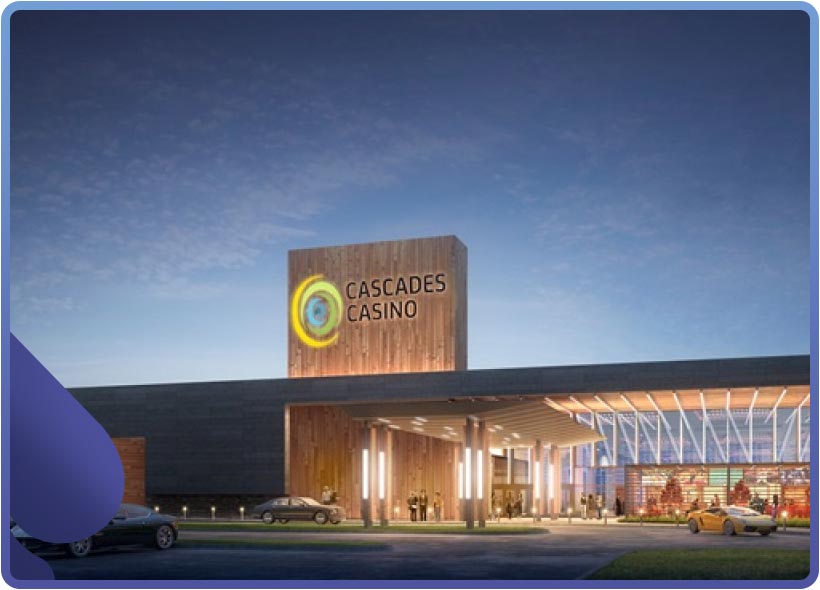 Most people will either head to Toronto or Niagara Falls when trying to find the best gambling establishments in the province of Ontario. Historically this province has always offered a more liberal gambling market place, which explains why there are quite a few world class casinos in this part of Canada. No matter what type of gambler you are, you should be able to find a gambling venue that suits your needs.
Do note that there's a lot more than just Toronto or Niagara though as there are many establishments in Ontario that are worth the visit. In today's casino recommendation in Ontario we will make a nearly three hour drive from Toronto. With a few hundred slots and table games waiting for you there's a pretty good reason to drive down to Chatham.
Cascades Casino Chatham practical information
★★★☆☆
Lodging
None
Entry fee
Free
Dress code
Casual
Parking
Self parking
Casino theme
None
Age restriction
18 years and older
Games
Slots, & table games
Opening hours
24/7
Food
Two restaurants
Map
Location/address: 615 Richmond St, Chatham, Ontario (ON) N7M 1R2, Canada
About Cascades Casino Chatham
After its grand opening on the 8tth of 2019, Cascades Casino Statham has turned out one of the most popular casino destinations in the province of Ontario and we fully understand why. This is the first built casino by Gateway Casinos & Entertainment Limited, a Canadian gaming and entertainment operator that offers 23 land based casinos all over the country. The gambling fun can be found at the 300 slot machines and 100 table games you'll enjoy at this venue while the Gateway's signature restaurant brands, MATCH Eatery & Public House and The Buffet, and the full-service Summit Bar make sure you can fill up your energy level.
What to expect?
The casino floor at this establishment is of a rather decent size and on it you'll find a full gambling selection of 320 slots and 10 standard gaming tables. As this is a relatively new land based casino, all of the machines and tables are modern and in very good condition. Many of the slot machines will allow bets for as low as $0,01 per spin while the maximum bets go up to $5 per spin. From old time slot classics to brand new games, we're pretty sure every player will find a proper theme, reel format, and volatility level here. Our picks? Definitely Bonus Times and China Shore, but we also enjoy Mayan Chief very much.
Game offer
When it comes to table games you will find the traditional favourites like blackjack and poker at this establishment, but we're very happy to inform you that there are a lot of less known games like Mississippi Stud Poker and 3-Card Poker as well to be found at this casino. As betting ranges vary a lot between the tables, most players should be able to find a game that they'll feel comfortable with. The table games work with opening openings which means that you can join your favourite gable game from 10:30am to 3am on Sunday to Thursday and from 10:30am to 4am on Fridays and Saturdays. The 320 slots and 10 table games can be found on a total gaming space of 45,000 square feet.
Slots: Lightning Links, Dragon Link and Helix Tower, Blazing 7, Little Shop of Horrors, Black and White 5 Times Play, Bonus Times, Wheel of Fortune, Buffalo, Quick Hits, Fu Nan Fu Nu, Solstic Celebration Triple Sparkle, Lock it Link, China Shore, Mayan Chief.
Table games: Roulette, Blackjack, Spanish 21, Mississippi Stud Poker, Ultimate Texas Hold'em, 3-card Poker
Food & Drinks
Offering amazing food at affordable prices, there are two restaurants available at this casino. Unless you're very picky you should be able to find something you'll like on the menus of:
MATCH Eatery & Public House: this is a modern public house that offers classic dishes with a modern twist. They also offer live music events and parties with DJ's.
The Buffet: dive into the menu of tasty soups and fresh salads and Mediterranean pastas. Make sure to leave room for the appetising dessert bar too.
Dress Code
Most casinos in Canada work with rather similar dress code policies. These aren't necessarily strict, but there are clearly some standards that should be adhered to. The dress code at Cascades Casino Chatham expects all visitors to be appropriately dressed, meaning clothes that show messages or prints that may be offensive to others are best to be avoided. Players should also avoid turning up drunk or under the influence of other substances.
Other casinos in the area
People either living in Ontario or visiting will be happy to know this is one of the hotspots of Canada when it comes to gambling options. You'll find many excellent casinos Ontario to suit both your budget and gambling preferences, of which our recommendations are:
Blue Heron Charity Casino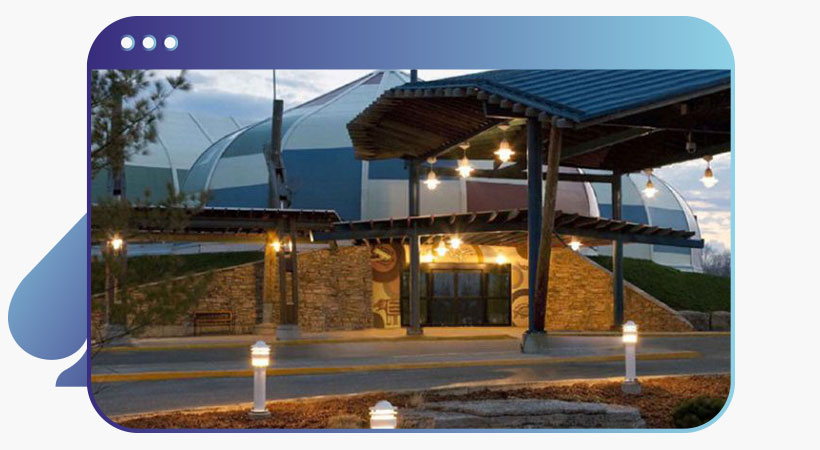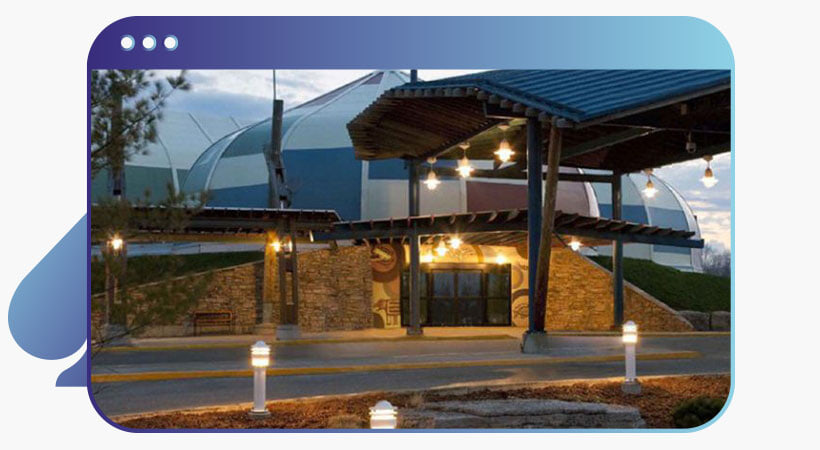 This casino is especially popular among players from the city of Toronto or its metropolitan area. This is partly because of its favourably location, but also because of the 60 table games and more than 500 slot machines. It's not a huge casino, but the surroundings of this venue are so stunning that a visit to this establishment is definitely worthwhile.
Blue Heron Charity Casino
Caesars Casino Windsor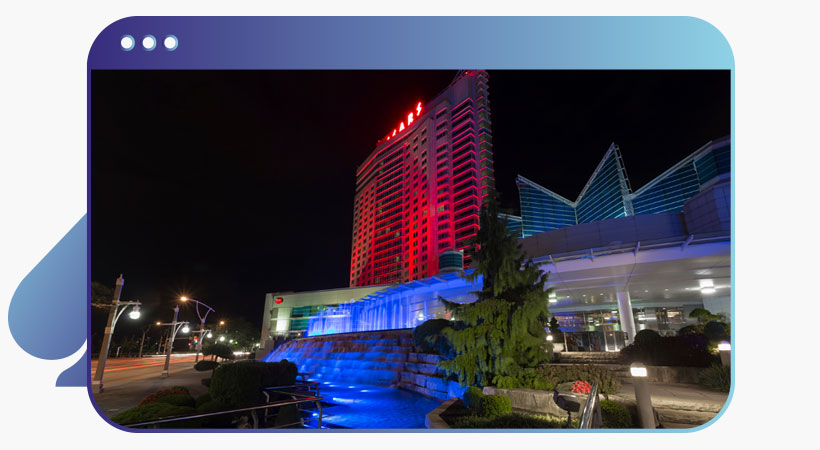 This casino really doesn't need an introduction as we're talking about one of the most famous casino brands in the world. The city of Windsor is lucky enough to have its own Caesars Casino branche which includes shopping malls, a hotel, and hundreds of slots and other casino games. The strategic location close to both the Canadian and American side of the border explains why this is one of Canada's most visited land based attractions.
Caesars Casino Windsor
Rama Casino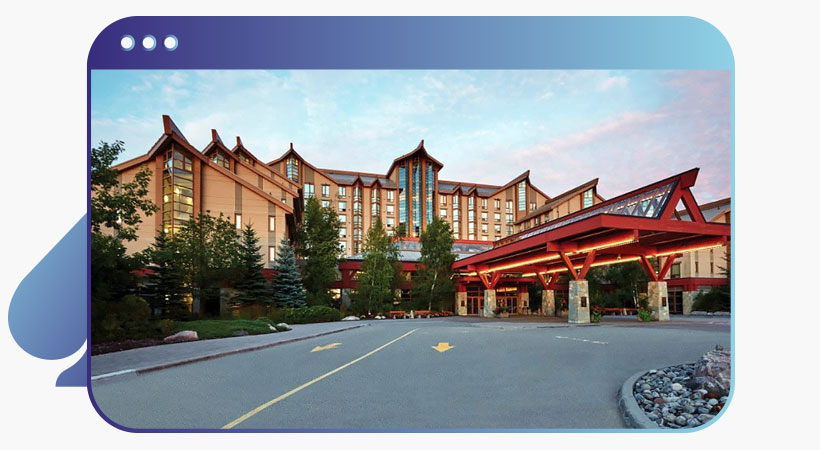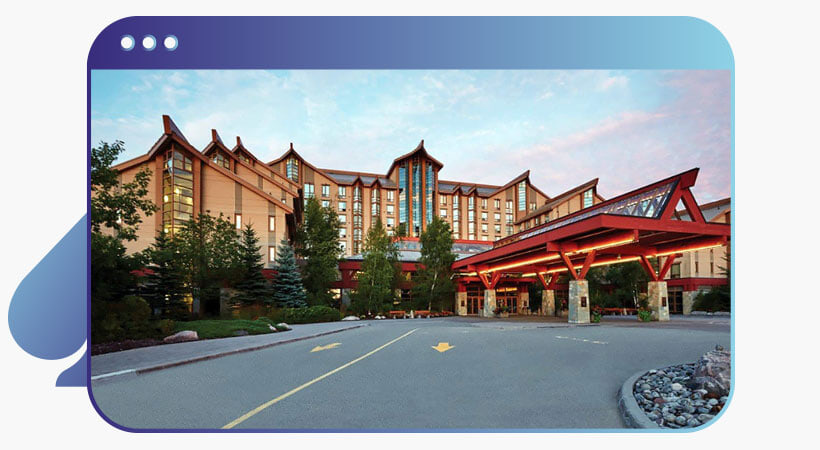 Rama's Casino location in the Mnjikaning First Nation Reserve is just as remarkable as you won't find a lot of places where you'll enjoy the environment just as much as the casino itself. There is so much space here that calling this a "casino" doesn't do justice to the grandeur of this place as we're talking about a complete casino hotel resort here. If you're lucky enough you might even find yourself competing for additional prizes like brand new cars. With beautiful lakes surrounding Rama Casino this is a perfect spot for both fun and freedom.
Best Casino websites in Canada
Relevant news