Blue Heron Charity Casino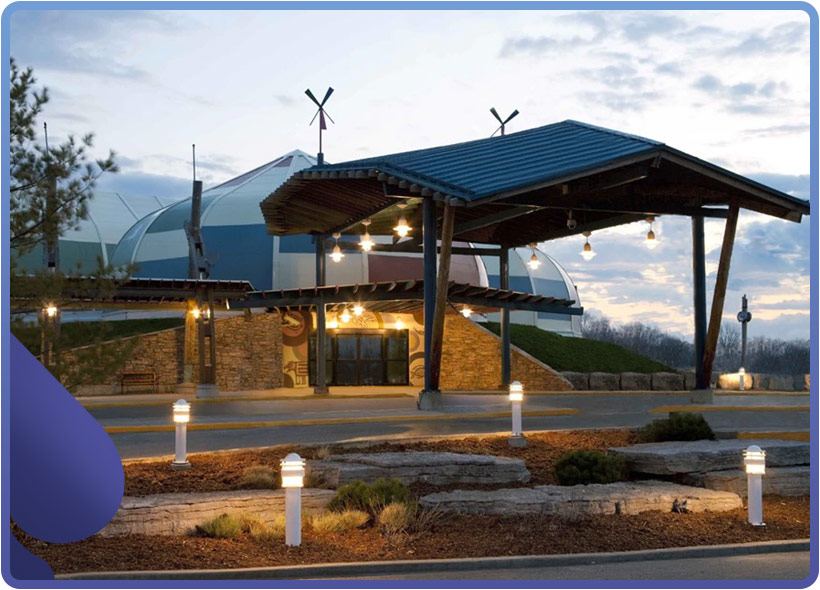 When it comes to casinos, Ontario is definitely the place to be in Canada and it's easy to see why. With over 14,57 million people living in the province it's rather logical that a big portion of Canada's best casinos can be found in Ontario. The province is also known as one of the most liberal places in Canada resulting in a laid back attitude to casinos and gambling in general.
For players residing or staying in Ontario we would like to emphasize that there's more than just Toronto. One of the best examples of what the province has to offer can be found on Scugog Island as this is the place where the Blue Heron Charity Casino is located. Let's take a further look at this popular First Nation casino.
Blue Heron Charity Casino practical information
★★★☆☆
Lodging
Not nearby
Entry fee
None
Dress code
Casual
Parking
Yes
Casino theme
First Nation theme
Age restriction
19 years and older
Games
Slots, Stadium games
Opening hours
24/7
Food
Buffet: Breakfast, lunch & Dinner. Grill & Bar
Map
Address: 21777 Island Rd, Port Perry, Ontario, Canada
About Blue Heron Charity Casino
The Great Blue Heron Casino was opened in 1997 is situated on Scugog Island which is a First Nation reserve, making this a First Nation themed gambling venue. The establishment can be found east of the community of Port Perry, Ontario, which is about an hour drive from Toronto. Both this brick and mortar casino and the land on which it's built are owned by the Mississaugas of Scugog Island First Nation. Although not far from Toronto, there is still a lot of space available in this area, which explains why you'll find over 25,000 square feet of casino entertainment waiting for you, including nearly 700 slots and 50 table games.
Making everybody feel at home
On the main gambling floor you'll find the perfect mix of friendly personnel, slot machines, and gambling tables including many old time classics like Blackjack, Roulette, Baccarat. As not every player will be familiar with the rules of these games of chance, the professional and welcoming dealers are more than glad to help you out and teach you the rules of every and each game available. Detailed gambling guides can be found online or at the service desk in the casino. At this casino they'll do their upper best to make every visitor feel comfortable.
Food & Drinks
From all-inclusive buffets to à la carte menus and quick snacks, Blue Heron Charity Casino has got pretty much all your cravings fully covered. Firstly, we consider the menu at the Water's Edge Buffet Restaurant truly excellent with a combination of local and international dishes prepared freshly for every guest wanting to enjoy food & drinks.
Breakfast is available as a buffet from 6am to 11am on Friday to Sunday and on Holidays.
Lunch is served from 11.30am to 3pm.
Dinner is served from 5pm to 9pm Monday to Thursday and until 10pm on Friday, Saturday, Sunday and Holidays.
The Lucky Stone Bar and Grill is also a perfect place to enjoy a snack without needing to leave the gambling floor. We recommend you to check out the Quickbites Snack bar which is open 24/7 and can be found just off the gambing floor. The Heron Bar is another great option that can be found on the main gambling floor and offers fast food and tasty drinks.
Loyalty program
Loyal players get rewarded at this casino with cool bonuses like free points, cashbacks, and a lot of casino merchandising. Once you visit this casino frequently, you can opt for a loyalty card leading to some very nice benefits. Although the loyalty program is meant to make you go back to the casino, we would clearly like to emphasise the importance of responsible gaming. Full details about the rewards scheme can be found on the official site of this casino.
Dress Code
At Great Blue Heron Casino they work with a casual and relaxed dress code. In other words: there's no need to dress up or wear your best outfit. As long as it's reasonable and doesn't shock people you should be just fine at this casino.
Bus Programs
As the casino isn't very far from Toronto's metropolitan area, the Great Blue Heron Casino works with popular bus tours for large groups of 20 or more people. These group packages include transportation and a 3 hours stay at the gambling venue. We do recommend you to make reservations at least 7 days upfront, because the bus tours are actually very popular.
Best Online Casinos Canada
Relevant news