Caesars Casino Windsor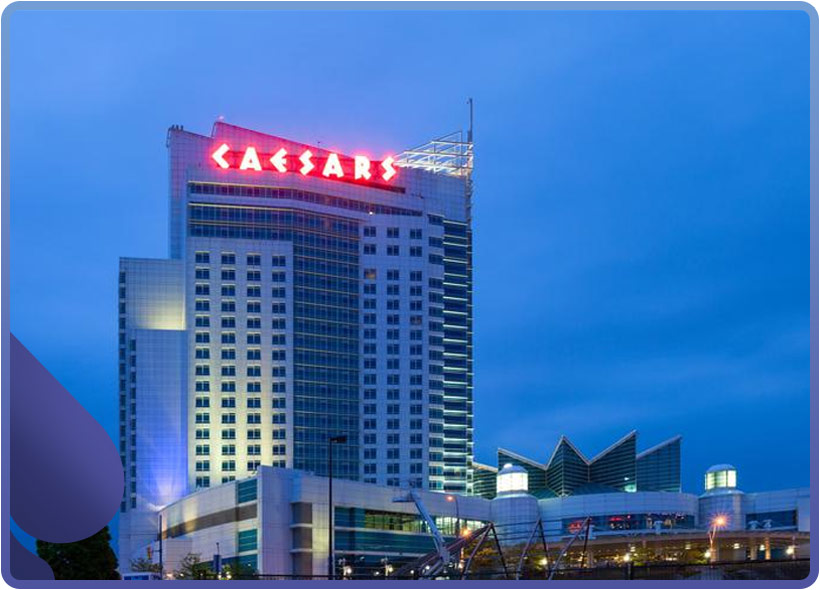 As Canada's most populous province there are many land based casinos in Ontario that are worth a visit, but the one that has gained the most international fame is Caesars Casino Windsor — although the venues at the Niagara Falls are worth the visit as well. We'll leave these casinos for another blog post and we'll focus on Caesars Casino Windsor as we believe that this casino deserves special attention.
This casino is one of the best examples that there's more to see in terms of gambling than the casinos in Toronto. Caesars Casino Windsor overlooks the Detroit skyline in the US from the waterfront, and is situated near the Canadian end of the Detroit-Windsor Tunnel. The launch of this casino was one of the crucial factors in the Michigan legislature authorising the legalisation of casino games in Detroit in the beginning of this century. To this day, Caesars Casino Windsor is considered one of the most complete gambling venues in North America.
---
Caesars Casino Windsor practical information
★★★★★
Lodging
Forum Tower
Augustus Tower
Entry fee
None
Dress code
Casual
Parking
Self parking & Valet
Casino theme
none
Age restrictions
19 years and older
Games offered
Slots, table games & sports betting
Opening hours
24/7
Food
---
Map
Location: 377 Riverside Dr E, Windsor, Ontario (ON) N9A 7H7, Canada
---
About Caesars Casino Windsor
Caesars Casino is a casino brand known all over the world and in Canada, Windsor is lucky to house its own Caesars Casino. The hotel resort actually has a monopoly on slot machines in this part of Ontario which explains why it's one of the few casinos in the city. Luckily, it's a very complete gambling venue with multiple hotels, shopping malls, bars and restaurants, and an events hall with more than 5,000 seats. At the gambling tables you'll find pretty much all the casino games you could think of, including craps, roulette, baccarat and blackjack. For fans of sport bets, the very first sportsbook of the country was opened here in Windsor.
International casino brand
Pretty much every gambler that has visited other gambling establishments in Canada will agree that Caesars Windsor is one of the best venues the country has to offer. Other places that house Caesars Casinos are Atlantic City, Las Vegas and Dubai. In the Forum Tower and the Augustus Tower you will find over 750 premium rooms to lodge, from comfortable standard rooms to premium suites. Restaurants, shopping malls, and health centres will make sure you feel comfortable at any moment you're staying at this casino resort.
Game offer
There are thousands of games to be found at this casino and the big collection of slot machines and video poker games stand out from other casinos in North America. Nice for American visitors is that you'll find Super 4 Progressive Blackjack in this casino which is a game that is particularly popular among players in the US. The 2600 slots and nearly 100 table games can be found at the total gaming space of 100,000 square feet. Get ready for:
2600 slots
95 table games
14 poker tables
The first sportsbook of the country
A visit to Caesars Windsor isn't complete without a stop by at the casino's sportsbook, Legends Sports Bar. Even if you're not a sports fan, this bar is a lot of fun offering a cool ambiance with big screens, friendly staff, and nice foods and drinks. You'll probably enjoy watching other people going crazy when their favourite team scores even more than the actual bet. Now just imagine your favourite team winning and your bet coming out.
Food & Drinks
At Caesars Windsor standard non-alcoholic beverages, such as pop drinks, coffee and tea on the gaming floor are on the house, but there are some exquisite restaurants you need to check out to get fully refueled. The food & drinks establishments include:
Neros Steakhouse: this is the right spot to enjoy the finer things in life starting with valet parking service at the door and ending with some quality wines and desserts.
Market Buffet: watch the best cooks of Canada prepare over 50 dishes and eat the freshest food at Caesars Windsor Market Buffet.
Pronto Café: strategically located on the second level you will be able to enjoy a quick grab and go back to the gambling floor to try your luck again.
Legends Sports Bar: consider this a place to grab a quick snack while you watch the current sports action and place your best bets.
Spago Trattoria: clearly specialises in original Italian tastes. This casual dining restaurant is well known in Windsor for their homemade Italian dishes. Mangiamo!
Johnny Rockets: the place for the best original burgers. Do make sure to try the other typical American fast food options as well: cheesesteaks and hotdogs it is!
Dress Code
Most casinos in Ontario have no formal dress code and allow visitors to arrive with casual clothes. A dress code might be in place for certain events, but is definitely not for a regular casino visit. The casino also offers a nightclub where the following items aren't allowed:
Runners.
Ball caps.
Hoodies.
Shirts of sport teams.
Construction boots.
Big bags.
Baggy jackets or jeans.
Shirts of other items with offensive texts or prints.
---
Top Canadian Online Casinos
Relevant news