Best casinos in Niagara Falls, Canada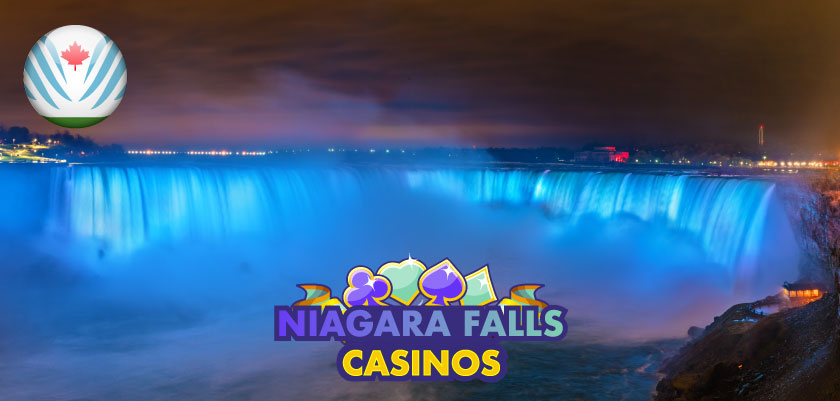 Millions of tourists from all over the world visit the Niagara Falls region each year to see the very best Mother Nature has to offer in Ontario. Although the waterfalls are magnificent in every sense of the word, there isn't an awful lot to do in the region itself. That is, except from some great nightlife and some great casinos, of course. Niagara Falls are one of the most beautiful natural wonders of the world, but you'll also find some casinos here as well that are worth the visit. And they're rather fancy.
Some of the casinos in Canada, like the Québec casino at Mont-Tremblant we discussed with you before are situated in the most picturesque parts of the country and attract visitors for much more than just gambling. Others, like Casino de Montréal are very flashy with a Vegas-style ambiance. This is exactly what to expect in Niagara Falls as well. What else to expect once you're here? Some of the most beautiful views you could've ever dreamed of.
---
Best Online Casinos in Niagara Falls
Play casino games online at a legit, trusted and recommended online casino who accept players from Niagara Falls
Best online casinos in Canada
---
Gambling in Niagara Falls
The age requirement for visiting casinos in Canada corresponds to the legal drinking age which varies by either province or territory. In Ontario, this age is set at 19 years old meaning this is also the minimum age required to enter the gambling establishments — on the Canadian side that is. On both the Canadian and American side of the border there are some interesting gambling venues, so make sure you're aware of the rules and regulations on both sides. For instance, the legal drinking age in the US is 21 years, which explains why it's very common for a lot of American youngsters to go to Canadian casinos and have some wild nights.
Two casinos: two Canadian, one American
There are two casinos on the Canadian side and one on the American one. Despite it being a difficult topic to agree on for many people on the American side of the Niagara Falls, Canada has always been a bit more open minded in terms of sports betting and gambling in general. All games of chance are regulated by the 1992 Gaming Control Act. which was actually the very beginning for the first-ever brick and mortar casino in the province of Ontario. Today, the gambling industry in Ontario is flourishing. Pretty much all forms of gambling are legal in Ontario with the Ontario Lottery and Gaming Corporation (OLGC) overseeing all games.
Casinos in Niagara Falls
Although you won't find a big urban area around Niagara Falls, the place has still managed to become one of the casino hotspots of the country. There are only two large casinos in Niagara Falls in Ontario, but the good news is that there's a third option on the order side of the border. This will, of course, require you to cross the border, but a lot of people do this anyway as they want to see both sides of the waterfalls. And it's really not a bad little trip at all to make it to the other side in the United States. In case you plan to do so yourself as well, we recommend crossing the Rainbow Bridge – you won't see many views like this anywhere else, absolutely stunning. Let's take a further look at the best casinos in Niagara Falls.
1. Fallsview Casino Resort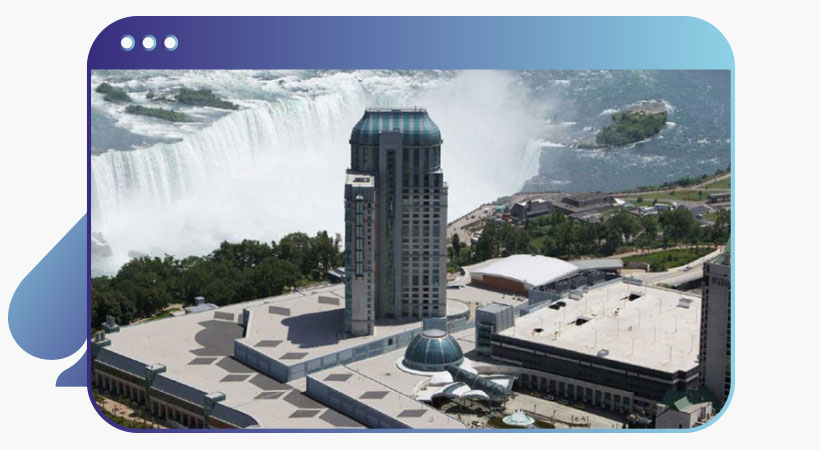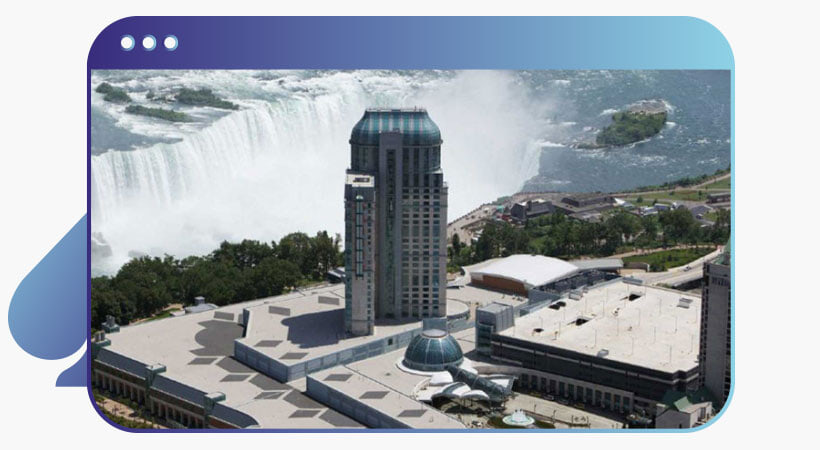 Apart from the many Fallsview casino slots you'll find here, the view itself should be enough reason to make a visit to this casino. Add some 3,000 slot machines and 100 gambling tables to this and you'll understand why this is probably our favorite casino Niagara Falls. There are also about 370 hotel rooms available for people wanting to stay a day or two in this beautiful region of Canada. Fallsview Casino Resort also houses the largest poker room of Canada, so poker fanaticos will definitely feel at home once they enter the place.
Fallsview Casino Resort
One of Canada's most fancy casinos
This casino at Niagara Falls was opened in 2004 using its inspiration from many Vegas casinos. The gambling floor looks what you might've seen at the Venetian or Mirage, but the footprint is a lot smaller. Some of the gambling tables don't have a lot of space between them, but our guess is that Covid measures might just have changed this permanently. Other than that, it's a great place with a lot of luxury. Now, just imagine winning a major jackpot while overlooking Niagara Falls. It really doesn't get any better than this.
2. Casino Niagara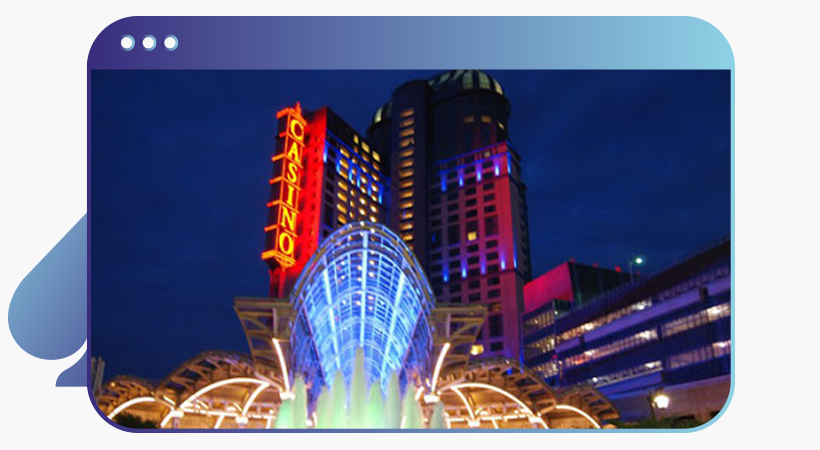 This casino was already opened in 1996 and it has been an important tourist attraction in Niagara Falls ever since the first visitors entered the gambling floor. Offering over 1,300 slots, 40 gambling tables, and a 24-hour poker room, every visitor will have enough options to choose from. Not sure how to gamble? Casino Niagara is glad to explain how to via their popular Learn to Play sessions they offer every week day. Do note that you're on your own there on the weekend, but we'll just trust you know what you're doing and keep it simple.
Casino Niagara
A full entertainment package
In case you're lucky enough to attend one of the how two-sessions, you'll probably have a lot of fun getting to know the rules. Some of the most entertaining gambling pros will explain to you how to deal with the most popular games before you make your first bet. This gambling establishment also offers food and dinner options, a sports bar, and a café. In terms of the casino's dress code, proper shirts and shoes must be worn. Inappropriate clothes, like shirts with offensive images or texts are obviously not allowed, nor are flip-flops or shorts.
3. Seneca Niagara Casino (US side)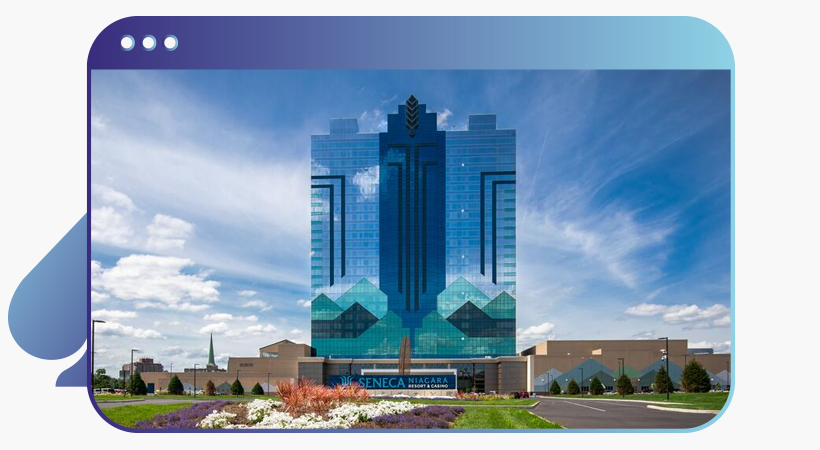 This is the third premium casino resort you'll find in Niagara, but different from the other two options, this one is located on the American side of the border. It does come with its own golf court, so it's rather complete for those looking for fullscale entertainment options. Like the other options you'll be able to enjoy a beautiful view of the waterfalls and the 2,500 slots will make sure that both high rollers and budget players will have everything they're looking for.
There are also 80 gambling tables that include the most common games like blackjack, roulette, craps, and baccarat — so most gamblers will find the games they enjoy most. With a lot of entertainment options, including comedy shows, and music events, there is always something to do at Seneca Niagara Casino. A lot of visitors combine their visit with a stay at the casino resort which include standard rooms for two to large suits with amazing views.
Online gambling in Niagara Falls
Although not clear to everyone, online gambling is legal in the province of Ontario, but there's a little twist here. You're able to gamble on the government owned website PlayOLG.ca, but you can't play on a website that's from a different Canadian province or even a foreign website. Whether this means that you're not able to do so? Not completely, as those sites are still accessible. You won't be prosecuted for gambling online and there aren't even taxes for foreign gambling winnings. This is exactly why a lot of players do try their luck on offshore casino websites. With better bonuses and bigger game portfolios we can't really blame them.
Play it safe
Nonetheless, many sites hosted all over the world (mostly in Europe) still offer their online games to Canadian gamblers, including players in Ontario. This number has slightly reduced over the years with the launch of PlayOLG website. Nonetheless, some offshore casinos have decided to withdraw their activities from the market in Ontario as it's still somewhat of a grey area. This doesn't make it very easy for both players and casinos to understand what's allowed and what's not, but if you want to keep it safe you can always decide to stick to the provincial's official casino website. Doing so also means you'll be playing in a secured environment overseen by local provincial authorities. Play it safe and make sure to enjoy it!