Fallsview‌ ‌Casino‌ ‌Resort‌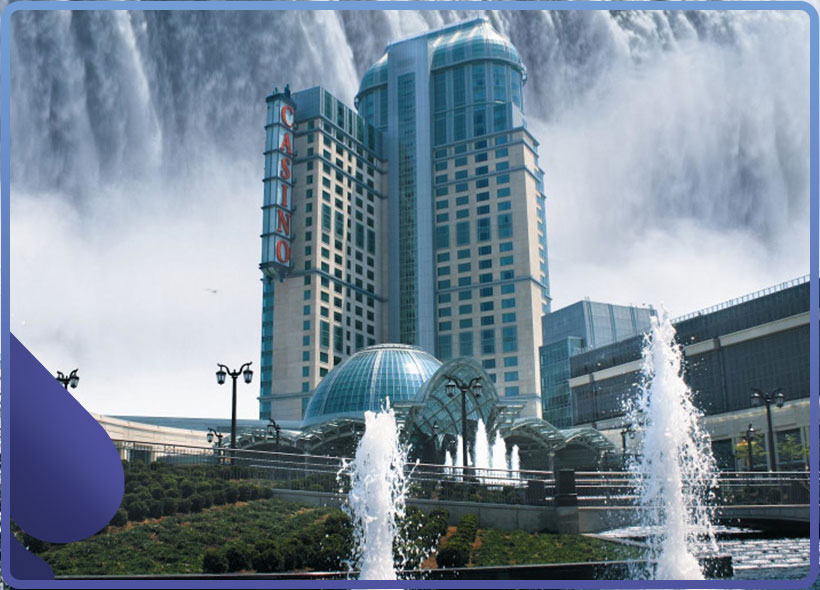 Fallsview Casino is situated on the Niagara River's bank, Niagara Falls is actually quite a charming little city, although it's obviously best known for its waterfalls. Every year, the small city in Ontario attracts millions of visitors from around the world who travel to Niagara Falls to catch a glimpse of some of the world's famous waterfalls.
Apart from the many natural attractions to be found in this area, the city of Niagara Falls is also home to some very interesting observation towers, theaters, museums, and of course, casinos. These casinos offer stunnings views and complete gaming options. Today, we will tell you more about one of the region's main casinos: Fallsview Casino Resort.
Fallsview Casino Resort practical information
★★★★★
Lodging
Yes, Fallsview Hotel
Entry fee
None
Dress code
Casual
Parking
Yes, self-parking & valet
Casino theme
None
Age restriction
19 years and older
Games
Slots, & table games
Opening hours
24/7
Food
Yes, 20+ restaurants
Map
Location/address: 6380 Fallsview Blvd, Niagara Falls, (Ontario) ON L2G 7X5, Canada
About Fallsview Casino Resort
Fallsview Casino Resort is actually one of the biggest land based casinos in Canada and even manages to occupy the number one spot in the province of Ontario. This popular casino only opened in 2004 and was built next to the magnificent Horseshoe Falls, giving visitors an extraordinary view of the waterfalls. The casino resort offers a massive gambling area, including 374 rooms, 2 entertainment halls, 300 slots and more than 130 table games.
What to expect?
There's so much to do at this casino resort that you'll probably face some difficulties to do everything you planned to do, unless you stay at the built-in hotel and give yourself some more time to visit the complete resort. Luckily, this casino is open 24/7 meaning you're not limited to opening hours and can give the gambling venue a visit whenever it suits you. Even if you're looking for entertainment options that aren't gambling oriented you can also decide to relax at the spa, work out at the gym, or enjoy the best dining options at the 20+ restaurants.
Biggest casino in Ontario
Situated on 200,000 square feet of space you'll also find 374 hotel rooms that offer amazing views of the waterfalls. As there are thousands of tourists visiting the place everyday you will be able to enjoy a buzzing atmosphere and a place that never sleeps. This is also thanks to the more than 3,000 slots and 130 table games that are available for all sorts of players: whether you're a slots fanatic or a poker pro, you'll find it here at this casino. This also holds for games like Blackjack, Caribbean Stud, Craps, and Pai Gow Poker. Make sure not to miss out on the Fallsview Poker Classic World Poker Tour with prizes going up to $5,000.
Food & Drinks
Fallsview Casino Resort has a huge offer in terms of dining options as you'll find more than 20 eateries covering a wide range of menus including Mediterranean, Asian, seafood, Italian, buffets, coffee shops, and small snacks. There are so many places you'll encounter that we guarantee that it's impossible not to find something you would enjoy. Apart from the varied restaurants, we also recommend you to check out the bars 365 Club and R5 Patio & Bar. These are truly great locations to spend a fun evening while enjoying an amazing view.
Dress Code
This gambling venue in Ontario doesn't require you to dress smartly, but you will need to wear a proper shirt and shoes. Any clothing that shows obscene, offensive, or other disturbing prints or texts is not allowed at Fallsview Casino Resort. You will also need to be 19 years or older, which is the legal gambling age in the province of Ontario.
Other casinos in the area
It might not be a big city, but Niagara Falls surely knows how to impress gambling fans with their casino offer. Fully thanks to the marvellous waterfalls, the city has managed to become one of the most important gambling destinations of Canada. On the Canadian side of the falls you will find two casinos, but on the American side there's also an interesting, third option.
Casino Niagara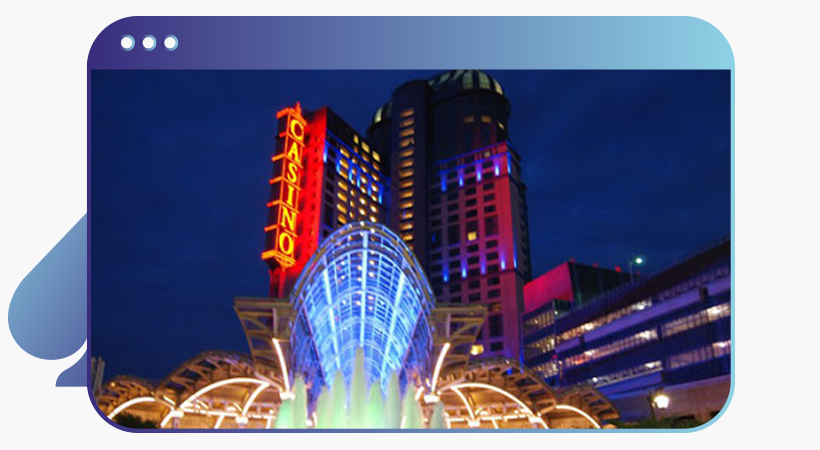 Opened in 1996, Casino Niagara has been one of the most popular spots around the falls for people that are looking for some extra fun after their visit to the waterfalls. With more than 1300 slot machines and 40 gambling tables, we're pretty sure that this is one of the best places in the area to visit once the sun goes down. Casino Niagara isn't as popular as Fallsview Casino Resort, but we still believe it's a casino you really need to visit.
Casino Niagara
Seneca Niagara Casino (US)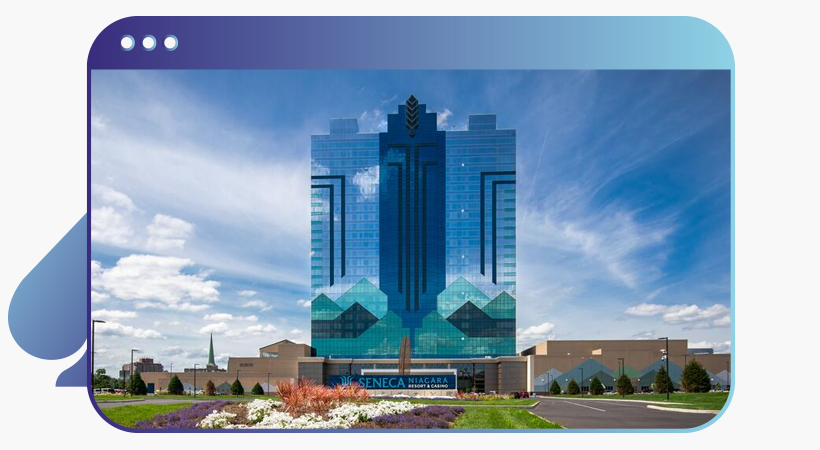 This is also true for Seneca Niagara Casino, although we need to point out here that this US gambling venue is located on the other side of the border. This won't be a problem for most people, but some visitors might want to stay on the Canadian side of the border for whatever reason. In case you don't mind crossing the border you'll most likely be delighted to find 2,500 slot machines waiting for you and an additional 80 gambling tables, making sure you will have pretty much all the casino games you could think of to your disposal. Like the other casinos in the area, Seneca Niagara Casino offers a full entertainment package, meaning that there are frequent music shows and other events. And the views on this side of the border are pretty nice as well!
Best Casino websites in Canada
Relevant news