Casino Niagara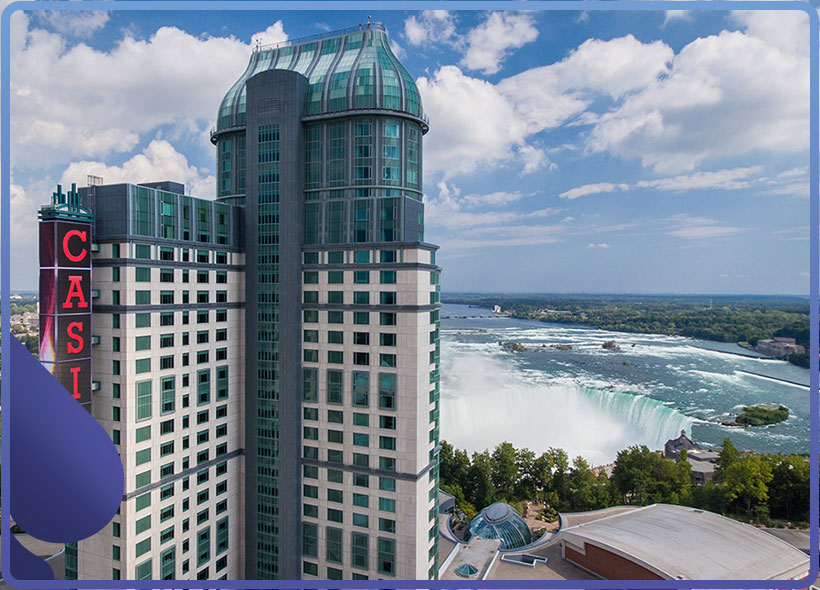 The Niagara Falls are visited by millions of people every year to see the most beautiful waterfalls on earth. More and more visitors combine their visit to the waterfalls with a stay at one of the three casino resorts at Niagara Falls, including Casino Niagara.
One of the main advantages of this casino establishment is its truly magnificent view. Once you've taken a moment to take in the casino's beautiful surroundings it's time to hit the casino floor with its more than 1600 slot machines or enjoy the casino's frequent live music shows and other events. The Comfort Inn hotel offers all the comfort you could dream of, making sure you'll have all the amenities to relax either before or after all the gambling fun.
Casino Niagara practical information
★★★★★
Lodging
Yes, Comfort Inn
Entry fee
None
Dress code
Casual
Parking
Yes, self-parking
Casino theme
None
Age restriction
18 years and older
Games
Slots, & table games
Opening hours
24/7
Food
Yes, 4 restaurants, 1 bar
Map
Location/address: 5705 Falls Ave, Niagara Falls, (Ontario) ON L2E 6T3, Canada
About Casino Niagara
Since the casino opened its doors in December 1996, Casino Niagara has been one of the most important destinations at Niagara Falls as the region's major spot for high stakes nightlife. Casino Niagara offers the most fun gambling activity in North America with more than 1,600 slot machines, 65 gambling tables, and more games of chance. For the poker fanaticos, the gambling fun never stops thanks to the casino's 24/7 Poker Room and if you prefer Blackjack or Baccarat, there is always a table available to play your favourite game. Day or night, before or after visiting the falls, you'll find yourself in one of the country's casino hot spots. With daily shows and other events, Casino Niagara packs everlasting fun and thrills in a 100,000 square foot premium casino.
Game offer
It really doesn't matter if you are an experienced gambler or a beginner, this casino has everything to keep you entertained for hours. This is mainly thanks to the more than 1600 slots and 65 table games, but also to its outstanding location. It really doesn't get any better than this in terms of entertainment plus nature. Two action-packed casino floors of slot machines, ranging from penny to 5 dollar slots, means there are plenty of choices for every visitor: from recreational players to high rollers. At Casino Niagara, they've got your game.
+1600 slot machines.
+65 table games.
Food & Drinks
This land based casino includes different bars and restaurants to feed your appetite, such as the popular Market Buffet and Perks Café, and of course, the amazing LEV2L Sports Bar & Entertainment venue. The latter bar is a 275-seat sports themed restaurant and bar, which means a lot of screens, including an enormous 123-inch HDTV — allowing sports fanaticos to catch all the gaming action from their favourite sports teams while enjoying tasty food and delicious drinks. At this gambling establishment you will find the following eateries:
Lev2L Sports Bar and Entertainment: sports bar.
Lucky's Steakhouse: restaurant/steakhouse.
Perks Café: breakfast, lunch and dinner.
Quench Bar: bar.
The Market Buffet: lunch and dinner buffets.
Dress Code
The dress code at this casino is rather straightforward, which basically means that shirts and shoes need to be worn in order to enter the casino. Clothes that show obscene, disturbing, provocative, or threatening messages are not allowed at this casino establishment.
Other casinos in the area
The area surrounding Niagara Falls doesn't have a lot to offer, but thanks to its three casinos, both local residents and visitors still have a lot of entertainment going on. Two of the most popular casinos of Canada are located in this region and there's even a third option in the US.
Apart from Casino Niagara, you will probably have just as much gambling fan at:
Fallsview Casino Resort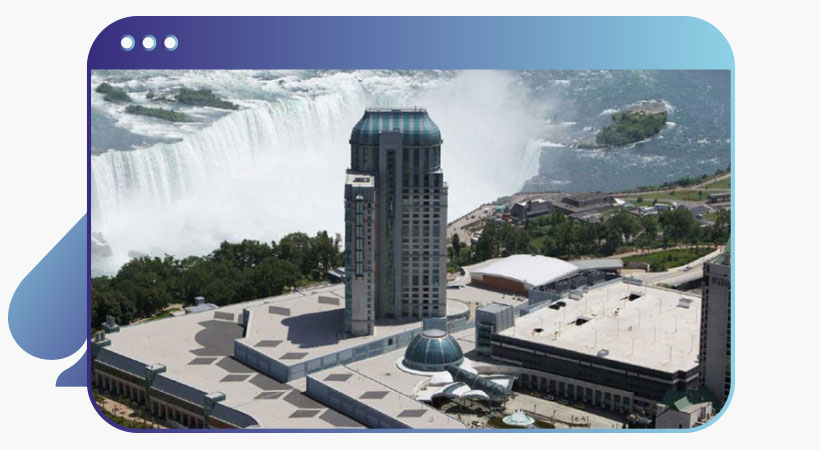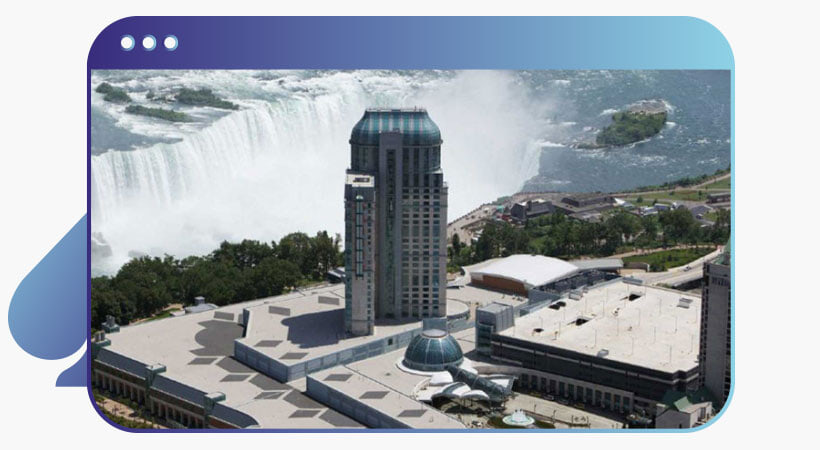 In fact, the amazing views should be enough to visit this land based casino. There are over 3000 slots and 100 gambling tables waiting for you at Fallsview Casino Resort and our guess is that the casino's name should give you an idea of what to expect. For most Canadian visitors this casino is probably the favourite establishment in the region. If you want to combine your visit with a hotel room you can pick one of the 370 rooms available at Fallsview Casino Resort. Especially poker fans might need to consider this as there are many poker tournaments organised by this 200000 square feet casino.
Fallsview Casino Resort
Seneca Niagara Casino (US)
You'll need to cross the border to visit this casino, but with a complete golf court, 2500 slot machines and 80 gaming tables, our bet is that a lot of people would be more than willing to do so. They also serve complimentary drinks at this casino and you might as well visit the American side of the falls as well. Seneca Niagara Casino offers amazing hotel rooms and suites as well and their live music shows, stand-up comedian shows and other events are definitely worth the visit as well. Views at Seneca Niagara Casino are stunning too!
Best Casino websites in Canada
Relevant news