List of Casino Table Games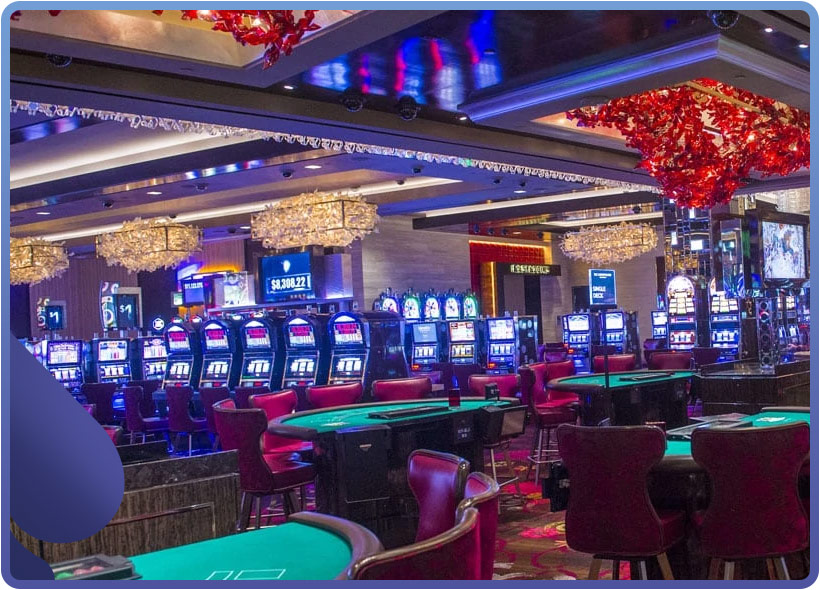 Casino table games are a gambling favourite for many good reasons. Slot machines are a lot of fun, but the real action can be found at the good ol' casino tables. A table game allows players to apply strategy and put that knowledge to practice. An average table game is all about knowing the odds, the different variations, and the strategies, making it a more active way to play than pulling a slot lever and wishing for the best.
Like many things in life, playing these casino table games is all about practice, patience, and experience. The more you play poker or baccarat, the more comfortable you'll be making the correct decision. Ideally, it'll become an automatic process and you won't even have to think about it anymore. The only way to reach that level, nevertheless, is to know everything about the game, and there's no better way to gain experience than with online casino table games. Gambling online gives you the chance to show your skills without feeling the pressure of a land based casino room. Let's take a closer look at the most popular casino table games. 
Best Casinos
More casino websites
Roulette
House edge:

2.70% for a table with a single zero. (European)
5.20% for a table with a double zero. (American)

RTP: 94,8% – 97,2%.
Max win: 35x.
Suitable for: beginners, advanced players, pro players.
The beauty of this classic table game? Its simplicity. The roulette ball rolls, falls into a numbered slot on the elegant roulette wheel and you'll immediately know whether you've won or not. You pick a colour, number, group of numbers, or other betting elements like high or low, odd or even, and the game can begin. Apart from looking gorgeous, classic, and cool, there are different roulette variants that are perfect to play online – see the best roulette sites here. Here are a few of them:
European Roulette
European roulette easily ranks as the most popular variation of the classic game and it's easy to see why. The game is played on a regular roulette wheel with a total of 37 pockets, but only one of which contains the zero (as opposed to the American variant that contains two zeros). Therefore, many players prefer to stick to the European variation. Its house edge is simply a lot lower and stands at an outstanding 2.70%. Since there are many European roulette tables available online with all sorts of minimum and maximum limits, players who play the game online will most likely be able to find a game that corresponds to their budget.
French Roulette
French roulette or roulette shares a very close resemblance to the European variation as it is also played on a regular wheel with only one zero. Do note that the French names of the bets are used on the table layout which might be a bit tricky in the beginning — unless you speak the language of course. Another significant difference is the La Partage rule that applies to French roulette, making sure half of the initial stakes are returned whenever the ball lands on the zero. This rule further reduces the standard house edge of 2.70% to 1.35%.
Lightning Roulette
Lightning Roulette is a very specific game in fact, produced and launched by the popular live casino operator Evolution Gaming. This developer has spiced up the gameplay by including lucky numbers that roulette fanaticos can also bet on. It's very important to note that these numbers are fully randomly generated, and if you manage to predict them correctly, you'll benefit from multipliers that range somewhere between x50 and x500. The other bet types will only pay the standard rates, so these lucky numbers are very interesting. It won't be a surprise that this roulette variant is extremely popular among roulette enthusiasts.
Double Ball Roulette
Double Ball Roulette is also produced by Evolution and is available in both double-zero and single-zero formats. If you're interested in giving it a try, you should definitely look for it in your favourite casino's Live casino section. Double Ball Roulette sticks to the same rules as the standard roulette variations, wth the main difference that two balls are used instead of one. You'll also have the option to make the usual inside and outside bets, adding some of the standard thrills to the game. However, you're allowed to bet on both balls landing on the same individual number too. Those who win their bet will gain a very lucrative payout of 1,300: 1.
Blackjack
House edge: 0.5% – 2%.
RTP: 98 – 99,5%.
Max win: 1,5x per blackjack hand (3/2).
Target group: advanced players, pro players.
Blackjack is a popular game of chance for both you and for the dealer, although not everyone will agree that it's a pure game of chance. The good thing is that practice and experience will make a difference. If you play this game wisely, you could make your pounds or dollars last a long time. One of the biggest advantages of Blackjack is that it's a very easy table game to pick up. Your goal is to get as close to 21 with your cards as possible without busting, and without the dealer reaching a higher total. That's about it. After you've picked up the basics of the game you'll recognize when to double down and apply other blackjack strategies.
1. Double exposure blackjack
Double Exposure looks a lot like the regular blackjack variety, but it comes with a profit of 1: 1. Additionally, the dealer also wins a tie unless there's a blackjack. In other words: these different rules of the game ensure that the house has an extra house advantage. Yet, there's also an important advantage of this variant for the player: the dealer's cards are dealt face-up.
2. Surrender blackjack
In Surrender blackjack you're given the opportunity to withdraw if a loss seems likely. This gives you a way out and that also explains why Surrender blackjack is so popular among players. How does it work? If you see after 2 cards that there is little chance to win the game, you choose to surrender. If you decide to do so, you'll lose half of your bet instead of the full 100%. In case you're stuck with two bad cards and you see the dealer has a few strong cards in his or her hands, it might be a good idea to use the Surrender option.
3. Perfect blackjack
Perfect Blackjack is a game by NetEnt that teaches players to play the ideal hand every time. This allows them to follow, learn, and apply a flawless, or perfect strategy, explaining the name of the game. Players can pre-select whether to split or double automatically, making it a very simple and smooth game. With Perfect Blackjack from NetEnt you can also place side bets such as Perfect Pair and 21 + 3. We do recommend you to avoid this as much as possible, as the payments on these types of bets aren't that favourable for players.
Baccarat
House edge: 1,06%.
RTP: 98,94%.
Max win:

Player wins: 1x
Bank wins: 0,95x
Tie: 8x.

Suitable for: advanced players, pro players.
Baccarat is yet another very popular casino table game that is played all over the world. The game has made quite a journey round the globe over the centuries to gain its present form. Interestingly, many countries have made their own contribution to the game, explaining why there are different versions of the game. Luckily, the basic rules of all the variations are the same and the idea is to get a natural 9 or 8 in the first two cards or to draw a third card to get a score closer to the perfect nine – check out how to win at baccarat here. The four most played variations of baccarat are:
Mini Baccarat.
Punto Banco.
Chemin de Fer.
Baccarat Banque.
Mini baccarat
This is a mini version of the standard baccarat game, as the name already suggests. Mini baccarat is played round a table and offers only seven spots instead of the standard eight.
People in the United States prefer this variation that works with one dealer instead of the usual three. The dealer acts as both the dealer and the banker. The most attractive feature about mini baccarat is its low bet rates. This is also the reason why so many gamblers prefer this game as opposed to other variants.
Chemin de Fer
This is the French version of the baccarat game, although some would dispute its origin and say its from Italy. The game has a few variations when compared to the other versions of the baccarat. Chemin de Fer is played with six card decks instead of 7. The cards are subsequently distributed by the player who is also the banker. This way, all the players that have joined the table get to be the banker on their turn. Chemin de Fer involves active participation of the players, making it very interactive, explaining the game's popularity.
Punto Banco
When baccarat made its way to Cuba after not having gained a lot of popularity in the US, American players wouldn't've have expected that the table game would make a major comeback as Punto Blanco. This updated, Cuban version of the game involves the highest number of players of up to 14 players. The players in this case are called Punto and the banker is called Banco. Six to eight decks are used in this version and the dealer does all the shuffling. Punto Banco's goal is to get as close to 9 as possible.
Baccarat Banque
Baccarat Banque is very similar to the Chemin de fer described above, with one important difference. The player who is the banker sits in the middle of the table opposite the croupier but deals six cards instead of four. The croupier deals a pair of cards to the player to his or her right, next to the player to his or her left, and lastly keeps one card for him or herself. In this version of the game, one of the players will play the role of the dealer for the whole game — unlike Chemin de Fer, where all players get a chance during the game.
Poker
Poker online has gained a lot of popularity worldwide since the late 1990s. The poker hype reached its peak around 2006, and that was partly due to all the attention the game received on TV. Poker films, live poker tournaments on TV, and even Lady Gaga's world hit Poker Face made sure that poker gained worldwide attention. The enormous popularity of poker was also explained by the rapid growth of online casinos. Thanks to the internet, we could now simply play poker from our living room, at any time of the day, and against players from all over the world. And since the outcome of the game certainly depends on skills, more and more people saw poker as a way to make money professionally.
House edge: NA.
RTP: NA.
Max win: unlimited.
Suitable for: advanced, pro players.
1. Texas Hold'em
Texas Hold'em is undoubtedly the most popular poker variant in the world. If you want to learn to play online poker games, this is a great place to start. This is especially true because most of the best known tournaments worldwide (such as the WSOP, WPT, EPT, etc.) use this variation. Two cards, known as hole cards, are dealt face down to each player at the table after which five community cards are dealt face up in three stages: the flop which includes three cards, the turn which includes a single card, and a final card: the river. Each poker player seeks the best five card poker hand from any combination of the seven cards.
2. Omaha Poker
Omaha poker could be the best poker game for you if you're ready for some of the real big swings. In Omaha poker, you'll receive four hole cards instead of two and can only use two cards. Like in Texas hold'em, Omaha works with five community cards and a flop, turn and river. The betting rounds also work the same way. Omaha poker games usually work with a limit or pot-limit format with the most played variations being Omaha High and Omaha 8-or-Better.
3. Seven-card stud
This is actually the game that was popular before Texas hold'em exploded and gained world dominance. Played with two to eight players and without a flop and community cards, Seven-card stud is a poker game that starts with two cards face down and a third face-up: these are called the hole cards and the door card. After the seven cards are dealt, you'll need to choose the best five-card combination, with the same hand rankings as in Texas hold'em.
Andar Bahar
House edge: 2,5% – 5,43% (chances of winning a round: 50/50).
RTP: 94,57 – 97,5%
Max win: 9x (Andar)
Suitable for: advanced players, pro players.
Andar Bahar is originally from Bangalore, India and was played centuries ago. The popular casino card game is also known by other names such as Mangatha and Katti. Its popularity is greatest in the southern part of India, but has extended to other parts of the world as well, which is thanks to both Indian communities and online casinos. Like baccarat, you're not personally dealt any cards and you'll only have to watch the dealer to disseminate cards to either Andar and Bahar, and wait for the winner of the game. It's therefore a 50/50 game of chance. Many international software developers have developed online versions of the game and more and more online casinos offer the game in both Hindi and English.
Teen Patt (Indian poker)
House edge: 2,26% – 15,28% (house edge depends on version)
RTP: 84,72% – 97,74%.
Max win: 45x.
Suitable for: advanced players, pro players.
Teen Patti (sometimes written as Teen Pathi or Teenpatti) can be considered the Indian version of the British casino game 3 Card Brag. Teen Patti is played with a 52-card pack without jokers and the game is generally played by groups consisting of 4 to max 7 people. The name Teen Patti won't ring a bell for everyone, but the game's name means "three cards". This three card game is also seen as an Indian version of Poker, but in the game's most played version, players are stuck with the cards they're dealt and have no way of exchanging cards or getting new cards. Special variations of the game include options with community cards, drawing or exchanging cards or winning with low-ranking cards. Much like in Poker, cards in Teen Patti are ranked leading to hand rankings. This game can be found on most Indian online casinos.
Relevant news