Blackjack Basic Strategy – Chart and Explanation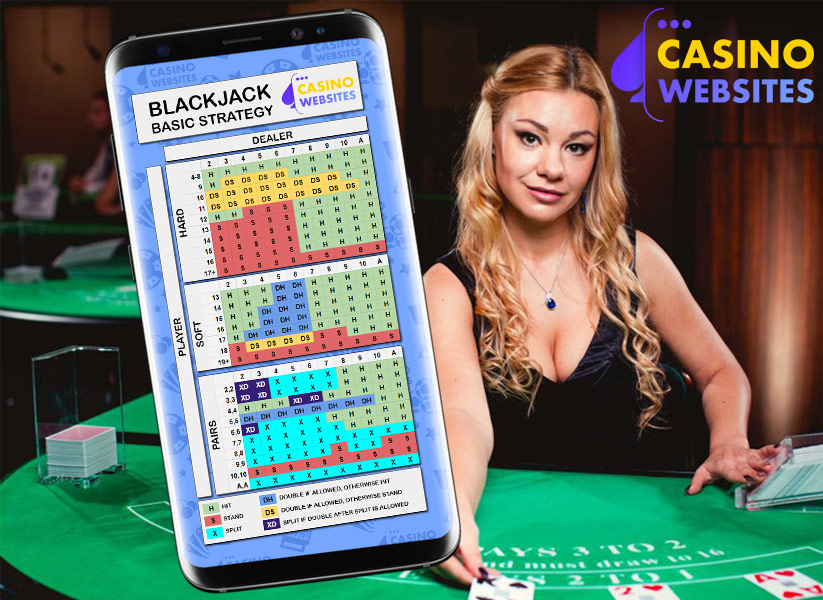 If you're looking to maximize your long term chances of winning in Blackjack there's no better way to do so than playing perfectly. This is what basic strategy is all about. Based on millions of computer simulations, this is a chart that tells you exactly how to act in any given situation.
Simply follow the chart and you will reach the maximum RTP at the table you are playing at – the best possible payback percentage. You'll find the chart listed below along with plenty of other useful information that revolves around basic strategy.
Basic Strategy Chart for Blackjack
Use the below chart to play blackjack perfectly with basic strategy. Do, however, note that the surrender option has not been taken into consideration in this chart. You'll find another chart further down in the article covering this, should it be that the table you're sitting at is supporting the surrender alternative.
---
Check out the best Blackjack sites online to find a great place to play and use the blackjack basic strategy at
---
Best Casinos in US
How Does the Basic Strategy Chart Work?
On the very left the value of your own hand is listed and on the very top the single card that the dealer has turned up is represented. You simply have to locate the cell that covers your hand horizontally and the dealer's hand vertically, and it will tell you exactly how to act.
The chart works for any given situation and should be followed at all times if you want to maximize your long term chances of winning. In other words, you don't just use it on your first decision, but you should use it on all of the decisions that you make in a hand.
Here's an example:
You get dealt an Ace and a 2 while the dealer shows an 8
This means that your hand value is a soft 13. Looking at the chart, it says "H" which means that the best decision is to hit.
You hit and get dealt a Jack
Your hand value is now a hard 13 as the ace can no longer represent 11. Looking at the chart, it tells us to hit again.
You hit and get dealt a 6
Your hand value is now a hard 19. Looking at the chart, it says "S" which means that standing is the best decision.
You must know that a hard hand means a hand that can only have one value, while a soft hand is a hand that can act as two values. In other words, a soft hand is hand where an ace is included which is able to represent a value of 1 as well as 11 without going over 21.
Use This Chart Addition if Surrender Is Offered
Surrender is not commonly offered on blackjack tables – especially not when playing online where it's very rare to find. If it is available though, this option will allow you to surrender your hand before any other decision has been made, to get half of your stake back. In certain situations where the dealer is showing a 9, 10 or an Ace it's profitable laying down your hand.
There are two types of surrender known as early and late. The latter type is very unusual to find and means that if the dealer turns out to have blackjack (he or she will peak at their second card when dealt a 10 or an Ace) surrender will not be accepted. You will be forced to play.
Below you will find two tables showing you the basic strategy play for surrender in blackjack – one for early surrender and one for late. If you want to play perfectly you should follow the chart (the one that is applicable to your blackjack table) before using the other basic strategy chart.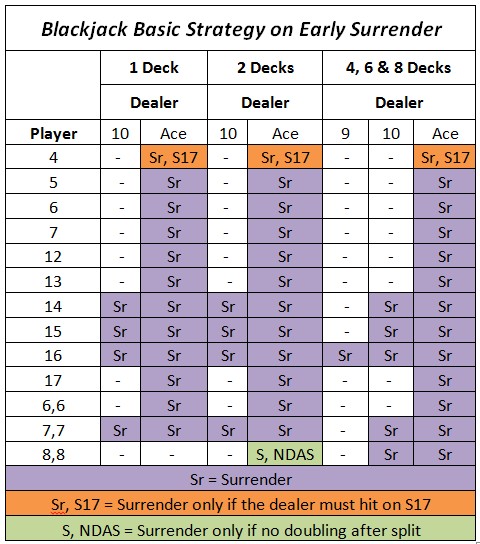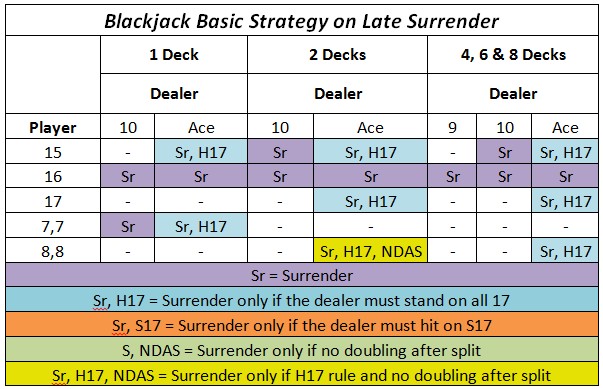 Please note that the hands listed to the left are considered both hard and soft. Also note that if a cell says "-" this means that you should follow the normal blackjack basic strategy chart that we have posted at the top of the page.
Insurance and Side Bets With Basic Strategy
You should know that basic strategy doesn't support the use of insurance or any type of side bets. These are simply not profitable options, but will only cost you money in the long run. The only exception is if you're counting cards. If you know that the deck is rich in tens, jacks, queens, kings and aces it is actually advantageous to take insurance. Otherwise, stay away from it.
What Is Basic Strategy and How Does It Benefit Blackjack Players?
As you may or may not already know, blackjack is a highly mathematical game. It's all about probabilities and the decisions that you're taking being good or bad for you. For instance, depending on if you choose to hit or stand you will have a higher or lower chance of winning the hand against the dealer. This is quite easy to understand as if you always went for 21 you would bust almost all of your hands.
With additional decisions such as pair splitting and doubling down, the game gets a lot more complicated in mathematical terms. Doubling down can and must only give you one additional card so this option is only profitable to use if you – after that card has been dealt to you – will be expected to win the hand. With pair splitting there are several reasons to split; it can be used to maximize winnings, to cut losses and to turn losing hands into winning ones.
The math of playing optimally with the right probabilities that will make you the most money in the long run is incredibly difficult to understand on your own. This is where basic strategy comes into play. The strategy was first thought of in the 1950's by an army guy who had a master's degree in math. It was then perfected at a later stage by using a computer that simulated millions of blackjack hands to determine what the most profitable decision would be at any given time.
Using basic strategy in blackjack is, in other words, like being a mathematical genius. It's a cheat chart where probabilities have been calculated to make you the most money.
How Much Money Can I Make Using Basic Strategy in Blackjack?
That is only for lady luck to decide. You should know that even if you play the game perfectly you cannot beat the casino by just using basic strategy. Blackjack will still be a game where the odds are turned against you and the casino will win in the long run.
What the basic strategy chart will do for you is to allow you to play with the highest possible RTP that can be achieved on the blackjack table that you're sitting at. This RTP will vary depending on the rules at the table, but is generally very high. For instance, most, if not all live blackjack tables have a possible RTP of 99.50% while a virtual blackjack game from Relax Gaming is capped at 99.60%.
This means that for every £100 staked you will be expected to receive £99.50 or £99.60 back. In other words, the casinos' margins will be very slim if you use basic strategy in blackjack. While the strategy isn't enough to earn you a guaranteed profit on its own, the high RTP does in fact open up for opportunities to beat the game if you combine the strategy with the right tools.
Guaranteeing a Profit in Blackjack by Using Basic Strategy
Playing casino to win money pretty much goes against everything that responsible gaming is and we generally advocate playing for the sake of fun and nothing else. Simply because casino games are all about being lucky. However, when it comes to blackjack and thanks to basic strategy it is in fact possible to beat the casino and guarantee yourself a profit in the long run.
How do I do this you ask? There are two ways; you either take advantage of bonus offers or you learn how to count cards. Alternatively, you combine the two methods to be as efficient as possible.
All types of bonus offers that give you something extra are able to help you beat the casino. This is because these will increase the RTP of your overall gambling session. A deposit bonus giving you extra money is probably the most lucrative type of offer, but competitions where prizes can be won will also increase your RTP. If you stand a chance winning anything from them that is.
While we won't do any calculations on how your RTP is increased from different types of bonus offers, we can say that it doesn't take much to cross over to a guaranteed profit. All you need is an increase of 0.51% or 0.41% if you're playing basic strategy blackjack with an RTP of 99.60%.
Counting cards may sound difficult and you may think this is only something geniuses in Las Vegas are doing to make a living. However, it's actually quite easy and it works for live blackjack online too.
You should know that some decisions in the normal basic strategy chart are different when counting cards. For instance, there are situations where taking insurance becomes profitable.
To learn all about this and how to count cards we suggest that you check out our complete guide to card counting in blackjack.
Don't Expect to Become Rich Over Night
Even if you invest the time required and you have the passion to beat the casino you shouldn't expect too much. The edge that you are able to gain will only be small. We can't put an exact number on it as it depends on what tools you combine basic strategy with. However, you should definitely be happy if you reach an RTP of 102%.
An RTP like this would mean that you would be expected to win £102 for every £100 staked in blackjack. That's not much and it's also a long term result. In the short run luck will always be a factor, which means that you could very well end up on a losing streak your first couple of days or weeks or even months. It's pretty awesome to be able to beat the casino, but don't expect to make it a living as that will take more than just time and passion. You'd also need a big bankroll and patience.
Relevant news