How to Play French Roulette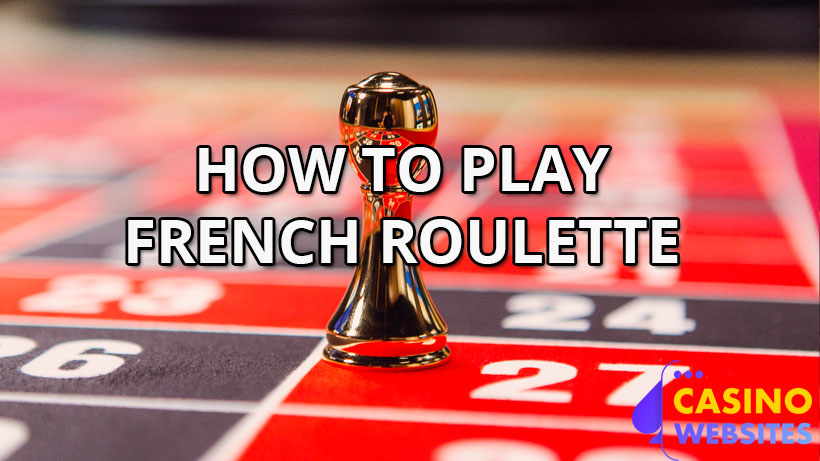 If you're looking for the very best chances of profiting while playing roulette the French version is the way to go. This game is very similar to European Roulette, but is played with one of two different rules that can increase your long term chances of winning by 1.35%.
The rules do not apply to any bet placed though, but to take advantage of the boosted win probability you have to bet on red, black, high, low, even or odd number.
What's also unique about French Roulette is its visual design that is quite different to other roulette versions. Keep reading and we'll tell you all about this and of course also how the special rules in French Roulette work.
Looking for a top notch roulette casino?
Here at casinowebsites.com we have reviewed hundreds of gambling sites in search of those that provide the most pleasing player experience on roulette. Based on bonuses, reliability, game selection and customer support – among other things – we have listed what we believe are the very best roulette casinos for UK residents. Check them out on the link below!
See all roulette sites
Best Casinos in US
What makes French Roulette unique?
The main reason that has French Roulette standing out from other roulette versions – and the very reason that people love the game – is its special rule that is active whenever a bet that pays 1:1 is placed. In other words, a bet on red or black; low or high number; or even or odd number.
There are two rules that exist that are very similar yet different to each other; La Partage and En Prison. When playing roulette online it is exclusively La Partage that is used on the French Roulette tables – at least to our knowledge.
This is how La Partage works
Whenever La Partage is active on a French Roulette table and the ball lands in the pocket with the green zero you will receive half of your qualifying stakes back. It is that simple!
Let us for instance assume that you place £10 on red as well as £10 on number 7. If the ball lands on the green zero you will receive £5 back which is half of your red bet. You won't receive anything back for your straight-up bet placed on number 7 as this isn't a qualifying one.
This is how En Prison works
Instead of receiving half of your stakes back for all of your qualifying bets, the En Prison rule will allow you to spin again whenever you lose from the green zero. In other words, your bets will remain on the table and you'll be given a second chance of winning from them. You won't be playing for a chance of winning double your stakes though as you originally did, but this game round will be all about winning your stakes back.
Regardless of the rule your chances of winning are boosted by 1.35%
No rule is better than the other as they're both increasing your RTP by 1.35%. This means that whenever you bet on an alternative that pays 1:1 you will be playing with an RTP of 98.65%. All other bet options will have the same RTP as European Roulette and the vast the majority of roulette versions – that is 97.30%.
What does RTP mean?
RTP stands for Theoretical Return to Player and is a value that shows you how much you are expected to win in the long run. An RTP of 98.65% means that on average you will receive £98.65 back from every £100 that you stake on red/black, high/low and even/odd in French Roulette.
How to play French Roulette
Other than the two special rules explained above, the only difference between French and European Roulette is visual. The games are played the exact same way, but they look different to each other.

This is what a European Roulette table looks like

This is what a French Roulette table looks like
As you can see the outside area is designed very differently between the two versions. They do, however, consist of the exact same betting options.
The arrows that you see on the French table are the same as "Column 1", "Column 2" and "Column 3" in the European version. As for the dozens, these are known as 12P, 12M and 12D in French Roulette. This stands for first dozen (P as in Première), middle dozen (M as in Moyenne) and last dozen (D as in Dernier).
Are you new to roulette and would like to know all about it?
If you haven't played roulette before or still have areas left to master, we have created a thorough guide that includes everything you need to know about the game. You will learn about the rules of roulette; bet options and how to place them; betting systems; as well as various game variations.
By reading this guide you will automatically learn how French Roulette is played and get a basic understanding of all popular roulette versions that exist.
Guide to how to play roulette
Frenquently asked questions
Why should I play French Roulette?
Out of all roulette versions that exist, the French one has the highest RTP. In other words, this is the version that is most likely to give you a profit. This is, however, only true if you're betting on an alternative that pays 1:1. If you aren't French Roulette is the exact same thing as playing European Roulette – a part from visual differences in design.
Is there any downside to French Roulette?
Not really. The game may seem confusing at a first glimpse since the roulette table has an odd design, but once you know how it works it's all very simple.
Can I use betting strategies in French Roulette?
Sure thing! No matter if you're using a strategy like Martingale or any other popular system, it will work the exact same way as it would playing the European version of the game. The only difference with French Roulette is that your losses will be lower whenever you lose a game round.
Since it's safe to say that all roulette tables online are using La Partage as a rule, there won't be any extra game round interfering with your strategy as there would if En Prison was used.
Relevant news