Guide to the Perfect Blackjack Strategy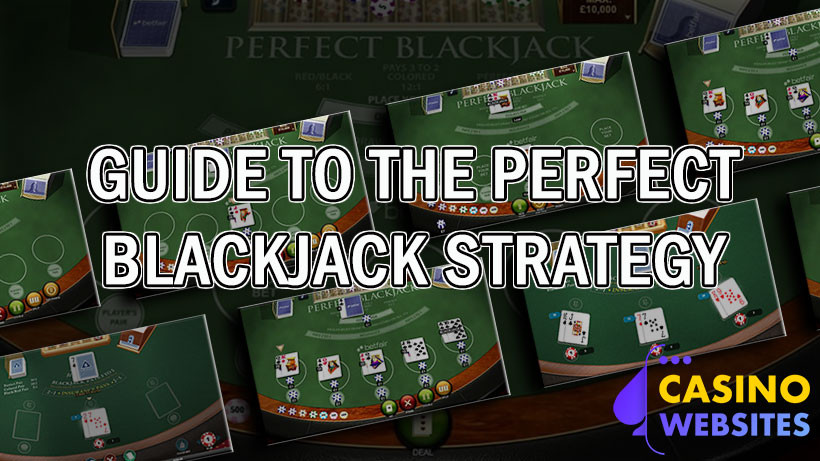 If you are learning to play Blackjack, you must try out games with the Perfect Blackjack strategy. It is one of those many Blackjack variations that spruce up the rules of the normal table game by presenting the possibility of placing a special Perfect Pairs side bet. Check out my detailed guide to play it right and boost your winnings.
---
You can find the best blackjack sites to play at here.
---
What is Perfect Blackjack?
Perfect Blackjack is an easy to learn and easier to follow variation that involves the Perfect Pairs Blackjack side bet. Central to the game is the single rule that you win if you draw a pair. The game stays true to the rules of regular Blackjack without changing its flow or pace. It offers a payout of 30:1 if the player wins in the initial two cards. Read on to know the nitty-gritty.
What is the Basic Gameplay?
Played using 2 to 8 decks of 52 cards, Perfect Blackjack has the dealer usually stand at Soft 17 – a hand with an Ace and other card(s) totaling to six, and draw to 16. The player places regular Blackjack bets along with the option of placing a Perfect Pair side bet.
The steps are as follows:
The player places the Perfect Pair bet on any box where the dealer has placed a regular Blackjack bet.
The dealer deals the first two cards for the player (both face-up) and himself (one face-up and one face-down).
Assuming a Perfect Pair side bet has been previously placed, the bet is now won or lost depending on whether the dealt cards are a pair.
If a player gets a pair of identical cards (Mixed, Coloured, or Perfect Pair), he wins the side bet and is paid out. If otherwise, he loses the side bet.
In both cases, the regular game would continue after the outcome of the side bet has been decided and the dealer has taken all the lost Perfect Pair bets as well as paid out to the winners.
Please note that Insurance bets are possible while playing Perfect Pair Blackjack. However, Surrender is not available. Players can also choose to hit, stand or split their hands. The options for doubling down might differ from one game to another.
For instance, certain games might allow the player to double down on any of the hands while others could allow it only on 9-11. The objective, however, remains the same – beat the dealer with a hand totaling 21, which is typical of any Blackjack game.Players should remember that split 10s and Aces are not considered Blackjack, but just 21. If the dealer gets a Blackjack and the player chooses to split, he will not be able to beat the former. For more insights on these terms, please refer to my detailed article about how to play Blackjack.
What is the House Edge?
The theoretical house edge in Perfect Blackjack varies from 0.34% to 0.44% depending on the type of the game and the supplier who has designed it. The percentage also depends on the numbers of card decks used and the rules for doubling down and placing insurance bets.
Please remember that the payout odds will always be adapted to the advantage of the house. Moreover, it is easier to draw a Perfect Pair from 8 or more card decks than from 4 or lower.
How are the Side Bets Placed?
Generally, you can place up to 5 Blackjack bets and 5 Perfect Pair side bets in a game of Perfect Blackjack. Please keep in mind that the Perfect Pairs side bets must be placed before the cards are dealt. Any insurance bet, on the other hand, should be placed after the cards are dealt in the first round.
What are the Types of Pairs and Payouts?
Payouts in Perfect Blackjack depend on the type of paired hands you get. There can be three instances:
The player receives a Mixed Pair (one card of the red suit and another of the black suit; for instance, an 8 of Clubs and an 8 of Hearts) and is paid out 5:1.
The player receives a Coloured Pair (two cards of either red suit or black suit; for instance, a 9 of Hearts and a 9 of Diamonds) and is paid out 10:1.
The player receives a Perfect Pair (two cards of the same rank and suit; for instance, two Queens of Hearts) and is paid out 30:1.
How to Win a Game of Perfect Pairs Blackjack?
Let me be honest: there is no single way to win a game of Perfect Pairs Blackjack. This is because the rules are many and vary from one game to the next. Nevertheless, players can apply some basic strategies that will increase the chances of landing a win.
While playing Perfect Blackjack, always do the following:
Double down when the dealer has a 2-9 hand, a hard 9, 10, 11, or a pair of 5s.
If the dealer has 7, 8, or 9 and you have a hard 9, never double down. Instead, go for a hit.
Stand whenever you reach a hard 17+, a soft 9, a 10, or a pair of 10s regardless of what the dealer's hand is.
Stand if you get a hard 12 to 16 and the dealer has 2 to 6. Avoid it if you have a hard 12 and the dealer has a 2 or 3.
Stand when you have a soft 8 and the dealer has 2-8.
Stand when you have 9-9 and the dealer has a 7, 10, or Ace face-up.
Hit when you hold a hard 5-16 regardless of what the dealer's cards are.
Hit when you have a soft 3-7 regardless of what the dealer's cards are.
Hit if you have pairs of 2s, 3s, 4s, 5s, 6s, 7s, and 8s.
Split if you have a pair of 2s or 3s and the dealer has 4-7
Split if you have a pair of 8s or 9s and the dealer has a 10 or Ace face-up.
Always split Aces.
Split a pair of 6s or 7s unless the dealer has 7-10 or Ace.
Which Games to Play?
NetEnt's Perfect Blackjack
NetEnt's Perfect Blackjack is a live casino game that is massively popular among online gamblers. Built together with Rank Group, this one is a unique variant of the widely-played table, where the focus is on the special Perfect Pairs bet. It is streamed live in high definition from the provider's studio in Malta.
Perfect Blackjack from NetEnt is a high volatility game with an RTP of 99.66%. Theoretically, you will get back 99.66 credits for every 100 credits you bet. The game is fast-paced and available for 7 players to play simultaneously. Developed using HTML, it is compatible across all devices including desktop, smartphone and tablet PCs.
The game follows the rules that are applicable to the typical Perfect Blackjack strategy. 8 card decks are used. After the first two cards are dealt, players can choose to stand, hit, split or double down. The option to surrender is not available. The tables for NetEnt's Perfect Blackjack are available in plenty. Players need to pick one and embark on their quest for Blackjack 21.
Those wishing for early payout might be disappointed because the game doesn't offer this facility. The option to chat with fellow players is available and Perfect Pairs with side bets such as 21 + 3 are accepted. Players can place insurance bets that pay 2:1. I would recommend you all to avoid insurance bets because the chances of the dealer having a Blackjack is less than 1/3. It will eventually lead to losses.
Nevertheless, Perfect Blackjack by NetEnt is an exciting and easy to play game for new as well as seasoned players. Interestingly, this is the only live casino game to offer the much loved autoplay functionality. Players can select beforehand if they want to split or double down as the game proceeds.
Playtech's Perfect Blackjack
Unlike NetEnt, Playtech offers the virtual version of Perfect Blackjack. You do not play it against a human dealer, but a computer AI where the results are decided by RNG algorithms. This game, too, follows the rules of regular Blackjack but adds its own twists such as multi-hand and side bets. Its RTP is 99.58% and the game is played using 6 decks of cards.
Like in any other game of Perfect Pairs Blackjack, this one also allows players to hit, stand, split or double down. Insurance bets are possible but surrender, dealer peek and re-splits are not allowed. You can place any bet between £1 and £300. A blackjack would pay 3:2, which means you will receive £3 when you place a bet of £2 and win.
The payouts slightly differ for paired cards in Playtech's Perfect Blackjack. A Mixed Pair pays 6:1, a Colored Pair 12:1 and a Perfect Pair 25:1. Players must note that the bet amount cannot exceed £5 on each of these side bet options.
Check out the Blackjack Basic Strategy chart
The best part about Playtech's Perfect Blackjack is the fact that it follows the 'ten card Charlie' rule. This is a rare rule in Blackjack where when a player reaches 10 cards without busting, he or she is automatically declared a winner. For instance, if a player continues to hit until he has a hand that resembles something like A-A-A-2-2-2-3-3-3-3, this hand will be an automatic winner.
Is the Game Worth Playing?
Perfect Blackjack is the game to play if you love simple entertainment with high rewards. This game warrants good strategy, intuitiveness and a strong belief in luck. Because the max payout is 30:1, the game is always worth playing.
Where to Play Real Money Perfect Blackjack Online in the UK?
These are the UK's most trusted online casinos where you can play Perfect Blackjack for real money:
Best Casinos in US
More Blackjack and Guides you shouldn't miss
Relevant news