How to Play Double Ball Roulette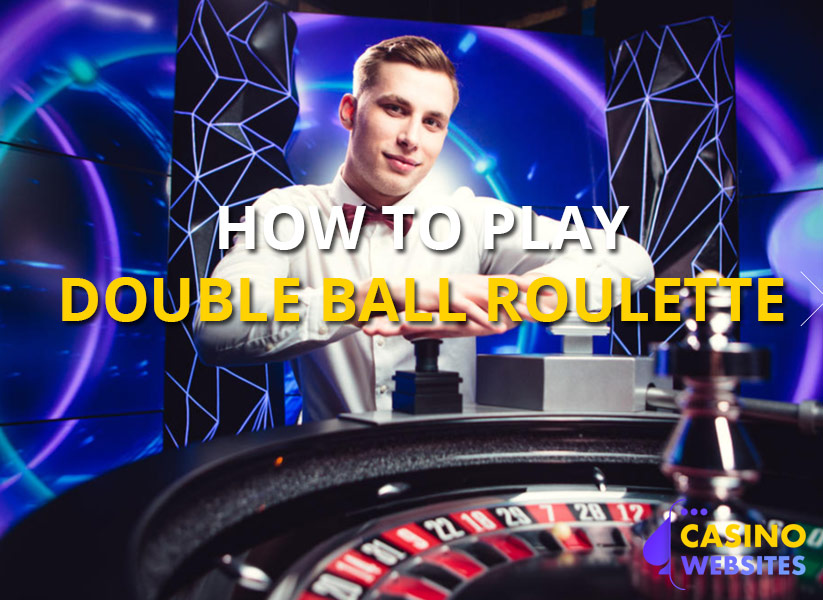 Played with two balls simultaneously put in spin, Double Ball Roulette is a modern version of roulette that is twice as fun and twice as exciting as the traditional game – at least so if you ask us.
Released by Evolution Gaming in 2016 as an addition to their massive live casino portfolio, Double Ball Roulette is not only offering players several new ways to win.
The big highlight of the game is a jackpot bet that can pay as much as 1301 times your stake. How to win it you ask? Choose a number on a golden racetrack and be lucky enough to have both balls landing on it!
But is everything about Double Ball Roulette immaculate? Almost, but not quite. The RTP on a couple of bet alternatives is significantly lower than you would expect them to be.
Keep reading and we'll tell you all about this and everything else you need to know about Double Ball Roulette!
Please note that there is more than one roulette game that is called Double Ball Roulette and that this article is about the live game that is provided by Evolution Gaming and can be played against real, professional dealers.
Looking for a top notch roulette casino?
Here at casinowebsites.com we have reviewed hundreds of gambling sites in search of those that provide the most pleasing player experience on roulette. Based on bonuses, reliability, game selection and customer support – among other things – we have listed what we believe are the very best roulette casinos for UK residents. Check them out on the link below!
See all roulette sites
Best Casinos in US
What makes Double Ball Roulette unique?
Compared to traditional roulette there are six things that are different about Double Ball Roulette, which makes the game unique. These are the following:
The game is played with two balls instead of one
On each and every game round the dealer will simply put two balls into spin in the roulette wheel instead of one. This is done automatically with the press of a button.
The roulette table has two additional bet options
Along with the bet options that you can find on a table of

European Roulette

, you are able to bet on both balls landing on any number as well as both balls landing on either red or black.
An extra racetrack with a jackpot bet is included
On this racetrack you can bet on any number between 0 and 36 and if both balls land on this particular number you will win 1301 times your stake.
How to win is different
With some bet alternatives both of the balls must hit (the bets on the outside), while others only require one of the balls (the bet alternatives on the inside).
Payouts are different
These are halved for inside bets while they are twice or three times as high for traditional outside bets.
RTP is different
Depending on the bet placed this can either be 94.5%, 94.6%, 94.8% 94.9% or 97.3%.
Still not clear about Double Ball Roulette? Don't worry! We'll be covering all of these six points more thoroughly continuing the guide.
How to play Double Ball Roulette
If you're familiar with the basics of traditional roulette, Double Ball Roulette is all about learning the new bet alternatives in the game, as well as getting used to the new ways of winning and the different payouts. There is no other difference a part from the fact that the game is using two balls.
Should it be that you don't already have the basic knowledge of the traditional game, we highly recommend checking out our thorough guide on how to play roulette.
Our how to guide
In our how to guide you will learn what roulette is all about; what type of bets you can place and how these bets are placed (including racetrack and special bets); what popular versions there are of roulette and what popular betting system you can use to make your gambling sessions more versatile and interesting.
Guide to how to play roulette
In Double Ball Roulette, the first thing you'll notice when entering a game is that the table looks different from what you're probably used to. Here's an example:

This is what the vast majority of roulette tables look like

In comparison this is what a Double Ball Roulette table looks like
As you can see, there are two extra bet alternatives (which we have colored in purple) that do not exist in traditional roulette or any other roulette games; 35 to 1 and Red or Black.
Betting on 35 to 1
This bet alternative is known for what it pays – 36 times your stake if you hit it. To do so both of the balls in the roulette wheel must land on the exact same number. Not a specific one, but it can be any of the table's 37 numbers, including the 0.
Betting on Red or Black
With this bet alternative you're betting on both of the colors – red as well as black. To win, both of the balls must simply land on either red or black. In other words, none of them can land on the green zero. Hitting this bet pays double your stake – 1:1.
The jackpot bet of Double Ball Roulette
In addition to the differences on the table, another thing that you'll immediately notice in Double Ball Roulette is a golden racetrack. This looks something like this:
The racetrack is what people play the game for. It contains an additional bet alternative which pays 1300:1 if you hit it. So how does it work? Simply place a bet on one or several numbers on the racetrack and cross your fingers that both balls will land on one of these numbers.
List of payouts, betting options, RTP and volatility
As we've already mentioned, the payouts in Double Ball Roulette are very different from traditional roulette games. This is of course very understandable as the game is played with an extra ball, thus it has to be adapted.
How you're winning is also different for all of the outside bets in the game as these require both balls to hit. So if you place a bet on high (which includes 18 – 36) both of the balls must land on any number between 18 and 36 to pay.
This is not the case for inside bets, but these types of bets work the same way as they do in traditional roulette. In other words, only one of the balls must hit in order for you to win.
To give you some better clarity, we have listed below all of the betting options in Double Ball Roulette; their payouts; probability of occurring, volatility as well as theoretical return to player (RTP).
Inside bets: only one of the balls have to hit

 

Betting options

Payout

Chance to win

RTP

Volatility

Straight-Up

17:1

5.3%

97.3%

Medium

Split

8:1

10.8%

97.3%

Medium

Street

5:1

16.2%

97.3%

Low

Corner

3.5:1

21.6%

97.3%

Low

Basket

3.5:1

21.6%

97.3%

Low

Line

2:1

32.4%

97.3%

Low
Outside bets: both of the balls have to hit

 

Betting options

Payout

Chance to win

RTP

Volatility

Jackpot bet

1300:1

0.073%

94.9%

Very High

Any number

35:1

2.7%

97.3%

High

Column

8:1

10.5%

94,5%

Medium

Dozen

8:1

10.5%

94,5%

Medium

Even number

3:1

23.7%

94.8%

Low

Odd number

3:1

23.7%

94.8%

Low

High number

3:1

23.7%

94.8%

Low

Low number

3:1

23.7%

94.8%

Low

Red

3:1

23.7%

94.8%

Low

Black

3:1

23.7%

94.8%

Low

Red – OR - Black

1:1

47.3%

94.6%

Low
The RTP is not as high as it is in many other roulette games
In European Roulette and many other roulette games that are using the European version as a basis, the RTP is 97.30% no matter how you bet. As you can see in the list above, this is also the case for inside bets in Double Ball Roulette. However, only one of the outside bets has this RTP while the rest of them have a significantly lower one.
With some bets the RTP is even lower than what it is in American Roulette (94.74%) which is a version often bashed for its awful payback percentage and just as often deemed foolish to play. But there's a huge difference between the American version and Double Ball Roulette. The latter comes with several perks such as new bet alternatives and potentially huge payouts. The American version is nothing but the European one with worse RTP – so this has nothing good at all to offer.
If you want to make a profit, RTP is of course an important factor to have in mind, but gambling shouldn't be about making money. It should be about having fun. If you ask us the lower RTP is well worth the experience – especially for the jackpot bet as when this hit there's euphoria like no other.
What does RTP mean?
RTP is short for Return to Player and is a value that shows you how much you're expected to win in the long run based on the bets that you place. The RTP of a particular bet is simply calculated by multiplying the payout of that bet with the probability of the bet occurring.
An RTP of 94.90% means that for every £100 that you bet you are expected to win £94.90. This is in the long run. In the short run anything can of course happen as luck plays an important role.
Frequently asked questions
What is the worst bet to place in Double Ball Roulette?
The column or dozen bet is the worst as these only have an expected return of 94.5%. They are not far off from most other outside bets though as all but one have an RTP lower than 95%.
How likely is it to win the jackpot in Double Ball Roulette?
The probability is 0.073%, which is 1 in 1369 game rounds. From one game round to another it takes about 45 seconds, which means that on average you would have to play for about 17 hours straight to experience both balls landing on the same number.
How likely is it to win the jackpot bet twice in a row?
On average it would take you about 18765 game rounds as the probability is 0.0053%. You would have to play for 9 days straight so see it happen. It may sound impossible when we put it like this, but it has actually happened many times and even been captured on stream.
Is a golden racetrack bet in Double Ball Roulette also a straight-up bet?
No, unlike the traditional racetrack (which you'll also find in Evolution Gaming's Double Ball Roulette), the golden one is just a single bet alternative. If you bet on number 7 you will not win anything if just one of the balls land in this pocket – only if they both do.
What Double Ball Roulette games are there other than the one from Evolution Gaming?
There is one created by Felt Gaming which can only be played virtually against the computer as opposed to being played with real dealers in a live environment. This game is basically the same thing, but pays less for its jackpot bet – only 1200:1.
Relevant news