Grey Rock Casino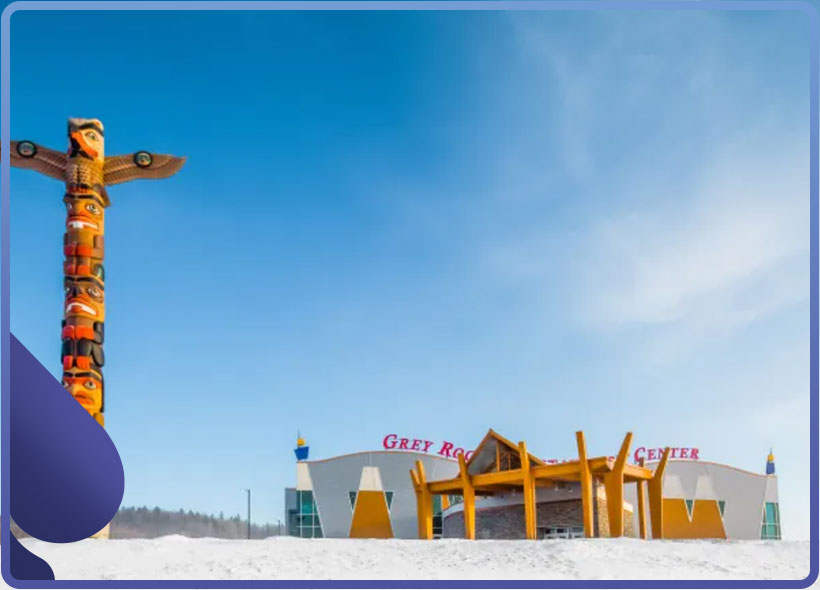 New Brunswick is known to be one of the most accommodating provinces of Canada and we're sure most New Brunswickers will agree on this. In terms of casino options this might be less the case as they're only two options available. Good thing about this? That both casinos offer an excellent service and are definitely worth a visit.
Grey Rock Casino might not be a big casino, but it surely offers a full range of casino games.
In the city of Edmundston you will only find this First Nation casino which is actually very popular amongst locals and tourists. Let's head to Edmundston and check out the venue.
Grey Rock Casino practical information
★★★☆☆
Lodging
None
Entry fee
None
Dress code
Casual
Parking
Yes, self parking
Casino theme
First Nation
Age restriction
18 years and older
Games
Slots, & table games
Opening hours
Everyday from 10:00 am – 2:30am
Food
Yes, 2 restaurants, 1 bar
Map
Location/address: Maliseet First Nation, 100 Chief Joanna Blvd, Saint-Basile, New Brunswick (NB), E7C 0C1, Canada
About Grey Rock Casino
Grey Rock Casino is a First Nation-owned gambling establishment that is situated at the entrance of Edmundston and is locally known as the Grey Rock Entertainment Centre and there's a reason for this. The gambling venue doesn't only offer a casino floor, but also features a bingo hall and a nice events hall. The land based casino itself has a rather modest portfolio of 200 slots with 2 electronic tables (Roulette and Blackjack) and a separate Poker room where regular tournaments are held. The 400 seats-bingo hall is the biggest in the province of New Brunswick which should offer loads of fun to bingo enthusiasts.
Food & Drinks
You'll find two restaurants at this gambling establishment, Valley View and the Fiddlehead Café. Both of them are open 7 days a week and we consider Valley View a perfect spot to enjoy a nice and quiet meal for two, while Fiddlehead Café is definitely the fun option of the two. Do note the specials (including menu deals and free play vouchers) that are available at both restaurants and make sure to check out the casino's bar for a nice cocktail.
Dress Code
This casino doesn't work with an official dress code. As long as you dress decently without any provocative clothing you should be able to visit this land based casino in either casual or smart attire. The minimum legal gambling age is 19 years old in New Brunswick, but we recommend every visitor to take his or her ID in order to avoid any misunderstandings.
Other casinos in the area
With only two real casinos in the province of New Brunswick, we don't have a lot of alternatives here for you, but we have done our best to come up with something. This basically means that your options in NB are very limited as there's only one other casino:
Casino New Brunswick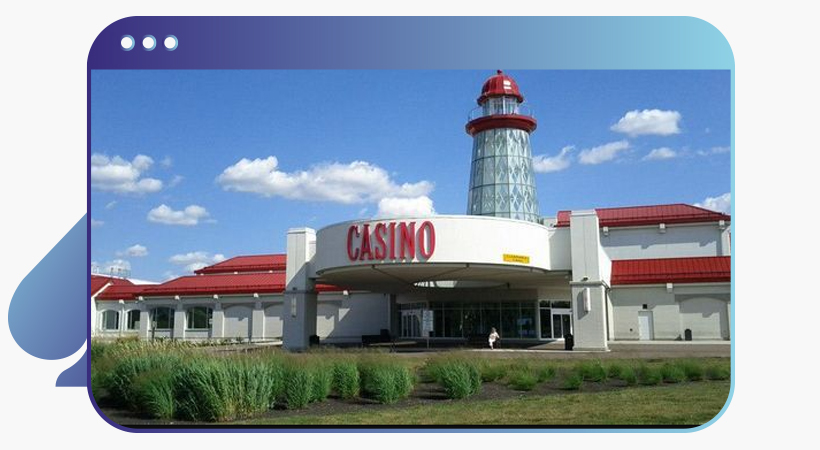 Casino New Brunswick
This is a casino hotel that does offer a full entertainment package, suitable for both adults and children, although the casino floor is obviously only accessible for adults. The casino was opened in 2010 and the complex contains a casino floor, hotel, entertainment center, as well as several eateries. There are 18 table games and 600 slot machines available at Casino New Brunswick which should be enough to keep you entertained for a while. One of the main reasons to visit this casino is to enjoy the amazing views. So if you're thinking of coming here, you might as well stay at one of the 126 rooms and enjoy the surroundings.
Best Casino websites in Canada
Relevant news