Diamond Tooth Gertie's Gambling Hall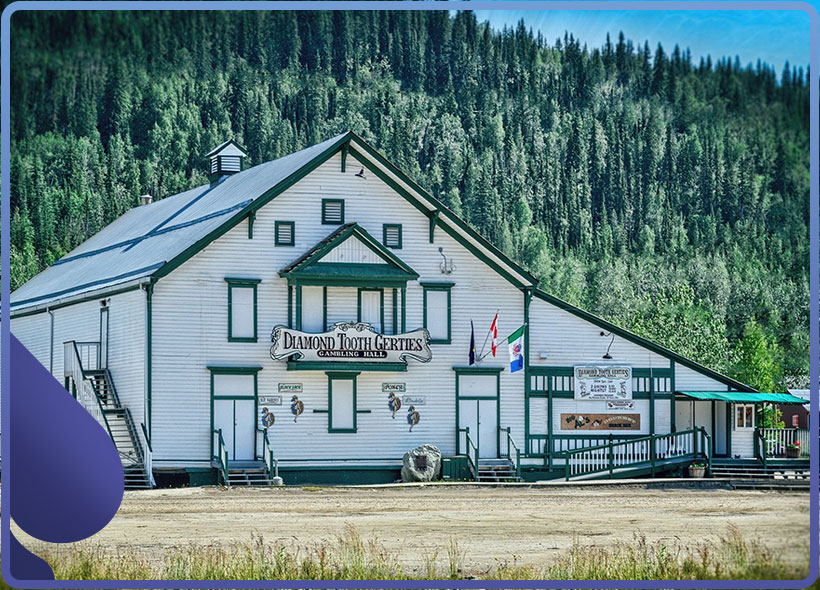 In the extreme northwestern part of Canada you'll find one of the most remarkable areas of the country and this is certainly true as well for the territory's only casino: the Diamond Tooth Gertie's Gambling Hall. There aren't a lot of casino venues in Canada with a name as catchy and it really doesn't get a lot more cozy than at 'Gertie's'.
We strongly believe that every Canadian should visit the upper northern regions of the country at least once in their life and we recommend you to do so by visiting this rather famous gambling hall. Yukon's only casino is a very popular entertainment venue in the region and as true gambling fans we can fully understand why. This spot is a hidden gem.
Diamond Tooth Gertie's Gambling Hall practical information
★★★☆☆
Lodging
None
Entry fee
None
Dress code
Casual
Parking
Yes, self parking
Casino theme
Klondike Gold Rush
Age restriction
19 years and older
Games
Slots, & table games
Opening hours
Every Fri & Sat from 19:00 – 01:00
Food
Yes, at Big Al's
Map
Location/address: 1001 Fourth Ave, Dawson City, Yukon (YT) Y0B 1G0, Canada
About Diamond Tooth Gertie's Gambling Hall
It's quite a mouthful and that's why Diamond Tooth Gertie's Gambling Hall is commonly referred to as Gertie's by local Yukoners. This gambling establishment opened its doors in 1971 and despite being one of the smallest casinos, we're also talking about the very first casino of the country. Although there are only 2,000 people living in its hometown Dawson City, the casino still remains very popular among gamblers in the region. Most people from other parts of Canada and even abroad also make a visit to Gertie's as it's a real classic.
Oldest gambling facility in Canada
Like the rest of Canada there wasn't a lot of gambling knowhow when Gertie's was opened back in the early seventies and that's why the founders of the casino decided to fly in a reputable gambling consultant from Vegas. With all this new inside info, Diamond Tooth Gertie's Gambling Hall did manage to offer the products and services people seemed to enjoy very much. One of the services is the casino's live stage show, which still remains very popular among visitors. Maybe this is because you somewhat feel you're jumping back in time. Gertie's sort of feels like a saloon most of us only know from the movies.
Game offer
This Yukon gambling establishment only offers 64 slot machines and 12 table games. This isn't an awful lot, but the game offer still includes all-time favourites like poker, quarter and dollar slots. Blackjack lovers and poker pros will be happy to find out there are several tables available with their favourite table game, while the same holds for classics like roulette. There is also a lottery game available which might just be a game some people are interested in. Something very interesting as well is that this casino works with a Klondike Gold Rush casino theme. The whole staff is dressed up for the theme and it's really fun to see.
Food & Drinks
A place that's internationally known because of the thousands of prospectors that migrated to Yukon to reach the gold fields, can't lack any good food and that's why Big Al's is there to serve you some good ol' North American good. Fries, burgers, hotdogs, you name it.
Dress Code
Mostly visited by locals, Diamond Tooth Gertie's Gambling Hall feels a bit like a community club and that's why they're pretty loose with the dress code. They wouldn't mind though if you would show up in an outfit that matches the casino's gold rush theme. Anyway, just make sure you dress and behave properly and you'll have a lot of gambling fun.
Other casinos in the area
Although Diamond Tooth Gertie's Gambling Hall is very well known among the people of Yukon, you shouldn't expect too much of the place in terms of gambling options. This also holds for the whole territory as there are only 36 thousand people living here. In fact, Gertie's is the country's less populated area which means that it's all you got. Therefore, people who either live in Yukon or visit other parts of the region outside of Dawson City, might want to turn to online gambling. Even people living in Dawson City might want to consider this, because the gambling establishment is only open on Fridays or Saturdays. Just make sure you pick a safe online casino website and gamble responsibly. And of course, still enjoy the Friday and/or Saturday nights to the fullest at one of Canada's most noteworthy casinos.
Best Casino websites in Canada
Relevant news