Reverse Hollandish Roulette System – The Complete Huide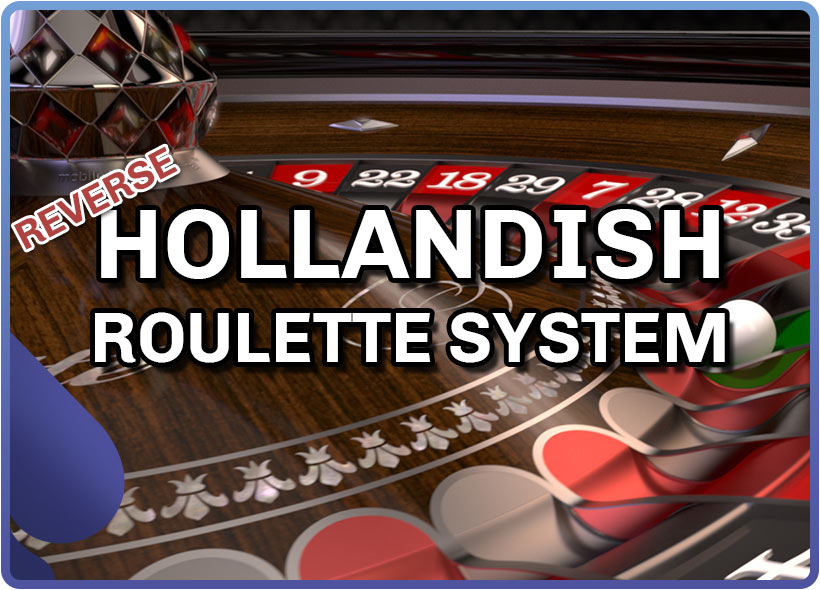 As a strategy very similar to Oscar's Grind, Reverse Hollandish is a positive progression system that promises of low risks and long term winnings that are guaranteed in theory. The strategy is played in episodes and sequences where stakes are regularly increased by two units until a net profit is hit.
The system is not to be confused with the normal Hollandish strategy which works in direct opposite. This is a negative progression system where stakes are increased when you lose and not when you win. Reverse Hollandish is a much, much rarer strategy, though they both share the same weakness.
Join us in this complete guide and we'll tell you all about this weakness and how the strategy works, as well as why most of your roulette sessions will end in a profit when you use Reverse Hollandish.
Looking for a top notch roulette casino?
Here at casinowebsites.com we have reviewed hundreds of gambling sites in search of those that provide the most pleasing player experience on roulette. Based on bonuses, reliability, game selection and customer support – among other things – we have listed what we believe are the very best roulette casinos for UK residents. Check them out on the link below!
See all roulette sites
You may also like
Best Casinos in US
Preparations for using Reverse Hollandish
Before explaining how Reverse Hollandish is executed as a strategy, let's take a look at a few things that are great to know about:
Whenever the stake is increased this should be increased by two units
Thus you have to understand what a unit is. This is simply the amount you start betting with. So if you choose a stake of £1 on your very first game round, £1 is one unit. This would mean that every time the stake is to be increased using the strategy, it should be increased by £2.
Always place a single bet on red, black, high, low, even or odd
This is a requirement for Reverse Hollandish to work. You have to bet on an alternative that pays double the stake.
Keep an eye on your bankroll and take notes
The goal of Reverse Hollandish is to turn losses into winnings. This is done by gradually increasing the stake. Therefore, when you start using the strategy you must take note of your bankroll to know exactly when a net profit has been reached. This is very important as the stake should always be reset once a profit is achieved.

For instance, if you start with a bankroll of £100, keep in mind that once you hit a balance of £101 or more the stake should be reset. Then when you start over you note down £101 and keep in mind that the stake should be reset again whenever you hit £102 or more.
You don't need a big bankroll for the strategy
Reverse Hollandish tends to be very kind on the bankroll, thus it is not likely that you need a big one. If you start with 100 times your initial bet this should last you a while. However, the bigger the bankroll the better of course.
How to execute Reverse Hollandish
Reverse Hollandish strategy is played in different episodes where each episode consists of a number of sequences. How many sequences depend on how long it takes to reach a net profit in the episode. Each of the sequences also consists of three game rounds that are played with the very same stake.
You start off by choosing a stake for the first episode and placing a bet on an alternative that pays 1:1 if you win. Let's say that you choose a stake of £1 and bet on red. This means that for three game rounds in a row you should bet £1 as this will be your first sequence in your first episode.
Each of the sequences that are played can either result in a net profit (if at least two game rounds win) or a net loss (if two or three game rounds lose).
Whenever a sequence results in a net loss, the stake is left unchanged for the next sequence of three game rounds.
Whenever a sequence results in a net profit, the stake is increased by two units for the next sequence of three game rounds.
The exception to the rule is if your episode reaches a net profit. A new sequence with in an increased stake should only begin if you haven't reached a net profit from when you started. If you have, you should reset the stake and start all over again with an entirely new episode.
It may be complicated to grasp the strategy with all of these terms so to understand Reverse Hollandish better, let us illustrate the system with two examples.
First Episode - Betting on red

Initial stake: £1

Bankroll: £100

Sequence 1

Game round

Stake

Red

Black

Result

1

£1

 

X

Loss

- £1

2

£1

 

X

Loss

- £2

3

£1

X

 

Win

- £1

Result of sequence 1: loss of £1
Episode standings: £99 out of £100 starting balance
Action: Initiate a new sequence and leave the stake unchanged

Sequence 2

Game round

Stake

Red

Black

Result

1

£1

X

Win

+ £1

2

£1

X

Win

+ £1

3

£1

X

 

Win

+ £1

Result of sequence 2: profit of £3
Episode standings: £102 out of £100 starting balance
Action: Begin a new episode as a net profit of the episode has been reached
In our first sequence of three rounds we end up with a net loss which automatically means that our episode is also in the red. We must therefore move on with an additional sequence of three game rounds. The stake should remain unchanged though as the sequence resulted in a loss.
In the second sequence we're lucky enough to win all three game rounds. These winnings are enough to bring our episode to a net profit of £2. Therefore, we should not move on with an additional sequence, but instead a new episode should be initiated. Let's take a look at this second episode.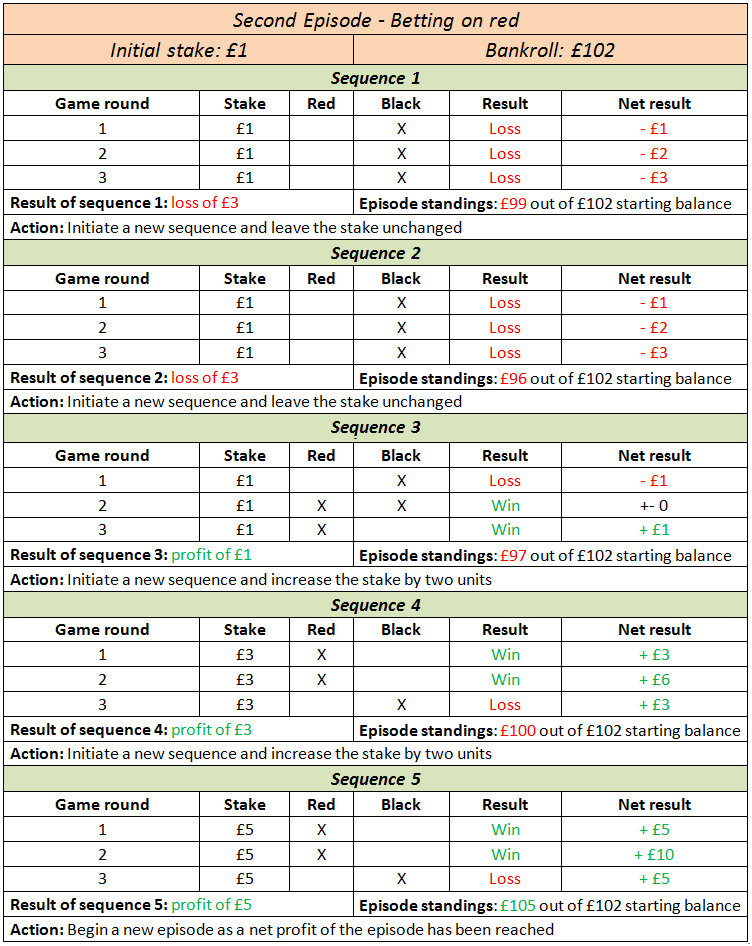 Since we ended up with a balance of £102 from our last episode, this second one begins with this very amount. As mentioned earlier, you have to note this amount down to keep track of when an episode should end and a new one is to be initiated.
In this second episode there isn't anything new happening in the first two sequences. We are losing all of our game rounds, thus the stake is remaining the same. On the third sequence we do, however, reach a net profit. Therefore the stake is increased by two units (by £2) for the next sequence.
Also in the fourth sequence we reach a net profit, thus the stake is once again increased by two units for the next. In this fifth sequence we manage to turn the episode that started with a £6 loss into a profit of £3. Therefore the episode is finished and a new, third one should be initiated with a new stake of £1 (or any other stake should you wish to change your bet).
If you paid close attention to the table you might have noticed that we played 15 game rounds in total and that only 6 of these had a winning result. This is only a 40% win ratio and yet we managed to end up on top with a net profit. As you can understand, Reverse Hollandish can be very efficient in turning losses into profits under the right circumstances.
You may even ask yourself how you could possibly lose with the strategy if a 40% win ratio is enough when the win chance in European roulette is in fact 48.65%. Well, it's all about how the winning and losing game rounds happen – if they occur in streaks or not. Let's take a closer look at this by heading over to the weakness of the Reverse Hollandish strategy.
The weakness of Reverse Hollandish
As much as Reverse Hollandish is considered a low-risk strategy that is guaranteed to make you a long term profit under the right circumstances, it never will. To showcase this, let's have a look at a third episode where winning and losing sequences constantly take turns occurring. We start this episode where the other one left of – at a £105 bankroll.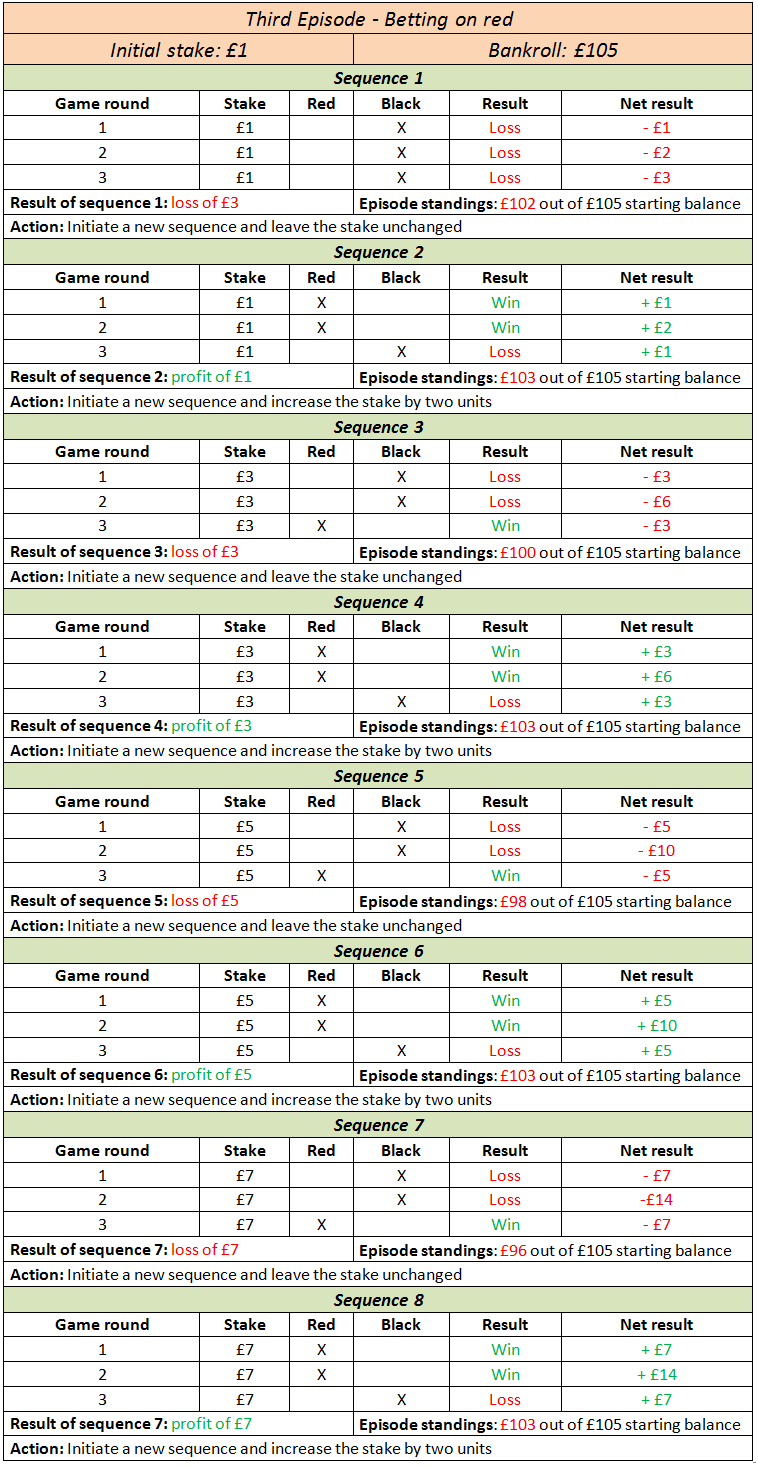 In this episode the results are not as pleasing as before. Even though we are never far from reaching a profit of the episode, we never actually get there. Instead, the stakes are just getting higher and higher – very slowly, but still steadily.
With a good sized bankroll it will take a while before this causes any problems and along the way you may very well manage to turn your loss into a profit. However, imagine if this pattern repeats itself for a hundred more sequences or even a thousand. It would look like this:
| Sequence | Stake | Game rounds |
| --- | --- | --- |
| 9 | £9 | 27 |
| 19 | £19 | 57 |
| 38 | £38 | 114 |
| 73 | £73 | 219 |
| 100 | £100 | 300 |
| 1000 | £1,000 | 3,000 |
A £100 stake would certainly be problematic with a £100 bankroll and even if we had a huge one, ending up with a £1,000 stake would be devastating. It also doesn't matter if we had all the money in the world. Because of limits that casinos have on their roulette tables, we would eventually reach these limits and when we do this is where the strategy fails.
It does of course take a very long time for stakes to get high as they are only increased by two units at a time. To put things in perspective, a game round of live roulette online is approximately 60 seconds long. This means that 100 sequences would take 5 hours and 1,000 sequences 50 hours.
You may ask yourself how likely it is that a pattern like this would repeat itself over and over? In this third episode we have a win ratio of 46% (13 out of 24 game rounds are won) which is still lower than the expected one of 48.65%. Thus, it is not very likely for this to happen. This is why the vast majority of your game rounds will result in a profit when you use Reverse Hollandish strategy.
However, it is in fact inevitable that a pattern like this occurs at some point and when it does you will always lose your entire bankroll – unless you pause yourself before that happens of course. The problem with the Reverse Hollandish strategy is that the profits that you make from your many winning sessions will never make up for those that you lose.
Pros and cons of Reverse Hollandish
Pros

Cons

+

Net profits can be easily achieved

-

Winning game rounds must happen in a row

+

In theory the strategy is bulletproof

-

Profits are usually small

+

Low risk as the stakes only increase slowly

-

Strategy might come off as complicated

+

Works well with a small bankroll

 
Just like Oscar's Grind, there are many advantages of using Reverse Hollandish if you are to use a strategy and you are looking to make a profit. Most of your roulette sessions will end with a positive balance – that's a fact. Whenever the stakes increase, they also do so slowly so there's never any risk of suddenly losing big chunks of money. This makes the strategy work well with a small bankroll.
The flaw of the strategy is that it relies on winning game rounds happening in a row. If losses are too many or losses and winnings alter too much you never reach a net profit. Although unlikely, it's inevitable for this to happen so at some point you will have to sacrifice your entire balance because the stakes have gotten out of control. This is important to be aware about.
Another downside of Reverse Hollandish is that the strategy might seem complicated. It is, however, actually quite easy. All you have to do is to keep track of the balance you start each episode with and also keep track of your current stake and the number of game rounds you win in a sequence.
It doesn't matter what the actual net loss or net profit is in a particular sequence. All that matters is if you win two or three game rounds you increase the stake and if you lose two or three you let it be. You do, of course, also have to keep track of the number of game rounds you are playing in each sequence. That should be easy though as you only have to count to three.
Relevant news