How To Play A Hard 12 In Blackjack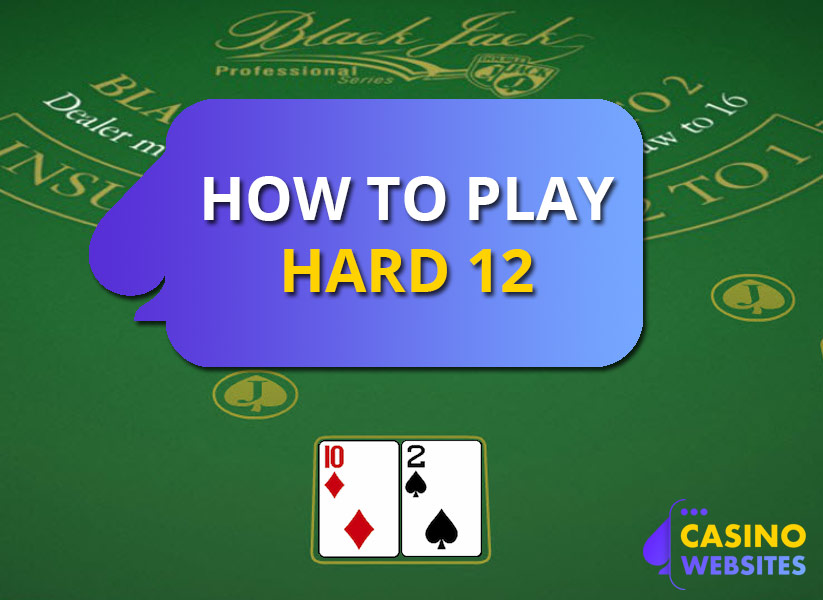 One of the most troublesome hands in a game of blackjack is the hard 12. The reason this hand poses a problem to players is due to the fact that it is a hand that lessens the odds of winning considerably. If a player hits on a hard 12, they will end up with a card valued to 10 approximately 30% of the times. Most players, therefore, especially newer ones, will often stand on a hard 12 and simply hope for the best.
This strategy may work some of the time, if you're lucky, but it's not always the best way to go. The blackjack strategy chart clearly lays out the rules for how to play a hard 12, and we're going to talk you through it right now to ensure that you're playing your hard 12 to its best advantage.
---
Find the best blackjack sites in UK here
---
Best Casinos in US
Combinations for a Hard 12
A hard 12 is made from a combination of the following cards:
2 + 10 = 12
3 + 9 = 12
4 + 8 = 12
5 + 7 = 12
6 + 6 = 12 (this hand is usually splitted)
Keep in mind that a 12 can also come in the form of an Ace + 2 (soft 12) and 6 + 6 (a 12 that can be split), but the blackjack strategy chart has different rules on how to play these two combinations. If you're landed with a hard 12, you don't have many options regarding how to play it. And the options that you do have are totally dependent on the dealer's face up card.
The Best Moves to Make
If the dealer is showing any of the following cards you stand:
The reason for this is because the dealer's likelihood of going bust with these cards is actually quite high. The dealer, unlike the player, must keep hitting until they reach 17. The dealer's likelihood of going bust while trying to get to 17 is approximately 40%. This puts the odds in your favour, if only by a small margin.
If the dealer has any of the following cards you hit:
Most players instinctively decided against doing this out of fear that they will draw a 10 or picture card. However, it's better to hit at this stage because the dealer is already in a much stronger position that you are; the dealer is likely to reach 17 or higher without going bust. In this case, you should take the chance that you'll draw a 5, 6, 7, 8, or 9.
Good and Bad Scenarios
So, let's say you draw a hard 12 and the dealer is showing a 6. Your move, according to the blackjack chart, is to stand. The dealer must hit, because the dealer must keep hitting until they reach 17, and even if the dealer's face down card (or hole card) is a 10, their current total is a maximum of 16. If all goes well for you, the dealer will draw a 6, 7, 8, 9, or 10, taking their total over 22 (if their original total was 16). In this scenario, you win.
But what happens if you decide to hit even though the dealer is showing a 4, 5, or 6? Well, as we mentioned earlier, there is a chance that you could get a decent card that would take your total to 19 or over. But the chance of you going bust is much more likely -just as likely as the chance of the dealer going bust. But you have to hit first. In this scenario, you could go bust before the dealer even has a chance to make a move, meaning that in this scenario, the dealer wins simply because you took an unnecessary risk.
Keep the Chart Close to Your Heart
When it comes to a hard 12, do your self a favour and play by the rules of the chart. It's an unfortunate hand, but at least the rules for playing the hard 12 are the same whether the dealer is playing by hard 17 or soft 17 rules. Next time you visit one of the excellent online casinos that we recommend here, keep the chart next to you and be sure to follow the rules for playing a hard 12 in order to give yourself the best possible chance of winning the hand.
Learn how you play optimal blackjack by checking our other guides
There is much to learn in order to play optimal blackjack. You will come a great way by reading our guides on how to play your hand in blackjack below.
Relevant news