How To Play A Soft 16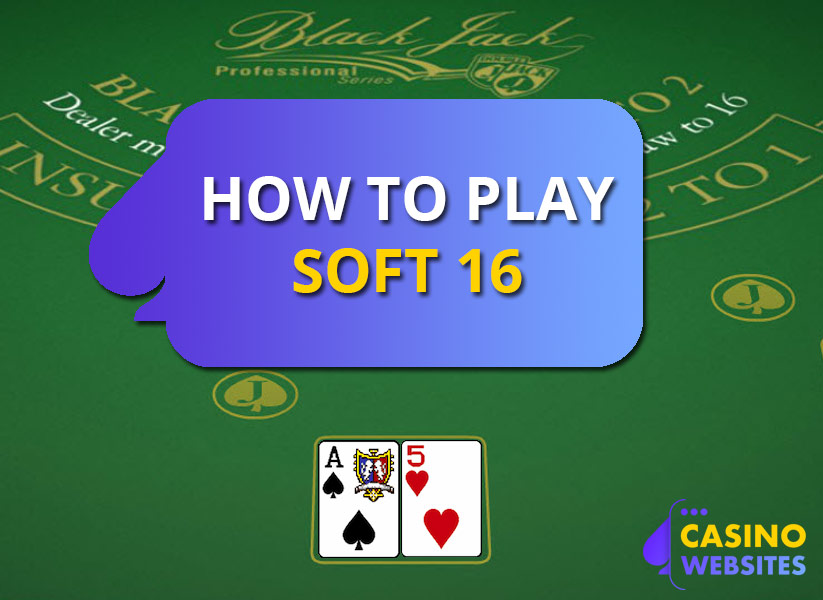 If you're hoping to take your blackjack game from amateur to professional, you'll need to master the basic blackjack strategy chart. The chart lays out play by play instructions that will help you to determine which move to make and when to make it on order to make the best of the hand that you're dealt. But in order to use the blackjack strategy chart to its full potential, you'll need to understand the various the terms associated with it. Luckily, we're here to help you untangle all the various elements of blackjack gameplay and put you on the right path to success. In this article, we're going to talk about the 'soft 16' -we'll explain what it is and how to play it to its best advantage.
---
Play blackjack at the best UK casinos
---
Best Casinos in US
What is a Soft 16?
A soft 16 is blackjack hand that consists of an Ace card and a number 5 card. A soft 16 can also be made up of an Ace card, a number 3 card and a number 2 card. In both cases, the common denominator is the Ace. Why is that? It's because the Ace card has two different values: 1 or 11.
The player can choose which of the two values to assign to the Ace in their hand.
This means that if you hold an Ace and a 5 in your hand, the total value of your hand can either be considered as 6 (1 + 5 = 6), or 16 (11 + 5 = 16). And, if you have an Ace, a 3 and a 2, the total value is also either 6 (1 + 3 + 2 = 6) or 16 (11 + 3 + 2 = 16).
How to Take Advantage of a Soft 16
At the start of a game of blackjack, the player (you) is dealt two cards face up. The house (the dealer) is also dealt two cards, but one is face down and one is face up.
If you have been dealt a soft 16, there are two ways in which you can take advantage of the situation – your chosen path will be determined by the dealer's upturned card.
If the dealer is showing a 4 ,5 or 6, your best bet is to double down. If the dealer is showing any other cards, including an ace or a picture card (picture cards have a value of 10), then your best bet is to hit.
Double Down or Hit?

To double down means to increase your bet at this stage.
Once you do this, you'll be able to request one more hit before you stand.
The reason that you double down when you have a soft 16 and the dealer has a 4, 5 or 6 is because your chances of winning the hand are much higher than the dealers.
If the dealer has any other card, your chances of winning decrease slightly, so going for the double down is risky. In this case, you can hit and keep hitting safe in the knowledge that your ace is counted as one, and the dealer is more likely to go bust than you are.
The worst play would be to stand (or stick) on a soft 16 -not only will you have wasted a great opportunity, but you're also likely to lose against the dealer.
Bad Luck
Having said all of the above, you must keep in mind that winning is not guaranteed. There is a chance that luck will not be on your side. Let's take a look at scenario where things go wrong, and you lose the hand. In this scenario, you start with a soft 16 and the dealer starts with an upturned card that has a value of 10.
Your chose to hit and get a 10 – this takes your hand from a soft 16 to a hard 16 (1+5+10+16)
You hit again -because the chart tells you to hit on a hard 16 if the dealer's card is a 10
You get a 6. A card with a value of 6 takes your total up to 22, which means you go bust. The dealer's face down card is no longer relevant. You lose.
Good Luck
Before you get disheartened, let's take a look at a scenario where everything goes in your favour. In this scenario, you start with a soft 16 and the dealer starts with an upturned card that has a value of 6.
You chose to double down and take one hit. You get a 4 – this takes your total up to 19.
The dealer hits on the 6 (because their face down card is a 7)- the dealer now has a total of 13.
The dealer hits again. This time, the dealer gets a 9. This takes the dealers total up to 22, which means the dealer loses.
You win!
Practice Makes Perfect
Now, before you go rushing off to the casino to go head to head with a professional dealer, keep in mind that you still have quite a lot to learn before you can truly become a master of the game. In the meantime, we recommend that you practice on some of the excellent RNG blackjack games that you can find housed within online casino sites – click here for some of the best casino sites offering blackjack on the market today. Remember, practice makes perfect, and the blackjack strategy chart makes perfect even better.
More blackjack guides
Relevant news