Double bubble casino game review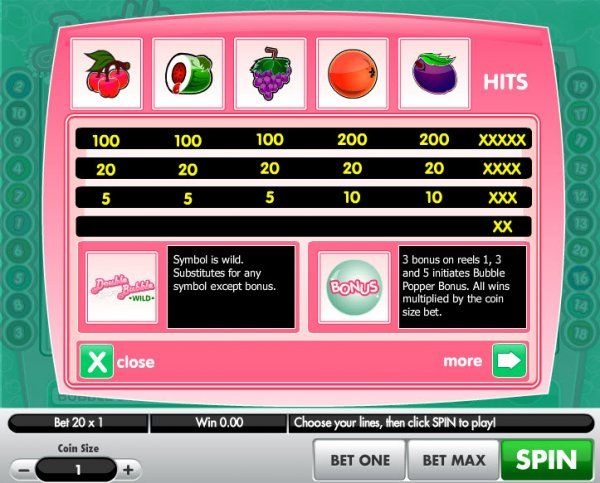 Taking Double Bubble for a Spin
Double Bubble is a classic slot machine game that is available to play in a number of different online casinos. This popular casino game takes the retro fruit machine slot style as its form and features five reels as well as 20 paylines with images of a bunch of cherries, a watermelon, a bunch of grapes, an orange and a plumb on each reel. Three rows can be seen for each reel at any time and the reels spin slowly enough so that the symbols can still be seen as they rotate.
Double Bubble has been created by Elk Studios and one of the things that makes this a leading casino game for slot lovers is the ease of play. Gamers simply need to decide how much that they want to wager and click on the green SPIN button on the bottom right hand side of the screen. The game takes care of the rest and when a winning combination appears it will be highlighted with connecting lines on the screen. In the bottom middle of the screen is the WIN button, which allows players to see at a glance how much they have won on various spins.
The Bonus Bubble Line is a great feature that dramatically enhances the chances of striking it rich. This special bonus allows players to win twice on a single spin. Players will want to keep an eye out for the blue bubble, as if this bubble surrounds any of the matching symbols during a spin, they automatically enter the Bubble Line. when two or three matching symbols appear in the Bubble Line players will be treated to an impressive 22 times the regular payout.
However, there is no need to pay too much attention to the specifics of this bonus as the game takes care of this. Players simply need to focus on wagering cash and collecting it whenever they receive a win. This helps to speed up the pace of the game and increase the attractive nature of it. The sound effects that are included with Double Bubble are vibrant without being too distracting and the sound of cash clinking into the machine whenever a winning combination is scored is very satisfying.
Of course, there is no need to spend money to enjoy the fun of the game. Players who want the chance to hone their skills for free before they play for actual cash in an online casino can take advantage of the offline version of Double Bubble, where they will be able to put all of the game's features through their paces.
Anyone who has ever played a slot machine game in a pub or café will be able to take to Double Bubble straight away and the game delivers plenty of nostalgic moments. Like other games in the Elk Studios collection, Double Bubble boasts colourful and attractive graphics and is very addictive, which is sure to make sure that fans of classic slot games keep on coming back for more.
Best Casinos in New Zealand
Relevant news