How to Play and Win Big at Penny Slots – Full Guide Explaining Everything You Need to Know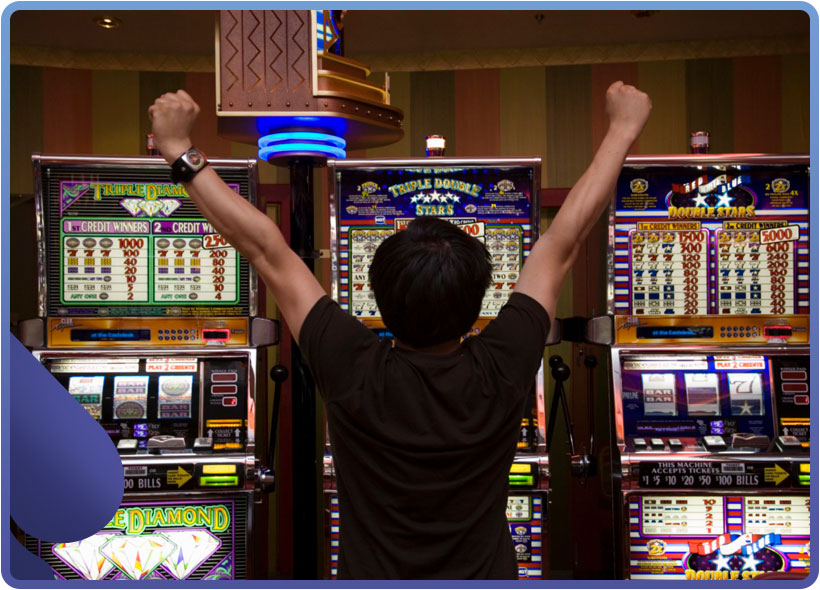 If you're someone who believes that it's impossible to win at penny slots in the long run, you're one of many people who are dead set on the idea that the house always ends up on top. In the following article we will, however, destroy this notion by explaining how the right strategy can guarantee you a profit. It isn't necessarily easy, but it is indeed possible.
The following guide will also teach you how penny slots are played, what they actually are and which ones that you should be spinning on if you would like to win big. And by big we really mean big – up to several million dollars. Now let's get started!
See: Everything You Need to Know About Penny Slot Jackpots
What Are Penny Slots and How Do You Play Them?
Considering the name, you would probably think that a penny slot is a slot machine that only costs one penny to play. While this might have been true two or three decades ago, it is rarely the case today.
Back in the 90's many slot machines only had a single payline. So when you sat down at a land based casino to take a spin at a penny slot, you were able to bet one cent on the one and only payline that it had.
Modern penny slots also allow you to bet one cent per payline, which is why they are called penny slots. However, these days you don't come by slot machines that only have one of these paylines. A part from a very few exceptions, there's at least 10 of them, though more often 20, 25 or 50.
In addition to this, it's quite rare to find penny slots that allow you to choose the number of paylines that you would like to play with. There are some that do, but the vast majority don't. This means that if you're playing a common penny slot with 20 paylines, the minimum bet that you can make is 20 cents. Not quite what you would think when someone is referring to a penny slot, right?
This Is How Penny Slots Are Played
Even though modern slot machines come in many different variations with different ways to win (Megaways, Cluster Pays and Paylines), there's not much of a difference between penny slots and slots that aren't penny slots. The only common thing about them is that all of them are using paylines and allow you to bet one cent per line.
If you know the basics of a slot machine, you know how to play a penny slot. It's all very simple:
Choose the stake you would like to play with
Press the play button to spin the reels
Line up identical symbols on a payline to win
Trigger bonus games by landing the right symbols
The vast majority of penny slots have 5 reels with either 3 or 4 rows each, which means that 15 – 20 symbols will appear on every spin. There's a number of paylines stretching from the very first reel all the way to the last. These paylines all look different as they all take different "routes" crossing the reels. Here's an example of how three of the paylines could look like in a penny slot:


To be able to win, you have to land at least three identical symbols on one of the penny slot's paylines. It's usually not enough for the symbols to appear anywhere, but they have to appear on adjacent reels that are connected to the first one. Let's take an example of this as well, using a 7 as a symbol:

All symbols in a penny slot have different values – some pay more than others. You will also be rewarded differently depending on the number of identical symbols that appear on the same payline. Five symbols pay more than four and four pay more than three.
In addition to regular symbols that award you with cash prizes, many modern games have various bonuses that can be triggered by landing special symbols on the reels. These bonuses are often where the biggest wins in penny slots can be found.
As the gambling industry is a very competitive one with a ton of creative game developers, bonuses come in a thousand different variations. They can be anything from lucky wheels to board game bonuses and memory like games. Not to mention free spins that can have a heap of unique mechanics to them.
The best way of learning about these bonuses as well as how penny slots are played, is simply by exploring the casino universe, trying out different games. If you would like to do so, we have rated, reviewed and listed a bunch of top quality gambling sites that you can visit.
Some of the Best Penny Slots if You Want to Win Big
There are hundreds if not thousands of penny slots available online and many of these are unique in one way or another. Therefore, it's not too much of a surprise to find out that the maximum amount that these slots can pay will vary. Some have quite low max winnings while others have massive ones.
The best potential can always be found in penny slots with progressive jackpots. Many of these games regularly pay several million dollars and record wins have been recoded of up to $20 million. So if you want to scoop a life changing amount, going for games with jackpots is definitely the way to go.
This is not the only way to win big at penny slots though. On a single hit, many normal games can pay winnings that are equal to your stake multiplied by several thousand. So if you play at 20 cent, you could possibly win $1,000 from a lucky spin or even $20,000.
Below we have listed a couple of fantastic penny slots that can pay big winnings like these and provided a link to where you can play them. We have also included two jackpot games just to give you some perspective of how massive the winnings in these types of slots can be.
| Game Name | Maximum Win | Progressive Jackpot | Minimum Stake | Play Slot |
| --- | --- | --- | --- | --- |
| Mega Fortune | More than 50 million x | Yes | 25 cents | Play Here |
| Mega Moolah | More than 50 million x | Yes | 25 cents | Play Here |
| Dead or Alive 2 | 100,000x | No | 9 cents | Play Here |
| Flowers | 15,000x | No | 30 cents | Play Here |
| Drive: Multiplier Mayhem | 5,109x | No | 15 cents | Play Here |
| Book of Dead | 5,000x | No | 1 cent | Play Here |
Do note that all of the above max winnings are listed as a multiplier to the stake you choose to play with, except for the two jackpot games. In these two slots the multipliers are based on the minimum stake of the games.
The One and Only Strategy for Winning at Penny Slots
It's more or less common knowledge that the casino always wins. No matter what type of casino game we're talking about, it is designed to give the house an edge. There's always an RTP (Return to Player) in every game, which is a value that shows you how much you are expected to win in the long run. This value is never above 100%.
For instance, it's quite common for penny slots online to have an RTP of 96%. This means that for every $100 that you stake in the machine, you are expected to win $96. You won't get 96% back on every spin of course as luck plays an important role, but in the long run this is what the machine will pay.
Now most people believe that the only way of winning at penny slots is to be lucky, which makes sense based of what we just said. However, if you could increase the RTP to more than 100% you would be guaranteed to win in the long run. So the big question is, can you? The answer is yes.
Boosting your RTP to more than 100% is the one and only way that you could win at penny slots in the long run and there are two methods that can be used to achieve it; by playing progressive jackpot games at the right time and by taking part of bonus offers.
Playing Progressive Jackpot Slots
We just said that no casino game has an RTP of more than 100%. While this is somewhat true, it is actually also true that progressive jackpot games could become profitable in the sense that they are expected to pay you more than what you invest in them.
You see, progressive jackpot games don't have any static RTP. This is because RTP is a value that is based on the amount of money that you can win and the probability of winning that money. In difference to other games, the amount that you can win in progressive jackpot slots will always vary. The jackpot increases as people spin on the slot and the bigger the jackpot gets, the more can you win.
As the probability of winning the jackpot is always the same, this means that the RTP of the penny slot will increase too as the jackpot increases. If the jackpot gets big enough, you could actually find yourself playing the slot with an RTP that is above 100%.
It should be noted though that this rarely happens. For the RTP to reach more than 100%, the jackpot would have to be considerably bigger than the amount that it's statistically expected to fall at. And even if the penny slot would reach such an RTP, it must be noted that the volatility would still be insane. To actually benefit from the increased RTP you would have to win the jackpot, which is crazy hard to do.
Taking part of bonus offers, which is another way of increasing your RTP, is therefore a much better approach if you would like to win at penny slots.
Taking Part of Bonus Offers
If we leave progressive jackpot games out of the equation, the RTP of a penny slot can never be changed. Luckily, this isn't a necessity to be guaranteed a win. You can actually affect your own RTP from a casino session as a whole and it's really easy to do. The answer is bonus offers.
All online casinos offer bonuses to their players – some more than others. These bonuses will always increase your RTP as they give you something extra for free. Especially deposit bonuses that give you additional money on a deposit are great. These are the type of offers that you should aim for if you're looking to win from penny slots.
As you may or may not know, almost all deposit bonuses come with a wagering requirement. So if you deposit $100 to receive $100 extra, it may be that you have to play for a total of $3,500 before you can make a cash out. That is if the wagering requirement is set to 35 times the receive bonus.
Now another way of looking at this, is that the penny slot that you are playing will have a boosted payout of $100 which is released once you have wagered enough. In other words, if we look at it this way, you have increased the payout of the slot and as we mentioned earlier, an increased amount of money that can be won means an increased RTP.
To reach an overall RTP of 100%, guaranteeing yourself a profit, you can't just take any bonus offer and play any penny slot though. You must play a slot that already has a high RTP and combine that slot with a bonus that doesn't have too high of a wagering requirement. To illustrate this, we have created two tables with the same bonus but with a different slot RTP. Here's the first one:
| Bonus | Wagering | Amount to Wager | Slot RTP | Expected Money After Wagering |
| --- | --- | --- | --- | --- |
| $100 | 20x | $2,000 | 97% | + $40 |
| $100 | 25x | $2,500 | 97% | + $25 |
| $100 | 30x | $3,000 | 97% | + $10 |
| $100 | 35x | $3,500 | 97% | - $5 |
| $100 | 40x | $4,000 | 97% | - $20 |
| $100 | 45x | $4,500 | 97% | - $35 |
| $100 | 50x | $5,000 | 97% | - $50 |
What you're seeing above is that if you receive a bonus of $100 and this comes with a wagering requirement of 20x and you're wagering it on a penny slot with a 97% RTP, you would be expected to make a $40 profit. This is because once the $2,000 wagering is complete, you would be expected to have won a total of $1,940. This is calculated by multiplying the RTP with the wagering amount (0.97 * 2,000).
As you can see, guaranteeing yourself a win from a penny slot this way only works if the bonus has a wagering requirement of 30x or less. Anything above that would result in an expected loss. However, if we play a penny slot with a higher RTP things are looking much brighter:
| Bonus | Wagering | Amount to Wager | Slot RTP | Expected Money After Wagering |
| --- | --- | --- | --- | --- |
| $100 | 20x | $2,000 | 98.50% | + $70 |
| $100 | 25x | $2,500 | 98.50% | + $62.5 |
| $100 | 30x | $3,000 | 98.50% | + $55 |
| $100 | 35x | $3,500 | 98.50% | + $47.5 |
| $100 | 40x | $4,000 | 98.50% | + $40 |
| $100 | 45x | $4,500 | 98.50% | + $32.5 |
| $100 | 50x | $5,000 | 98.50% | + $25 |
In this scenario it doesn't matter if the bonus comes with a wagering requirement of 20x or 50x. We will make a profit either way. It will just be a bigger profit if the bonus is better.
So as you can see, winning from penny slots isn't as impossible as many people claim. You just have to make sure that you're always playing with a good bonus and that you're playing the right games. Now this brings us to our next topic…
What Penny Slots Have the Best Win Chances (Highest RTP)?
As previously explained in the article, RTP is a value that shows you much you are expected to win in the long run. The higher the RTP, the more likely it is that you will profit from a game. Not necessarily on a short term basis as some games are very volatile and rarely pay any noticeable amounts, but definitely in the long run.
The vast majority of casino games have an RTP of 96%, which is high, but not high enough if you're looking to guarantee yourself a win by playing penny slots. There are, however, a decent number of games that have an RTP of 97% and a few that go all the way up to 98% and even 99%. Below we have listed some of these games and provided a link to where you can play them.
Do note that the games that say "up to" require you to purchase a special feature in the slot to reach the mentioned RTP. For instance, you may have to pay $10 to receive 5 extra valuable spins.
Another game that would be worth mentioning, which isn't on the list, is Mega Joker. This slot has an RTP of 99%. However, this game is not truly a penny slot. The minimum bet amount is set to $1 and the game only comes with 5 paylines, which means that each line costs 20 cents. If you'd like to play it though, more or less every gambling site has it available so you could pick any quality casino.
Best Casinos in US
Can't find what you're looking for? Find a casino websites for your region by clicking on your flag!
Relevant news