Best Roulette Variants to Play in Order of RTPs & Payouts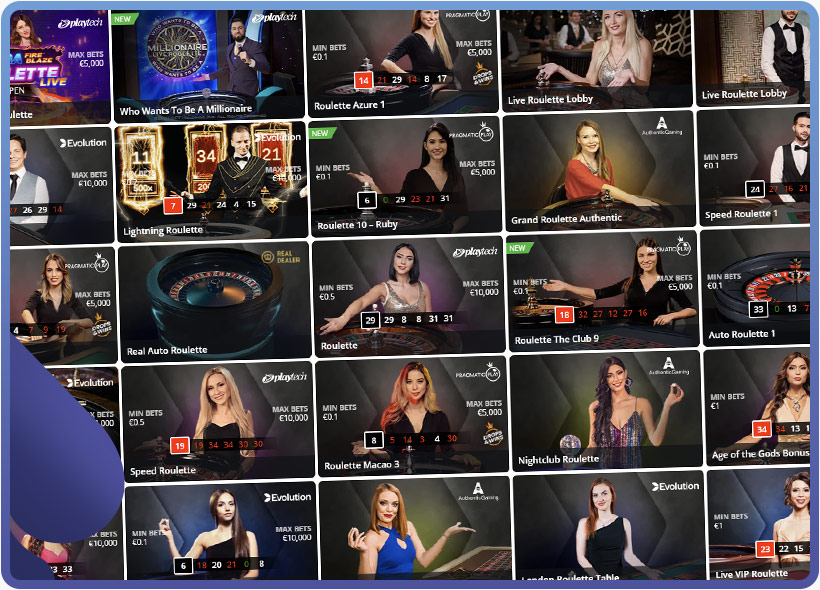 Here are the best roulette variants in order of RTP & Payout. So which Roulette game will you play today?
Roulette is a game loved by many casino gamers – it is fun, easy-to-understand and it comes with dozens of variants. By default, Roulette has three main variation – American, European and French.
However, over the years, the most trustworthy live casinos have presented more roulette variants. To cater for different languages, speeds, themes and platforms. There is roulette for everyone! Here are the best roulette variants to play, in order of RTP
In Roulette, Your goal is to predict or bet on which numbered pocket the ball will fall and settle.
You can decide to either play – inside bets or outside bets. The payouts apply to numbers 0 and 1-36 in European Roulette and 1-36, 0 and '00' in American Roulette
Best Roulette sites
Inside bets
Are made on one number, adjacent numbers or a small cluster of numbers
Straight-Up bet – Pays 35:1 and is placed on any single number between 0 and 36 in European Roulette and (0-36 and 00 in American Roulette)
Split bet – Pays 17:1 and is placed on the line between two adjacent numbers (e.g 0 and 3, 0 and 2)
Street bet – Pays 11:1 and consists of three consecutive numbers and you will place the stake at the end of the row.
Corner bet – Pays 8:1 and consists of four numbers and the bet is placed at the corner where the four numbers touch
Line bet – Pays 5:1 and consist of six numbers (two rows with three numbers each). You will place the bet at the end of the two rows or the border between them.
Outside bets
They comprise of a large cluster of numbers.
Column bet – Pays 2:1 and covers a complete column. You will place the bet at the end of the column.
Dozen bet – Pays 2:1 and consists of a group of a dozen or 12 numbers. You can place it on the 'first' 12 box (1 to 12), 'second' 12 box (13 to 24) or the 'third' 12 box (25 to 36).
Bet on Colour – Pays 1:1 and it's all about betting on colours. You could place a stake on the 'Black box' for all black numbers or the 'Red box' for all red numbers.
Bet on Odd/Even – Pays 1:1 and it about betting on either all odd numbers or even numbers. You can place your bet on 'Even' for all the even numbers or 'Odd' for all the odd numbers.
Bet on Low/High – Pays 1:1 and it involves betting on all high or all low numbers. You can either place a bet on 1 to 18 (low numbers) or 19 to 36 (high numbers).
French Roulette – 98.65% RTP
French Roulette is played on the typical European wheel of 37 divisions (numbers 1-36 and 0)
A noticeable difference is that the numbers on the French Roulette table come in white.
The bet names are also slightly different. For instance, the 1st, 2nd and 3rd dozen bets are marked as P12, M12 and D12. You will also notice that the Odd/Even bets are referred to as Impair/Pair.
The reduced higher RTP comes from the La Partage rule, where you are refunded half your stake if the wheel lands on zero.
How to Play French Roulette
European Roulette – 98.37% RTP
European Roulette is one of the original roulette games and is widely popular among punters. Different gaming developers have offered Roulette, with slight design and graphics differences. However, RTP remains between 97% and 99%.
The game has a total of 37 divisions – numbers 1 – 36 and one 0. The divisions 1-36 are coloured red and black but the zero (0) comes in green.
How to Play European Roulette
Multi-Wheel Roulette – 97.3% RTP
Multi-wheel roulette allows you to place bets on many different wheels at the same time. You get to play on up to 6 roulette wheels – wheew! What a thrill!
The best part of the deal is that you can play all the wheels with a safe bet. –This undoubtedly increases the chances of landing on your number.
Lightning Roulette – 97.3% RTP
In Lightning roulette the dealer does not spin the wheel – it spins automatically. After placing your bets, the wheel will spin.
When the wheel stops, you will see a bolt of huge lightning strike the number board to reveal up to 5 'lucky numbers'.
Winning a straight up bet on the 'lucky numbers' give you a 50x to 500x multiplier!
Note that the straight-up bet pays 29:1 to 499:1, instead of the typical 35:1 in standard roulette.
Live Lightning Roulette, Guide & Strategy
Live Speed Roulette – 97.3%
Speed Roulette is all about the thrill and pumping adrenaline. Each round lasts about 25 seconds, spin to spin.
You get to only bet during the spin, meaning there is no 'dead' or 'waiting' time. This means the next spin begins as soon as the last one ends.
How to Play Speed Roulette
Penny Roulette – 97.30%
This a variant for everyone seeking to play roulette on a minimum budget. You can place stakes for as low as a penny!
Even with the penny bets, the paytable is similar to the standard European roulette.
Penny Roulette is a great option for beginners looking to improve their gaming strategy while minimising expenditure and losses.
Immersive Roulette – 97.30% RTP
Immersive Roulette is all about the stunning graphics, multi-angle HD cameras, grand casino mood and gorgeous dealers. 
You will be able to see the wheel in different angles as it spins, which add to the game's appeal and excitement.
You will also see the statistics and history of the game. 
How to Play Immersive Roulette
Double Ball Roulette – 97.30%
As the name suggests, you get to play with 2 balls instead of one.
The game applies the Layover System and the 2 balls do not collide into one another.
Double Ball Roulette uses the standard American set up – 38 divisions (1-36, 0 and 00)
Note that the payouts are slightly different:
For inside bets – both balls offer two chances of winning but the payout is lower
For outside bets – both balls must fall in the selected number, failure to which you lose. However, the payouts are higher.
How to Play Double Ball Roulette
Blaze Live Roulette – 97.30%
This is a semi-automatic variant, hosted by a dealer at specific times of the day.
The game takes place on the standard European roulette table. However, each round lasts about 45 seconds.
Then there is the statistics functionality which offers rates for placing Odd/Even, Low/High and Red/Black bets. The statistics section comes with a history of up to 100 rounds.
London Roulette – 97.3%
The wheel has 37 divisions (1-36 and 0) but the design is much more captivating and intense.
You will see the conventional inside and outside bet zones plus the racetrack for neighbouring bets.
The stats board will show you the last 10 winning numbers. You can also switch between 3 screens:
Hot and cold numbers
Percentage share by bet type
A full sequence of numbers from 50 to 500 rounds
Auto Live Roulette Duo – 97.30% RTP
Duo Roulette comes with two tables – you can play both at once or easily switch between one and another.
It is somehow similar to multi-wheel roulette. However, in Duo Roulette, the two tables are chosen for you.
Duo Auto Roulette applies the Auto 60 and Auto 30 wheels – both which are European.
Alphabet Roulette – 97.30% RTP
Instead of numbers in the red/black spaces, you will see Alphabetical letters.
The wheel comes with numbers 1 to 10 and 26 alphabetical numbers in red and black colours. The zero (0) is in green.
Note that you can also place stakes involving up to four numbers around the zero position. For example:
3+0, 2+0, 1+2+0 or 1+2+3+0
Live Beyond Live Roulette – 97.30%
Here, you can play live roulette and seamlessly shift between tables, just as you would in a land-based casino.
When the game starts, you will see four tables and four charming dealers. The best aspect is that you get a back view of everyone else's gameplay.
Therefore, if you feel that the next table has more action or is better than yours, you can join their roulette game!
Dragonara Roulette or Dual Play Roulette – 97.30%
The multiple cameras mean you can virtually see other players as they place their bets. The wheel's view is up close and you can hear casino noises in the background to get you in the roulette mood.
Yes, you are playing from your phone, tablet or PC. –But the most exciting bit is that you get to play next to players who are seated at the physical studio from where the game is being streamed.
Mini Roulette – 96.15% RTP
In this game, the table and the wheel consist of only divisions with numbers 1 to 12 and Zero.
Note that since the slots are fewer, the chances of landing on zero are higher. For this reason, you will be refunded half your stakes on other numbers if you hit a zero.
You will get 11:1 pays instead of 35:1 on individual number-bets. A split bet comes with 5:1 while the Odd/Even, Red/Black and Half-Dozen bets will pay you even money.
Marvel Roulette – 95.73% RTP
This is a roulette game where you meet all your favourite Marvel characters and animations. You will see superheroes including Iron Man, Spiderman, X-Men, Thor the Mighty Avenger and Ghost Rider.
The wheel comes with 37 divisions, (1-36 and 0).
Marvel Roulette is linked to the Marvel Mystery Jackpot.
You don't even have to win a spin to enter the Jackpot game. All you need to do is place a bet on the blue bonus pocket.
If it lands on the bonus, you are automatically redirected to a 3-reel slot game tied to the progressive jackpot. –And you get 3 free spins to help you play.
Your mission is to match 3 identical symbols using the three free spins and win the progressive jackpot!
Age of Gods Roulette – 95.73%
There are 4 progressive jackpots up for grabs on Age of Gods Roulette. It is like a combination of roulette and online slots.
The game is set up like the American Roulette, with 38 divisions. However, instead of 00, you will see a bonus slot.
Land the ball on the bonus pocket to receive 3 free spins an online slot, with the Age of Gods symbols. Hit 3 matching Age of Gods symbols on the reels of the slot and win any of the four jackpots:
Power
Extra Power
Super Power
Ultimate Power
Treat yourself to some roulette fun and wins at the most reputable online casino sites today. The variants are many, which one is your favourite?
American Roulette – 94.74% RTP
American roulette comes with a total of 38 divisions: 1- 36, 0 and 00.
The standard rules of roulette apply – however, players can make the Five-Number bet which pays 6:1 and changes the RTP to 93.10%
Note that you can place, change and remove your bets even after the wheel is spun. –But you cannot alter your bets after the croupier ends the betting the session or calls out 'no more bets.'
Read on to discover other variations of American Roulette.
How to Play American Roulette
Roulette Royale – 93% RTP
Roulette Royale is all about hitting the same number consecutively, up to 5 times.
The game is played on the standard European wheel of 37 divisions. -But is mostly popular for its progressive jackpot! The side-bets go towards the pot and increase until someone wins the big cash.
To win the progressive jackpot, you must hit or land the same number 5 times in a row.
Even if you don't win the jackpot, landing the same number 2, 3 or 4 times pays you – 15:1, 200:1 and 3000:1 respectively.
No Zero Roulette (no house edge)
This version of roulette does not have zeros on the wheel.
The absence of zeros on the wheels incr5eases your chances of winning bets like Odd/Even and Red/Black.
No Zero Roulette is also called Zero Edge because there is no zero.
Relevant news