How to Play Speed Roulette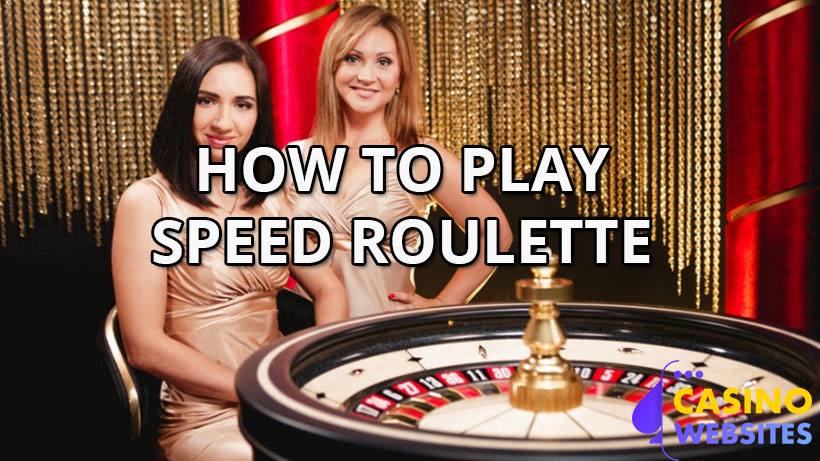 Are you looking to enjoy as many game rounds as possible during your roulette sessions? Have a live casino bonus to clear that is about to expire? Or just hate it when things drag out? Then let's cut to the chase – this is what Speed Roulette is all about!
Played as the European version of the game, Speed Roulette is nothing but a convenient way to enjoy the excitement of live roulette in an extra fast manner. Waiting times are simply minimized.
While several different companies are offering their own versions of Speed Roulette, the fastest ones are provided by Pragmatic Play and Evolution Gaming. Here a game round takes no longer than 25 seconds.
Looking for a top notch roulette casino?
Here at casinowebsites.com we have reviewed hundreds of gambling sites in search of those that provide the most pleasing player experience on roulette. Based on bonuses, reliability, game selection and customer support – among other things – we have listed what we believe are the very best roulette casinos for UK residents. Check them out on the link below!
See all roulette sites
Best Casinos in US
What makes Speed Roulette unique?
As already covered in the introduction there is nothing special about Speed Roulette other than what the name of the game already reveals – game rounds are fast. At least faster than they usually are. If they actually are fast – as in making a noticeable difference – can be debated as it depends on what type of Speed Roulette you are playing.
But if you're enjoying the version that the legendary Evolution Gaming is providing on their live casino platform or enjoying the one from Pragmatic Play then for sure the game rounds are fast. From one spin to another you don't have wait any longer than 25 seconds. This is approximately twice as fast as most other live roulette games that are provided by online casinos.
So how have they managed to cut the game round speeds in half?
They have done it by making it possible to bet during the game rounds as opposed to betting after these have finished. In other words, as soon as the dealer has put the ball in spin on the roulette wheel you will be able to place new bets while still waiting for the results of your current ones.
This is a feature that isn't available on most other tables. Normally you can't bet at all during a game round, but only after the results are in. This means that there's usually a waiting period between game rounds as players have to have time placing their bets.
By completely removing this waiting period, game rounds in Pragmatic Play's and Evolution Gaming's Speed Roulette happen immediately after each other. But how does the Speed Roulette offered by other live casino providers compare? Let's have a look!
Quick comparison of Speed Roulette from different live casino providers
In the below table we have made a comparison of a couple of different Speed Roulettes that can be played online – some are more commonly found at gambling sites than others.
| Version of Speed Roulette | Speed of the game rounds | Bet during game round? | Bet after game round? |
| --- | --- | --- | --- |
| Speed Roulette from Evolution Gaming | 25 seconds | Yes | No |
| Speed Roulette from Pragmatic Play | 25 seconds | Yes | No |
| Speed Roulette from Playtech | 34 seconds | No | Yes |
| Speed Roulette from Ezugi | 40 seconds | No | Yes |
| Rocket Roulette from NetEnt | 42 seconds | No | Yes |
As you can see, neither the Rocket Roulette from NetEnt or the Speed Roulette from Ezugi is particularly fast compared to the top two providers. If you ask us we're not even sure if they should be allowed to call their games Speed Roulette. In NetEnt's case they have only reduced the speed of their game rounds by 6 seconds; from 48 in their normal roulette games to 42 in Rocket Roulette. This is hardly noticeable.
How to play Speed Roulette
Speed Roulette is played exactly like European Roulette as this is the game that is played. It's only called Speed Roulette because game rounds are faster. However, at the very foundation of the game lies the European version.
This means that you probably already know how Speed Roulette is played. You choose to bet on one or several numbers provided on a roulette table and hope to have a ball land on any of these. There are 37 numbers in total with 18 of them being black, 18 being red and 1 being green.
Are you new to roulette and would like to learn all about it?
Should it be that roulette is a new phenomenon to you or you still haven't understood everything about the game, we have created a thorough guide that explains it all. In this you will learn about the rules of roulette; all different bets and how to place them; betting systems; as well as several variations that exist of the game.
Guide to how to play roulette
RTP in Speed Roulette compared to other roulette versions
Since Speed Roulette is actually European Roulette with an accelerating twist the RTP of the game is almost as high as it gets. With its 97.30% there is only one version of the game that beats it – French Roulette. This version is also based on the European game, but is played with a unique rule that can increase the RTP slightly if you make use of it.
| Roulette version | RTP |
| --- | --- |
| European | 97.30% |
| American | 91.7% - 94.74% |
| French | 97.30% - 98.65% |
| Immersive | 97.30% |
| Speed | 97.30% |
| Double Ball | 94.50% - 97.30% |
| Quantum | 97.10% - 97.30% |
| Lightning | 97.10% - 97.30% |
In difference to some roulette versions it doesn't matter how you place your bets in Speed Roulette. All of the payouts from the game's bet alternatives and their respective winning probabilities are synced so that the RTP is always the same.
What does RTP mean?
RTP is short for Return to Player and is a value that shows you how much you're expected to win in the long run based on the bets that you place. The RTP of a particular bet is simply calculated by multiplying the payout of that bet with the probability of the bet occurring.
In Speed Roulette red or black does for instance pay 2x your stake while having a 48.65% chance of occurring. If we multiply 48.65% with two we get 97.30% which is the RTP.
An RTP of 97.30% means that for every £100 that you bet you are expected to win £97.30. This is in the long run. In the short run anything can of course happen as luck plays an important role.
Frequently asked questions
Is there any downside to playing Speed Roulette?
The only one that we can think of is that you may experience the game as too stressful and if you aren't fast enough you may not get the bets in that you would like to place. Game rounds aren't that fast though so unless you are very relaxed and really want to take your time this shouldn't be an issue. Like all roulette versions it all comes down to how you would like to enjoy your roulette.
What version of Speed Roulette should I play?
If you want to have the fastest experience with the least waiting time between game rounds you should got for Pragmatic Play's or Evolution Gaming's Speed Roulette. We would personally go with the latter, but only because Evolution allow you to play on several tables at the same time in the same window and also have all of the best live casino games (in our opinion).
Is Auto Roulette and Speed Roulette the same thing?
No. Speed Roulette is played with a dealer that is manually initiating every game round while Auto Roulette is entirely automatized. This game has no dealer, but it's actually more like playing a virtual version of roulette even though it can be found in the casinos' live section. No real tables or wheels are used (at least not in Evolution Gaming's version). The only authentic thing about it is that you're able to chat with other players.
Relevant news