How to Play Immersive Roulette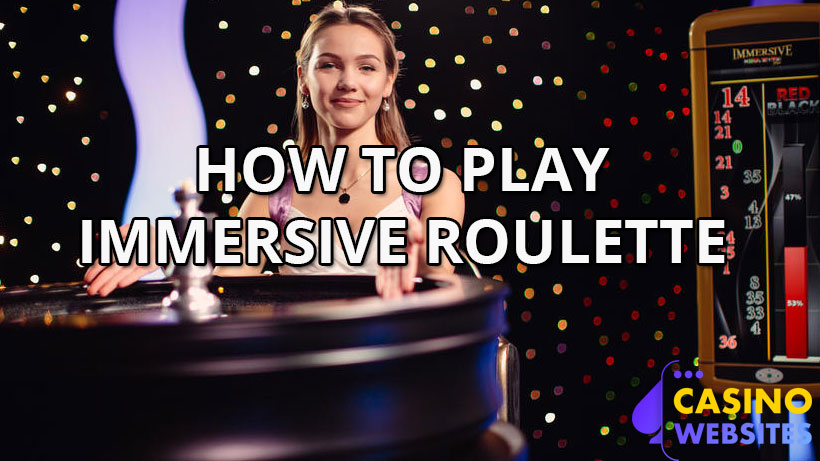 Released by Evolution Gaming in 2014 and awarded the Game of the Year Award by EGR the very same year, Immersive Roulette is a game that offers players a simple yet unique live roulette experience.
With multiple cameras in use players are totally drawn into the action of the game. These are constantly switching focus by going up close on the dealer as well as the roulette wheel.
Even better is the nerve-wracking playback feature of Immersive Roulette. This allows players to experience each and every game round in slow motion to see every bit of movement of the ball.
Sounds exciting? Keep reading to learn more about this thrilling game that many roulette enthusiasts can't get enough of!
Looking for a top notch roulette casino?
Here at casinowebsites.com we have reviewed hundreds of gambling sites in search of those that provide the most pleasing player experience on roulette. Based on bonuses, reliability, game selection and customer support – among other things – we have listed what we believe are the very best roulette casinos for UK residents. Check them out on the link below!
See all roulette sites
Best Casinos
What makes Immersive Roulette unique?
Immersive Roulette is by no means any super-modern or particularly special roulette game. It is actually nothing but European Roulette with some added visuals to it, which can make the gambling experience a bit more exciting or – as the name of the game puts it – more immersive.
Immersive Roulette is a live roulette game and like all live roulette games cameras are used to capture real roulette tables and real dealers who are initiating the game rounds. Simply so that we as players are able to watch it all through a video stream and get a more authentic roulette experience.
One of the differences between Immersive Roulette and many other live roulette games is that more cameras are used which allows you to see more of the game. But it's not only about different angles. The cameras in Immersive Roulette are also zooming in on details. Not to mention that the view in the stream is constantly shifting which can make the experience feel a lot more action packed. In addition to this, Immersive Roulette is also offering a playback feature, which probably is the best thing about it and why most players choose to play the game. After each and every game round – right after the ball has landed in a pocket of the roulette wheel – a replay will occur. This is played in slow motion allowing you to see exactly how the ball moved seconds before it landed in the pocket.
How to play Immersive Roulette
There are no special rules in Immersive Roulette but the game is simply the European version with 37 different numbers – 18 of which are red; 18 of which are black and one which is a green zero.
As the game is provided by Evolution Gaming you will find a racetrack with bets as well as a couple of special bets in addition to the ones that you can place on the actual table.
You will also find a chat included in the game which allows you to speak with other players who are enjoying it – there is usually a ton of them.
Haven't mastered roulette yet?
If so we highly recommend that you check out our in-depth guide on how to play roulette. In this we have covered all of the basics of the game, as well as provided valuable information that even some experienced players could learn something from.
We go through all of the different bet options and explain how to place them on the table. Not only for Immersive Roulette, but also for several other roulette versions. The guide also explains racetrack bets and special bets, as well as betting systems that can be used to make your roulette sessions a bit more versatile.
RTP and payouts in Immersive Roulette
In the below table we have provided all different bets that can be placed on the roulette table in Immersive Roulette along with their payouts, probability of occurring and RTP.
| Betting options | Payout | Chance to win | RTP |
| --- | --- | --- | --- |
| Straight-Up | 35:1 | 2.7% | 97.3% |
| Split | 17:1 | 5.4% | 97.3% |
| Street | 11:1 | 8.1% | 97.3% |
| Corner | 8:1 | 10.8% | 97.3% |
| Basket | 8:1 | 10.8% | 97.3% |
| Line | 5:1 | 16.2% | 97.3% |
| Column | 2:1 | 32.4% | 97.3% |
| Dozen | 2:1 | 32.4% | 97.3% |
| Even / Odd | 1:1 | 48.6% | 97.3% |
| Red / Black | 1:1 | 48.6% | 97.3% |
| High / Low | 1:1 | 48.6% | 97.3% |
As the table shows there is no difference in RTP no matter what type of bet you place. Regardless of how you decide to play Immersive Roulette you will always be playing with an RTP of 97.30%. This is quite high compared to most casino games.
If you aren't familiar with RTP this simply means that you are expected to receive 97.30% back on the total bets that you place in Immersive Roulette. So if you play for an hour and bet a total of £500 you would be expected to have won £486.5 or – to put it in another way – have lost £13.5.
As lady luck is a deciding factor in roulette you can never rely on the RTP, but this is only showing you what your results are expected to be in the long run. In reality a single session of roulette could either end in a massive win or a massive loss depending on how luck treats you.
Frequently asked questions
Can Immersive Roulette be played virtually?
No. Immersive Roulette is a live roulette game offered by Evolution Gaming, which is played with real dealers. As far as we know there is also no counterpart to this game that can be played virtually against the computer.
Is it possible to play Immersive Roulette for free?
No. While demo versions of casino products that can be played for free are very common these do not exist for live dealer games. The only way you would be able to play Immersive Roulette for free is if you could find a casino offering a no deposit bonus.
What's the point of playing Immersive Roulette?
To get an immersive experience! Simply to have more things happening on the screen (since the camera angles are constantly switching) and to enjoy every tiny bit of detail of roulette (since the cameras zoom in on different things and replay game rounds in slow motion).
Is there any downside to Immersive Roulette?
The only downside of the game is that game rounds take longer than most other roulette versions. This is because of the added slow motion replay that occurs after each and every spin.
Relevant news