How to Play American Roulette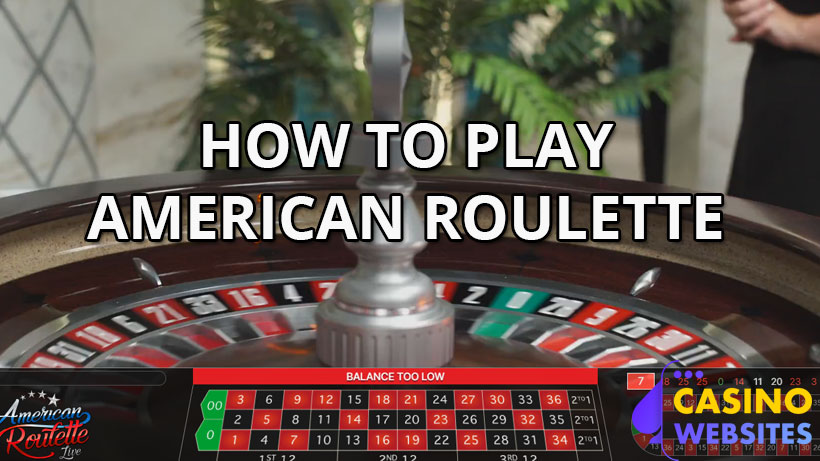 Commonly found in land based casinos across America – as well as online – American Roulette is a traditional version of roulette that serves no good purpose; at least not if you ask us.
The game is almost identical to European Roulette, but with one big downside – there's an additional green zero in the game which is constantly lowering your chances of winning.
So why are people playing American Roulette? Most actually aren't if they have other options available. But some are also unaware of the real drawback that the game comes with. Keep reading and we'll tell you more!
Looking for a top notch roulette casino?
Here at casinowebsites.com we have reviewed hundreds of casino sites in search of those that provide the most pleasing player experience on roulette. Based on bonuses, reliability, game selection and customer support – among other things – we have listed what we believe are the very best roulette casinos for UK residents. Check them out on the link below!
See all roulette sites
Best Casinos in US
What makes American Roulette unique?
The special thing about American roulette is that it has two green zeroes instead of one. There is almost no other roulette version that is designed this way and definitely not any of the most frequently played ones.

This is how an American Roulette table looks like

In comparison this is how a table looks like in European Roulette
The extra zero (double zero) in American Roulette changes one of the bet options in the game while also substantially lowering the RTP of it.
The RTP in American Roulette is only 94.74%
This is much lower than the RTP in the vast majority of roulette versions that exist. What it means is that for every £100 that you stake on an American Roulette table you are expected to win less than you would from most other versions. To be precise you are expected to receive £94.74 back.
/french-roulette/In European Roulette – which is almost identical to American Roulette – the RTP is 97.30% and in French Roulette which is also a very similar game the RTP can reach 98.65%.
No matter the roulette version, the green zero (or in this case zeroes) is what gives the casinos an edge (either partially or entirely). Since American Roulette has two of them the casinos' edge is generally twice as high as versions that only have one.
The basket bet of American Roulette is different
Compared to the vast majority of roulette versions, the extra zero in American Roulette makes the basket bet different. Instead of being a four number bet including 0, 1, 2 and 3 it's a five number bet, which it is also known as.
With a single stake this bet is covering the 0, 00, 1, 2 and 3. This is done by putting your chip between the 0 and the 1 and also on the bottom line of these two numbers. In other words, it's like placing a line bet.
Example of a five-number bet covering 0, 00, 1, 2 and 3 (colored in purple)
You wouldn't think that it would be a big deal having a bet changed to include an additional number, but the five-number bet is actually the worst one you can place in roulette. It has a lower RTP than all other bets in American Roulette – only 91.70%. The reason for this is that the five-number bet is only paying 6:1 while having a 13.1% chance of occurring.
How to play American Roulette
As we've already mentioned American Roulette is very similar to the European game. If you know how this version is played you already know how to play American Roulette.
However, if you're new to roulette altogether and would like to learn how the game is played, we have created a separate article that we highly suggest visiting. This is a thorough how to guide that is covering everything you need to know about roulette, including how every bet is placed in the game.
Guide to how to play roulette
A comparison of European and American Roulette
To give you a glimpse of the bet options and payouts in roulette, as well as to further understand why American Roulette is less profitable than its European counterpart, we have created the below table comparing payouts and chances to win from all bet alternatives.
| Bet Option | Payout in American Roulette | Payout in European Roulette | Chance to win in American Roulette | Chance to win in European Roulette |
| --- | --- | --- | --- | --- |
| Straight-Up | 35:1 | 35:1 | 2.6% | 2.7% |
| Split | 17:1 | 17:1 | 5.3% | 5.4% |
| Street | 11:1 | 11:1 | 7.9% | 8.1% |
| Corner | 8:1 | 8:1 | 10.5% | 10.8% |
| Basket | 6:1 | 8:1 | 13.1% | 10.8% |
| Line | 5:1 | 5:1 | 15.8% | 16.2% |
| Column | 2:1 | 2:1 | 31.6% | 32.4% |
| Dozen | 2:1 | 2:1 | 31.6% | 32.4% |
| Even / Odd | 1:1 | 1:1 | 47.4% | 48.6% |
| Red / Black | 1:1 | 1:1 | 47.4% | 48.6% |
| High / Low | 1:1 | 1:1 | 47.4% | 48.6% |
As you can see, the payouts are the exact same between the two versions, with the exception of the basket bet which is also known as the five number bet in American Roulette. However, the chances of winning each bet are slightly different. They are lower in the American version and this is all because of the extra zero.
Why? Because the green zero (or zeroes) is not included in any of the bets except for the basket-bet. So whenever the ball lands here you lose and in American Roulette the risk of this happening is twice as high.
Frequently asked questions
Is there any reason to play American Roulette over European?
Not unless you want to be cruel to yourself by making it harder earning a profit in the game. Winning from casino is already a challenge so you probably don't, but who are we to tell you what you want or not. We would, however, personally never play this version ever.
Why does American Roulette have two zeroes?
We are not historians and information does vary on the web, but it seems like the original version of roulette (which originates from Europe) actually had two zeroes to begin with. This was then changed into a single zero to attract more players.
As roulette reached America the single zero tables never made it. At one point in time a third zero in the form of an American eagle was even introduced. To answer the question more literally, double zeroes simply exist to give the house a better edge. 
Relevant news