Mega Fortune slot review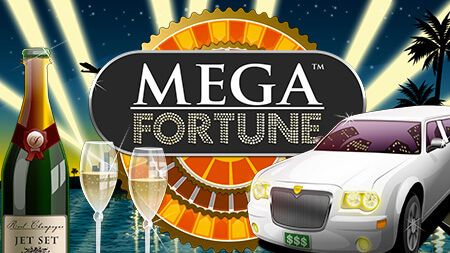 Gamers are probably familiar with the TV version of Wheel of Fortune. There are now several casino game versions of it available at physical and online casinos. Top game developer NetEnt created a version called Mega Fortune. The game has one of the biggest jackpots available with an online slot game. This casino game offers a 5 reel, 3 row, video slot with a 25 payline. The slot is available live, or on laptop, desktop and mobile phone.
With Mega Fortune from NetEnt players can win €50 rapid jackpots, €50,000 major jackpots, or the mega jackpots which are in the millions – which is life changing money for the lucky winner.
How is it played?
Wheel of Fortune is similar to other 5 reel slots that players are probably aware of, despite the layout being a bit different. Users simply select the value they would like to wager, bet, and click the spin button. The goal being to line up symbols, with different symbols having different values, outcomes, or prize values. There are also bonus rounds that can be unlocked where the player spins a wheel to win a prize. There are two mini games, one has higher value prizes than the other and is not surprisingly harder to unlock than the lower value game.
With NetEnt's Mega Fortune, yacht symbols are wild and can stand in for most other symbols. Multipliers from 2 to 5 are activated by the Champagne symbols. With this game it's the Mega Fortune Wheel that you want as three of them unlock the Fortune Wheel where a player can win from the jackpots or bonus coins.
Tips to Master Mega Fortune
There aren't too many tips or tricks to improving your odds when playing Mega Fortune. As with all slots it is all down to the luck and randomness of the spins. Pure chance is going to give you the big, high paying symbols so good luck with getting them. One tip though is to bet low enough to get yourself through a couple of bonus rounds. This will give you better chances of making bigger wins and avoid spending all of your credits before reaching a bonus round.
Best Casinos in US
Relevant news