The Best, Funniest, Dumbest and Craziest Gambling Stories From Las Vegas That You'll Hardly Believe Happened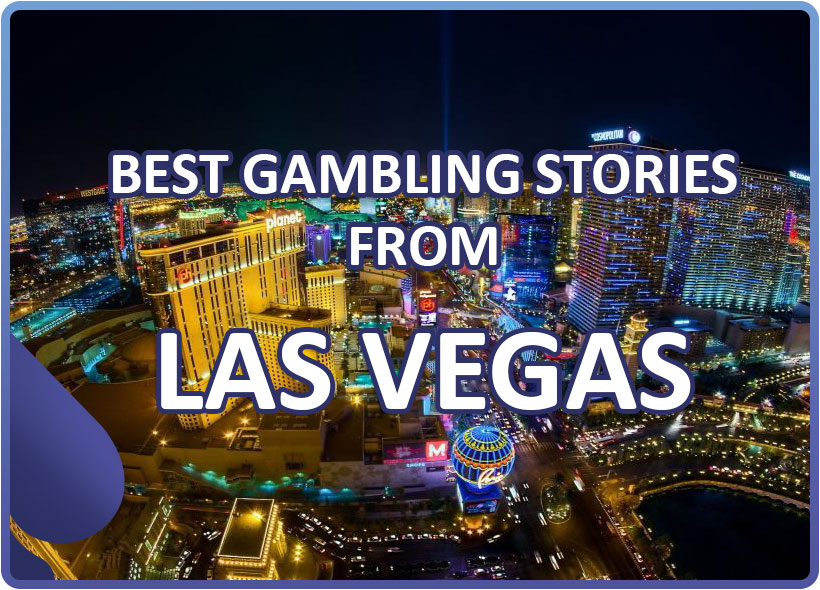 The city of sin is filled with the most remarkable stories, though many of these unfortunately remain untold due to the popular saying; what happens in Vegas stays in Vegas. Luckily, this isn't entirely true. Every now and then a really great story from Vegas makes its way out. In this article we have told several of them. You'll be able to read anything from the craziest Vegas stories, to some of the funniest and dumbest ones. We have gathered all of the best that we have been able to find!
From $50 to $40 Million and Back to $50 Again
We all know that gambling can be a wild ride, but you haven't experienced anything until you have spent a day in Archie Karas shoes. This absolutely crazy vegas story is filled with as much joy as it is with despair.
As a gambler at a young age, Archie Karas grew up in the Mediterranean Greece where he played marbles with his friends to earn money for food. This was all the way back in the 80's.
In the 90's he had made his way to the land of opportunities. Residing in Los Angeles, he managed to build himself a $2 million bankroll by playing poker and pool which he was very good at. He didn't get to keep this money though, but eventually lost it all. Don't ask us how.
With only $50 in his pocket, Archie made his way to the gambling capital of the world – Las Vegas. Once there he managed to pull off a $10,000 loan from a poker friend of his. With this money he went on the winning streak of his life. Playing pool and poker, he had turned his $10,000 loan into a stunning $17 million by 1994.
Archie might have kept making a living like this if it wasn't for the fact that he became somewhat of a legend that nobody wanted to play against. He was simply too good at what he was doing. Being born a gambler, you can't just stop gambling though, can you? Not even if you got $17 million that could last you for the rest of your life and afterlife too.
So what did Archie do? He turned to luck based games at Vegas casinos. Before you slam your palm in your face, this actually didn't go south – not at once. He was incredibly lucky and managed to win an additional $23 million, which made him good for a total of $40 million. Quite an amazing ride.
But this is when it all went to hell. Archie Karas couldn't stop gambling and he continued playing the luck based games that he had found comfort in. As you probably know, the house always wins in the long run and so they did. Archie eventually wasted all of his $40 million and turned his great success story into one of the worst gambling loss stories of all time.
Las Vegas Pastor Doing Robberies on His Spare Time
Gregory Boulsan is a name that the M Resort Casino in Vegas will never forget. This pastor did not only attempt to rob the casino twice during a two-month period, but he tried doing it on three different occasions. If that's not gambling, we don't know what is – gambling with your life at stake! It is, of course to little surprise that this pastor was arrested by the cops.
The first robbery attempt happened in 2017 when Boulsan pulled up with a white Toyota Camry, plates covered, at the casino. He drew a gun at one of the employees and demanded money. Things didn't go as planned though as the employee ran off, leaving our crooked pastor empty handed.
The second attempt happened just a month later. Because it couldn't go worse, now could it? Especially not when you decide to pull up at the casino using the same car and wearing the same clothes. Well, believe it or not, this time the pastor actually got away with $29,000 – not bad!
But why stop when you're ahead? Third time's the charm, right? Just a month later, Gregory Boulsan figured he could pull of another robbery – he just had to use different clothes. And so he did. But shortly after the employee at the casino had helped him fill his bag with $33,000 the police had him in handcuffs.
It was eventually revealed that the gun that the pastor had used was fake and that his wife was a shift worker at the casino. Even though we don't know, she may very well have been a part of the robberies. Or maybe the pastor just wanted to say hi to his wife and figured "why not do some bankroll boosting for the church while I'm at it?"
Don't Fix What Isn't Broken!
It may be a short one, but this is one of the funniest Las Vegas stories that we have heard of. So, this guy had just sat himself down at a Video Poker machine at a casino, just to be faced with the words "Call slot attendant" after no more than a few game rounds. He then made the following comment to the lady that sat next to him:
"Just my luck. I sit down at a machine and it immediately breaks down".
The lady looks at the machine and then looks at the man with a peculiar face. Before leaving her seat, she drops off the following comment:
comment:
"You've just won the progressive jackpot"
As it turns out the man had hit a video poker royal flush and ended up with a massive payout!
Securing Your Pension Playing Blackjack in Vegas
If you haven't made enough money in your life to get a good pension, why not take a trip to one of Vegas's most paying casinos for a bankroll boost? That's exactly what "Shoeless Joe" did – an 80 year old and notorious retiree who used to bad mouth the dealers whenever he lost at blackjack.
He didn't curse much, though, this fortunate week that he spent at the Treasure Island casino in Vegas. With a $400 social security check as a bankroll, he equipped himself with his cane and set out to bust the blackjack tables. He went on a crazy winning streak and after just five days he had turned his modest check into $1.6 million. More than enough to settle for fantastic pension life. Shoeless Joe even signed a deal with the casino's owner to make a movie out of the story.
Here's the plot twist though. This is not a success, but actually a horrible gambling story. A movie was never made and Shoeless Joe never stopped gambling. He eventually lost all of his winnings and went back living on his weekly social security check. Word on the street even claims that he became homeless.
Bets All of His Life Savings and Commits Suicide
This right here is one of the saddest gambling stories from Las Vegas as the gambler that became known as the "Suitcase Man" ended up taking his life. However, as far as we know, this wasn't due to his gambling habits, but his suicide had other causes.
The story begins in September 1980 when William Bergstrom walks into Binion's Gambling Hall carrying two suitcases – one that is empty and one that is filled with $770,000. William's goal was to bet it all on a single craps bet and so he did. He wagered his entire suitcase on "don't pass line" and managed to win. William immediately left with his winnings, which are said to have been used for travelling the world.
But this wasn't the end of the mysterious Suitcase Man. William returned to the casino four years later (in March 1984) and once again made a single bet on the craps table – this time a $538,000 bet. Lady luck was once again on his side. Not only did he win his bet, but he also played some more at the casino to win an additional $117,000 before he left.
A few months later, in November 1984, William returned to the casino for a last time. He tried to pull of yet another successful craps bet, but this time he lost a total of $1 million. After this, William spoke to the owner of the casino and explained that he had planned to end his life if he lost his craps bet that first night on September 1980.
While he got to live a few years longer than it could have been had he lost his original bet, William 'Suitcase Man' Bergstrom unfortunately made his words come true in the beginning of 1985 when he committed suicide.
Drunk Talk Comes to Life and Turns to an Amazing Winner Story at a Vegas Casino
Picture this. You're on a British pub run with your friends and in midst of the tipsiness you start talking about how awesome it would be selling off your possessions to bet it all on red at a roulette table. Most gambling enthusiasts could probably find themselves in this situation. But then when the next day arrives and the alcohol has worn off, you realize that it was just stupid drunk talk.
Now this particular pub run happened to Ashley Revell who was living quite a good life in England. However, instead of dismissing the gambling idea as drunk talk, he took it to heart and actually made it come to life. Ashley sold everything he owned and traveled to Vegas with $135,300 in his pocket. There, he visited the Plaza Hotel and Casino, walked up to a roulette table and wagered it all on red.
Luckily, this crazy vegas story has a happy ending. The ball landed on the seven, which is a red pocket, doubling Ashley's massive stake. He left the casino with a profit and eventually bought back many of the possessions that he had sold. What a legendary drunk!
In Your Face Whiner!
This guy was playing Video Poker in a Vegas casino, constantly changing his bet amount for whatever reason he had. There was a lady seated next to him and she got really annoyed by his playing style. That's understandable, right? Because if you're playing Video Poker you always have to bet the same amount…
Anyhow, the guy noticed her frustration and grabbed her attention by saying "watch this". He then slammed the max bet button of the machine and to both of their surprise a royal flush presented itself on the screen. The lady left her seat and seemed totally disgusted about what had happened. Now that's what you get for being grumpy!
A Happy Ending to a Terrible Day
Way past midnight at the Bellagio, this guy had had a terrible day at the casino and only had $100 left in his pocket. He was half asleep and tipsy, ready to go to bed and call it a night. To burn through the last of his bankroll, he upped the stake at the Video Poker machine he was sitting at – from 25 cent to $1. Turns out this was the best decision of his entire visit!
On his third or fourth game round he hit a complete blank and only got to hold the Ace of spades. Now can you imagine his facial expression when his draw rolled out a 10, Jack, Queen and King – all of spades! He hit a royal flush and cashed in $4,000 on his $1 bet!
But this isn't the end to this lovely winner story. He kept playing to spend the $100 he had planned and before he had done so four aces had also appeared on the screen, earning him an additional $800!
Go Big or Go Home!
A couple was visiting Vegas on their honeymoon and one night they split up as the hubby wanted to play blackjack. This left the wife wandering around the Four Queens Casino with a pocket full of quarters. She sat down at a classic slot machine and put a quarter in – BAM! First spin comes Wild Cherry, Wild Cherry, Wild Cherry which is massive. The machine says $250 win and the wife is super excited about the payout.
Then she starts getting a strange feeling as people are looking at her and shaking their heads. "What the hell?" It turns out that she was playing a two coin progressive jackpot machine and that the line she had hit would have earned her $10,000 if she had just bet a quarter more. That's what you get for being cheap!
But… My Name Isn't Lauren?
Want to hear one of the dumbest stories from Vegas? This lady was visiting Vegas for the first time and signed up a for a player's card to make the most of her time. As you may or may not know, these cards give you bonus rewards and other benefits.
The lady was playing intensely for four days and four nights straight, betting $1 on slot machines. Every time she sat down at one and put her player card in it said "Hello Lauren". As her name wasn't Lauren, warning bells should have begun ringing. But they didn't. She figured this was just some generic greeting message that everyone gets. Imagine a 250 pound Butch being greeted as Lauren…
Obviously, the card wasn't hers but her card had been mixed up with someone else's whose name apparently was Lauren. Thus, she had been earning someone but herself a massive amount of player points from all of the gambling.
Let's Just Make it a Short One Shall We?
Las Vegas is filled with gambling loss stories and here's a typical one. Boarding the plane to Vegas, a man had way more to drink than he should. He was planning to stay in Sin City for quite a while, but once he landed and got to his hotel, he sat down at a slot machine. A few hours later all of the money he had budgeted for his entire trip was gone!
Wait, What? There's a Dress Code?!
In 2017, at the Bellagio, in one of Las Vegas biggest poker rooms, players suddenly had their jaws drop. There was this strange man walking around fully nude, holding his clothes under his arms, covering his groin area. While security teams made sure that it wasn't a long-lasting sight, it sure was a peculiar one.
The nude man had previously been playing at one of the poker tables (dressed at the time) and left. So why did he come back naked? Some are saying that it was a prop bet being fulfilled, but we actually don't know. Maybe he was trying to imply that strip poker would be a much more interesting game?
Whether the man won or lost at his poker game we do not know, but we do know that he returned home from Las Vegas with a crazy gambling story!
Play the Max Bet or I'll Kick Your Butt!
Now this one is a really weird winner story from a casino in Vegas. A guy on quite a tight budget was sitting down at a WSOP machine just to be told to play it on the maximum bet by a man next to him. This man had apparently won $2,000 from the machine the day before doing so.
Our guy wasn't very happy about playing the maximum bet as he only had $19 on his pocket, but for some reason he reluctantly complied. Only for a few spins though. As he witnessed his money go down the drain at a fast pace, he secretly switched to the minimum stake when the man next to him wasn't looking.
This is when he hits the big bonus of the machine. On top of that, the bonus conveniently decides to pay him the maximum prize which makes the machine go wild with flashing lights and wailing sirens. The man next to him jumps out of his seat to shake our winner's hand and congratulate him.
All well and good until our guy breaks it to him; "I was only playing at minimum credits". Now this is where it gets really weird. The man goes completely mad with rage and begins crying with swear word after swear word. He then turned his back on our guy and refused talking to him again. How crazy is that?!
The win ended up at a neat $190, but should have been $2,000 if the max bet was made.
Best Casinos in Ireland
Relevant news