Blackjack Etiquette – the Dos and Don'ts You Must Know About When Gambling at a Casino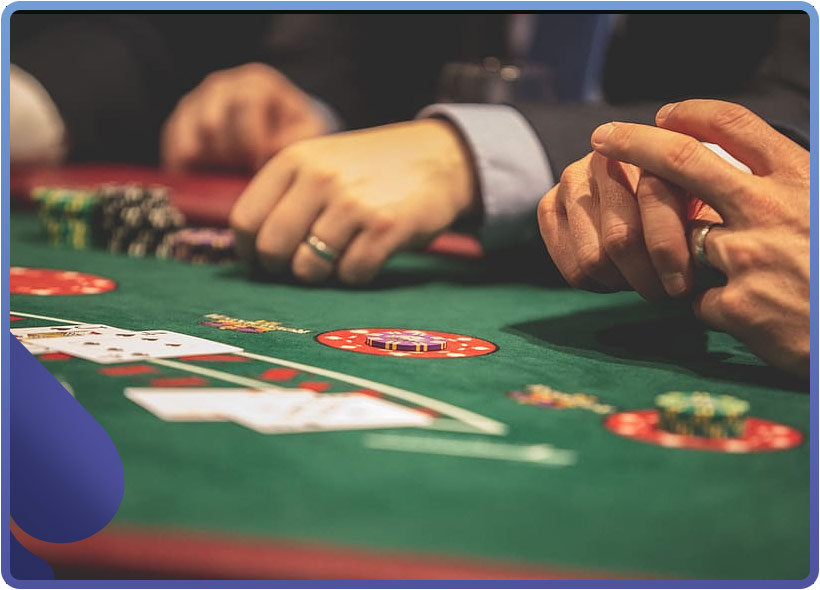 Blackjack is certainly not a difficult game to learn and these days the knowledge about it is very wide-spread all thanks to online casinos that have made the game easily accessible. However, while many players know how blackjack is played, the vast majority have much to learn when it comes to behaving properly at the tables. We're talking about adopting the proper blackjack etiquette.
Even though you aren't going to be penalized and there isn't any shame in doing things the wrong way, you may want to come to the tables looking like a pro already. This is why we have created the following article where we have explained the do's and don'ts when playing blackjack at casinos.
We have also thrown in a couple of things that you might think goes against common blackjack table etiquette, but which is perfectly fine. Now let's get going!
1. Always Place Your Money on the Table
Whenever you're exchanging cash for chips to play with, the blackjack etiquette is to place your money on the table. Never hand any coins or bills over the croupier directly. The reason for this is that the security cameras at the casino must be able to capture everything. They must be able to record the amount of money you're putting up. Therefore, the dealer will spread out any money that you have placed on the table before collecting it and giving you your chips to play with.
2. There's a Right Way to Stack Your Chips – Follow It!
If you're placing a bet where you're mixing chips with different denominations, the higher valued ones should always be at the bottom. For instance, if you want to place a bet of £8 using one £5 chip and three £1 chips, you place the £5 at the bottom and the three £1 chips on top. If you aren't doing it correctly, it will only slow down the game and be inconvenient for the dealer as he or she will be required to rearrange the stack before any cards can be dealt.
3. Cards Should Never Be Removed From the Table
There's no reason whatsoever for a player to pick up the cards he has been dealt, unless he has something fishy in mind. This may be one of those obvious blackjack etiquettes that exists, but let us remind you not to do it. The dealer and the security cameras at the casino must always be able to see the cards. If they're removed from the table, we can guarantee that you will attract a lot of weird and suspicious looks.
Unless you're sitting at a blackjack table where your cards are dealt face down, you shouldn't even be touching your cards, which brings us to the next topic.
4. If Cards Are Dealt Face up, Just Let Them Be
This unwritten rule goes hand in hand with the above; if your cards are dealt visible to you there's no reason to be touching them. Doing so will only have the security team at the casino raise their suspicions about you.
5. If Cards Are Dealt Face Down, Only Use One Hand
While you may be used to your cards being dealt face up, there are actually blackjack tables where the dealer will hand them over face down; usually on 1-deck and 2-deck tables. If you're playing at such a table it's important that you only use one hand to flip over your cards.
This rule is to prevent players from being able to switch their cards. For instance, if they had an identically looking deck in their pocket and they were really dexterous they could possibly switch one of the dealt cards for an ace.
6. Once The Cards Have Been Dealt, Don't Touch Your Chips
And by chips we don't mean the snacks you've brought with you – we mean the money you're playing with. This etiquette may be a hard one to follow for blackjack players who are used to sitting at the poker tables where playing with your chips is pretty much standard.
It's very important though to let the chips be during a game round of blackjack. You're only allowed to touch them when you're making your initial bet and when you're collecting your winnings after the game round is over. If you lose, the dealer will handle the collection; don't hand over the chips to him or her.
This gambling etiquette exists to prevent dishonest players from tampering with their bet sizes. If they were allowed to touch their chips, they could possibly increase their bet in secret should it be that the dealt cards turn out to be in their favor.
7. When Making Your Decisions, Use the Right Signals
This is a tough one for inexperienced players to get right. You would think that telling the croupier whether you would like to hit, stand, split or double down would be the way to go, but it's not. While there isn't anything wrong with speaking, you must always use signals as an indication of your decisions. This is all an act for the security cameras that have to capture everything in case there's a dispute.
The signals that you should be using are the following ones:
Hitting: tap the table in front of you with your finger. Alternatively, you can also wave your hand towards yourself as you were telling the dealer "come here".
Standing: with your palm faced down, wave your hand horizontally over your cards.
Splitting: place the correct amount of chips next to your initial bet (outside the betting box), followed by placing two fingers on the table in a V shape. This V shape is important to make a difference between a split and a double down.
Doubling down: place the correct amount of chips next to your initial bet, followed by placing one finger on the table to indicate that only one card should be given (thus a double down).
Should it be that the surrender option is offered as an alternative at the table you're sitting at, there is no signal for this, but you would have to settle with verbally telling the dealer.
8. Unsure About the Correct Play? Ask the Dealer!
This may come as a shock to many players, but it's actually not a bad blackjack table etiquette to ask the dealer for advice about a hand. Croupiers are often rooting for the player to win and happy about sharing their knowledge about the mathematically correct way to play. They usually aren't prohibited by the management and by helping players out they are much more likely to receive tips.
9. Use a Cheat Sheet to Play Perfectly
An alternative to asking the dealer about your hand, is finding out what the mathematically correct way of playing is by looking at a cheat sheet that you've brought with you. As you may or may not already know, there's a strategy known as basic strategy that allows you to play blackjack optimally. This strategy is perfectly fine to bring with you to the tables. The casinos don't mind it at all as they know that even if you play every hand in a mathematically correct way, they will still have a slight edge.
10. Don't Be Cheap – Tip the Dealer!
Let's face it, tipping is part of the game – at least so when you're playing blackjack at land-based casinos. Similar to waitresses at restaurants, dealers make very little money and rely a lot on their tips. There's no requirement to be tipping though. However, it is definitely good blackjack etiquette to do so.
There aren't any guidelines to how much you should be tipping and if you're running really bad no one will expect you to either. However, if you're doing great or winning a couple of hands in a row, you may want to consider shipping over a bet or two to the croupier. Or more if you're of the generous kind.
Tipping the dealer, you can simply hand over a chip and let him or her know that it's for him or her to keep; "here you go". You can also place an extra bet in front of your own. This will then be a dealer bet, which means that if the hand is won, the dealer will win the bet as well as the profit from it.
11. Don't Give Advice Unless Asked For It
Being knowledgeable blackjack players, we know how frustrating it can be to see when players make obvious mistakes, such as splitting a pair of 10s or taking insurance. Especially if these players are winning with their moves while you're going broke playing the game correctly.
At the tables, it's not unusual to feel an urge of telling lousy players how they should play their hands. However, unless they've asked for your opinion you shouldn't. Doing so goes against common casino etiquette. You don't know if the player is even remotely interested in playing correctly. Afterall, he came to the casino to gamble.
If bad decisions are bothering you, our suggestion is that you move to another table.
12. Always Check the Table Rules Before Playing
To avoid confusion and slowing down the game, it's good blackjack table etiquette to check the rules of a table before you sit down and play. In some casinos you may not even be allowed to play if the shoe is midway through. If that is the case and the shoe is, you'll have to wait for the dealer to reshuffle. Until then, you can of course take a seat at the table, but don't attempt placing any bets.
This "No Mid-Shoe Entry Rule" exists to make it harder for professional teams of card counters taking advantage of their card counting strategy.
13. Cut the Deck the Right Way
In blackjack games that are played with six decks, the croupier will always ask one of the players at the table to cut the deck after it has been shuffled. This means inserting a one colored card in the deck which will act as an indicator of when the next shuffling is supposed to take place.
There are wrong and right ways of cutting a deck as the cut card can't be too close to either the beginning or ending. So if you're asked to cut the deck, make sure that you aim for the middle and always leave at least one deck's space on both sides of the stack.
14. Before Playing Behind, Ask the Player
As you may or may not know, many blackjack tables allow you to play behind other players. In other words, betting on their hands by placing chips behind their betting circle. This allows you to play multiple hands at a table even if it's full.
Before playing behind a player, it's common courtesy and good blackjack table etiquette to ask first. It's their hand and you won't have any saying at all to how it's played.
While most players have no problem with other players playing behind them, some may feel pressured of having to perform and would rather not have that responsibility on their shoulders.
15. If You Smoke, Be Respectful to Non-Smokers
This is common casino etiquette. Many blackjack tables are situated in smoking areas. However, that doesn't mean that everyone at the table appreciates the cigarette as much as you do. Be respectful towards your fellow gamblers and try to minimize the number of smokes that you have. Also, don't let a cigarette sit burning for no reason and be mindful about where you exhale.
16. Don't Be Nasty Towards the Dealer and Other Players
This is an obvious one as it's never ok to bad mouth people over a game. You won't see it happening much at brick and mortar casinos either as it would obviously get you in trouble; possibly thrown out of the venue. The internet environment is different though. Playing at blackjack sites online it's much easier for people to step over the line by dropping a dumb and offensive comment in the chat. Don't do it. Even if you're upset about losing, this is part of the game. Be mature and behave.
17. When Playing Online, Don't Slow Roll
There's rarely an excuse for slow rolling. In other words, taking much longer to act than you are required to. Whether you're doing it deliberately or it's happening because you're doing a ton of other things on the side, such as watching streams or browsing the internet, it is not ok. It can be incredibly annoying for the other players who are sitting at the table. The only time slow rolling is acceptable is if you're playing blackjack alone against the dealer. If you aren't, then focus on the game. You came to play, right?
Best Casinos
Relevant news