Why You Should Avoid Insurance Bets in Blackjack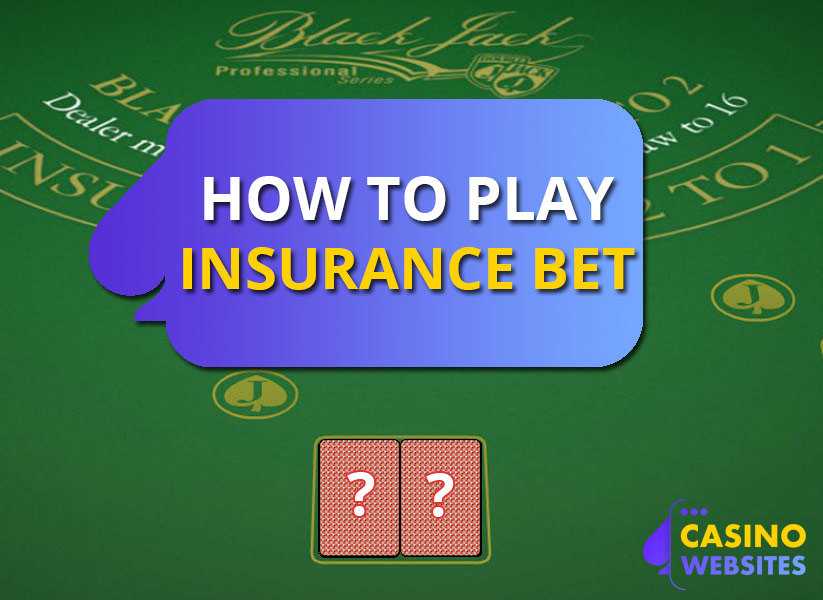 Accustomed as we are to insuring almost every aspect of our lives, it probably seems like a no-brainer to take out insurance on our blackjack bet. After all, insurance is there to protect us, and taking out insurance on our bet means that at the very least we break even, and our hard-earned cash is not lost. Unfortunately, insurance bets in blackjack are something of a false promise. While it may seem that you're playing it safe, your insurance bet is actually more likely to cost you money than it is to save you money.
---
You can find the best blackjack sites to play at here.
---
Best Casinos in US
What is an Insurance Bet?
An insurance bet in blackjack is offered to players whenever the dealer's face up card is an ace. The reason for this is due to the supposed likelihood of the dealer's face down card being a 10, or a picture card that has the value of 10. So, if you take an insurance bet, you are basically betting that the dealer has blackjack. The insurance bet is a side bet, meaning that is separate from your main bet. Your main bet still stands, and the hand is played out in the usual way. The only difference is that if you lose the hand, you still have a chance of winning your side bet if the dealer does indeed have a blackjack (Ace +10 = 21 = natural blackjack). Players are usually only allowed to bet half of their original bet when they make an insurance bet. This means that if you lose the hand, but win the insurance bet, you'll break even.
The Odds of Winning
If you take a look at the blackjack strategy chart, you'll soon notice that it doesn't give you any instructions regarding the best time to place an insurance bet. The reason for this is because mathematically an insurance bet is a bad move, and the chances of it paying off are so low as to be not worth the risk. A closer look at the odds related to the insurance bet will highlight why the math doesn't support taking the bet. Players are given odds of 2 to 1 when they make an insurance bet. This would suggest that the dealer's chance of having a 10-value card is 1 in 3, but the actual odds of the dealer having blackjack are 9 to 4 (the odds change slightly depending on the number of decks in play, but the ratio stays the same). Another way of looking at is like this: your odds suggest that the dealer is likely to get blackjack 33.3% of the time, whereas the dealer's odds suggest that the dealer is likely to get a blackjack only 30.8% of time. It may seem like a small difference, but it's the reason why insurance bets almost always end up costing you more than they're worth.
The Reality of Losing
Let's say that you're holding a hard 20, meaning you have two 10s. The dealer is showing an Ace. You're likely to justify taking an insurance bet because your hand is strong and you don't want to miss the opportunity of playing it, even though the dealer's Ace puts you at a disadvantage. What you have to keep in mind here is that you are, in fact, missing the opportunity in your hand. If you're holding a hard 20, the chances of the dealer having another 10-value card are even lower than they would normally be. In this case, you are more than likely going to win the hand but lose the insurance. Your winnings are essentially halved.
To drive home the point as to why insurance bets should be avoided, let's take a look at the long-term numbers that illustrate the 9 to 4 odds. Over the course of 130 bets (insurance bets), the odds suggest that you will win 40 of those bets and you will lose 90 of those bets. If you bet 20.00 at 2 to 1, your winnings would equal 40.00. 40 wins, therefore, would get you 1,600 worth of winnings. However, losing 90 times (20.00 per loss) will cost you 1,800.
Play to Win
Casinos offer insurance bets because they know that more often than not, the insurance bet will benefit the casino rather than the player. You are much better off following the advice of the blackjack strategy chart rather than jumping at the offer of insurance. You can practice your blackjack skills at any of the brilliant online casinos that we recommend here; keep referring to the blackjack chart while you play until you have every move memorised. But remember, blackjack is a game of both skill and luck, so you'll also need to keep your lucky charm close by and hope for the best.
More blackjack guides
If you liked this guide then we have more tips and tricks on how to play better blackjack.
Relevant news