Full List of Slot Machines From the Marvel Universe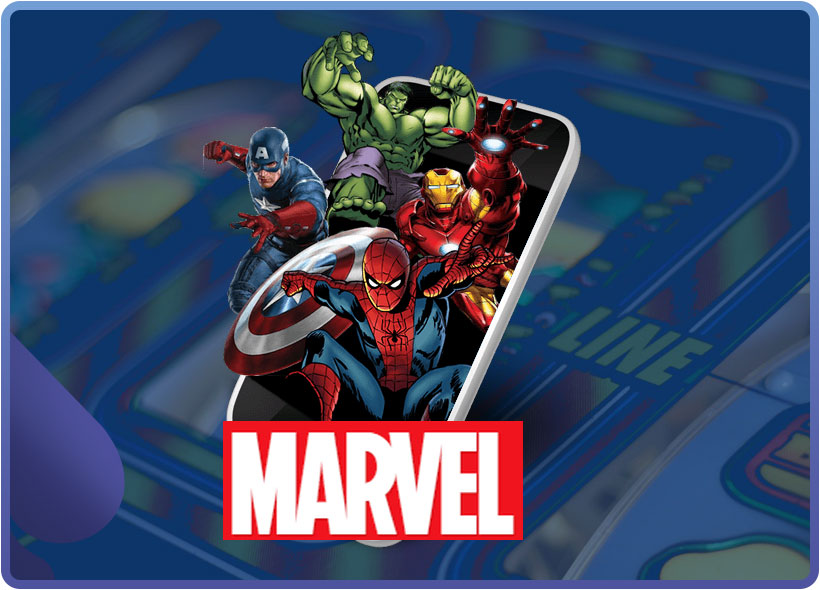 There are more than 8,000 characters in the Marvel Universe and while most haven't made it to slot machines, a surprisingly large number has. This is great news for any Marvel and slot enthusiast! While chasing the big wins you can enjoy entertaining themes from many of your favorite superheroes and villains, such as Iron Man, Elektra, Spider-Man, Ghost Rider and Blade – just to mention a few.
To help you find an awesome game to pass the time on, we at casinowebsites have come to the rescue. We have listed and briefly described all of the Marvel slots that you can play online. We hope you enjoy!
Thor: The Mighty Avenger Slot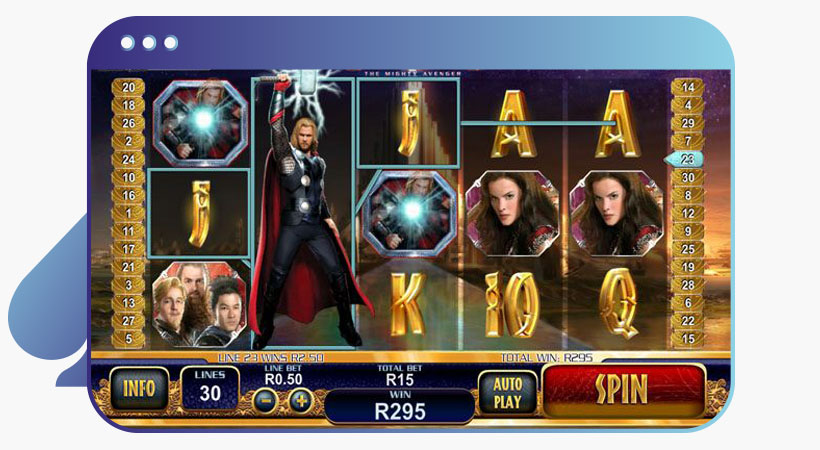 RTP: 96%
Bonus features: Thunderstorm Re-Spins, Lightning Free Spin, Rainbow Bridge Feature, Jotunheim Free Games, Earth Free Games
Reel design: 5 reels, 3 rows
Win ways: 30 paylines
Provider: Playtech
Release date: 2012
Yielding his mighty hammer, the god of lightning, Thor, takes you on an exciting journey where several types of lucrative bonuses are up for grabs and a single row of symbols can pay a hefty 5,000x. It's a wonderfully designed slot with amazing potential as the slot's free games can easily be re-triggered over and over again. Let's take a closer look at these by explaining all of the bonus features in the game:
Thunderstorm Re-Spins
This feature is triggered whenever the slot's second reel is covered with wild symbols. After any winnings have been paid, a re-spin will occur where the wilds on the second reel will remain in place.
Lightning Free Spin
Whenever you fill the fourth reel with wild symbols, Thor will appear and a free spin will occur. During this spin, 2 – 5 wild symbols will be randomly distributed to the reels.
Rainbow Bridge Feature
By landing three scatter symbols on the third reel, the Rainbow Bridge feature is triggered, which is the big highlight of the game. This will allow you to choose between two different orbs that can grant you one of the two following free games; Jotunheim Free Games or Earth Free Games.
Jotunheim Free Games
An extra wild-symbol is added to the reels which makes it easier to win. Additionally, the only two symbols that can appear on the third reel are the original wild symbol and the scatter symbol. Free games are infinite and only stop whenever the third reel has been covered with scatter symbols.

Once this happens, you are sent back to the Rainbow Bridge Feature which will allow you to pick a new orb. This can either result in the feature ending or one of the two free games once again being triggered.
Earth Free Games
A new symbol is added to the fifth reel. Whenever it appears, it will set 2 – 4 randomly chosen reel positions on fire for 1 – 4 spins. When these flaming symbol positions are included in any winning combination, the win will either be multiplied by x2, x4, x8 or x16.

Similar to the Jotunheim Free Games, the spins are infinite and the feature only ends when the third reel has been covered with wild symbols. This will send you back to the Rainbow Bridge Feature where the free games may once again be re-triggered.
Play Thor
---
Iron Man 2 Slot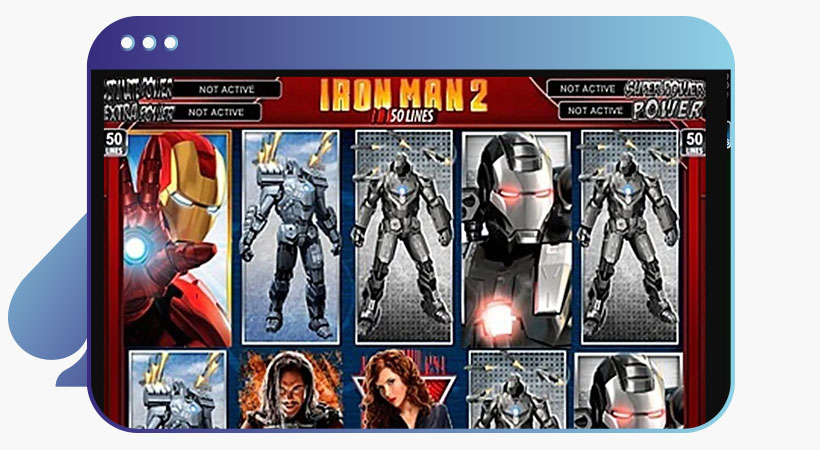 RTP: 92.31%
Bonus features: Extra large symbols, Free spin bonus with multiplier and sticky wild
Reel design: 5 reels, 3 rows
Win ways: 25 paylines
Provider: Playtech
Release date: 2011
Iron Man 2 is quite a simplistic Marvel slot that was released by Playtech in 2011. While only one bonus feature is included in the game, it does come with amazing music and a heap of hard-hitting sound effects that are certain to please any fans of the comic. The game has also got large symbols that will cover two positions on a reel, which is pretty neat.
When it comes to the bonus feature of the slot, this is triggered by landing three scatter symbols of an Iron Man symbol anywhere on the reels. Doing so you will be awarded with 10 free spins that start with a x2 win multiplier. This multiplier will increase by 1 every two spins. So, on your last spin any winnings that you get will be increased by a seven-fold.
Adding to the multiplier, the free spins also come with an overlapping wild symbol on the third reel. This sits on top of the symbols on the middle position for the entirety of the feature.
Players looking to enjoy the game should know that the RTP is one of the worst that can be found among slot machines at UK online casinos. It is only 92.31%, which is way below the standard of 96%.
Play Iron Man 2
---
Elektra Slot
RTP: 95%
Bonus features: Free spin bonus with 3 choices
Reel design: 5 reels, 3 rows
Win ways: 20 paylines
Provider: Playtech
Release date: 2013
The dangerous and sexy Elektra brings you a simple, yet interesting slot that throws you right into the action with a fast-paced soundtrack. Even though a free spin bonus is the only feature of the game, this is more than enough if you're all about big winnings. When the bonus is triggered (which happens whenever you land three scatter symbols), you get to choose one of three weapons. These weapons will grant you one of the following features:
10 free games
14 free games with x2 multiplier
7 free games with x4 multiplier
Additionally, the two weapon symbols that aren't chosen will be replaced by the one that is, which makes it a lot easier to hit a winning combination with that particular symbol. The wild symbol of the game (Elektra herself) will also expand during the free spin feature to fully cover any reel that it appears on.
If you aren't yet convinced about the massive potential here, a single line of the weapon symbol that you choose will either pay 2,000x, 4,000x or 5,000x depending on your choice. That's pretty darn great considering the fact that this symbol will be quite likely to appear in big numbers!
Play Elektra
---
The Avengers Slot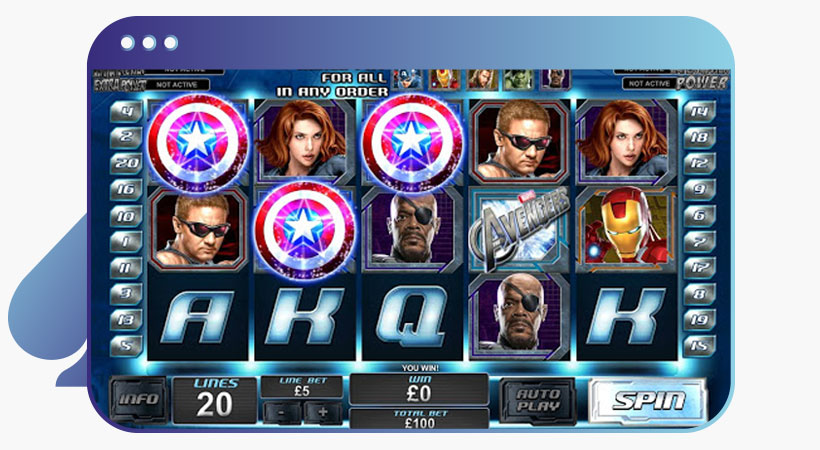 RTP: 96%
Bonus features: Avengers Assemble on Reels Feature, Wall of Heroes Bonus, Hulk Free Games, Thor Free Games, Iron Man Free Games, Captain America Free Games
Reel design: 5 reels, 3 rows
Win ways: 20 paylines
Provider: Playtech
Release date: 2012
This action-packed Marvel slot allows you to meet the members of the fierce Avengers team; the Hulk, Captain America, Iron Man, Black Widow, Hawkeye and Thor, as well as their leader Nick Fury. While the audio in the base game is disappointing to say the least (it's basically non-existent), there are plenty of bonus features that make up for it. These do not only have great music, but also great potential.
Here are the bonus features that can earn you up to several thousand times your stake if you're lucky:
Avengers Assemble on Reels Feature
This feature allows you to win quite a nifty sum even though you may think you have missed the reels completely. A win of 200 times your stake is rewarded whenever you get a line that consists of the following 5 characters: Captain America, Nick Fury, Iron Man, Thor and the Hulk.
Wall of Heroes Bonus
By landing three or more scatter symbols on the reels, you get to visit the wall of heroes where a choice of 20 hidden symbols await. Behind these symbols are several heroes, as well as Loki. The goal is to match three identical heroes. This will trigger that hero's particular free game bonus which comes with 9 free spins and a special mechanic.

You want to avoid Loki at all cost as he will immediately end the feature and bring you back to the base game.

Hulk Free Games
During these free games the Hulk symbol is a fully expanded and sticky wild that will cover the third real during the entire feature.

Thor Free Games
Here Thor will appear during each spin in the feature to randomly add extra wilds to the reels. Up to 5 can be added.

Iron Man Free Games
Iron Man will increase a win multiplier by 1 on every third spin, up to a maximum of x3. A sticky wild is also added to the third reel which will remain until the feature ends.

Captain America Free Games
On each spin a random win multiplier will be added, ranging from x2 to x5.
If you aren't impressed by the bonuses, don't worry – you haven't heard the best yet. Once a free game bonus is finished, you once again get to pick symbols in the Wall of Heroes Bonus which is fully reset with 20 new tiles. This repeat until you have chosen the Loki symbol, which means that you could be playing different free game bonuses for a long, long time, potentially earning you massive winnings.
Play The Avengers
---
Ghost Rider Slot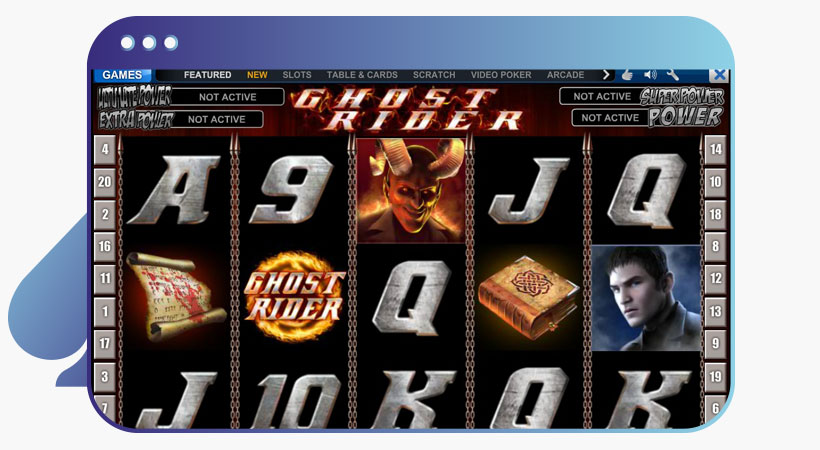 RTP: 93.5%
Bonus features: Ghost Hunt Bonus, Free Spin Bonus with multiplier
Reel design: 5 reels, 3 rows
Win ways: 20 paylines
Provider: Playtech
Release date: 2013
Based on one of the coolest characters in the Marvel universe, Ghost Rider is a slot that could have been truly amazing, but unfortunately is a bit of a letdown. The base game is dull with little music and sound effects to be impressed by, while the theoretical return of 93.5% is way lower than it should be.
The slot is not all bad though as it features two bonus mechanics; a simple free spin bonus which isn't much to talk about and a pretty cool ghost hunt feature that somewhat saves the game. As is often the case, the free spins are triggered by landing three scatter symbols on the reels. This will grant you 10 free games where all winnings are multiplied by a factor of 3. That's it.
Triggering the ghost hunt bonus is done by activating all of the 5 reels in the game. A reel is activated by landing the slot's ghost rider symbol in the middle position of it. You don't have to activate all of the reels at once, but these will remain active until the ghost hunt bonus has been triggered, which is quite neat.
In the bonus, the ghost rider will ride his big ass bike while a headbanging rock music is setting the tone that the game should have had at all times. During the ride, ghosts will appear which you'll have to shoot down to earn you cash prizes and cash multipliers. While you aren't likely to win any massive amounts from this feature, it is definitely quite an entertaining one.
Play Ghost Rider
---
X-Men Slot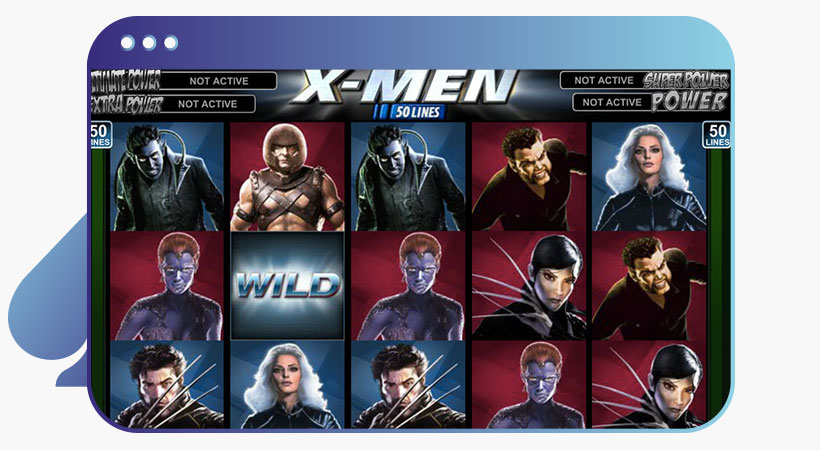 RTP: 96%
Bonus features: X Feature, Free Spin Bonus with a unique twist
Reel design: 5 reels, 3 rows
Win ways: 25 paylines
Provider: Playtech
Release date: –
Are you a big fan of Xavier, Magneto, Wolverine, Deathstrike, Nightcrawler, Mystique, Storm, Sabertooth, Cyclops and Juggernaut? You better be, because in this awesome X-Men slot you get to meet all of them! These are the normal symbols of the game, which can pay anything from 100 times your bet up to 1,500x for a single line of five identical characters. If you're really lucky, you can also land five wild-symbols (represented by the word "WILD") that will pay a massive amount of 10,000x.
Even though the base game leaves a bit to wish for in terms of graphics and music, the game's bonus features make it a must play for any fan – at least one of the features. If we start with the least impressive one – the X Feature – this will award you a cash prize of 5 times your bet whenever 5 hero symbols appear as an X on reel 2, 3 and 4. That is either Xavier, Wolverine, Nightcrawler, Storm or Cyclops. The feature may not pay much, but as it can be any 5 heroes that appear, it is one that you will experience quite often.
If you're looking for massive winnings, the free spin bonus is the big highlight in this X-Men slot. It is quite unique and quite amazing. It's triggered by landing three scatter symbols on the reels and comes with two modes that alternate between each other; the heroes mode and the villains mode.
The bonus starts off in the heroes mode which comes with an unlimited amount of spins. The only way the free spin feature can end is if the bonus switches over to the villains mode. This is done whenever Magneto appears on the third reel.
In the Villains mode you'll get 8 spins and when these are played it's over. However, should Xavier appear on the third reel, he will once again switch over the mode to heroes and you're back to unlimited spins just like that. This can and is likely to happen several times.
In addition to a huge number of spins that can be played, both Xavier and Magneto serve as extra wild symbols during the free spin bonus. And there's more. In the heroes mode, only hero symbols will appear (except for Magneto), while the villains mode only has villain symbols (except for Xavier). This makes it way easier to hit a winning line compared to the base game and could lead to monstrous winnings.
While it's true that some of the Marvel slots that we have listed in the article don't live up to the franchise's reputation, we would say that the X-Men slot certainly does. This is a must play for any fan!
Play X-Men
---
Blade Slot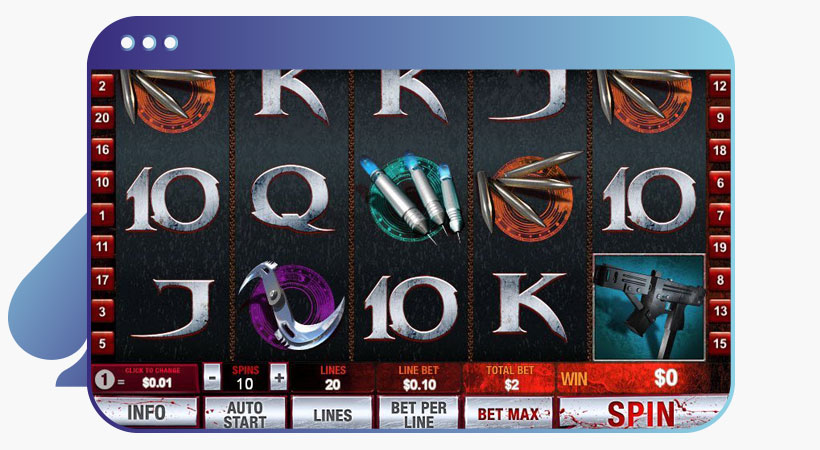 RTP: 96%
Bonus features: Blade Split, Free Spin Bonus with dynamic win multiplier
Reel design: 5 reels, 3 rows
Win ways: 20 paylines
Provider: Playtech
Release date: 2013
As much as millions of people absolutely love Blade, this Marvel slot is unfortunately nothing to get excited about. It lacks in many different aspects. To start with, the maximum payout of a single line is only 1,250x and this line is extremely hard to get. The second best payout, which isn't as difficult, but still very hard to get is only 200x. This is a bummer for anyone looking for big winnings.
You'll also find a lot of generic stuff in the slot, such as the classic 10, J, Q, K and A symbols, and old-school casino sound effects. On top of that, animations are very limited and there is no music at all in the base game which makes the slot feel as dead as the blood thirsty vampires in it.
In terms of bonus features, there are two of them which are quite basic. One is a free spin bonus that will grant you 15 free games with a dynamic win multiplier. The bonus kicks off with a random one of either x2, x3, x4 or x5. It then increases by 1 whenever a winning line occurs (up to a maximum of x5) and decreases by 1 on a losing spin (down to x2 at the least). In the bonus, the scatter symbol of the game has also been transformed into an extra wild.
The other feature of the slot is a blade splitting symbol. This symbol can only appear on the fifth reel. Whenever it does and a winning line of five symbols has appeared (which is rare), it will split the last winning symbol into two. This will allow for a winning line of six symbols to be formed, which will grant you a much higher payout than a winning line of only five symbols would.
Play Blade
---
More Slots That Are Yet to Be Reviewed
While we have brought you a list of both good and bad Marvel slots, there are many more out there which we haven't had the time to review yet, but will get to as soon as possible. These include:
Superman The Movie Slot
Fantastic Four Slot
The Incredible Hulk Slot
Iron Man 3 Slot
Captain America Slot
Daredevil Slot
Spider-Man Slot
Wolverine Slot
Punisher Slot
Sub-Mariner Slot
Silver Surfer Slot
The Phantom Slot
Stay tuned and stay safe and we will do our best to bring you more great game reviews from the Marvel universe!
Best Casinos
Relevant news