Live Blackjack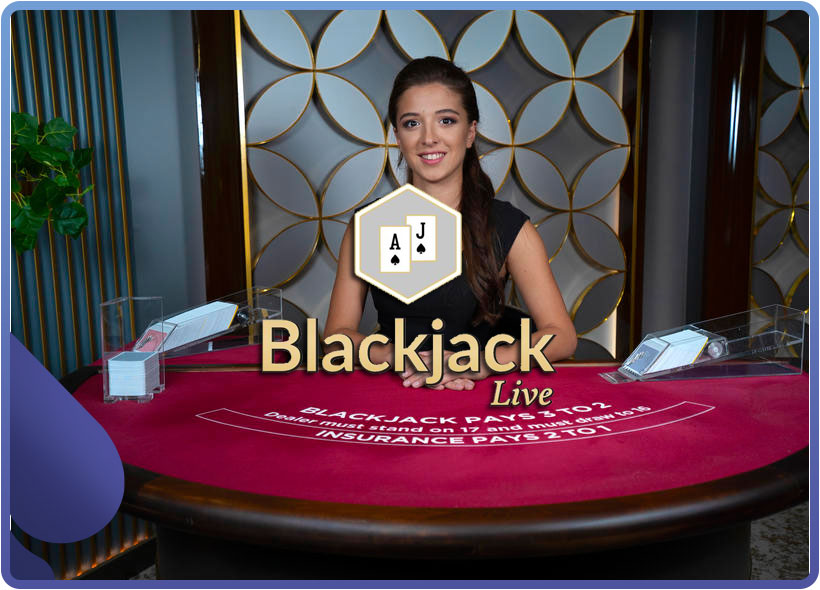 | Pros | Cons |
| --- | --- |
| Extremely high RTP/low house edge | Card counting is very difficult in a live setting |
| Widely available in live dealer casinos | Somewhat difficult to learn |
| Lots of variations available | |
| Lots of providers available offering the game | |
About the game
Live Blackjack is the category: Evolution's modern and live casino version of the traditional blackjack game. The live dealer version has quickly progressed and overtaken the regular online blackjack game in terms of popularity. This is all thanks to leading developers like Evolution Gaming, Pragmatic Play, and Authentic Gaming and the good news is that the best is yet to come. Live Blackjack is the main version of the game of which new variants have been released in recent years. In our complete Live Blackjack guide we'll touch upon the rules of the game and will give you our top list of best Live Blackjack casinos you'll find online. 
---
You can find the best blackjack sites to play at here.
---
Where to play it 
The list of casinos where Canadian players can go for their own share of live blackjack is becoming bigger and better making it quite a difficult task to recognise the best options. For your convenience, we have made a selection of the best live casinos available. These are reliable casinos that the CasinoWebsite team visits regularly. Every online casino website has a valid casino license and offers live blackjack games from providers like Evolution and Pragmatic Live.
Best Casinos
The rules
You would think that the Blackjack in a regular casino is played exactly the same as online. But that's not always the case. With online blackjack, the rules of the game can sometimes differ slightly. It really depends if you're going to join a standard Live Blackjack table or whether you prefer one of the many variants. Therefore, always carefully check which rules apply to the live blackjack version you're wanting to play. The main goal of live blackjack is quite simple: to get as close to 21 as possible. The highest possible combination is an A's and a card with a value of 10 as this adds up to blackjack. Blackjack is played with one or more full decks of 52 cards. In a lot of online casinos blackjack is played with six decks.
The value of the cards is easy to remember:
Ace: 1 or 11 points
King, Queen, Jack (the 'picture cards'): 10 points
The rest of the cards are worth as much as the number on the card.
The playing card suit doesn't matter in blackjack. It doesn't matter whether a card is Clubs, Spades, Diamonds or Hearts.
In blackjack, there is always one person at the table who deals the cards. This is called the dealer or "the bank". All players at the blackjack table play against the bank meaning they don't play against each other. We'll address the moves you can make. 
How to win
We're passionate about everything that concerns live dealer casinos and just about all of our casino pros have vast blackjack experience. In order to write this Live Dealer Blackjack game review we have put our heads together leading to the tips and tricks you can find below. Please note that these rules apply to standard Live Blackjack.
1. Get the most out of our blackjack bonuses
Blackjack has always been among the most popular casino games, but online operators prefer to hand out their promos to the slot players. This means most players aren't valid for blackjack, which is particularly true for live dealer games. This is why we have done our best to find you the best blackjack deals and list them on our website. All of these bonuses are valid for players that are based in Canada, so you won't have to worry about that either.
2. First learn the rules
Blackjack isn't the most difficult casino game to master, but it's definitely not the easiest either. This is why we do recommend you to learn the rules as you'll know exactly which situation requires which move. You could even opt for trying the online version of the game instead of directly heading to a live table as this requires a real money bet. An alternative would be to launch the live dealer game and check out the table without making a bet. Either way, there can be some differences depending on the exact variant of the blackjack game.
3. Set limits
For deposits, profits, and even sessions that is. Everyone knows (or should know) how much money he or she can miss and put aside for betting online. If you don't, you should only play with a small percentage of your money and always set limits whenever you sign up for an account. Having an exact and predetermined profit target and loss limit will make you stick to it. Every trustworthy casino gives you the option to set these limits in your account.
4. Pick a blackjack system you feel comfortable with
In addition to the different blackjack strategies, you can also slow down and stick to one of the basic blackjack systems. These will give you a clear overview of all the possible outcomes, based on the choice you make. By making the right choice, you can try to predict the outcome of the game and increase your chances of winning. 
5. Try counting cards
As live blackjack is served by a real dealer, you can sort of estimate which card will be played next. This is of course very difficult to master and requires full attention and a lot of experience. We don't want to push you towards counting cards, but we all know how this gives players a huge advantage over others. With live dealer casinos often using 6 to 8 decks they'll try to make the card counting process as difficult as possible which is why there are few players to manage to successfully carry out this trick.
How to play
We already addressed some of the game's basic rules and now it's time to tell you more about how to play the game. The live dealer blackjack game starts as soon as you place a bet and then proceeds in the following steps:
1: The live blackjack dealer hands out the cards
First, the dealer shuffles the cards after which every player will receive two cards. The players are handed out two face up cards per hand. The dealer gets one face up card and one face down card. In live blackjack, the card type (hearts, spades, diamonds and clubs) doesn't play a role, only the value of the card counts.
2: Decide and make your move
Your total card value is displayed at the bottom of the screen. You then have five options to choose from, which we've briefly described below:
Insurance: if the house has an open A's, you can buy insurance. In case the house get's blackjack, you won't lose your bet.
Hit: this will give you an extra card.
Split: this is normally done if you have two of the same cards. When splitting, you double the bet and play with two hands at once.
Double down: with a double down you receive a maximum of one extra card. If you win the round, you will receive a bigger payout.
Stand: if you're satisfied with the total value of your hand, you can choose to stand. At that point, your hand stands and it's the next player's turn.
3: The house decides its move
The house always stops the game at a value of 17 or higher in live blackjack. If the hand value is less than 17, the house automatically buys an extra card until the hand has a value of 17 or higher.
4: Who wins
As a player, you win if your hand has a higher card value than the bank giving you back your stake once. If you have blackjack, you win 1,5 times your stake. If both the player and the house have the same hand value, there is a tie and the text 'Push' is displayed on the screen meaning you will get your stake back and the next round will start.
The features
The standard version of Live Blackjack is the most played live blackjack game available online and is offered by different providers like Evolution, Pragmatic Play Live, and Ezugi. Whatever provider you prefer, their blackjack game will be optimised for the best possible live casino experience for desktop and mobile.The many blackjack variants make sure both skilled and new players have some extra options that meet that personal preference. Pretty much every developer's stream quality is top-notch and the same holds for the dealers they work with (although Ezugi holds a bad reputation in terms of dealers). A proper dealer keeps the table engaged, while the presence of other live players makes each round feel more intimate. With different tables available there should also be different betting limits so both budget players and high rollers will find a game that suits their needs. Live Blackjack is readily available in different languages like English, Spanish, French, and German.
RTP
The Return To Player (RTP) percentage is normally very straightforward if you're used to slots but this can get a lot more tricky as there are many variants and side bets available. Assuming the perfect strategy with no side bets, the RTP of Live Blackjack goes all the way up to 99.29%. This makes Live Blackjack one of the most user friendly games available. There are very few casino games that favour players this much as blackjack. This explains why blackjack is and will always be one of the most popular casino games. Even in live casinos. Our advice? To learn the rules and start playing. It's time to beat the house. 
Relevant news