How to play Live Dragon Tiger by Evolution Gaming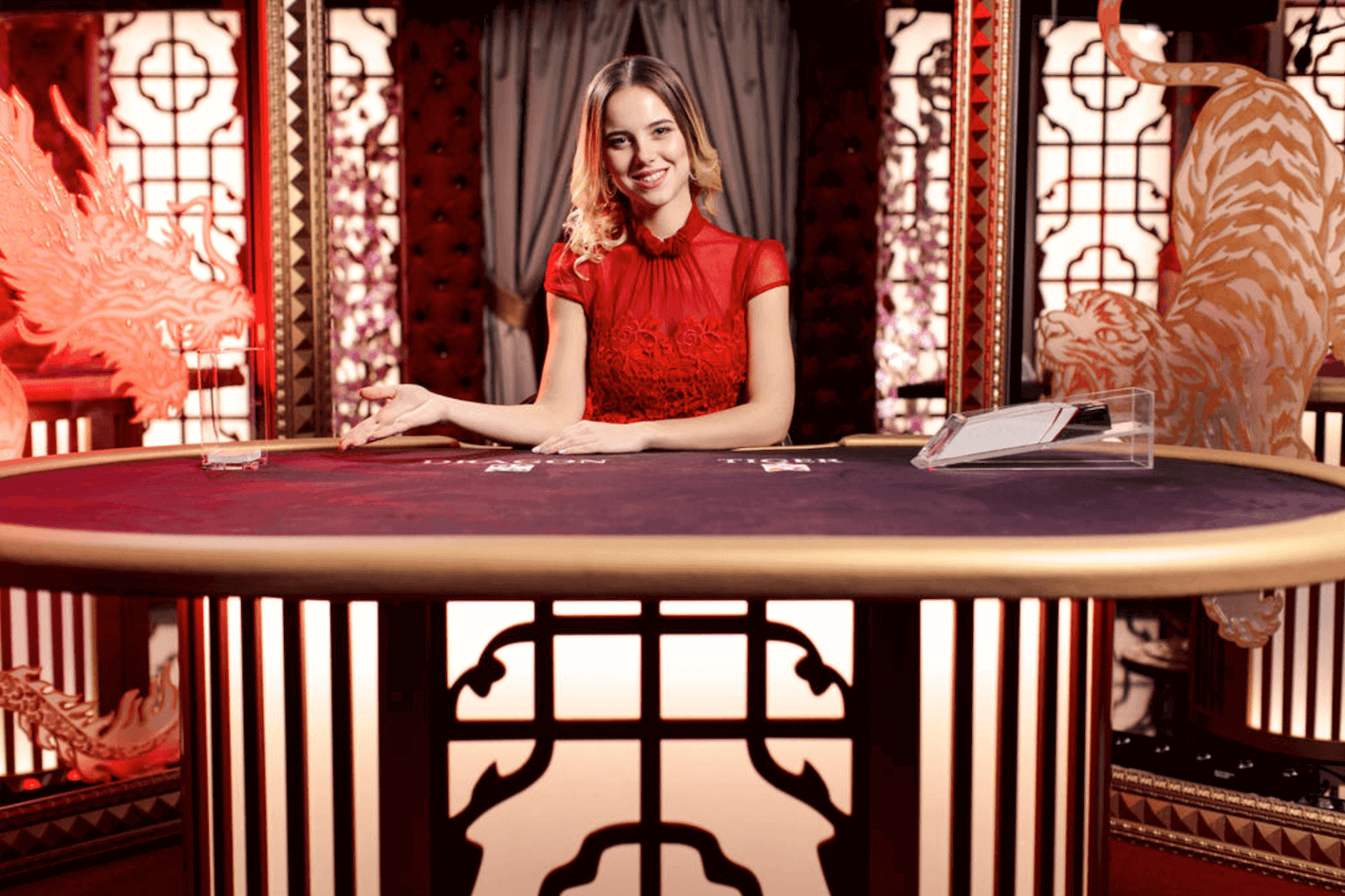 Play Live Dragon Tiger, a two-card baccarat game. All you need are these two cards to wager on – know that the Ace is the lowest valued card and the King is the highest.
Overview
Dragon Tiger is a popular variant of Baccarat. Its simple gameplay makes it one of the most straight-forward and easiest games to play at UK Live online casinos.
Although you will find other variants like War of Bets and HI-Lo on Evolution Gaming, Dragon Tiger is their only game to be presented in Baccarat Style.
Over the years, Evolution Gaming has continued to raise their live-gaming standards. No wonder most of Evolution gaming's games are found in the best UK live casinos.
Evolution's Live Dragon Tiger does not only look stunning thanks to the distinctive designs but it also comes with higher odds for a Tie and offers an extra side bet. The special features make what is essentially a straight-forward game quite engaging and enjoyable to play.
How to play Dragon Tiger by Evolution Gaming
Live Dragon Tiger is often played with 8 decks which are shuffled when only one deck is remaining (this can be different depending on where you are playing).
As the game starts, two cards are dealt; one to the Dragon position and another to the Tiger.
While an Aceis counted as low, a King is counted as 13 and a Queen 12.
Before any cards are dealt, the player can place the bets below. However, the bets you place will be dependent on where you are playing. The bets are:
• Dragon or Tiger – This will have a higher card
• A tie – Where the cards will be of the same value
• Dragon or Tiger Big – If the card will be more than 7.
• Dragon or Tiger Small – If the card will be less than 7.
• Dragon or Tiger Suit – If the card is a Heart/ Diamond/ Spade or Club. If the card is a seven, you will lose the bet.
If you have bet on Dragon/Tiger and the game ends in a 50% tie, your bet will be returned to you. The remaining money is taken as commission.
When it comes to Tie; a regular Tie will pay 11:1 and a suited Tie pays 50:1.
A normal hand win will give you a 1:1 pay.
Why should you play Live Dragon Tiger?
Evolution Dragon Tiger is an impressive, beautiful and uniquely different live casino game. There is really no casino game easier than Live Dragon Tiger but you can bet that the game is entertaining.
Live Dragon Tiger is a fast-paced game that will constantly put you on the edge of your seat. We are talking about 25-second rounds and an exhilarating environment. The light effects are perfectly synchronised with game outcomes, making the game even more exciting.
Usually referred to as Two-card Baccarat, Dragon Tiger is extremely favourable with players from Asia, average UK gamblersand it's increasingly becoming popular all around the world.
Play Live Dragon Tiger if you are a Baccarat fan who is into super-fast games. The player interface also comes with statistics to help you in predicting the outcome of future rounds.
As is common with other Evolution Gaming games, Dragon Tiger is well-designed to fit modern players. Expect in-game options including detailed game rules, convenient sound and video controls and a choice between 3D and classic viewing mode.
What to expect with Live Dragon Tiger
What makes Live Dragon Tiger stand out is its studio design. Each side of the table is a Dragon and a Tiger which brightly light up when one of those playing positions wins.
Remember that the game is super-fast. -It takes 25 seconds to complete around and you only have 15 seconds to place your bet.
If you like straight-forward live games Dragon Tiger is a brilliant choice.
On the other hand, the Return to Player (RTP) isn't as impressive. Therefore, if you are looking for a game that can turn your bankroll over, play Live Blackjack.
• The RTP for the main hand is 96.72%
• Tie bets have an RTP of 89.64%
• Suited Ties have an RTP of 86.02%
We advise you to stay away from Tie bets unless you have a strong bankroll to support your losses or you are playing with money you can afford to lose.
Which is the best strategy when playing Live Dragon Tiger?
You can also apply your Baccarat Betting Strategy for Live Dragon Tiger. Your goal should be to look for runs and place your bets on them.
Live Dragon Tiger Pay Tables:
Dragon / Tiger – 1:1
Tie – 8:1 or 10:1 or 11:1
Dragon / Tiger Small – 1:1
Dragon / Tiger Big – 1:1
Dragon / Tiger Heart – 3:1
Dragon / Tiger Diamond – 3:1
Dragon / Tiger Spade – 3:1
Dragon / Tiger Club – 3:1
Verdict
Live Dragon Tiger is worth the try, with its impressively decorated studio and gameplay. The Evolution Gaming version features multiple Chinese Symbols and two more imposing tiger statues made of glass.
The game's interface offers a wide range of statistics presented via Baccarat-style roads. It will help you to predict the results of all the future rounds.
There is also an opportunity for you to chat with the dealer. They are friendly and entertain you.
Dragon Tiger is one of the easiest live games you will ever play. However, not many casinos offer it. Visit our list of top UK online casinos to play Dragon Tiger while enjoying other bonuses.
Note that there is another version of Dragon Tiger on Playtech. However, it is darker.
The Playtech version also comes with different dealing styles. While cards are dealt only once by Evolution Gaming, Playtech dealers reveal the cards at the same time.
Both versions have roadmaps – But the Evolution ones are easier to read and understand.
Best Casinos
Relevant news