Dream Catcher – A Live Spin the Wheel Game

Dream Catcher live casino game by Evolution Gaming is the high-way to realizing your sweetest dreams. Roll the wheels and make your dreams come true.
Reveal your sweetest Dreams with Dream Catcher
Prepare to meet a charming host with his wheel of fortune. It is time to wear your lucky outfit or do your lucky rituals and join this game. Please check out our list of casinos to know where to play this and other exciting live casino games.
There are 54 segments on this huge wheel and two are multiplier values. Test the wheel to reveal your win!
It will be just you against the good-looking host who will spin the wheel of fortune and entertain you. Will lady luck help you beat the odds against this bespoke wheel?
You may also like to read about the Money wheel from Evolution gaming: Monopoly Live.
Design and Layout
The game is a beautiful online piece that is HD streamed perfectly. The game's setting hallmarks a glitzy TV-style background, adorned with brightly coloured lights. Spoil yourself with fun and thrill on this colourful wheel of fortune.
The visuals are amazing, with an array of state-of-the-art cameras at different angles to give you a full view. There are two modes: Classic and Fullscreen HD.
The best part is, the classic mode will work even if you have a lower bandwidth connection. You can even switch between landscape and portrait view in mobile.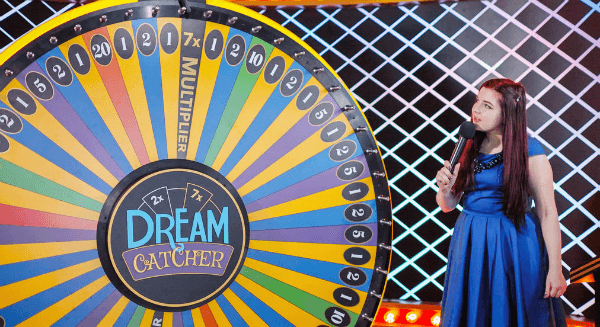 How Dream Catcher –Live Casino Wheel works
The live dealer's main duties are to spin the wheel and entertain the player.
Your goal of the game is to guess the correct number.
It could be either number 1, 2, 5, 10, 20 or 40.
If your bet is right, you win a matching payout.
For example, if you land on 5, the payout is 5 to 1 or 5x.
Land consecutive multipliers and then the number you originally bet on to receive some huge wins!
Special Features
The game does come a potential for huge payouts. The wheel contains 2 multiplier values; 2x and 7x. If the wheel lands on these values, all bets remain and the dealer spins the wheel again. Your payout is then multiplied by the number where the wheel lands.
For example, if you get the multiplier value 7x and the wheel lands on 10, then your wager is multiplied to give you a 35x total payout.
Verdict
Both 'wheel spinners' and live casino enthusiasts will enjoy Dream Catcher by Evolution Gaming. Why don't you jump on this grand wheel and test your fortune!
You can find Dream Catcher from all the best online live casinos!
Best Casinos in US
Relevant news