A New Money Wheel by Evolution Gaming.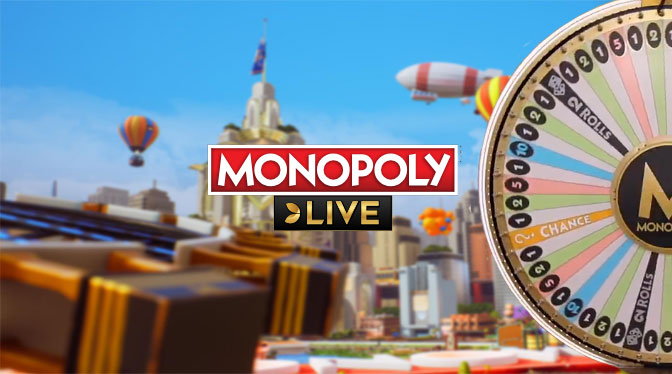 Following the great success of Dreamcatcher, Evolution Gaming has just recently released a new type of money wheel with a captivating Monopoly theme. It offers the possibility of winning more than 2000 times the stake in a thrilling bonus round, which has already made the game incredibly popular.
Not only does the game come with a lot of excitement and epic riches for the lucky ones, but Monopoly Live is also extremely pleasing for the eyes. Evolution Gaming have truly surpassed themselves in terms of graphical appearance.
Being a live casino enthusiast it's safe to say that it's a very entertaining experience which is highly recommended trying out. With that being said, Monopoly Live does come with one big flaw – the RTP is in general much lower than what we're used to from online casino games these days.
Continue reading the full review below and we'll tell you more about this and everything there is to know about Monopoly Live, including pay outs and how the exhilarating bonus game works.
The basics of Monopoly Live
Opening up Monopoly Live you'll find a talkative game host, a visually impressive Monopoly design and a huge money wheel with 54 different positions on it. A game round is quite simple. You'll place a bet on one or several options out of six available ones. The host will when spin the wheel while a charming Monopoly guy is comfortably sitting in an armchair sipping on coffee or reading a newspaper.
If you're lucky enough one of your bets will hit when the wheel stops. This can earn you anything from a smaller cash prize to a reward card or trigger an incredibly lucrative bonus game.
Bet options and pay outs
Among the 54 segments that the money wheel in Monopoly Live consists of you'll find the following positions:
Twenty two represented by the number 1
Fifteen represented by the number 2
Seven represented by the number 5
Four represented by the number 10
Three represented by a 2 roll bonus
Two represented by a chance card
One represented by a 4 roll bonus
Except for the chance card, all of these positions are available to place bets on. In the below list you're able to see how much you can bet on them, what they pay and what the probability of hitting each type of position is.
| | | | | |
| --- | --- | --- | --- | --- |
| Stake option | Min and max bet | Pay out (x your stake) | Chance of hitting in % | Chance of hitting |
| Number 1 | £0.10 – £5000 | 2x | 40.7% | 1 in 2.5 spins |
| Number 2 | £0.10 – £5000 | 3x | 27.8% | 1 in 3.6 spins |
| Number 5 | £0.10 – £4000 | 6x | 0,13 | 1 in 7.7 spins |
| Number 10 | £0.10 – £2000 | 11x | 7.4% | 1 in 13.5 spins |
| Bonus with 2 rolls | £0.10 – £1000 | 0x – 2000x (or more) | 5.6% | 1 in 17.8 spins |
| Bonus with 4 rolls | £0.10 – £500 | 0x – 2000x (or more) | 1.9% | 1 in 52.6 spins |
The bonuses are the most valuable positions as you can win more than 2000 times your stake by hitting one of these. The chance cards can, however, also be extremely rewarding. When you hit one of them the Monopoly guy will randomly pick a card that will either give you a certain cash prize or a multiplier of up to x10.
If it's a multiplier, the game host will spin the reel again and any winnings you get from this spin will be increased by the multiplier. Should you for instance have a bet placed on number 10 and the chance card shows an x8 multiplier, hitting the 10 will pay 80:1 instead of 10:1.
What's even better is if the spin after the chance card multiplier is followed by yet another chance card multiplier. This is rare, but when it happens the two multipliers will be multiplied with each other. In best case scenario this would result in a massive x100 multiplier, which means that a bet placed on number 10 would pay a stunning 1000 times the stake if hit.
The lucrative Monopoly bonus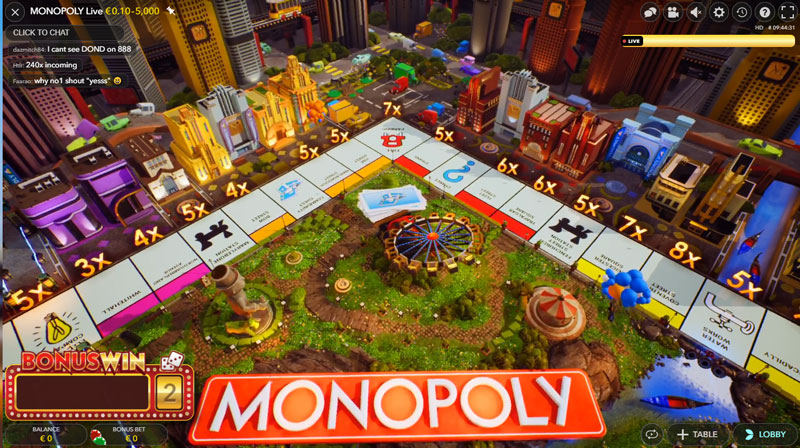 The big highlight of Monopoly Live and what truly makes it a great successor of Dreamcatcher is its bonus game. This will trigger every time the wheel stops on one of the two bonus positions, which on average happens on every 13th spin.
The bonus will take you to a fancy Monopoly board that has the same positions as the famous board game that we all know about. All properties on this board will be given a standard stake multiplier of x1 – x100 with those furthest from the starting position GO paying the most.
Before the bonus begins, a couple of properties will be randomly chosen to have their stake multiplier increased by having houses or hotels placed on them. In best case scenario, the most valuable property, which is Mayfair, will be worth as much as 1000 times your bet amount.
Depending on the wheel position that triggered the bonus, this will consist of two or four rolls. However, just like in the original board game, whenever doubles are rolled another throw is rewarded. So even if it's the two roll bonus that is triggered it's possible to get plenty of rolls.
The bonus is quite straight forward as whenever a property is hit you'll be rewarded with the stake multiplier. If you bet £10 on the bonus position and the first roll brings you to King Cross Station which could be worth x10, you'll win £100.
In addition to the property rewards there are, however, some other interesting things that can happen in the bonus as well, which can be either good or bad for you:
Landing on jail (bad)
Should you end up here, you'll be taken to jail and have to roll doubles to get out.
Landing on a chance or community chest position (good or bad)
This will either give you a random cash prize or reduce your current winnings by a certain amount.
Landing on income tax (bad)
This will reduce your current winnings by 10%.
Landing on super tax (very bad)
This will reduce your current winnings by 20%.
Passing go (very good)
Passing go will have all the properties' stake multipliers doubled, which can be extremely lucrative.
RTP, Volatility and Max Winnings
Even though there are many reasons to play Monopoly Live, one of the biggest probably is its massive potential. The bonus game offers the possibility of winning several thousand times your stake. Not only can Mayfair receive a hotel to be worth x1000 and not only can you pass go to double this value to a stunning x2000.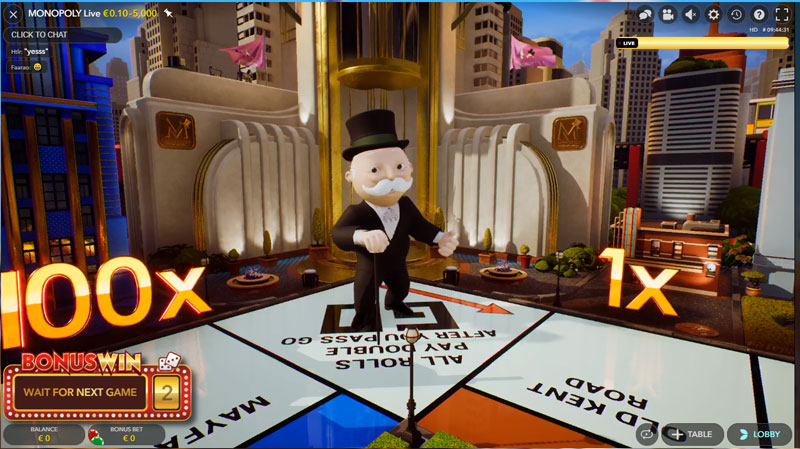 What's truly amazing is that the chance card position on the wheel in the base game can trigger a multiplier which can then be followed by a bonus game. Should you for instance get an x10 multiplier from the chance card, all properties in the bonus will be worth 10 times as much. We don't know if there's a cap to how much that can be won, but in theory Mayfair could receive a crazy value of x10000 or even x20000.
Volatility
When it comes to volatility, the game has a low to high one depending on what you're betting on. All of the numbers are quite low as these are fairly easy to hit, even though the 10 may be closer to a medium volatility. The bonus positions are the most volatile ones. Not only are these the hardest to hit, but they're never guaranteed to give you any winnings. They usually do, but sometimes you'll end up with nothing.
RTP
As much as we can recommend Monopoly Live for its entertaining and potentially rewarding experience, the RTP of the game is unfortunately lower than expected. This varies depending on what you're betting on and looks like this:
| | |
| --- | --- |
| Stake option | RTP |
| Number 1 | 92.88% |
| Number 2 | 96.23% |
| Number 5 | 91.30% |
| Number 10 | 96.02% |
| Bonus with 2 rolls | 93.90% |
| Bonus with 4 rolls | 93.67% |
While an RTP of 96% is what casino games generally have these days, 93%, 92% and as low as 91% is rarely seen. The original money wheel from Evolution Gaming – Dreamcatcher – did, however, go all the way down to 90.57% so maybe it shouldn't be that much of a shocker.
Final verdict of Monopoly Live
If you're looking to maximize your chances of ending a casino session with a profit, Monopoly Live won't be the best option due to its RTP. We do, however, believe that the overall experience is well worth losing a few percentages for. Not only is it a beautifully designed game with visually impressive animations and a talkative host putting on an entertaining show. There's also a high level of excitement from the captivating bonus that has several interesting features and a massive potential.
We're giving the game 9 out of 10 stars and will definitely come back to spin again!
Relevant news