Top 10 Quick Tips for Playing Blackjack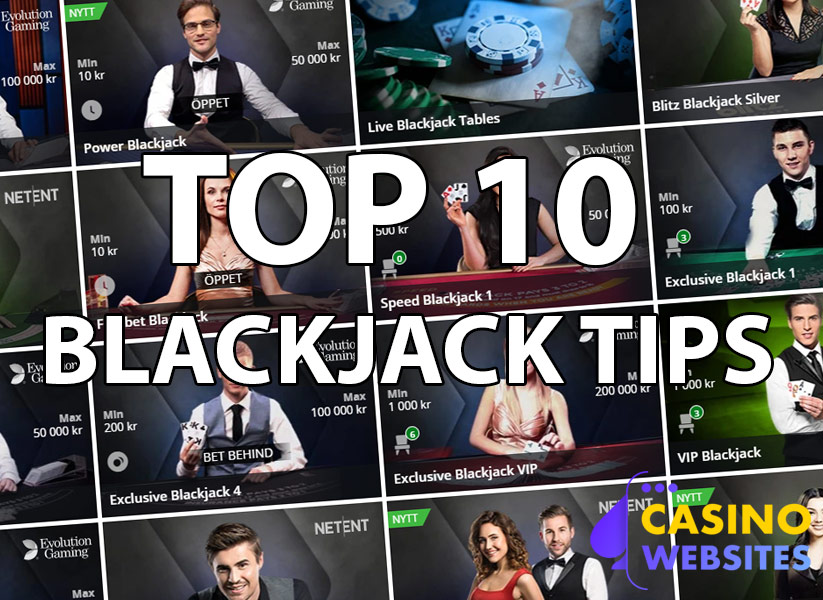 Blackjack is a beautiful game to play. It is a game that involves just the right balance of skill and luck. The rules of blackjack are easy to learn, and the more you play, the better you'll get. However, if you truly wish to master the game, there are certain elements of gameplay that will help you rise up from the ranks of amateur status and set you on the road to greatness. We've put together this list of top 10 tips for playing blackjack in order to give you a fighting chance of success. You're welcome!
---
You can find the best blackjack sites to play at here.
---
Memorise the Blackjack Strategy Chart
The blackjack strategy chart lays out the best moves you should make for every possible combination of cards -the cards in your hand vs the dealer's upturned card. Basically, a computer has done all the hard work for you by working out the all the possible outcomes for every possible combination of cards, and from these calculations we now know which moves will give you the best chance of winning each hand. Memorise this chart! Become so familiar with the chart's rules that you can make your moves without thinking twice. And if you can't quite memorise the whole chart, keep it by your side when you play and refer to it constantly.
Practice on RNG Blackjack Games
We recommend a whole host of excellent online casinos here, and housed within them are some of the best RNG blackjack games on the market. The best way to improve you game is to practice, and the best place to practice is on an RNG game. Once you've mastered the rules of the chart by playing RNG games, you can move on to live casino games or land-based casino tables with a whole lot more confidence.
Head over Heart
Always make decisions with your head and never make decisions with your heart. Making the right moves in a game of blackjack all come down to odds. The blackjack chart lays out the moves you should make according to the best odds you have of winning the hand. Going with your gut instinct is never a good idea -you may win a few rounds playing this way, but you'll end up losing way more often in the long run.
Check the House Rules
Blackjack can be played with more than one deck of cards. The higher the number of cards being used in one game, the higher the house edge. Check the rules of the game you're about to play, because the number of card decks will be clearly stated. You need to know the number of decks because it will affect how you read the blackjack chart. You also need to know whether or not the dealer has to hit or stand on a hard 17 in order to be able to follow the chart properly.
Know When to Hit and Stand
This may sound like a no-brainer, but you'd be surprised at how many people make the wrong moves. Most people make the decision to hit or stand based on their fear of going bust. In reality, the decision should be based primarily on the dealer's upturned chart. Consult the chart and hit ir stand accordingly.
Learn How to play a Soft Hand
A soft hand is when your hand is made up of an Ace and a number card. A soft 17, for example, is Ace+6 (11+6=17) It's called a soft hand because the Ace can be counted as an 11 or as a 1. A soft 17 is an excellent hand to be holding, and if you play these cards right, you're highly likely to win the round. Each soft hand has its own rules for when to hit and when to double down. Don't make the mistake of playing them all in the same way. Follow the chart's rules regarding each soft hand and don't make any rash decisions. A soft hand is an opportunity that should not be missed.
Double Down When the Time is Right
Many casinos will allow you to double down after the initial deal. You base your decision to double down on your two cards and the dealer's upturned card. It may seem like a scary prospect to double your bet based on such scant information, but if you double down at the right time, it can be a highly lucrative move. Don't worry, the chart will steer you in the right direction; don't be afraid to go for it!
Don't Be Afraid to Stand on a Hard 12
Another thing not to be afraid of is the hard 12. If you've been playing for a while, you'll know that the hard 12 is a particularly painful hand to be dealt. There is very little you can do to improve on this hand. Many new players will feel that they have to hit on this hand in order to have any chances of winning. However, much of the time, it is actually better to stand on a hard 12 in the hope that the dealer will go bust. If you have a hard 12 and the dealer is showing a 4, 5, or 6, you should stand. The dealer has to keep hitting in order to get to 17, and the chances of the dealer going bust is around 40% -it's not a high margin, but its worth the risk.
Never Make an Insurance Bet
Insurance bets in blackjack are not what they seem. If a dealer's face up card is an Ace, you are likely to be offered the chance to make an insurance bet. This is a side bet that is sperate to your original bet, and you're betting that the dealer has blackjack. You'll bet half your original bet on 2 to 1 odds. Most new players see this as some kind of a safety net, but in reality, it's a mug's move. Don't do it! You are much more likely to lose out by doing this than you are to win any money.
Have Fun
Winning a hand of blackjack feels great, we're not going to deny it. But if playing blackjack becomes stressful, or if you blow your budget trying to chase an elusive win, all the fun will get sucked out of the game. Follow the chart, set yourself a strict budget and walk away if you're feeling stressed or you're making desperate moves. Playing blackjack should be fun; winning should be the cherry on the cake.
More Blackjack and Guides you shouldn't miss
Best Casinos
Relevant news