Top 10 NetEnt slots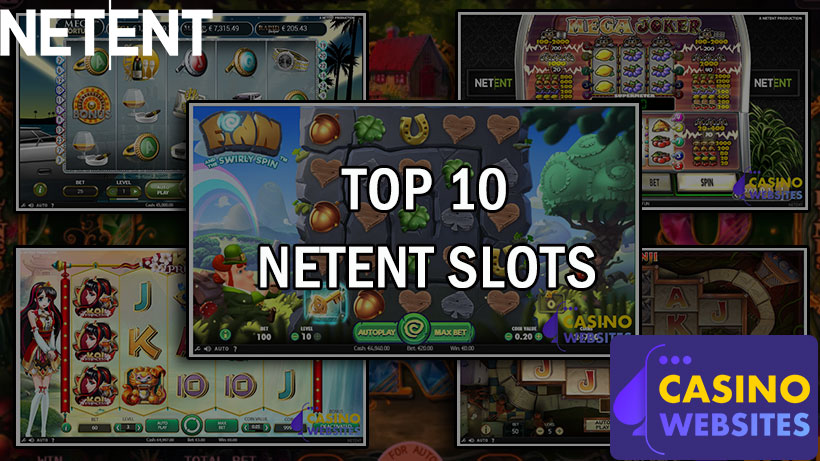 If there was one game provider to rule them all many casino enthusiasts would claim it to be NetEnt. This great company has created over a hundred online slots and they are all of superb quality. With innovation, potential, diversity and entertainment in mind we have, however, managed to puzzle together a top 10 list of NetEnt games that we believe stand out from the crowd. These slots are some of our personal favorites that we would highly recommend anyone checking out for their very own reasons. Enjoy!
Dead or Alive 2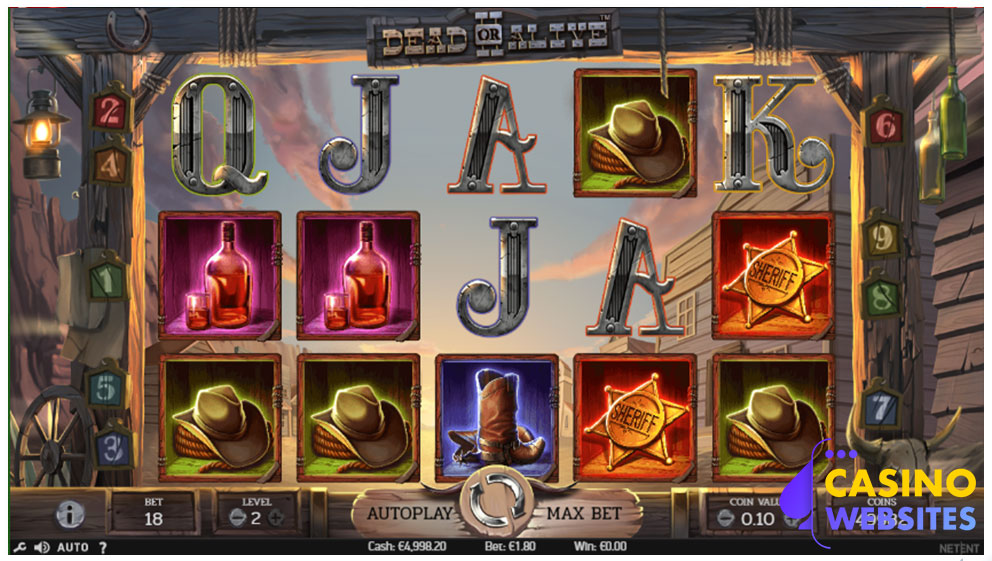 RTP: 96.80%
Volatility: Very high
Release date: 2019
Max win: more than 100,000x
Bonuses: 3 free spin features
Design: 9 paylines
As a successor to one of the most appreciated casino games online, Dead or Alive 2 should be on any top 10 list of NetEnt slots. This action packed western adventure is perfect for gamblers looking for some serious potential. With winnings that can reach more than 100,000 times your stake the game is one of the highest paying slot machines that currently exist.
Bonuses in the slot include a choice of three exciting free spin features that either have sticky and multiplying wilds of up to x3 or just a multiplier that can reach up to x16. While the game undoubtedly can pay massive amounts, it should be mentioned that you may experience a lot of sudden losses as the volatility in it is very high. It is, in other words, a high risk high reward slot.
Play Dead or Alive 2
Emoji Planet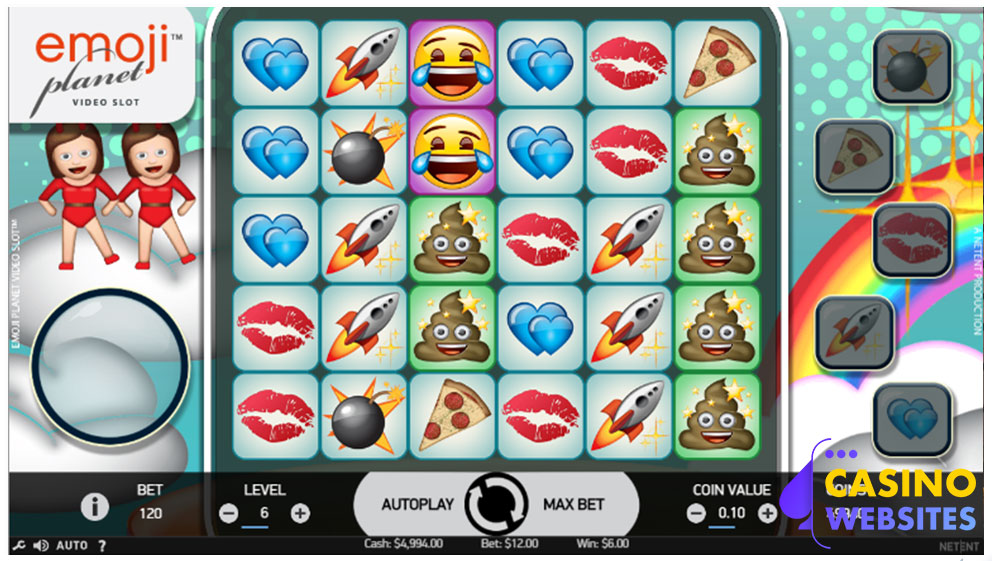 RTP: 96.40%
Volatility: Medium
Release date: 2017
Max win: 5,000x
Bonuses: 5 different features
Design: 5×5 cluster
With bright and vivid colors, humorous symbols and an uplifting beat, this game could turn around any dull day in an instant. Landing smiling piles of dog poop while balloons and rainbows fill the background is just a perfect recipe for joy. Not only is the vibe great though, but with 5 different bonus features regularly triggering there's a lot of good entertainment to be had in this slot as well.
You'll experience random symbols that explode to award winnings of 5x – 100x your stake each; huge 3×3 symbols; wilds that stick for several spins; stacked wild symbols and win multipliers. On top of one of these features triggering every 40th spin on average, there's an avalanche feature that will always replace all of your winning symbols with new ones.
Play Emoji Planet
Mega Joker
RTP: 99.00%
Volatility: High
Release date: 2013
Max win: 200x per line or jackpot
Bonuses: Super meter feature
Design: 2 set of reels, 5 paylines
This popular retro slot with a special twist of two set of reels is perfect for anyone looking for some contrast to modern day games. Its traditional design is, however, only a fraction of what has made this slot worthy of our top 10 list. So is its progressive jackpot that can randomly trigger on any spin made on the game's bottom set of reels.
What's truly unique about Mega Joker is its incredibly high RTP of 99%. This is one of the best RTPs that can be found in casino games and is way higher than the average slot. To reach this RTP you need to spin on the slot's upper set of reels and play with optimal strategy. Sounds challenging? It's not. The strategy can easily be found in the slots game description.
Play Mega Joker
Koi Princess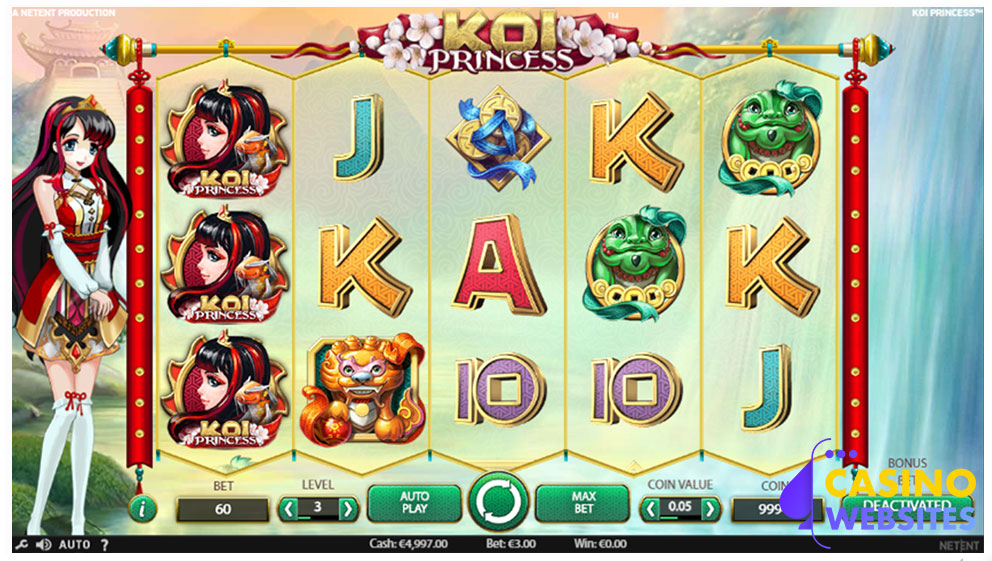 RTP: 96.23%
Volatility: Low
Release date: 2015

Max win: 500x
Bonuses: 9 features in total
Design: 20 paylines
With a lovely oriental princess joining you by the reels, this Asian themed slot is a must for any anime lover. It's also great for those who appreciate plenty of action and mid-sized winnings that frequently appear. Having as many as 9 features in total and a low volatility level there's always something exciting happening in Koi Princess. You can even choose to play with a bonus bet active for an extra high chance of a feature triggering.
Among the bonuses you will find a guaranteed 5-hit of a random symbol; stacked wilds that can fill the entire screen and an entertaining bonus game where you throw a dice to move around a board. There's also quite a unique free spin feature where every spin is guaranteed to pay a minimum of your currently biggest hit in the bonus.
Play Koi Princess
Jumanji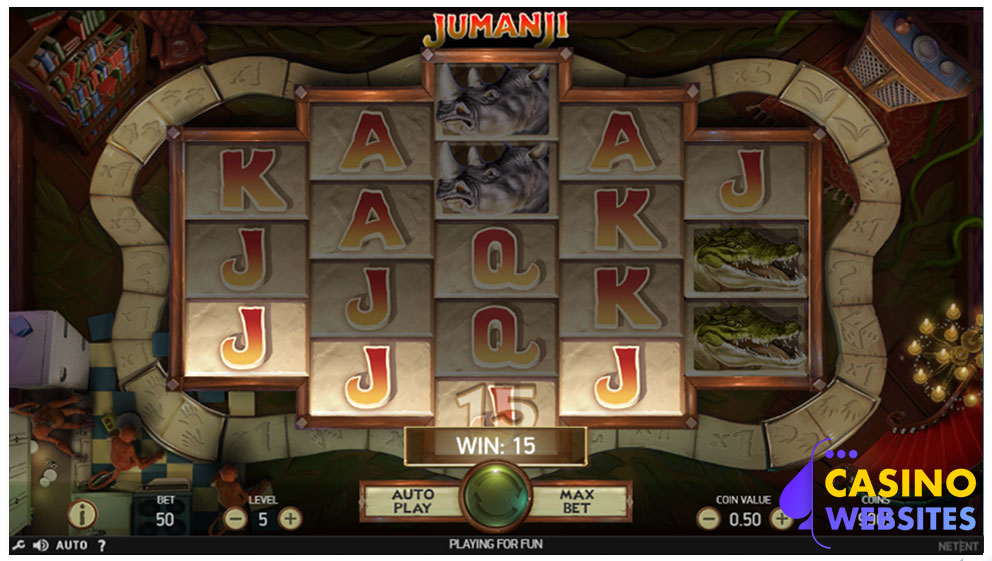 RTP: 96.33%
Volatility: Low
Release date: 2018
Max win: 504x
Bonuses: 9 features in total
Design: 36 paylines
Inspired by a blockbuster movie from the 90's, Jumanji is a fast paced slot with plenty of amusing bonus features. It also offers an impressive design with a detailed background and high quality animations frequently satisfying your eyes, keeping the entertainment level on top.
Being a low volatile slot one of the game's many features will be awarded as often as 1 in 43 spins on average. There are four randomly triggered ones that include sticky symbols; wild reels; guaranteed wins and randomly added wilds. On top of this you'll also get to enjoy an interactive board game bonus where as many as four different free spin features based on the random ones can be won.
Play Jumanji
Mega Fortune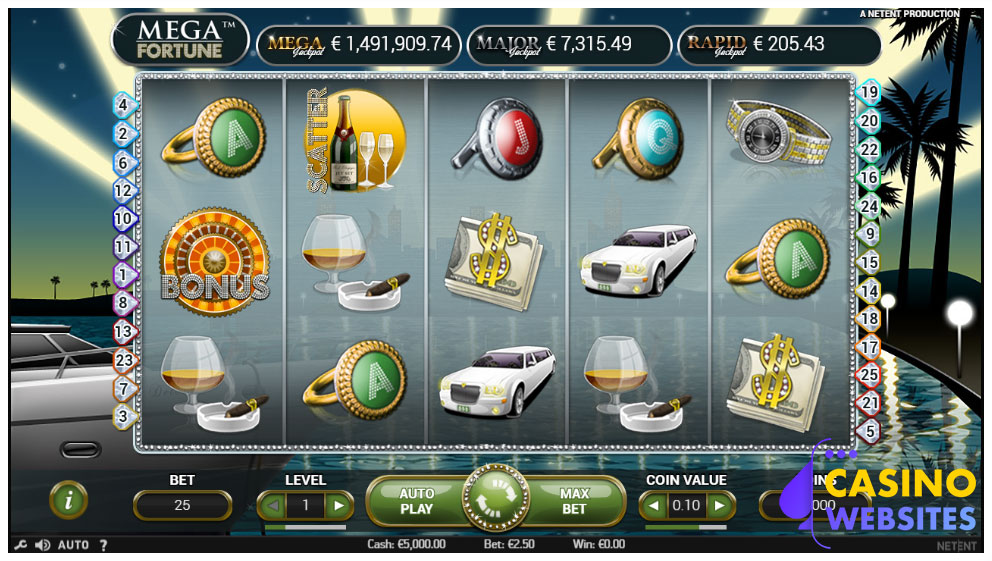 RTP: 96.6%
Volatility: High
Release date: 2009

Max win: 2162x or jackpot
Bonuses: Bonus wheel + free spins
Design: 25 paylines
No top 10 list of NetEnt slots would be complete if the luxurious Mega Fortune wasn't included. Since its release over 40 people have become millionaires from the game's three progressive jackpots. On average the biggest one of these trigger every 10th week and pays approximately £4 million.
While the jackpots can be won through a bonus wheel which on average appears on every 83rd spin, Mega Fortune also offers a nice dose of excitement through a free spin feature. In this you'll get to enjoy your winnings being multiplied by a factor of up to 5, which can lead to quite a nice payout. Do, however, note that your balance could also quickly drop in the game as the slot has a high volatility.
Play Mega Fortune
Guns N' Roses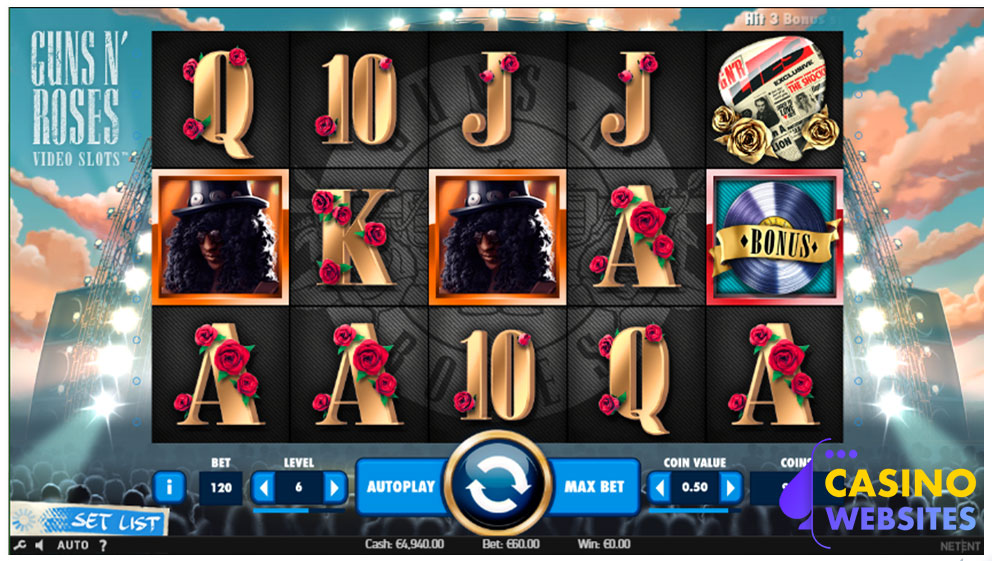 RTP: 96.98%
Volatility: Medium
Release date: 2015
Max win: 1125x
Bonuses: 5 different features
Design: 20 paylines
Being one of three rock themed slots created by NetEnt this game is a must for anyone who loves rock 'n' roll and plenty of action. You'll get to enjoy hit songs like Paradise City and Welcome to the Jungle while frequently being awarded with one of 5 bonus features. On average one of these are triggered as often as 1 in 34 spins.
The big highlight of the game is a wheel that can reward you with a pick and click bonus or free spins where a certain symbol is turned into a wild. You'll also experience random features that include a huge cross-shaped wild appearing, a win multiplier of up to x10 and spins with stacked wilds. A lot of detail went into creating this thrilling slot honoring one of the most famous rock bands in the world.
Play Guns N' Roses
Finn and the Swirly Spin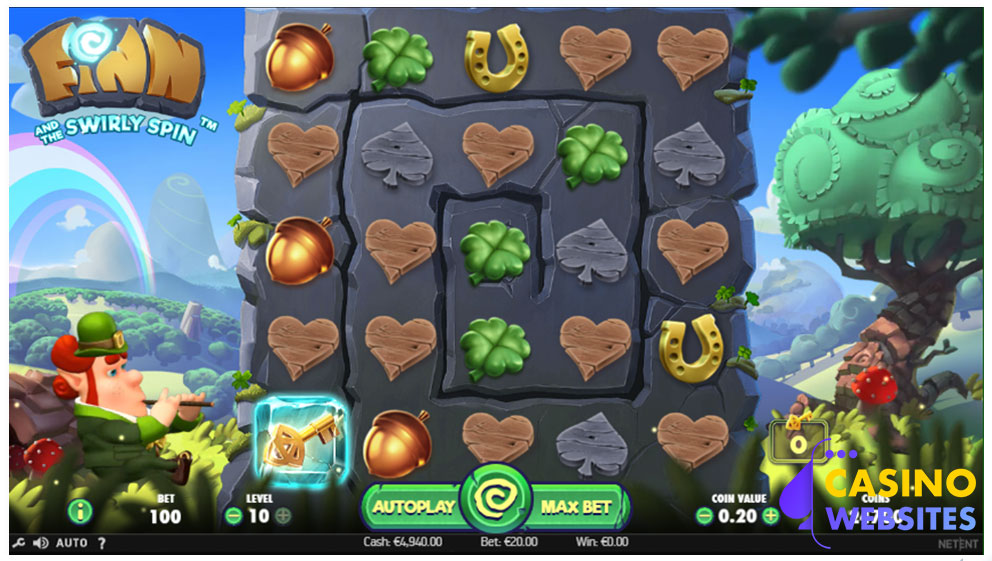 RTP: 96.62%
Volatility: Low
Release date: 2017

Max win: 500x
Bonuses: 8 features in total
Design: Unique
How could we have a top 10 list of NetEnt slots without mentioning Finn and the Swirly Spin? We couldn't! Not only is this slot incredibly satisfying to look at with colorful, cartoonish graphics and some of the most stunning animations you've seen in a game. It also has a one of a kind reel design that makes it a must play.
On top of this four randomly triggered features that appear on every 40th spin will constantly keep you entertained. With these bonuses you'll get to enjoy the pleasure of added wilds, guaranteed hits and symbols that are replaced by higher paying ones. Finn and the Swirly Spin also offers a choice of four different free spin features with mechanics that are identical to the randomly triggered bonuses.
Play Finn and the Swirly Spin
Red Riding Hood
RTP: 96.33%
Volatility: Medium
Release date: 2016
Max win: 400x
Bonuses: 6 different features
Design: 20 paylines
Inspired by a famous fairy tale, NetEnt has done a superb job creating a captivating slot adventure out of the story of Red Riding Hood. An enchanting atmosphere has been combined with detailed graphics, plenty of lovely animations and high quality entertainment from 6 different bonus features.
A fairy will randomly appear to add a cluster of 5 – 9 identical symbols; turn low paying symbols to higher paying ones; or add 3 – 4 wilds on the first reels. Any two wilds appearing will also trigger a re-spin and through a chest you're able to get 10 free spins. The big highlight of the slot is, however, a board game bonus which is highly amusing. In this you'll throw a dice to move around a board where you collect various cash prizes and guide the sweet and innocent Red Riding Hood to her grandma.
Play Red Riding Hood
Conan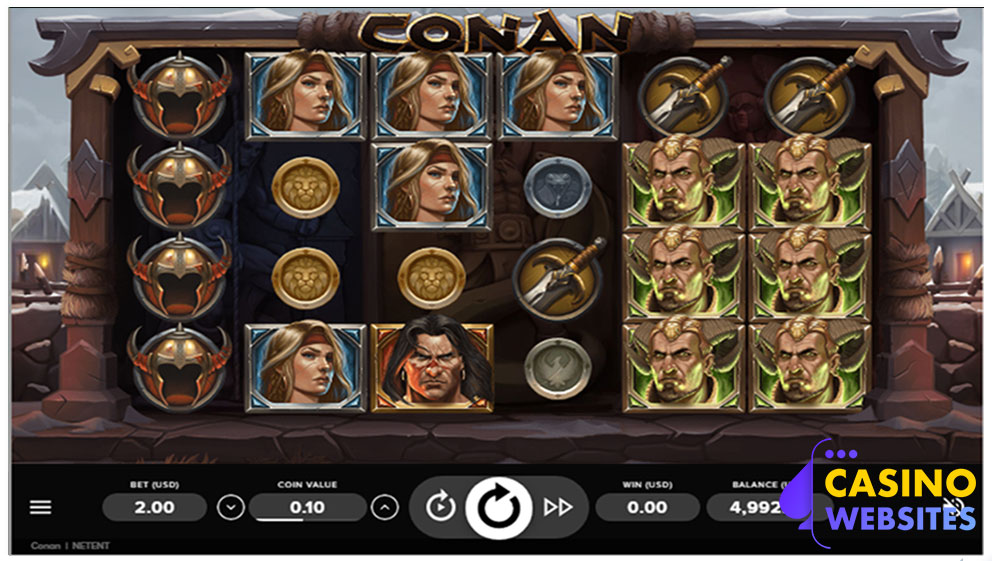 RTP: 96.28%
Volatility: Medium
Release date: 2019
Max win: 2016x
Bonuses: 6 features in total
Design: 24 paylines
This is yet another masterpiece from NetEnt combining fast paced action with stunning visuals. Set in a mythical, wintry village the slot offers raw animations of Conan the Barbarian slaughtering vicious snakes to award you with a win multiplier of up to x7. In addition to this base game feature, you'll encounter wild symbols that expand sideways and reels with randomly added mystery symbols.
While the game is packed with action from two types of wilds that expand and winnings that are formed both ways on the reels, the big highlight is a choice of three different free spin bonuses. Here you'll get to pick a low to medium or medium to high volatility level and experience the greatest potential of the slot's many features. If you're lucky enough, over 2000x can be won on a single spin.
Play Conan
Best Casinos in US
Summary
With NetEnt being one of the greatest game developers in the world of online gambling picking out 10 slots that are considered to be the best is anything but an easy task. You may or may not agree with us on the games we have chosen. It's understandable as we could easily fit 20 more slots that are just as good as the above mentioned ones. This is, however, the list we chose to go with based on potential, innovation, diversity and entertainment value. We certainly believe that it's an overall great representation of the superb quality gaming that NetEnt has to offer.
Relevant news