Quantum Roulette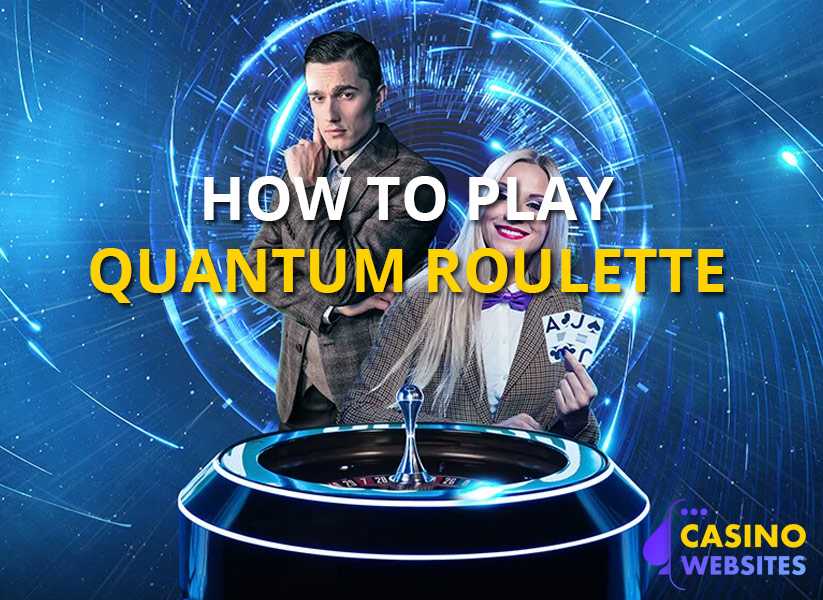 Do you fancy potentially huge winnings, visual designs that impress and talkative game hosts that are all about providing entertainment? Then allow us to welcome you to Quantum Roulette – a live casino game released by Playtech in September 2019.
Based on the European version of roulette, this game has taken things to the next level by introducing quantum multipliers that can boost your payouts from straight-up bets by up to 500 times your stake.
It also offers a much more action packed environment as the dealer of the game – referred to as a game host – is walking around with a mic and constantly interacting with players. Not to mention a big screen in the game delivering flashy visuals in a true quantum fashion.
Keep reading and we'll tell you more about Quantum Roulette!
Does all of the above sound very familiar to you? That's because Quantum Roulette is basically a copy of Evolution Gaming's Lightning Roulette that was released in 2018.
Looking for a top notch roulette casino?
Here at casinowebsites.com we have reviewed hundreds of gambling sites in search of those that provide the most pleasing player experience on roulette. Based on bonuses, reliability, game selection and customer support – among other things – we have listed what we believe are the very best roulette casinos for UK residents. Check them out on the link below!
See all roulette sites
Best Casinos in US
What makes Quantum Roulette unique?
There are quite a few things that make Quantum Roulette stand out from the vast majority of other roulette games that can be found online. Check the list below to find out what we're talking about!
Straight-up bets can be hit by a quantum multiplier
This is the big highlight of the game and the main reason that a ton of people frequently enjoy it. On every game round at least 1 and up to 5 different roulette numbers will have their payouts boosted to at least 50x and up to a hefty 500x.
Non-hit straight-up bets pay less than they usually do
Unless a quantum multiplier hits a number, a straight-up bet on that number will only pay 29:1 instead of 35:1 which it does in European Roulette and most other roulette games. This is simply to compensate for the boosted payouts provided by the quantum multipliers.
Game rounds are fully automatized
This means that the dealer of the game has nothing to do with the game rounds. The ball is spun by itself and in-between rounds there is a 20 second window to place your bets.
You'll encounter a very interactive game host
In difference to a dull dealer who discreetly tells you the winning numbers and when bets can no longer be placed, Quantum Roulette brings you an incredibly lively game host. He or she constantly talks out loud; cheers the game up; share stories and even sing a note or two.
There's a big screen with flashy visuals
In the back of the game there's a huge screen that's continuously providing you with various animations. This is where the quantum multipliers are presented, as well as top winning players of each game round. You'll also experience some visually attractive quantum magic.
How to play Quantum Roulette
The basic rules of Quantum Roulette are the very same as the European version of the game. The table looks identical and offers the exact same inside and outside bets to be placed. You can even find a racetrack and the so called special bets that are common to find in live casino roulettes.
Haven't mastered the traditional version of roulette yet?
If so we highly recommend that you check out our in-depth guide on how to play roulette. In this we have covered all of the basics of the game, as well as provided valuable information that even experienced players could make use of.
You will learn about different bet options (including racetrack and special bets) and how to place them on the table. We also take a look at various roulette versions that can be found online and introduce you to betting systems that can make your roulette sessions even more entertaining.
Guide to how to play roulette
The only real game changer of Quantum Roulette is that straight-up bets pay a little bit less, which is compensated by the fact that they can have their payouts boosted up to 500x. As already mentioned, 1, 2, 3, 4 or 5 numbers will be randomly struck by a quantum multiplier on each and every game round. There are eight different types of these multipliers:
50x – 100x – 150x – 200x – 250x – 300x – 350x – 400x – 450x – 500x
Let us pretend that you place three straight-up bets that include the numbers 7, 14 and 21. Let us also pretend that once the game round is initiated a quantum multiplier of 50x is hitting the 7 and another multiplier of 250x number 14. This means that your bets will now pay you:
29:1 if the ball lands on number 21
49:1 if the ball lands on number 7
249:1 if the ball lands on number 14
Quantum Roulette isn't any harder than this. Do, however, note that only straight-up bets are eligible for the quantum multiplier. If you place a split, street, corner, basket or line bet and win on a multiplied number nothing will happen to those bets, but you will just be paid as you normally would.
Bet options, payouts and RTP in Quantum Roulette
For convenience sake we have listed all of the table bets that you can place in Quantum Roulette along with their payouts, probability of occurring and RTP. Apart from the straight-up bet these bets are all identical to the vast majority of roulette versions.
All bet options in Quantum Roulette

Type of bet

Payout

Chance to win

RTP

Multiplied Straight-Up

49:1 – 499:1

0.19% - 1.95%

97.3%

Untouched Straight-Up

29:1

2.7%

97.3%

Split

17:1

5.4%

97.3%

Street

11:1

8.1%

97.3%

Corner

8:1

10.8%

97.3%

Basket

8:1

10.8%

97.3%

Line

5:1

16.2%

97.3%

Column

2:1

32.4%

97.3%

Dozen

2:1

32.4%

97.3%

Even / Odd

1:1

48.6%

97.3%

Red / Black

1:1

48.6%

97.3%

High / Low

1:1

48.6%

97.3%
Here are all of the possible payouts and probabilities that quantum multiplied straight-up bets have:
Straight-Up bets with Quantum Multipliers

Multiplier

Payout

Chance to win

RTP

50x

49:1

1.95%

97.3%

100x

99:1

0.97%

97.3%

150x

149:1

0.65%

97.3%

200x

199:1

0.49%

97.3%

250x

249:1

0.39%

97.3%

300x

299:1

0.32%

97.3%

350x

349:1

0.28%

97.3%

400x

399:1

0.24%

97.3%

450x

449:1

0.22%

97.3%

500x

499:1

0.19%

97.3%
As you can see, the RTP is the very same in Quantum Roulette as it is in the European version and the vast majority of roulette games. This is great news to all of us who are looking to maximize our chances of winnings. There is only one roulette game with a higher RTP than this and that is French Roulette – a game not half as fun and exciting as Quantum roulette is – if you ask us that is.
If you aren't familiar with RTP a value of 97.3% means that you are expected to receive 97.3% back as winnings on all bets that you place no matter the type of bets. By staking a total of £100 as 100 separate bets you would for instance be expected to have a balance of £97.3 after those bets.
Luck and volatility does, however, play an important role. This means that on a short term basis the results can be anything – especially so if you only place straight-up bets which have a high volatility. These are hard to hit and even harder to hit with a quantum multiplier on them, but when they do hit they make up for their low probability by paying a lot.
What does volatility mean?
Volatility is a measure of risk versus reward. The higher the volatility, the higher the risk of losing on a short term basis will be. However, higher volatility also means a higher potential reward so if you do get lucky you can usually win a lot as opposed to low volatile bets or games that have quite limited payouts.
Frequently asked questions
How long does a game round of Quantum Roulette take?
Approximately 60 seconds. It is one of the slowest – if not the slowest live roulette game that you can play online.
What are my chances of winning 500x in Quantum Roulette?
If you're only betting on a single number your chances of this number being struck by a 500x quantum multiplier and then also winning on it is approximately 0.19%. That is about 1 in 526 game rounds. Since a game round takes a minute or so you would have to play for nearly 9 hours straight to experience it – on average of course.
Is Quantum Roulette identical to Lightning Roulette?
More or less. The biggest difference is the visual design as one of the games is using quantum magic and the other lightning. However, according to Evolution Gaming's information, the straight-up bets in Lightning Roulette have an RTP of 97.1% – 97.3% and not just 97.3% as the straight-up bets in Quantum Roulette have according to Playtech's info table.
Relevant news