Google Pay's Entry into Foreign Remittance Might Open New Avenues in America's Online Casino Banking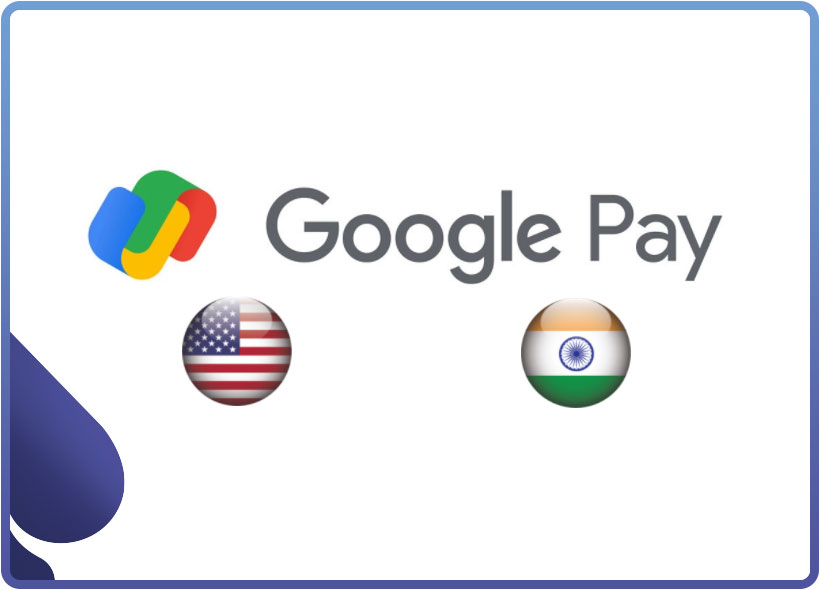 There is great news for Google Pay users in India!
Your peers in the USA can now send money to you using the payment method. Cross border transactions were restricted up until now. However, Google Pay has decided to step up its services. In the process, it has also shaken up the entire $470 billion global remittance market and intensified the cutthroat competition that brews among fintech payment processing companies worldwide.
Why is this a big deal for Indian iGaming enthusiasts?
Well, if you think about it, only a handful of American online casino sites welcome Indian players. In most cases, your entry would be restricted. Browsing these sites using a VPN is a punishable offence in the country. To top it, the casinos in question do not bear any legal liability if you violate these restrictions. When you end up in the soup, they cannot come to your rescue come what may.
Yet again, certain sites might allow you to browse without a VPN, but would not let you in. The US casinos where you can sign up for real and play games are mostly Curacao licensed, which is not the best of licensees. A funny fact is that Curacao is geographically located in South America, but politically part of the Kingdom of the Netherlands, which makes it off the subject.
Furthermore, even if you register, the casino might refuse to accept a real money wager from India. Last, but not least are the sites that let you sign up, allow you to enjoy games, but limit your access when it comes to claiming bonuses. You are left to bankroll yourself and more often than not, obliged to meet a 1x wagering requirement as well. None of it is warranted.
You see, it is a whole motley crew out there in America – each with their own set of terms and conditions.
Everything boils down to legality
America's complicated and long history with gambling coupled with constantly vacillating opinions regarding gambling laws is the major reason behind these restrictions. What is legal in one state is deemed illegal in another. Individual states have their own views and rules when it comes to allowing or disallowing online gambling.
In fact, a player from a state where the activity is illegal placing a bet at a legal casino in a different state could amount to a criminal offence. Cross border permissions to gamble online in America, therefore, is a subject complicated to the hilt – more than you can imagine.
To make matters worse, the US has the infamous Unlawful Internet Gambling Enforcement Act of 2006 (UIGEA), which prohibits operators from intentionally accepting payments related to gambling or betting over the Internet. It is especially true if the activity has been declared unlawful under any federal or state law.
Therefore, the chances of Indian players being openly accepted in legal online casinos in the US have always been slim. No one wants to jeopardize their business after all! Add a ridiculously short list of payment options available for Indians and you would have an even smaller list of American gambling sites rolling out the red carpet.
Apart from the usual VISA, MasterCard, wire transfers and perhaps a few cryptocurrencies like Bitcoin and Litecoin, most banking methods are unavailable. Forget the possibilities of paying and getting paid via Skrill, Neteller and the likes. America is ruthless like that.
This is where Google Pay might come as a relief
This digital payment processor based on the Unified Payment System (UPI) needs no introduction in India. Its popularity is presently skyrocketing for all the right reasons. A brainchild of Alphabet's CEO Sundar Pichai of Google fame, it is currently modelled to set a global footprint after its monumental success in India.
For the uninitiated, Google Pay is an online payment system that enables contactless monetary transactions on mobile devices. It is the official payment solution on Android, although users in India and the US can use the iOS app as well, albeit limitedly.
With Google Pay, you can instantly send and receive money straight to and from a local bank account with zero fees. Do not confuse it with a regular e-wallet. This one does not let you store funds. But it comes with a slew of incredible features that make online payment easy, fun and rewarding.
Users receive virtual scratch cards for making and receiving payments. Each carries the possibility of a lucrative cashback or other perks. The best part is the fact that an individual does not have to be a Google Pay user to receive payments.
The app simplifies the process where senders can choose to pay using the banking details of the recipients or any of the following: a phone number, unique UPI ID or QR code pertaining to Google Pay. At the same time, recipients can request payments in just a tap.
Apart from the multitude of payment options, the app also offers unfaltering security via encryption of transactions, phone-enabled screen lock and biometric authentication. Presently, Google Pay is available in almost 30 countries, although mostly as a service instead of an app.
Needless to say, its entry into the foreign digital payment market via America has kindled fresh hopes among Indian punters who fancy playing real money games on casinos online in the USA. Without hassles.
From now on, Google Pay will allow users in the USA to send money to friends and family residing in India. Expanding its services to enable overseas remittance, the company has officially partnered with Western Union and Wise (erstwhile TransferWise) to make this happen.
Recipients in India would be able to receive the entire amount without being charged any currency exchange or transaction fee. In a blog post, the tech giant has revealed that Wester Union will enable unlimited free transfers for senders until the 16th of June 2021.
On the other hand, Wise will offer new customers a free transfer on the first payment of up to $500 (approximately ₹36,700). The exact fee that would be levied post these transactions is yet to be announced. However, it would be surely displayed on the app screen while sending money.
As of now, Google Pay will limit foreign transfers to individual users. In other words, users in the US cannot send money to business entities in India. Also, there is no feature enabling the transfer of funds from India to the US via Google Pay.
For iGaming enthusiasts in India, there is much to be hopeful
The payment system being available for American users to send money to India has led online gamblers in the country to pin their hopes on major US casinos to accept it as a mainstream banking method. Remember, it does not restrict businesses in America from sending money to Indian individuals yet.
Additionally, recipients will get the full amount, which saves them the currency exchange fees. Withdrawal fees levied by individual casinos, however, might be still applicable. Furthermore, even if there might be a lack of bonuses on American online casinos for Indian players, receiving winnings via Google Pay could bring in some rewards in the form of scratch cards.
Most European online casinos are already making use of Google Pay to receive and send money from Indian players. However, it is usually done by someone in the team who holds an account with a local Indian bank. A classic example is 10CRIC, which enables UPI payments via Google Pay. For America, this is going to be a different ball game altogether.
This is how one can send money on Google Pay from the US to India:
Find the Google Pay user to whom you want to send money (use their phone number, UPI ID, QR code or simply, local banking details).
Tap the 'Pay' button and choose either Western Union or Wise as your preferred payment medium.
Enter the amount you want to send.
Tap 'Continue' to see the transfer fee and the amount the recipient would eventually receive.
Tap 'Continue' again and select your mode of payment – UPI or Cash Pickup.
Confirm the payment and wait for the amount to get debited.
Final thoughts
Overall, the likelihood of getting a fast, safe, convenient and Indian friendly banking solution on an American gambling site is what is exciting players in India. If Google Pay becomes the norm in these sites, perhaps one day the other sites that ban Indians players would wake up and evolve.
Moreover, Google has contacted the US Federal Reserve Board and proposed to build 'FedNow' – a brand new real-time interbank gross settlement service. The model takes cues for the UPI-based system of payments and aims at making digital banking faster in the USA.
In other words, even the future hints at Google Pay becoming the general way of casino banking – not just in India and America, but worldwide. For now, Indian punters await its entry into the US casinos with bated breath. Would this new facility allow American operators to open their doors wider to them? What do you think?
Relevant news