Which celebrity is banned from playing blackjack at the Hard Rock Hotel & Casino?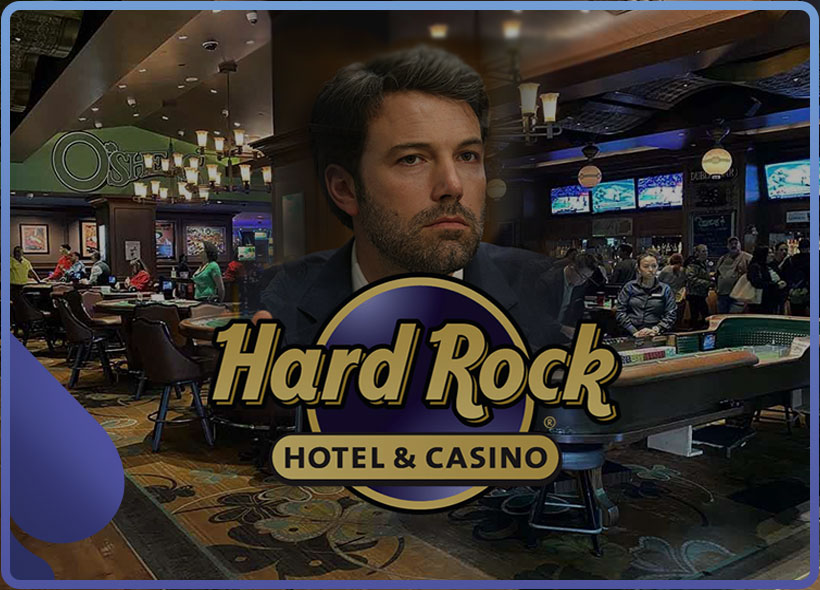 Whether it's thanks to his own roles in films like Armageddon and Pearl Harbor or because he once dated Jennifer Lopez, but most of us know who Ben Affleck is. What some will not know is that the world famous actor is also considered a true casino enthousiast. Ben Affleck even won the California State Poker Championship in 2004, earning himself the first prize of an impressive $356,400 and directly qualifying for that year's World Poker Tour final tournament.
The Golden Globe winner was also one of many stars — along with celebs like Leonardo DiCaprio — who participated in Molly Bloom's high-stake poker games in April 2013. But, things haven't always run smoothly for the well-known actor. A year later, Ben Affleck was accused of card counting in blackjack, leading to some rather drastic measures by some of America's most prestigious casinos. We'll tell you more about Ben Affleck and gambling.
Ben Affleck no longer welcome at Hard Rock Casino
The Affleck incident took place in Las Vegas in 2014 at the Hard Rock Casino. Hard Rock International has venues in 74 countries, including 185 Hard Rock cafes, 25 Hard Rock hotels, and a dozen Hard Rock casinos. At the Vegas branch Ben Affleck was playing blackjack at the high-rollers table when at one point he was tapped on the shoulder by security guards and was asked to leave the game table. Affleck was said to be "too good" at playing blackjack, which in this case was not only thanks to his blackjack tactics. Being too good for blackjack referred to Ben Affleck counting cards. Yep, you got that right: Good Will Hunting/Changing Lanes/The Sum of All Fears-actor Ben Affleck counting cards. Who would've thought it?
Staff at Wynn and Encore casinos warned as well
Although Affleck and his then wife Jennifer Garner were allowed to stay in the casino, the California born film star was no longer allowed to take place at the blackjack tables. Later he was told by the casino management that he was never allowed to play blackjack again at the Hard Rock Casino branches as all casinos banned him for life. Personnel at the Wynn and Encore casinos also received warnings by email that Affleck was no longer allowed at their casinos. It might seem a bit odd if you think about it, but Ben Affleck is in fact the rather remarkable answer to the question: which celebrity is banned from playing blackjack at the Hard Rock Hotel & Casino? Today, Affleck is allowed to enter Wynn and Encore branches.
Ben Affleck's role in World Series of Poker
It has been known for quite some time now that the Hollywood star is not only a talented blackjack player, but that he's pretty diverse in terms of casino skills. In 2010 he participated in the World Series of Poker tournament with his childhood friend Matt Damon and while both stars managed to make a good impression at the tournament, they didn't make it to the finals. Ben Affleck was also repeatedly accused of having a severe gambling addiction, but according to the American actor, none of that is true and casino games are only a hobby.
Is card counting Illegal?
The stories of banned card counters in blackjack, like in this case, Ben Affleck, often raise the question whether card counting is actually illegal or not. The answer to this is that it is not officially illegal to count cards, but most casinos are likely to remove card counters from their establishments if caught. Casinos are free to expel players who they think break the house rules. In addition, casinos are allowed to deny visitors during future visits to their facility. So, if you've ever thought of taking card counting to the blackjack table, you might want to reconsider it. If even Ben Affleck gets banned for life, casino security agents won't make an exception for others. Our advice? To stick to an effective and clean blackjack strategy.
You may also want to read: How to count cards in Blackjack
Best Casinos in US
Relevant news