Camrose Resort Casino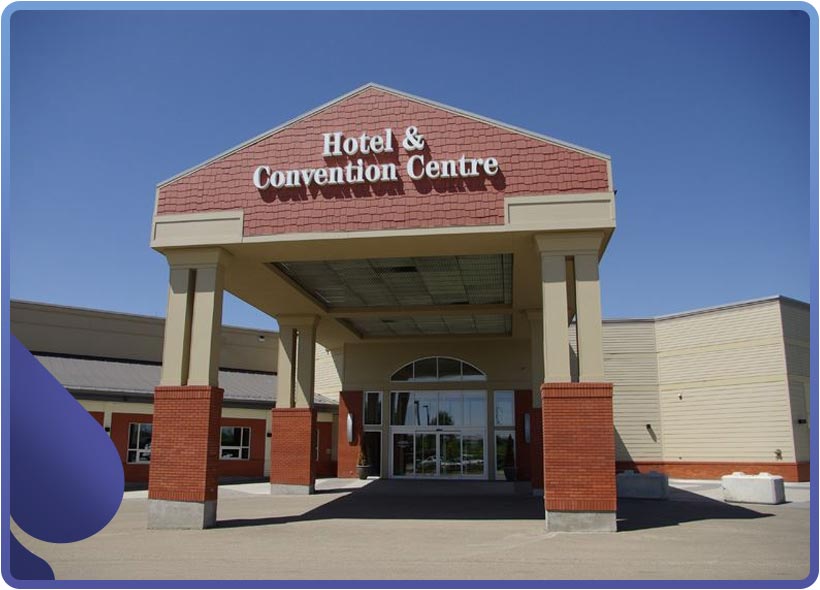 Apart from its main urban areas, Alberta is a place where you'll find amazing wildlife and that's why we would always recommend you to visit Camrose not only to go to the casino, as this province actually offers the best in terms of both nature and gambling. A lot of gambling fun can be found in the capital of Edmonton, but the biggest city of the province, Calgary, has even more gambling fun to offer.
At CasinoWebsites.com our goal, however, is to include casino options for everybody (that's why you'll find a lot of online casinos for players in Canada as well) and this is why we'll head to Camrose today. Although this small town only counts about 20,000 people, the Camrose Resort Casino offers not only a casino, but accommodation as well. Let's head to Camrose.
Camrose Resort Casino practical information
★★★☆☆
Lodging
None
Entry fee
Free
Dress code
Casual
Parking
Self parking
Casino theme
Southern mansion
Age restriction
18 years and older
Games
Slots, table games & poker
Opening hours
24/7
Food
Yes
Map
Location/address: 3201 48 Ave, Camrose, (Alberta) AB T4V 0K9, Canada
About Camrose Resort Casino
The casino has over 200 slots, VLTs, table games and a poker room for their players, but there's more. Both guests and visitors can dine in the so-called Eats restaurant or head straight to the Joker's Den Pub to have some drinks and quick snacks. The pub is conveniently located inside the casino. With multiple meeting areas making up almost 8,000 ft2 of space for meetings, conference space and other events, this casino resort also provides lodging and catering options for weddings or other gatherings upwards of up to 350 people.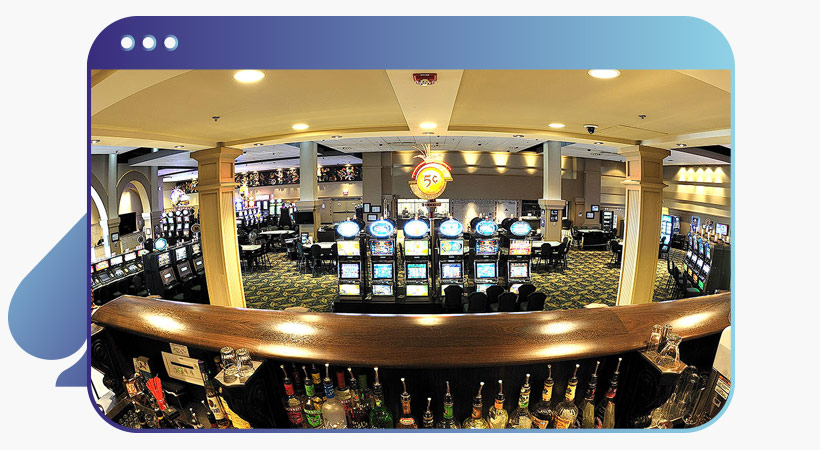 Camrose Resort and Casino is a 22,000 ft2 casino that offers a rather southern atmosphere. The town of Camrose isn't very big and the casino is located in the city centre which adds up to a 1,5 hour drive from the airport in Edmonton. For people coming by car, there are enough free self-parking options at the resort. This would probably be your best bet if you want to go to the casino as they're not a lot of public transportation options in the city. If you're part of a bigger group you need to check out the bus tours for both day trips and overnight stays.
One of Alberta's most popular casinos
Camrose Resort Casino is a very popular option in Alberta so you might want to reserve it before going to the casino. Our recommendation would be to reserve up to 7 days upfront as it's often fully booked. Smokers might have a hard time here as you're not allowed to do so in this resort. People are looking for a place to organise meetings and relax without gambling should also have enough options to enjoy themselves. There's a gym and a business centre, as well as a spa and a pool. The casino should in fact not be the first reason to come here as they're only 200 slots here to play on which isn't an awful lot. Every first Sunday of the month you'll be able to enjoy poker tournaments, so if you're into poker you know when to show up.
Game offer
There are a few hundred casino games you can play at Camrose Resort Casino and the bigger portion of the games consists of slot machines. There are about 200 of them, just like 10 table games and 4 poker tables. The casino offers popular games like Blackjack, Roulette and Texas Hold'em 7 days a week.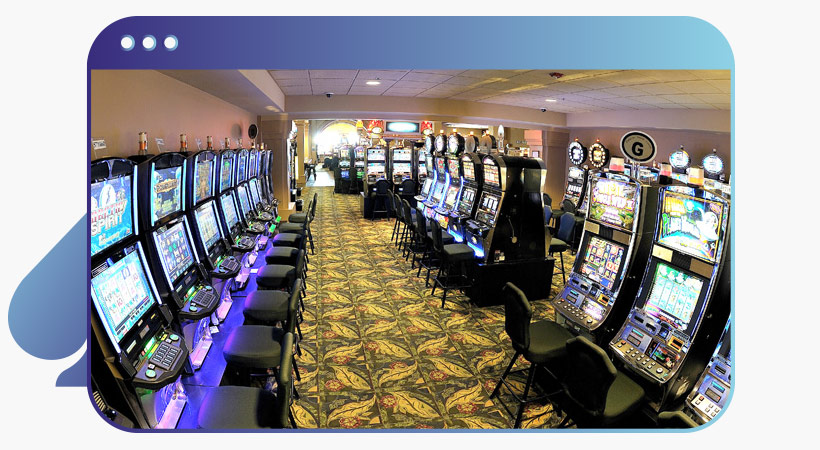 200 slots.
10 table games.
4 poker tables.
Food & Drinks
Don't miss the seafood buffet every Friday at the Eats restaurant. The brunch on Sundays is always worth trying out. Along with small snacks and colourful cocktails at Joker's Den Pub, the menu at Eats includes a wide range of local and international specialties. The dining space also houses a pool table and wide screen tv if you want a break from the casino floor.
Dress Code
Most casinos in the province don't work with formal dress codes, but don't accept clothes with offensive prints or texts. This is also the case for Camrose Resort Casino.
Other casinos in the area
Alberta actually offers quite some entertainment options of which the gambling facilities are absolutely high class. There are more than 20 casino venues available in Alberta and they have their own advantages. Whether you're looking for a First Nation casino or a smaller, local vibe; we're pretty sure you will find a casino that meets your needs. Some of our suggestions are:
Stoney Nakoda Resort and Casino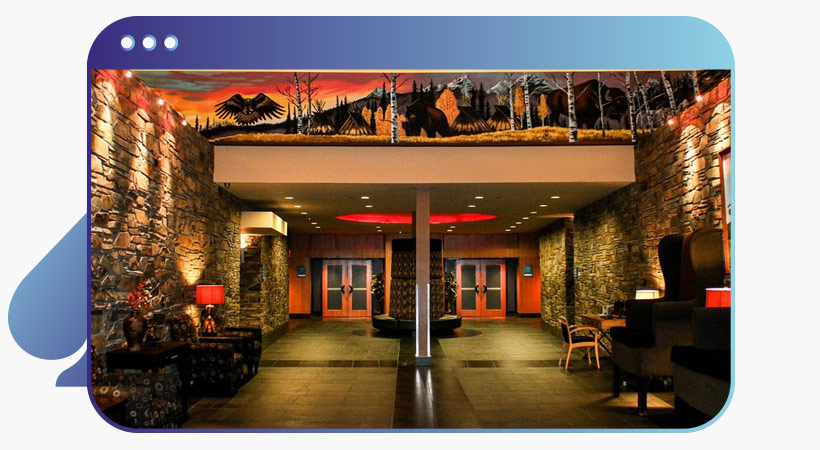 Gambling in a casino that is surrounded by the Rocky Mountains — it really doesn't get more adventurous than this. This casino is situated at a half an hour drive from the province's biggest city, Calgary. People who come to this casino do exactly what we recommended in the beginning of this article: they enjoy what both mother nature and this casino has to offer.
Stoney Nakoda Resort and Casino
River Cree Resort and Casino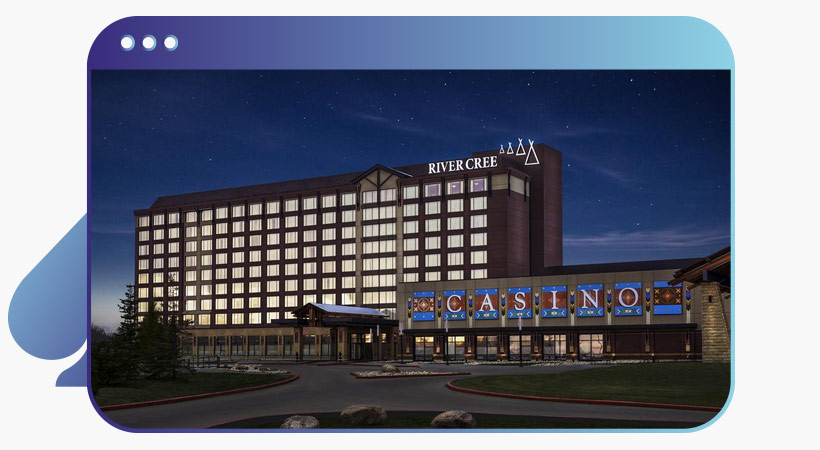 Casinos in Alberta are known to be small, but this land based casino is pretty big, especially in comparison with the other casinos in the area. Over 49 acres of space house the River Cree Resort and Casino, which might give you an idea of what to expect. Get ready for both gambling entertainment and a nice place to take it easy at the spa or swimming pool.
Best Casino websites in Canada
Relevant news