Best casinos in Windsor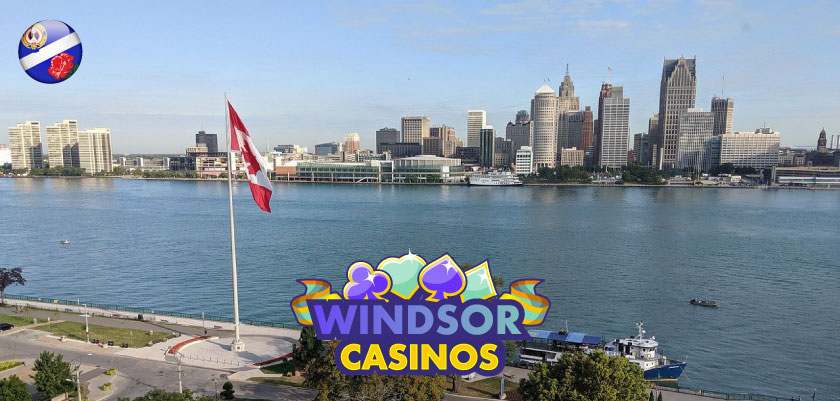 Known as the proud international gateway between Canada's Ontario and Michigan in the US, Windsor is one of Canada's best kept secrets. Located in such a strategic place it has developed itself into an incredible piece of Canada that offers premium entertainment, intriguing historical landmarks, and amazing waterfront venues. Here, every visitor will find a city fully dedicated to being a creative and dynamic destination that applauds artistic expression and proclaims its cultural identity and diversity.
Whether you're looking for recreational or cultural activities in Windsor, this city has it all. That includes a fully equipped Caesars hotel casino, making sure that people looking for the ultimate casino experience also have a valid reason to visit Southwestern Ontario.
---
Best Online Casinos in Windsor
Play casino games online at a legit, trusted and recommended online casino who accept players from Windsor
Best online casinos in Canda
---
Limited casino options in Windsor
In terms of quantity the options are somewhat limited in Windsor, but we'll get back to the quality criteria later on. Let's first take a dive into Windsor's gambling history. Caesars Windsor is the only casino in this city, but this hasn't always been the case, as some people in the region will surely lament. After its grand opening in July 1998, the provincial authority, the Ontario Lottery and Gaming Corporation (OLG), would also allow three racetracks to offer slots, video poker, and other e-games which was an initiative at the time to boost the region's gambling revenues. Gambling was seen as a possible source of income as the local authorities were facing financial instability. This turned out to be a good move for the city.
Gateway between Canada and the US
The new approach at Windsor Raceway in particular turned out successful and by the end of 2011 the raceway hosted more than 750 slots. Profit, however, was not high enough to make it durable. Slots were removed as well as the new horse tracks, but the real reason for its closure seemed to privilege Caesars Windsor. The international casino hotel was hit by lower visitor numbers as the Caesars Windsor exchange rate (CAD versus USD) became less favorable for Americans. As the casino is located straight across Michigan's Detroit, it's always been a popular destination for American gamblers. Due to the full drop in slots revenue, Windsor's second gambling venue closed only four months later. To date, no new casino has opened in Windsor. Caesars Casino still attracts millions of visitors each year.
Caesars Windsor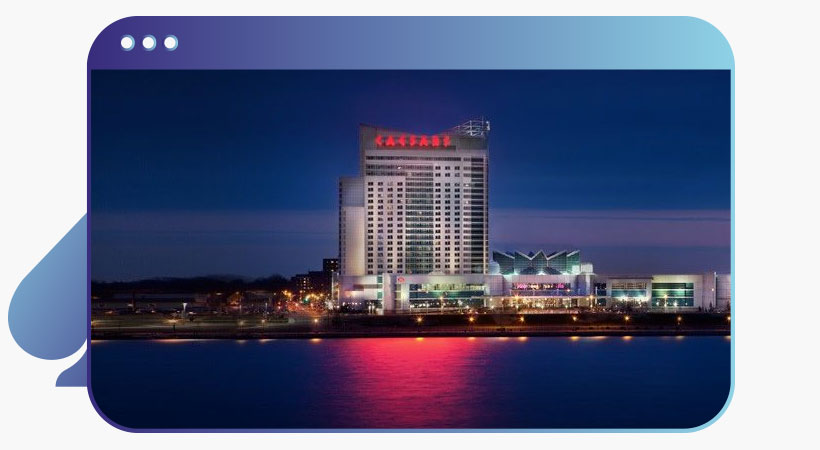 Casino establishments in Windsor may be very few and far between, but Caesars Casino is internationally known as a world-class gambling destination. The hotel casino still enjoys a monopoly on slots in Southwestern Ontario and continues to gather the crowds from both sides of the border. You'll find two hotels here, great shopping facilities, dining options and a complete arts center. The casino floor itself houses hundreds of slots and poker machines, as well as a large number of jackpot video games and plenty of table games to keep all visitors happy. At the gambling tables you'll be able to enjoy including Caribbean Stud, craps, and traditional classics like baccarat and blackjack. For those that are more into sports betting, Windsor Casino also includes a sports bar, the very first sportsbook of Canada.
Caesars Windsor
Premium gambling facility
Those that lost their jobs or favoured OLG because of its historical ties with the local population still have their issues with the American multinational Caesars, but all other players will agree on the fact that Caesars Windsor is indeed a premium gambling facility in line with other Caesars venues like in Las Vegas, Atlantic City, or Dubai. On the ground floors there are two hotel towers offering all the amenities you would expect from a premium gambling resort: multiple restaurants, fancy shopping facilities, and a complete arts center.
Slots and table games
The casino itself is all about the slots and video poker machines; Caesars Windsor's address shows off with a large collection of progressive slots and even progressive jackpot video poker games. All of these games never seem to lose in popularity. This famous Windsor Ontario casino also offers a rather unique import from the otherside of the border; a riff on blackjack known as Super 4 Progressive Blackjack in the US. In this table game, a side bet may give the player an opportunity to combine his or her hand with the dealer's with the main idea to make up a 4-card poker hand and possibly win back some losses.
Canada's first sportsbook
Something you can't miss out on during your visit to Caesars Windsor is the casino's sportsbook operation at the Legends Sports Bar. This bar was only opened in 2006 and the sportsbook you'll find here was actually the very first of its kind in Canada. Sports bettors from abroad should be warned though that sports betting in Canada works slightly differently than in most other countries. Therefore, be prepared for some Pool Play and Parlay-type offerings, rather than the common, easy, single-game wagers. Last, but not least: sports betting in Canada will clearly mean you'll need to brush up your hockey knowledge too.
Online gambling in Windsor
Like the rest of Canada, Windsor's laws on (online) gambling are made on a provincial level. At present, the government-approved Play Now (operated by the British Columbia Lottery Corporation) is the only fully accepted website for gamblers in the province of Ontario. The reality is a bit different, however, as Canadian gamblers do tend to play online at other websites available on the Internet. Even Canada's gambling institutions have stated that anti-online gambling laws are very difficult to enforce. To this day, no Canadian citizen has ever been charged for playing online casino games at other websites than PlayNow.com.
Change in the making
Since the province of Ontario has no explicit wording in terms of online gambling, a player's ability to play online depends on the operators and financial institutions holding your account. While Canadian banks that are majority-owned by American business interests will usually refuse to process transactions to or from online casinos, local banks, and e-wallets most often will let it through. On the other side of the border things are changing, affecting gambling activities on both the northern and southern side of the Ambassador Bridge. Maybe due to the loosening of online gambling laws in the United States, Caesars Windsor now allows gamblers to try their popular slots on its official website which seems like a change is in the making. Hopefully this time people in Windsor will have some other alternatives.