Kickass party at the Blackjack Party by Evolution gaming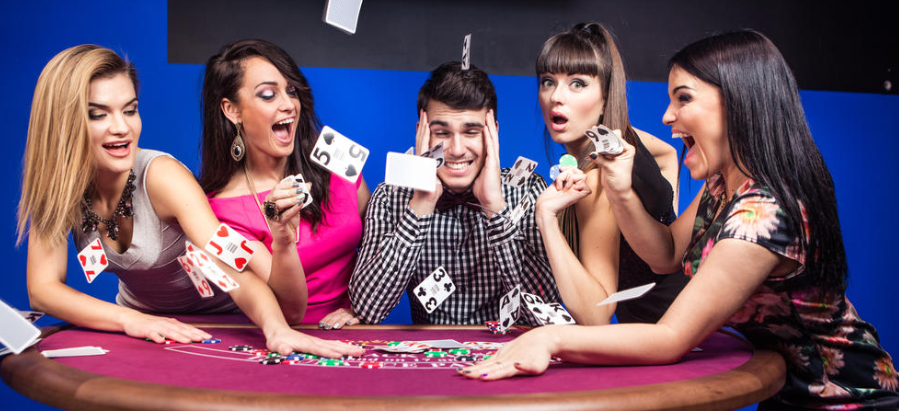 If you are looking for an adrenaline-pumping but fun time, this game is an excellent choice.
Blackjack Party is a distinctive, low-stake variant of the popular table game; Blackjack. This game is for everyone who wants to have a good time gambling on casino tables– both beginners and experienced punters.
Best Casinos
Overview
Rather than one dealer, you have a charming male and gorgeous female dealer to engage with throughout the game.  Time to be the life of the party and walk away with huge wins. Find and play this game at major UK online casinos.
This is an extra lively version of the classic Blackjack game that comes with a witty and friendly dealer. Yes, it is a party so you can look forward to having an engaging conversation and a tough game with the dealer.
The tables Theme and Feel
Blackjack Party is set against a sparkly background and two animated panels with shimmering gold.  Behind the dealers is an elegant black and gold wall with four card suits as décor.  We also have green lights illuminating the dealers' panel, giving the game an electrifying ambience.
You will face the dealer table-on, as if in a land-based casino. Your camera view is strategically placed to enable you to see all seven hands on the table.  Treat yourself to a private or exclusive game of Blackjack Party, as your table is the only one you can see on your screen.
What about the user interface?
Similar to many other Evolution Gaming products, Blackjack Party offers quite the Live-gaming experience. From the crisp colours to the casino music and friendly user-interface.
You will easily find all the options on the screen – the navigating table and the chat window. With a simple user interface, you are able to focus on the Blackjack game. Everything works smoothly on desktop devices. Sadly, the screen might lag on some mobile devices.
What about audio and visuals on Blackjack Party?
Blackjack Party delivers a single camera angle that gives you a full head-on-view of all the fun on the table.  If you like, you can create the quality of your streams in the video settings.  The game also allows you to set certain video qualities depending on the strength of your internet connection.
Blackjack Party is best enjoyed when the sound is on but you can switch to mute using audio settings. Still, for a lively experience in this party game, we recommend that you leave the sound on.


Why should I play Blackjack Party?
If you are a punter who has never played Blackjack Party, you are missing out.  Experience jet-set live gambling every time you log in to your favourite online casino and play this game. Here are some major benefits of playing Blackjack Party by Evolution Gaming.
High quality streaming to give you a matching brick-and-mortar casino experience.
There are rich betting features for the main 7 players at the table, including 21+3 and Perfect Pairs Side Bets, Doubling Down, Insurance, Pre-Decision and Splitting Pairs.
Game guidance from the dealers makes this Blackjack variant ideal, even for beginners.
The game allows for an unlimited number of players to bet behind the hottest player as they wait for a seat to become free.
There is an overall great atmosphere that will cheer you up.
You can play this game when you want to join a party without actually leaving the house.

Verdict
The core game of Blackjack Party is endlessly exciting. Try out this game and avoid missing out on special features like side-bets, pre-decision and bet-behind. Perhaps we can agree that Blackjack Party is the sleekest and finest live Blackjack variant in the industry.
You don't have to go out for a party and suffer the hassles of finding a designated driver, losing your belongings or hanging out with people you don't like. Instead, sit comfortably at your desired location and join the Blackjack Party!
Relevant news