Enjoy the ultimate Online Live Casino Experience
Categories:
Guides
|
Published by:
michaella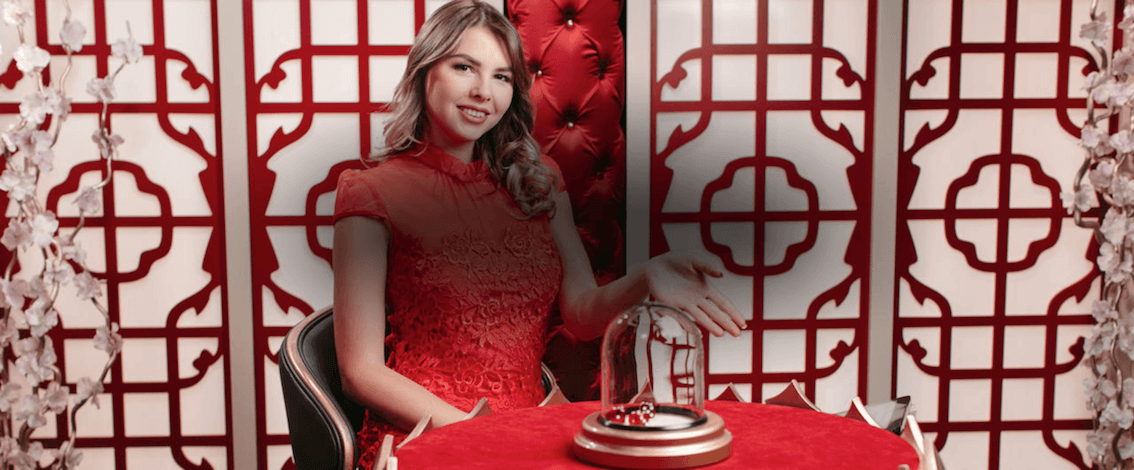 Playing online live casino games unites the best of two casino world. You can have the ultimate casino experience with all the excitement you get when playing with a live dealer without the need to dress up and leave the house. There are plenty of gambling options available at an online live casino. In addition to the popular classic table games such as blackjack, roulette and baccarat, there are several other fun and innovative online games you can play. Have fantastic casino fun and give yourself the chance to make big winnings with the following online casino games guided by a live dealer.
Classic Table Games
Roulette
Roulette is one of those classic casino games that has its origins in France and is immensely popular all over the world. When it comes to playing online roulette with a live dealer, the Live Roulette section at an online casino has multiple live tables with various themes. You can brighten up your game with Lightning Roulette, quicken the pace with Speed Roulette, or play in style with higher stakes on Salon Prive. Find the theme and live dealer that suits you and enjoy an exciting live roulette game.
World Roulette
The World Roulette section contains some highly exciting live tables that are streamed from various brick-and-mortar casinos from across the world. Enjoy the ultimate casino experience in glamorous land-based casinos without the need to travel to a different country. Locations include Aspen Casino London. Foxwoods Connecticut USA and Casino International Batumi Georgia. Choose a live casino from anywhere in the world that suits your style at World Roulette.
Blackjack
At the blackjack section of the live casino you can find various live games that cater to players of all levels. Whether you are a beginner, have a decent blackjack game or you consider yourself pro, you can find a table that suits your goals, wants and needs. You can also find different types of dealers to fit your preference. All dealers are friendly, presentable and highly professional to ensure a smooth live game that gives you the chance to make exciting wins.
Baccarat
A modest selection of live baccarat games gives you the chance to play this classic game with a live dealer in a regular format or in a more fast-paced format in the form of speed baccarat. Take your live baccarat game to the next level while you play in the comfort of your home from the desktop of your PC or on the go wherever you like to play from your mobile device.
Live Dice Games
Lightning Dice
Lightning Dice gives you the chance to super-charge your live casino game with a simple and exciting dice game. The game takes place in the Lightning Tower, which is set in a stylish black and gold coloured Art Deco décor. The live presenter drops three standard dice into the Lightning Tower. This Tower is transparent and its interior has a maze-like structure. As the dice tumble down the Tower you can follow their path with camera close-ups. The aim of the game is to predict the value of the dice when they have reached the base of the Lightning Tower. Besides the main bet there are no less than 16 spots within the Tower you can wager on. You can select any or all these 16 spots to place your bet. To bet on all 16 spots you can simply click the function 'Bet All'. During the game round 1, 2 or several numbers on the betting grid are randomly hit by a lightning bolt. All these numbers are given a multiplier at random of up to x1000 giving you the chance to make big wins in every round. There is no limitation to the number of players that can join the game. Electrify your live game and win big on Lightning Dice.
Super Sic Bo
Sic Bo is a highly popular dice game that has been played for centuries in China, Korea and Southeast Asia. The name literally means 'dice pair' and is known under several other names including Tai Sai, High Lo and Lucky Dice. Go to gambling capital Macau and you find the game under the name Dai Sui or 'Big Small'. Live Super Sic Bo is the online live version of this popular game with a simple objective. The aim of the game is to predict the outcome of the role of 3 dice. You can place your wager on the outcome of the role of any 2 or all 3 of the dice. You can bet on odd or even, high or low, specific doubles, totals of all 3 dice and/ or specific single numbers. Super Sic Bo can also grant you multipliers that can be randomly applied to any betting option. You can have an overview of all available wagering options at the game's betting table. Bring a touch of the East to your game and have your fun on Live Super Sic Bo.
Top 5 casinos with the best live casino
Live Money Wheel Games
Dream Catcher
Dream Catcher has been one of the first great attempts to combine the fun and thrill of a classic TV game show with a live casino experience. Dream Catcher is played on a colourful money wheel that is spun by a dealer. The game play is as exciting as it is straightforward. Place your bets on any of the sections of the Money Wheel and whenever the Wheel lands on your chosen section you win. Dream Catcher offers an immersive and dynamic live gaming experience with the help of an interactive dealer, exciting camera close-ups and great light and sound effects. The game will appeal to players big and small as bets per round range from £0.10 up to £2.500 giving you the chance with the help of multipliers to make wins of up to no less than £500,000.
Branded Live Games
Deal or no Deal
Deal or no Deal Live is a live casino game based on the popular TV game show of the same name- without the world 'live'. This means that you no longer have to be 'just' a spectator but that you can also join in the fun making the most of plenty of chances to win big prizes 24 hours a day. At Deal or no Deal Live an unlimited number of players can join the game that consist of a qualifying round and a top up round after which you have the chance to win up to no less than 25,000 times your stake. In the qualifying round of this exciting live casino game you get to spin the 3-reel bank vault grid. In this round your aim is to get the gold segments on the same line within the allocated time so you can select the briefcases that contain the biggest cash amounts from the 16 cases available. The biggest prize on offer contains a multiplier that can range from x75 up to x500 your wager. The qualifying round gives you the chance to open the bank vault door and continue to the next round, which is the top up round. In this round you can add a multiplier ranging from x5 up to x50 to the amounts in the briefcases you have selected in the qualifying round. You spin the Top Up Wheel to get the biggest multiplier possible within the available time. Just like in the TV game show, in the main game show in the Live version a set number of cases will be opened to reveal their contents and the mysterious Banker will ask you 'Deal or no deal'. The game presenter keeps the suspense while you need to depend on your intuition and a bit of luck to bag yourself the biggest prize.
Monopoly Live
As you can guess from the name, this live casino game is based on what is probably the most famous board game in the world. Monopoly Live combines live game action with virtual reality to take live casino gaming to a different level. Monopoly Live brings the board game's famous mascot Rich Uncle Pennybags to live. You play on a game wheel with 54 sections rather than a board. You can place your bets on any of these 54 sections on the wheel that is operated by the live dealer. Whenever the wheel lands on the section(s) you have placed a bet on, you win the corresponding pay out. Like on the board game, whenever the wheel stops on 'chance' Rich Uncle Pennybags presents you with a chance card that can award you a random cash prize or multiplier. If you win a multiplier the live dealer initiates a new round and the won multiplier will be applied to the winnings made in that round. Monopoly live has a bonus game, which is initiated when the wheel lands on the '2 rolls' or '4 rolls' sections (and you have place a bet on either or both of these sections). The bonus game takes place on a fantastically designed 3D Monopoly board where you can win the prizes attached to the different properties you land on with the help of dice rolls. Play Monopoly for real money and don't miss out on the chance to win up to £500,000.
Live Poker Games
Side Bet City
Side Bet City is a fun live poker game that has a 1980s Las Vegas theme. This means you can lighten up your game with bright neon lights as all rounds are guided by a friendly and presentable dealer, whose outfit fits the theme. Side Bets City is a fun and fast-paced poker game that suits the beginner as well as the more seasoned player. An unlimited number of players can take place at this live game where you are not playing against the dealer but against the pay table. You receive 7 cards that are dealt from one deck and you can place a bet on winning a hand with 3, 5 or 7 cards based on the standard poker hands. You can also place bets on all or a combination of the available betting options in addition to 'All Lose'. Side Bet City offers lucrative pay outs of up to 1,000 to 1. Go for some 1980s Las Vegas Nostalgia and play Side Bet City.
Live Casino Hold'em
The Live Casino Hold'em is a fun twist on the popular poker version Texas Hold'em as players play against the dealer rather than against each other. The game can host an almost unlimited number of players who can all communicate with the dealer as well as with each other. Live Casino Hold'em gives an immersive live casino experience without the need of leaving the house. You can play from the comfort of your own home from the desktop of your PC or on the go wherever you like from your smartphone or table. The game has a Bonus Bet and an optional Jackpot Side Bet. The Jumbo 7 Jackpot is a progressive uncapped prize pool that is paid out on 7-card Straight Flush if you have placed the jackpot side bet.
2 Hand Casino Hold'em
A variant of the 5-card version of the classic casino Hold'em poker game, at this live poker table that has room for an unlimited number of players you are dealt two hands. You play against the dealer rather than against other players. You can place bet on both hands or on either hand. If you decide to play with both hands you can continue the excitement if you lose one hand, unlike in a standard poker game where it would have been 'game over'. Play with two hands and give yourself more chances for exciting wins. In addition to the opportunity of playing with two hands you can place a bonus bet on either hand, if you play with just one hand or on both hands.
Three Card Poker
As you can guess from the name, this live poker variant is played with 3-card hands. It is a fun and fast-paced game that is accessible for players who are new to poker. As the game offers some exciting ways to beat the dealer, Three Card Poker is great fun for more seasoned players as well. In this live poker version too you play against the dealer rather than against other players and the dealer needs at least a 'Queen High' to qualify for the round. Exciting betting options include the Ante Bonus, which pays out if you play a Straight or better regardless of the dealer's hand, and Pair Plus and Six Card bets which offers pay outs of up to 1000 to 1.
Caribbean Stud
This live poker game version is played with five cards and in this version too players compete against the dealer. The dealer needs at least an Ace and a King to qualify. The player's cards are dealt face up while the dealer's cards, with exception of the last card, are dealt face down. Before the dealer reveals her or his complete hand you need to decide whether to raise or fold. Live Caribbean Stud has an optional 5+ 1 Bonus Bet with which you can make a bonus win of 1,000 to 1, and a progressive uncapped jackpot.
Other Live Games
Football Studio
Football studio is a unique live casino card game with a strong focus on football. The live game is set above a football pitch. As the host talks about football giving commentary on and analyses of matches, you bet on the outcome of the game round: is it a home win an away win or a draw. In other words, which of the two cards dealt will be higher or will the round be a draw. The game is hosted as if the presenter gives his commentary on a football match. Whenever a high profile football match is playing at the same time the game presenter will gives his commentary on the live match, which can lead to exciting interaction. Combine your love for football and sports betting with an exciting live card game with Football Studio.
Relevant news