Electrify your online casino game with Lightning Dice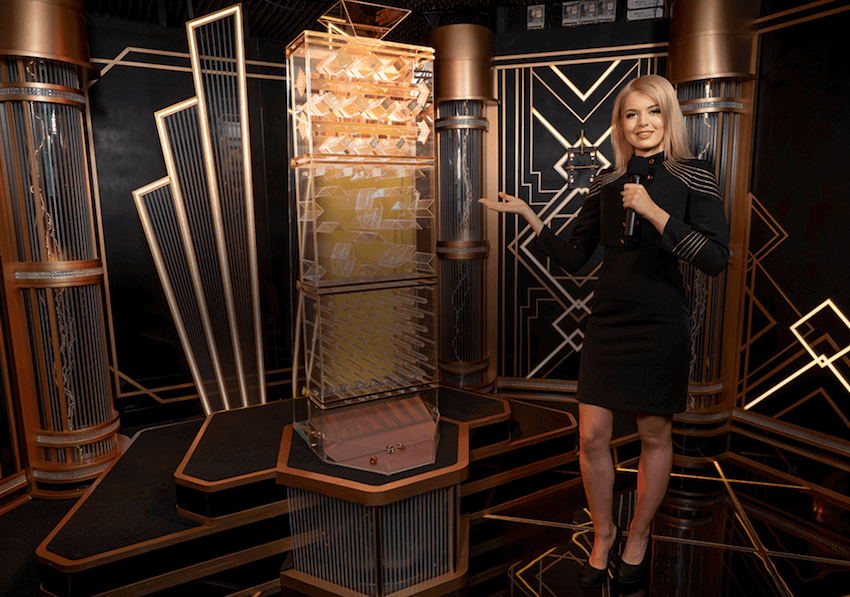 Are you in the mood to super charge your live casino game with a straightforward, yet simple dice game? Then find out all about Evolution Gaming's electrifying game Lightning Dice.
What is Lightning Dice?
Lightning Dice is, as you can gather from the name, is a dice game that is a creation of live casino games producer Evolution Gaming. The game is part of Evolution Gaming's Lightning range of games. Lightning Dice is live streamed from a studio that has a stylish black and gold Art-Deco decor and is guided by a live presenter. Lightning Dice game play is as follows: three standard dice are dropped into the game's Lightning Tower. This Tower is transparent and with close-up cameras you can follow the dice as they tumble down the Tower through a maze-like path. You place bets on what the value of the three dice will be once they land at the base of the Tower. In addition to this main bet, there are 16 bet spots you can wager on. With a simple click on 'Bet on All' you can place bets on all these spots at once. In every game round after all bets have been placed, between one and several Lightning Numbers on the betting grid are struck at random by a lightning bolt. All numbers hit, are given a random multiplier of up to no less than x1000, giving you the chance to win big in every round. On Lightning Dice an unlimited number of players can join every round. Whether you like table games, slots or bingo, you are bound to fall in love with this game.
Go for simple and highly exciting casino entertainment with Lightning Dice.
Other Super-Charged games from Evolution Gaming's Lightning Game Range
Evolution Gaming offer a wide range of exciting live casino games, several of which have won esteemed igaming awards. The live casino game developer has two specific other games that are electrifying and can lighten up your online casino game.
Lightning Roulette
With a stunning design, Lightning Roulette offers an online live version of the classic casino table game with electrifying extras. This game too is set in an exciting gold and black Art Deco decor and has been especially designed to lighten up and super charge your online live casino game. Played with a live dealer, in addition to the usual roulette betting options, you have extra chances to make wins on Lucky Numbers and with Lucky Payouts, giving you the chance to win up to 500 times your stake. Evolution Gaming's Lightning Roulette has won several prestigious igaming awards for its innovative and fun game play. High time you made yourself some bright winnings on Lightning Roulette.
Super Sic Bo
Another live casino game by Evolution Gaming with electrifying multipliers is another dice game; Super Sic Bo. Sic Bo is a classic dice game that originated in China and is known under many different names including Hi Lo, Lucky Dice and Tai Sai. It is a highly popular game in the casinos of the Gambling Capital of the East; Macau. There the game is called Dai Sui, which means 'Big Small'. On Super Sic Bo you wager on the outcome of the role of three dice. Super Sic Bo game play is based on a simple concept and offers a surprisingly wide range of betting options. Set in a beautiful studio environment, this game too is guided by a presentable and professional dealer offering you a top-notch online live casino experience.
Brighten up your online casino game and enjoy super charged game play on Evolution Gaming's electrifying Lightning Dice. If you want more chances to make super-charged winnings on exciting live dice games, check out Live Super Sic Bo. For other classic live casino entertainment with an electrifying twist, place your bets for electric winnings on Lightning Roulette.
Best Casinos
Relevant news