What Is the RTP in Crazy Time and What's the Best Strategy to Use?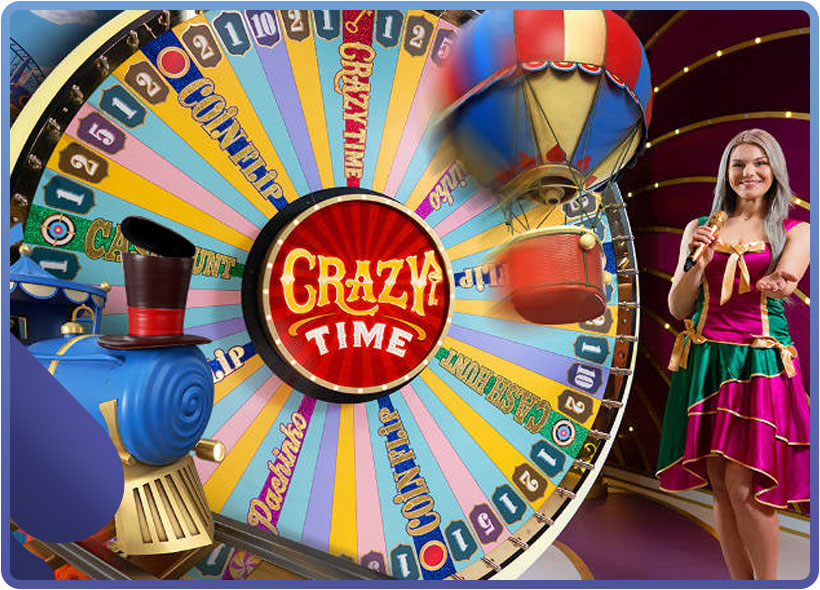 Launched in July 2020, the lucky wheel of Crazy Time has made people all over the world go crazy over the intense fun and massive potential winnings that are up for grabs in the game. With four different bonus features and payouts that can reach a stunning amount of 100,000 times your bet (capped at half a million Euros at most), it's no wonder that it's one of the most popular games at live casinos.
But how do you play the game optimally and is there even a strategy that can be efficiently used for Crazy Time? The answer is both yes and no. While the game is quite balanced, you may want to bet in a certain pattern if you're looking to play with a certain volatility. Before elaborating on this, let us first answer another important question – what the theoretical return to player (RTP) is in Crazy Time.
Max Potential Payout, Volatility and RTP in Crazy Time
The below table is giving you a great overview of everything you need to know about the eight betting alternatives and eight ways that you can win in Crazy Time. For each of them we have mentioned the chance to hit, the RTP, the volatility and the most you can win as a multiplier to your stake.
| Wheel Position | Quantity of Positions | Chance to Hit | Return to Player (RTP) | Max Potential Payout | Volatility |
| --- | --- | --- | --- | --- | --- |
| Number 1 | 21 | 39% | 96.08% | 50x | Low |
| Number 2 | 13 | 24% | 95.95% | 100x | Low |
| Number 5 | 7 | 13% | 95.78% | 250x | Medium |
| Number 10 | 4 | 7% | 95.73% | 500x | Medium |
| Pachinko Bonus | 2 | 4% | 94.33% | 50,000x | High |
| Cash Hunt Bonus | 2 | 4% | 95.27% | 25,000x | High |
| Coin Flip Bonus | 4 | 7% | 95.70% | 5,000x | Medium |
| Crazy Time Bonus | 1 | 2% | 94.41% | 100,000x | High |
As you can see, the RTP is quite balanced. The lowest is 94.33%, while the highest is 96.08%. That isn't that much of a difference. It means that on average you will get £94.33 – £96.08% back for every £100 that you stake. You should know though that this is generally a tad bit lower than what slot machines tend to pay these days.
In terms of volatility, there's a bit more variation between the eight alternatives. It is very low for number 1 and 2 as these numbers only pay 1 and 2 times your stake (without any multiplier) while occurring frequently. The Pachinko, Cash Hunt and Crazy Time bonuses have a high volatility as you will only hit one of these alternatives once in every 14th spin or once in every 27th. They do, however, have crazy potential.
When it comes to maximum winnings, you should know that these are based on the fact that the maximum multiplier of 50x is triggered from the slot reel that spins on every game round.
Strategies to Use in Crazy Time
A lot of Crazy Time players wonder what strategies can be used to boost the chances of winning in the game. The unfortunate and boring answer to this question is basically none. Well, there actually is one that can boost your chance of becoming profitable, but it has nothing to do with the actual game itself. This strategy is simply making sure that you play Crazy Time with some kind of a bonus – preferably a deposit bonus. This way you will indeed increase your long-term chances of winning.
Even though they won't have much of an impact on your long-term results, there are strategies within the game as well. Below we have mentioned five of these which come with their own strengths and weaknesses: winning often; maximizing the slot multiplier; winning big; playing balanced and maximizing Crazy Time's RTP.
Winning Often (Low Volatility)
This is a neat strategy if you're on a tight budget and can't afford to risk having any sudden drops in your balance. By placing a bet on number 1 and number 2, along with at least one of the bonus options, you will win on approximately 2 out of 3 game rounds. This will keep the volatility of the game low.
However, playing like this you must know that you will lose money on the vast majority of game rounds even though you win on them. Simply because number 1 and number 2 have a really low payout (1x and 2x). You will only make a profit whenever the slot multiplier hits number 1 and 2 or whenever one of the bonuses that you have included are hit.
All in all, it's a Crazy Time strategy that will preserve much of your balance and allow you to play for a long time. If you want your balance to be even more protected and play with an even lower volatility, you could exclude the bonus options. However, doing so the game would pretty much lose it's meaning as Crazy Time is all about its bonuses. Your maximum win would also be capped at 100 times your stake.
Maximizing the Slot Multiplier
If you feel like lady luck is going to deliver a high slot reel multiplier time after time, you definitely want to make the most of this. This is simply done by placing a bet on all of the eight alternatives in the game. This means that you will win on every single game round and get to benefit from the slot reel multiplier whenever it applies.
The problem with this Crazy Time strategy is that if the slot reel multiplier isn't regularly applied to your winning results or it isn't high enough, you may lose a substantial amount of money on every round. You'll be betting 8 units and whenever number 1 and number 2 is hit (which is 63% of the time) you will only get 1 and 2 units back.
With that being said, you will have all of the bonus positions included and on average one of these is triggered every 6th game round. It is quite likely that this bonus will pay at least 8 units to give you your stake for that particular round back or even more to cover losses from previous rounds.
Winning Big (High Volatility)
If you're all about winning big and don't care about pocket change, we suggest only playing the bonuses as this is where the money in Crazy Time gets made. You may even want to exclude the Coin Flip bonus as the potential in this is much lower than the three other bonuses.
Obviously, you're not going to win very often if you're going with this strategy. Only playing the Pachinko, Cash Hunt and Crazy Time bonuses gives you a winning probability of 10% and if you're unlucky it could easily go twenty rounds without any bonus at all. This means that the volatility will be high and that you're taking a big risk – your balance could quickly drop.
However, as opposed to playing the numbers as well, you will be able to place higher bets on the bonus positions. So if you do hit any of them and get a really lucky bonus you could win a huge amount of money in a short time frame.
Playing Balanced (Medium Volatility)
Playing balanced is what most people prefer to do. It's a middle ground of winning often and winning big. This Crazy Time strategy is achieved by excluding number 1 and 2 and betting on all other positions.
There are no real weaknesses with this strategy, other than the fact that you may be unlucky and have many 1's and 2's happening in a row. After all, these two positions have a 63% likelihood of occurring. If this does indeed happen, you could lose quite a bit of money in a short period of time.
Maximizing the RTP
If you're really nit-picky about playing optimally, maximizing the RTP in Crazy Time is the way to go. Even though the difference won't be huge compared to the other strategies, this will allow you to win the most money on a long-term basis.
Maximizing the RTP while still being able to win big is done by betting on number 1 as well as the Coin Flip bonus. These two alternatives have the highest RTP among the numbers and bonuses.
While this is an optimal playstyle, the downside is that you can never win more than 5,000x. Certainly not bad, but to get this win you would have to hit the highest slot reel multiplier of 50x and also the highest coin flip win of 100x. That's certainly easier said than done.
Best Casinos in US
Relevant news