Best Casinos in Ottawa Gatineau, Canada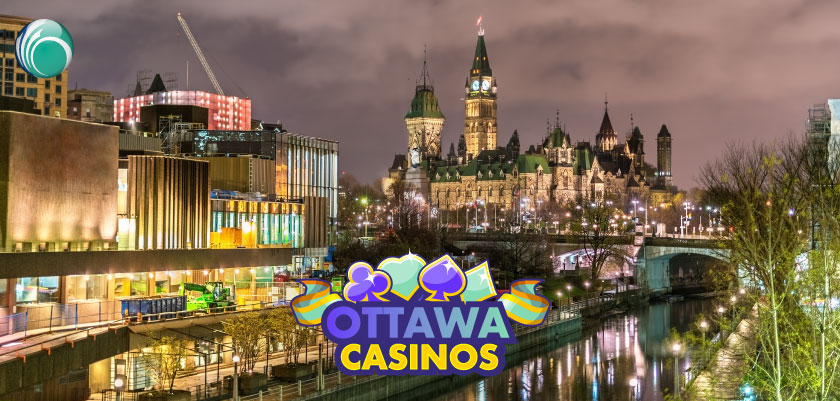 Ottawa, Canada's capital is not just home to a wide variety of Victorian splendour, it is also a great spot for gambling. As one of the biggest cities in the province of Ontario, Ottawa has plenty of options in terms of entertainment and some would even say that very few places in Canada can beat the ambiance you will feel when playing at one of the world outstanding casinos in Ottawa.
Others, especially on the northern bank of the Ottawa River, would fully disagree on this one as Gatineau offers a few gambling establishments that are worth a visit or two as well. Ottawa and Gatineau combined offer you an avalanche of gambling options waiting for players from the region who want to try their luck playing roulette or on the thousands of slots available in this part of Canada. Gambling is a massive business in both Ottawa and Gatineau, so you may have a difficult choice in choosing between the two. In order to save you some time, we have come up with the best gambling options on both sides of the river.
---
Best Online Casinos in Ottawa
Play casino games online at a legit, trusted and recommended online casino who accept players from Ottawa
Best online casinos in Canada
---
Gambling in Ottawa Gatineau
For most players, fully dressing up and going to a land based casino isn't a regular activity anymore, but we still find a casino visit a very entertaining night out every once in a while. While a trip to the North American gambling capital Las Vegas might be too much of a hassle for some folks, Ottawa and Gatineau have a few casinos that are both entertaining and affordable. Here are some supreme casino options in the Southern region of Canada.
Casinos in Ottawa Gatineau
Casinos in Ottawa and Gatineau are more than enough to feed your gambling desire if you live in this part of Canada. This is partially thanks to Casino du Lac-Leamy in Gatineau that boasts advanced gaming rooms, a relaxing spa and a complete offer of first class amenities. Add to that more than 1,800 slots and a casino floor full of the most classic table games to suit all needs and budgets, and you've found yourself a premium gambling destination in Canada. The main attraction in Ottawa is called Rideau Carleton Casino which offers a large number of slots and (electronic) table games as well as a complete horse racing venue. If you're planning to visit casinos near Ottawa you will need to be at least 19 years of age while the minimum age is set at 18 in Quebec. You'll have to be above the legal drinking age.
Casino Gatineau (Casino Du Lac-Leamy)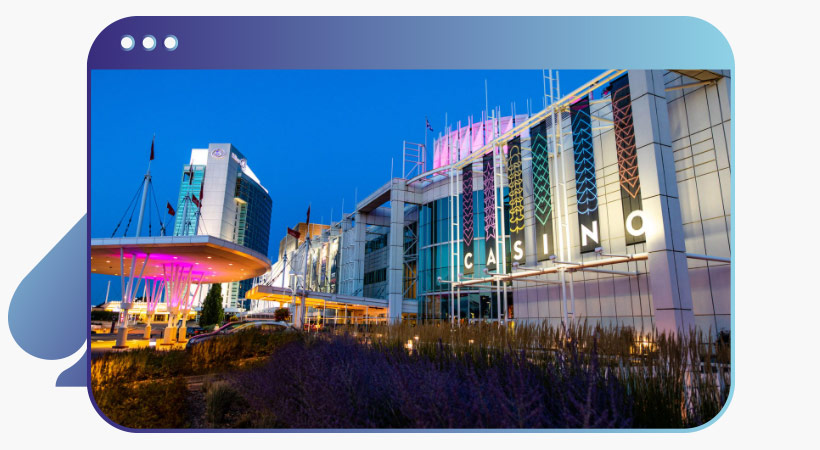 Once you make it from Ottawa to Quebec the first thing we recommend you to do is go to the Casino du Lac-Leamy. What to expect on this side of the river? Large, spacious gaming rooms surrounded by a relaxing spa complex which offers numerous amenities that will make you feel comfortable, whether you win or lose. Nope, the Casino du Lac-Leamy might not quite be the experience you'll find at the Niagara Fallsview or classy Casino de Montréal, but this venue is definitely an outstanding gaming place for most people. All you'll need to do to confirm this is check out the big collection of table games offered in this part of Canada.
Casino du Lac-Leamy
It's all there
Some of the table games that are always available include baccarat, blackjack, Blackjack Switch, Spanish 21, 3-card poker, Texas Hold 'Em, Caribbean Stud, Pai Gow, Casino War, and the exclusive game of High-Card Flush. And this is only the section of card table games we're talking about. Other games you'll find at the casino floor of Casino du Lac Leamy are popular table games like Craps, Roulette, Sic Bo, Keno, and Wheel of Fortune.
1,800 slots waiting for you
With no less than 1,800 slots (also called machines à sous in this part of Canada) you can rest assured as there is always a slot machine available when you're visiting. This also explains the large number of jackpot slots and the many slot tournaments held at this venue. Progressive jackpots on some slots frequently hit $1 million and slot tournaments offer the same amount in grand prizes to its players. Casino du Lac Leamy has also partnered with the Hilton hotel to provide their visitors with a complete package. There are plenty of options available, so check it out to decide for yourself which arrangement suits your needs.
First class casino and lodging
In the beginning of August there's a yearly fireworks competition, named the Casino Sound of Light, that players can watch from the hotel du Lac-Leamy, which is there as well. Food lovers will be happy to find out that the casino hotel Hilton Lac Leamy offers the highly appreciated Le Baccara gourmet restaurant (check out the online reviews on Google to see what we mean here). This is in fact one of the very few restaurants in Canada that holds a CAA-AAA Five Diamond rating. Both the casino and hotel have won impressive 5 stars with Quebec's Corporation for Tourism every year since it opened back in 2001. If this sounds too much, we advise you to check out alternative options Ramada Plaza or Auberge de la Gare.
Casino Ottawa
Like with other properties that are regulated by the Ottawa Lottery and Gaming (OLG) Corporation, the Rideau Carleton Raceway is a combination class II casino and horse racing venue where you'll find the well known OLG Slots everywhere. There are 1,200 of them at Rideau Carleton Raceway in Gloucester and there are another 75+ electronic table games making sure players that love baccarat, roulette, and blackjack will enjoy themselves. There is also a pari-mutuel betts racetrack that facilitates both live racing and simulcast events. We therefore think it's fair to say that the Rideau Carleton Casino is quite a classic in Ottawa.
The fun never ends
The fun really never ends here with all the slots and electronic table games and we're pretty confident that every sort of player will find the action that suits his or her style. The casino is very lively with friendly staff and there are lots of activities going on that are rather entertainment related than gambling oriented. Something we consider very important as well: slots in this Ottawa casino tend to have much better payouts than in Quebec casinos. There is horse racing on Thursday and Sunday evenings for those that want to place a bet or two. The restaurant has a different buffet every evening and you can choose from a varied and reasonably priced menu. Do note that a lot of fun also means a lot of volume, it can get loud here.
Online gambling in Ottawa Gatineau
When taking a further look at the online gambling law in the Ottawa-Gatineau Capital region, the laws of either Ontario or Quebec will apply in these cases, as gambling laws in Canada are legislated at the provincial level and not at the federal level. Luckily, both Ontario and Quebec laws allow for 100% legal online play, although this mainly concerns casino websites operated by the local gambling authorities. As a consequence In Ottawa, this would be the Ontario-run Play OLG website; while in Gatineau, you'll need to play at Espace Jeux. Do make sure you don't play on the go while going from one play to the other, because you'll be breaking the rules (joking). Don't worry about it too much as online gambling is a grey area and there are no reports of prosecuted players that play elsewhere than on these platforms.
Limited game assortments
In fact, both websites might turn out to be a bit limited as they have rather small game portfolios and some gamblers may feel this is not enough to satisfy their needs. This might explain why a lot of Canadian players do tend to gamble on foreign websites that offer bigger game assortments and better bonuses. As it's actually impossible to prosecute players that visit other websites, this might be your best pick — although we clearly don't want to encourage you to break the rules. In case you do switch to another casino website, make sure you play at a website that offers a safe payment platform and fair play games.