Brighten up your Game with 1980s Vegas Nostalgia on Side Bet City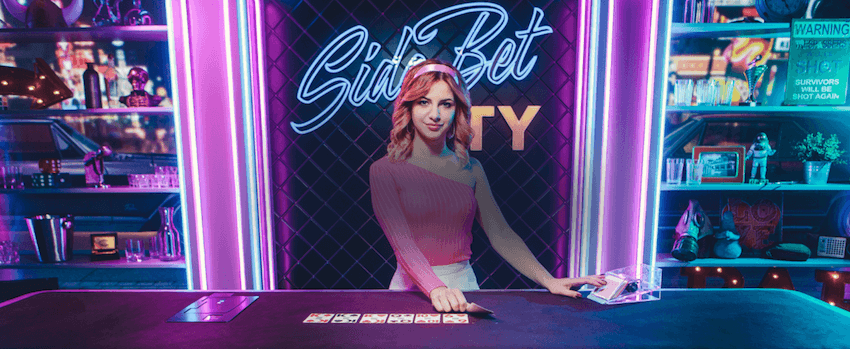 Poker is one of the most exciting casino games that continues to speak to the imagination of many. Unlike other casino games, in addition to luck, you also need considerable skill to beat other players or the dealer with a winning hand. There are dozens, if not hundreds, of poker variants to suit all types of players. If you are keen on trying something new, award-winning live game developer Evolution Gaming has launched another exclusive live poker game: Side Bet City. Side Bet City is bound to light up your poker as well as your live casino game. Transport yourself to mid-1980s Sin City Las Vegas and enjoy some neon-lit, nostalgic online live casino action.
Best Casinos
What is Evolution Gaming's Side Bet City?
Side Bet City by Evolution Gaming is a Las Vegas-themed live poker room where your game is illuminated by bright neon lights. Side Bet City is a simple, fast and fun poker variant. Whether you are a poker newbie or a seasoned player, this form of poker has something to offer to everyone.
Side Bet City Game Play
Side Bet City allows and unlimited number of players to place bets' simultaneously. You will be playing against the pay table rather than the dealer or other players. You are dealt 7 cards from one deck and you bet on a win of a 3-card, 5-card or 7-card hand, based on the usual poker hands. You can also wager on any combination of these betting options, in addition to putting your money on a 'All Lose' bet. After you've placed your initial bet, you don't need to make any other decisions, neither do you have to engage your poker face. If you win, you can expect impressive pay outs of up to 1,000 to 1.
Side Bet City Betting Options
The betting options on Evolution Gaming's Side Bet City and the game play have been briefly mentioned above and are explained in a bit more detail below.
3-Card Bet
Once all bets have been placed, the dealer will deal 3 cards with their faces up showing the result for any bets placed on a 3-Card Hand. If you win, you get to see a message in bright neon lights indicating you have won.
5-Card Bet
After revealing the 3-Card Hand, the dealer then deals and shows an additional 2 cards revealing the 5-Card Hand for that particular round. If you have wagered on a 5-Card Hand and you win, you get an illuminated message to show you that you have won.
7-Card Bet
After the 5-Card hand has been dealt and any winnings collected, another 2-cards are dealt face up showing the result for the 7-Card Hand. For this hand too you receive an lighten-up message if you hit a win.
All Lose Bet
If you have wagered on this betting option, you win if no player that has joined the round can collect any winnings on a 3-Card, 5-Card or 7-Card Hand. You don't need to have placed a bet on any of these betting options yourself to win an All Lose Bet.
Combination Bet
To spread your win chances, you can place your wager on any combination of the available betting options.
Other Live Poker Games by Evolution Gaming
In addition to Side Bet City, Evolution Gaming has an array of live poker games on offer giving all types of players plenty of opportunity for exciting online live poker fun and lucrative winnings.
Live Casino Hold'em
In this Texas Hold'em variant you play against the dealer for the highest poker hand. The game allows you the chance to place a Bonus Bet and an optional side bet on the Progressive Jumbo 7 Jackpot. This Jackpot is uncapped and could make you an instant millionaire if you manage to hit it at the right time.
Two-Hand Casino Hold'em
As you can gather from the name, this is a 2-card poker variant that can be played with a single as well as with both hands.
Three-Card Poker
Another fast-paced game with which you can win with a 3-card hand. Optional side bets can give you additional win chances.
Caribbean Stud Poker
On this poker variant you play against the dealer and you are dealt 5 cards. The dealer must have at least an Ace or a King to qualify for a win. His or her cards are dealt face down while your cards are dealt face up. You get to decide whether to raise or fold before the dealer reveals their cards. For added excitement you can choose from optional side bets with which you can win a pay out of up to 1,000 to 1 or lay your hands on an uncapped progressive jackpot.
Play bright and shiny Side Bet City for neon-lit winnings and try out other exciting live poker games by Evolution Gaming.
Relevant news